Before I start, I want to say sorry to all my readers. Although I never update this blog for nearly 2 months, I knew most of you are still coming and checking out my blog regularly. Thank You!
I have the opportunity to go for this food review in Haven Delight because of Mr Criz. Thanks for the invitation. This is the very first time I stepped into Penang Time Square. It is still not fully open, only has a few shops and restaurants. When I reached, Steven, Criz, Gill & Jason and Rebecca were already there. As usual, I started to do the routine job of every food blogger do, take photos!
Entrance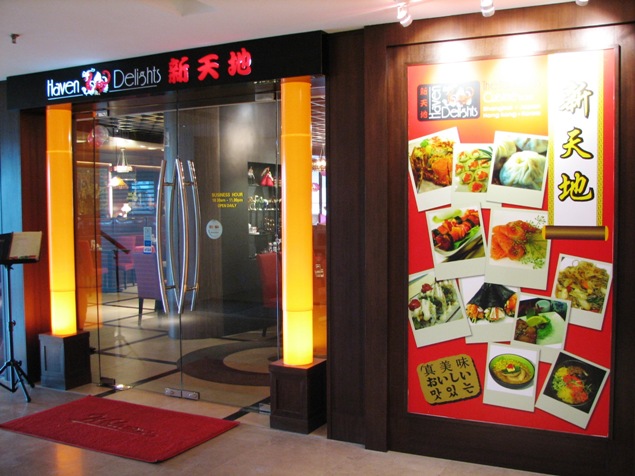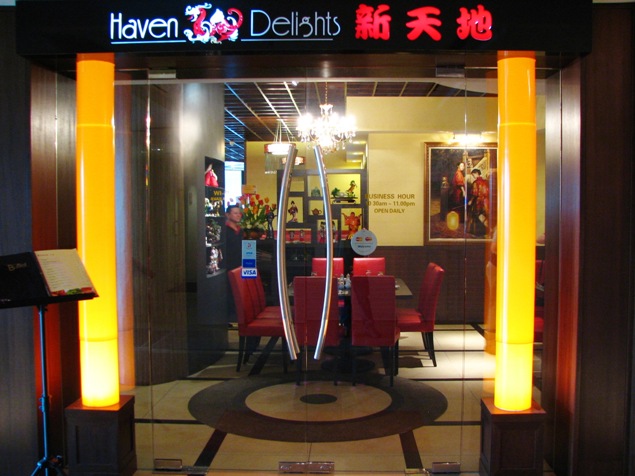 Interior Design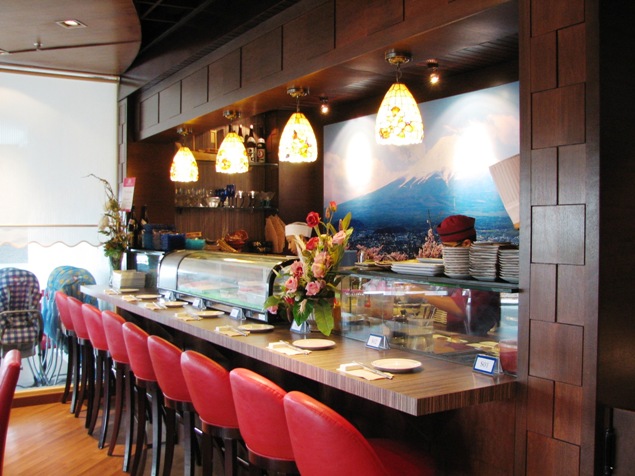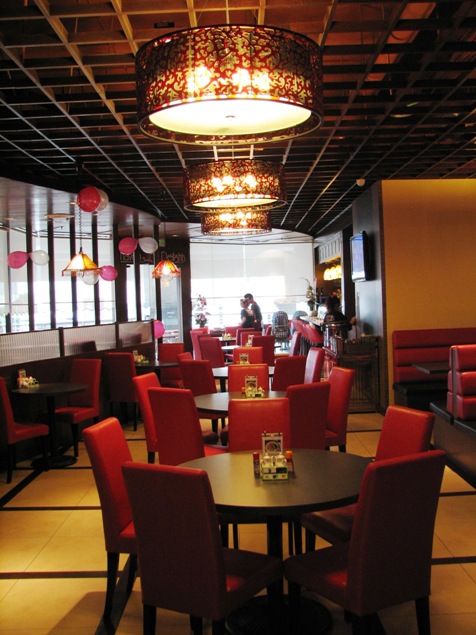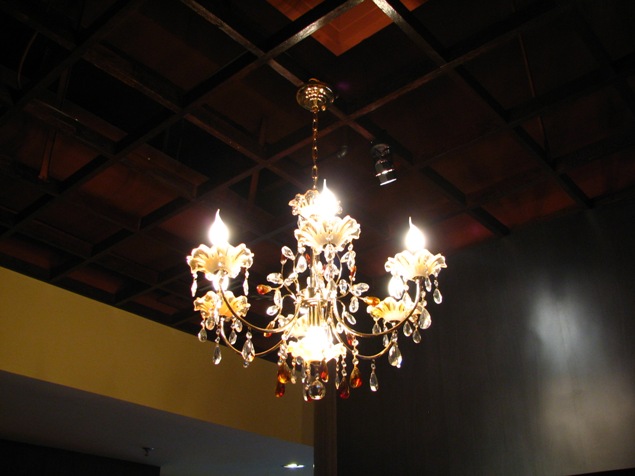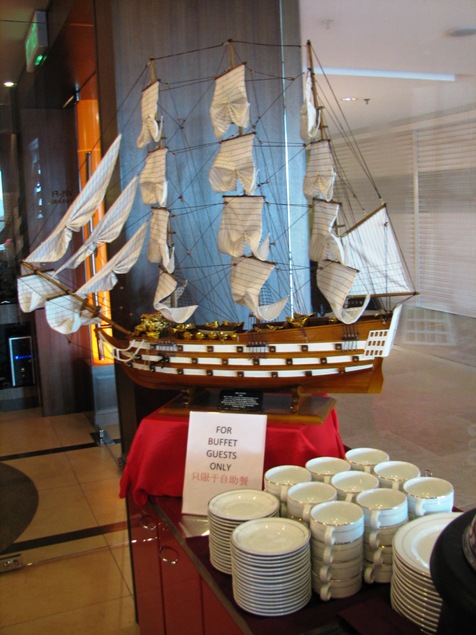 Cashier.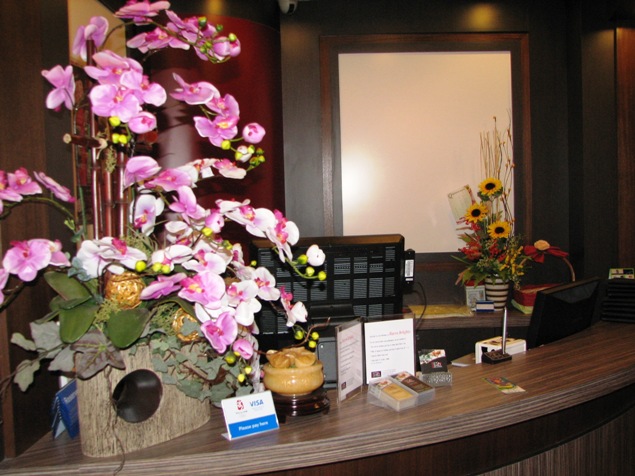 Some decorative stuff inside the restaurant which I feel very nice.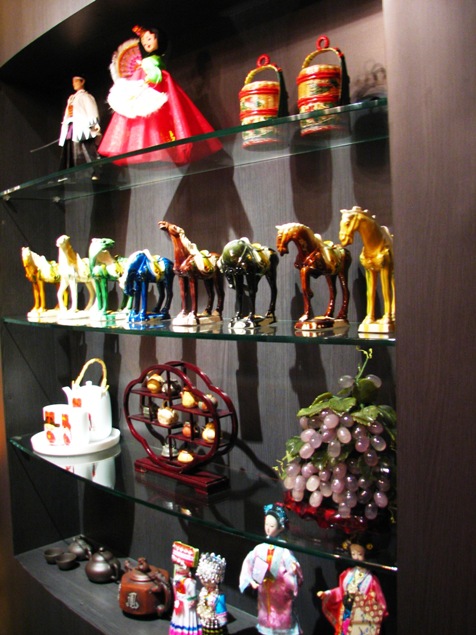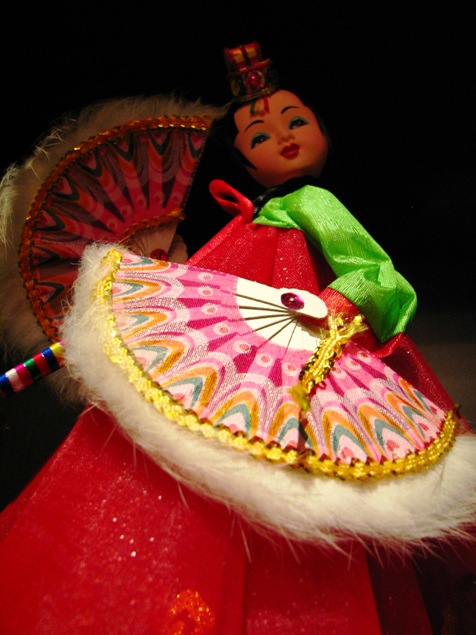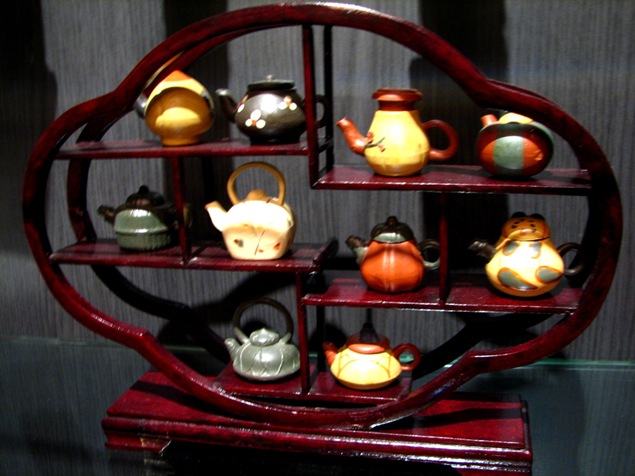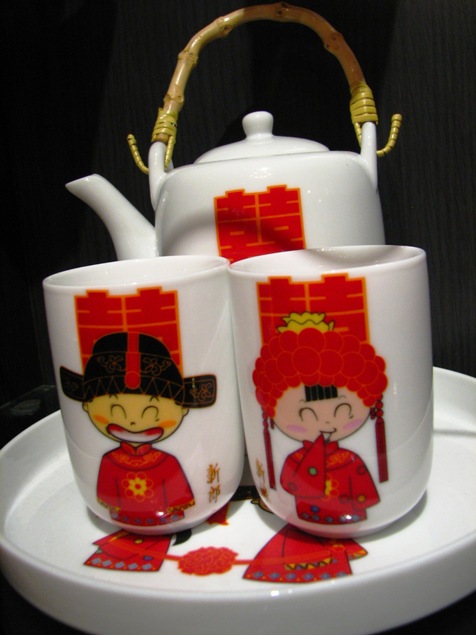 This is very nice! The Chinese wording means, get rich immediately! I wish I can.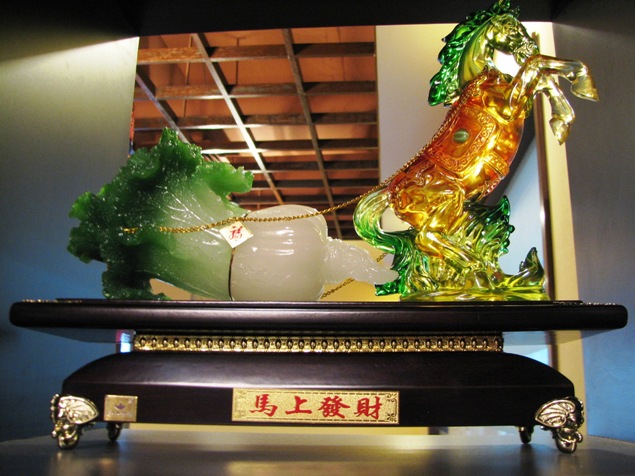 Cutlery set. I like the chopstick! It's not plastic or wood!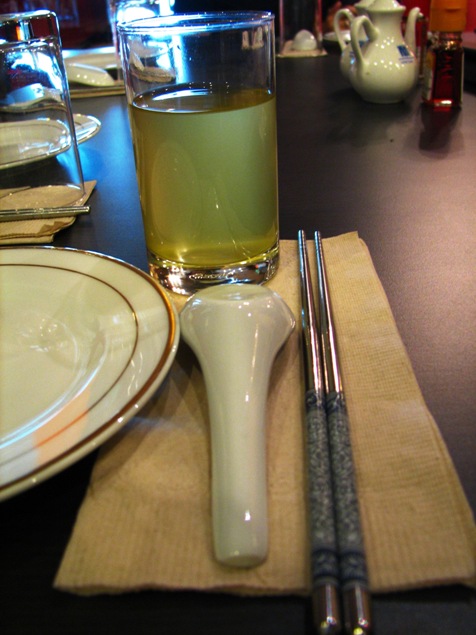 After all the food bloggers reached, the food review start. This round, Criz prepared the review note to each and everyone, listed out all the food we are going to try, make our life easier! Let's start.
Cold Cuts:
The first to serve is the cold cuts: Hotzzz Abalone and Unagi Tofu. Both dishes are in the buffet menu. The buffetlunch and dinner are at RM49.90+ per person (50% off for children). Over 90 dishes from the buffet menu list can be ordered, within a duration of 2 hours from 10.30am to 11pm daily.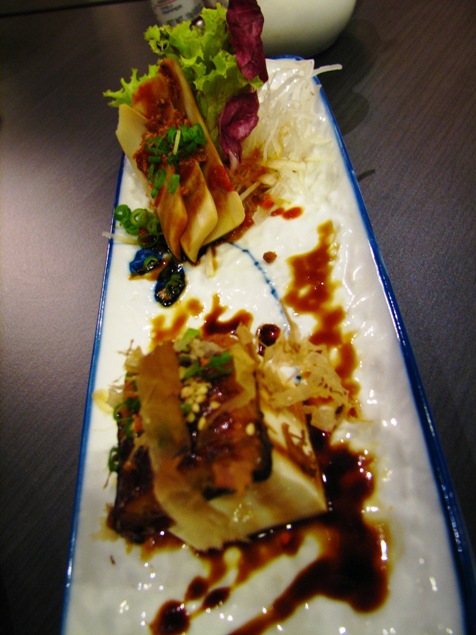 Unagi Tofu – Grilled eel with silky tofu in sweet sauce and garnishes. The tofu is really soft and smooth. The eel is just a normal grilled eel that you can have it in the Japanese restaurant. It is a bit hard to eat the tofu together with the eel. In the end, I finished the eel, then only ate on the tofu.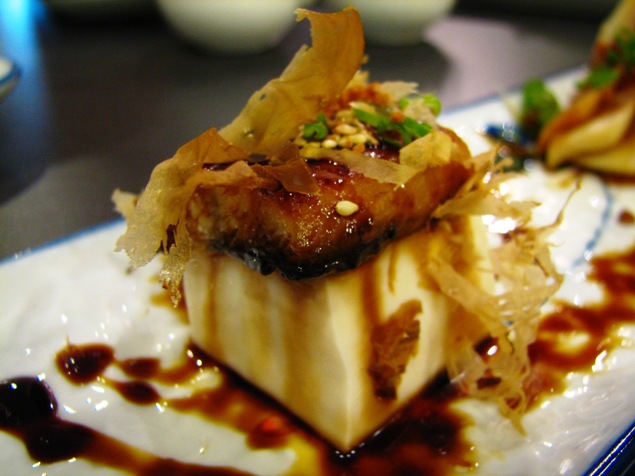 Hotzzz Abalone – Abalone slices with homemade spicy paste and eel sauce. Since the name is Hotzzz Abalone, I thought it will be real hot for the spicy paste, but it is not. The eel sauce is a bit salty.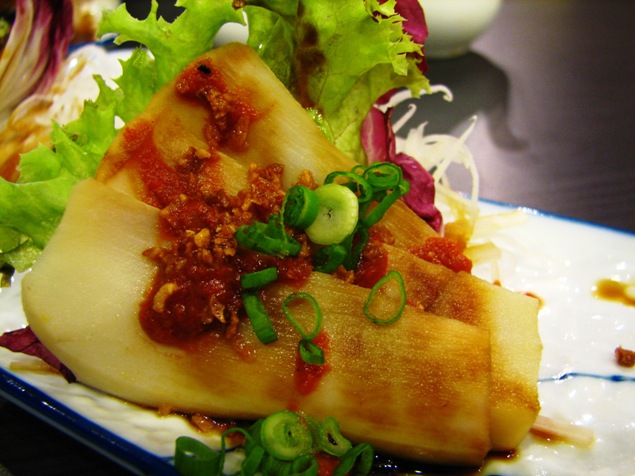 Main Dishes:
Chicken Ban Ban (RM10) – Fusion Japanese fried chicken with egg in chef's special mayo sauce. There are 3 sauces: mayo, wasabi and sweet. The sauce is nice when you mix it and eat together with the chicken. To our surprise, the fried egg is very nice too! The boneless chicken is tender and nice to be eaten.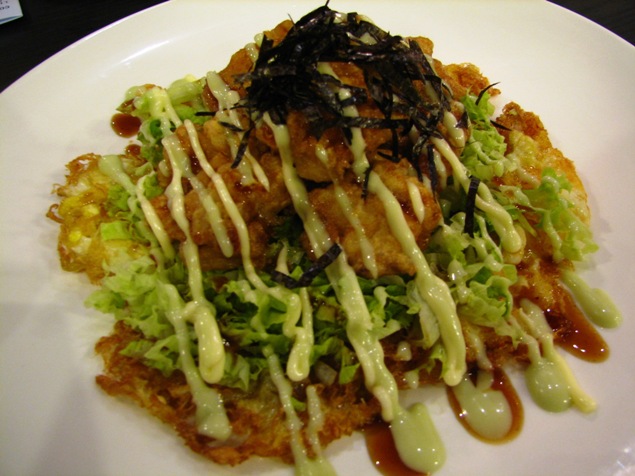 Close up.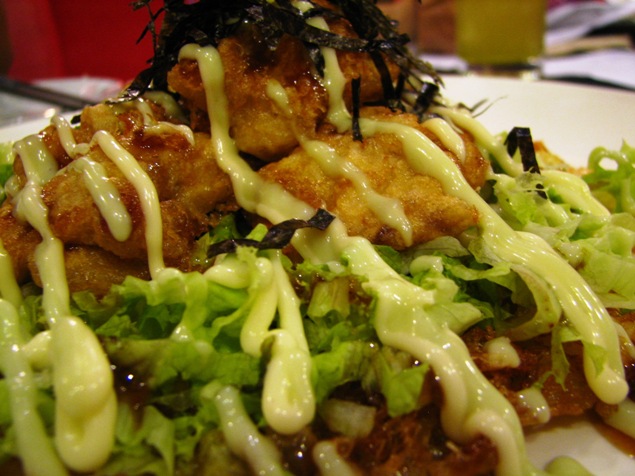 Even closer. LOL.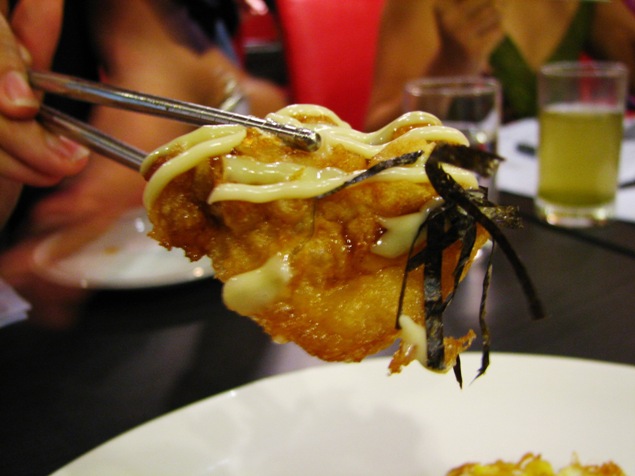 Red Dragon Prawn with Jammy Sauce (RM35) – Fried prawns and white dragon fruit in jammy sauce. The presentation of this dish is superb. The Jammy sauce is almost the same as the sweet and sour sauce. This dish is a bit expensive since it only has 5 prawns.  RM35 is a bit over price.
Motoyaki Scallop (RM14) – Grilled scallop with homemade spicy mayo sauce. This dish is inside the buffet menu as well. For those who loved scallop, you can go for their buffet and order this as many as you like. The spicy mayo sauce is really spicy enough. I like it.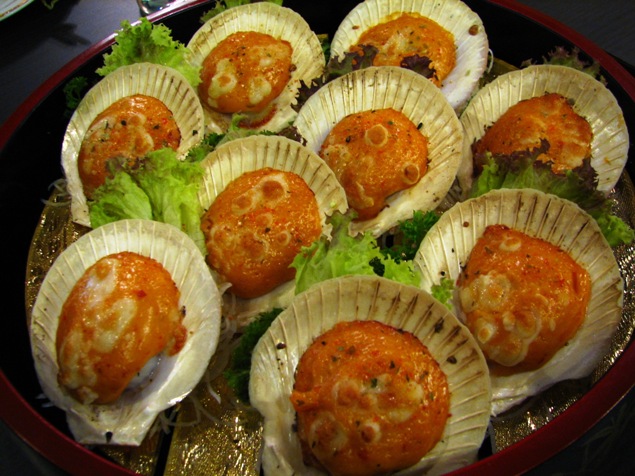 Korean Beef Kimchi (RM16) – Fried homemade kimchi with beef slices. This dish has a strong kimchi smell when it was served. However, when you eat it, the taste is not that strong. The beef is soft and tender. Korean Beef Kimchi is a bit sour, mostly due to the kimchi.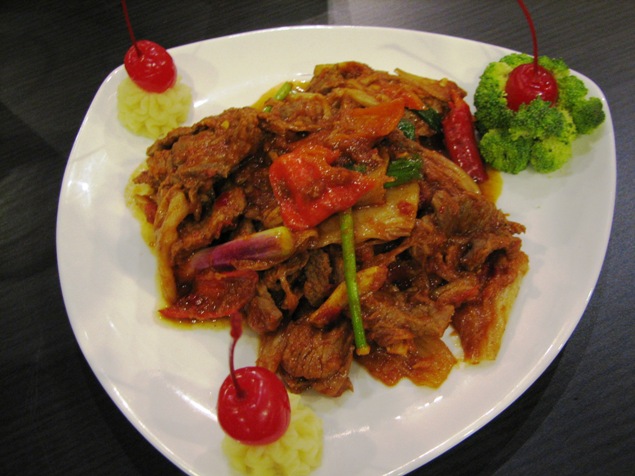 Again, close up. For those who doesn't like close up, just ignore those photos.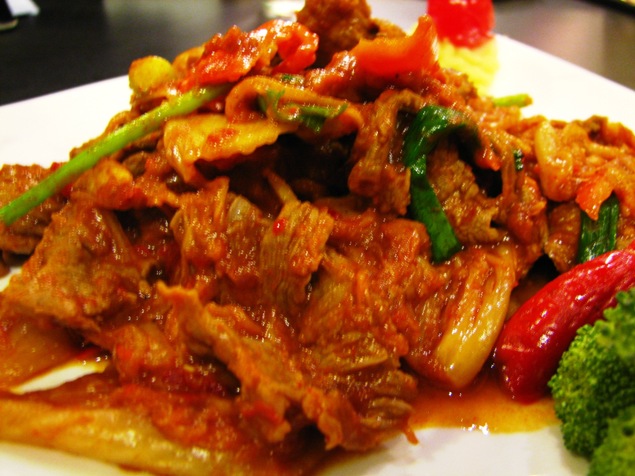 It looks spicy right? In fact, it is sour.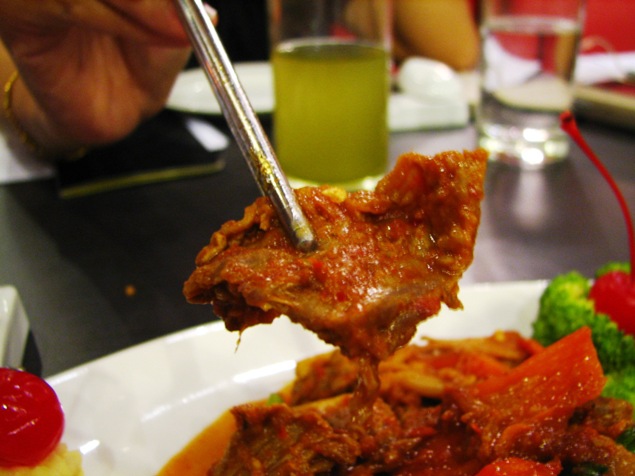 Lamb Teriyaki (RM18) – Grilled lamb with herbs in homemade sweet sauce. The grilled lamb is nice, if you manage to get the side part. The center part is a bit dry and not blend well with the sauce. But, I still like it. Nice!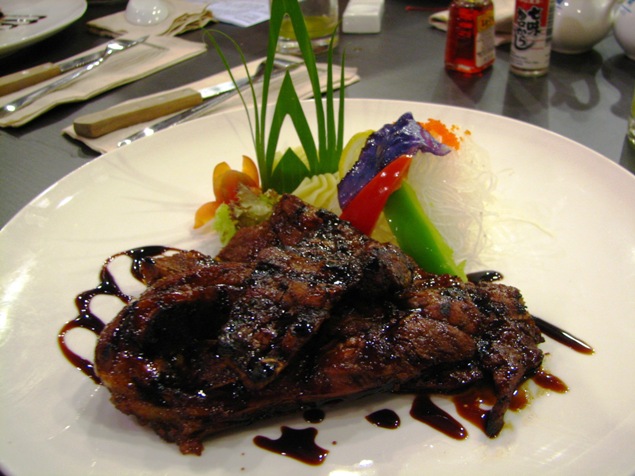 Homemade Spicy Chicken (RM15) – Friend Chicken with homemade spicy sauce. This is one of my favourite. I think I ate the most for this dish. It is very spicy. That is why I like it so much. The boneless chicken used is the same as the one in Chicken Ban Ban.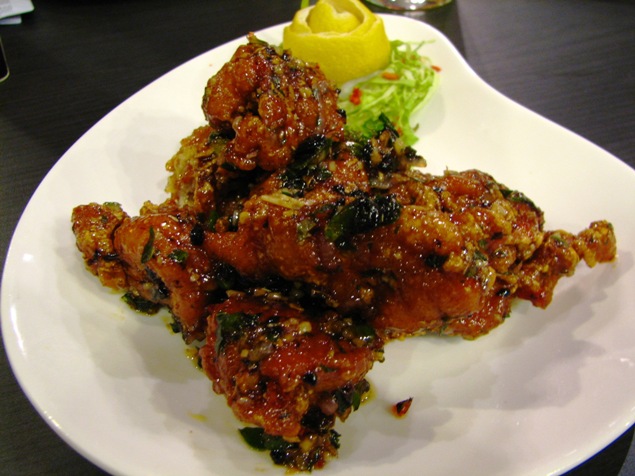 Must order this dish again in future!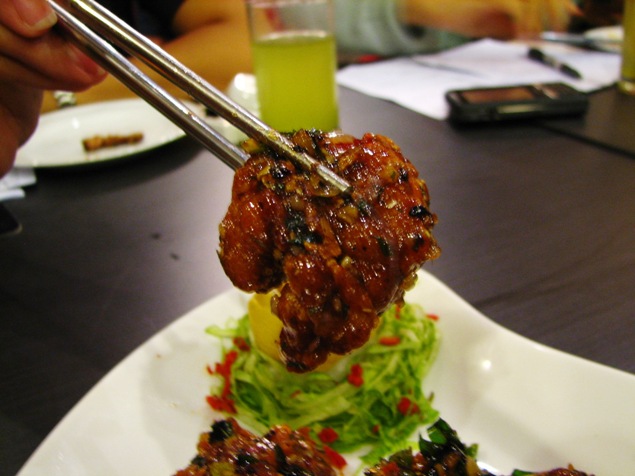 Shanghai Honey Spare Ribs (RM18) – Fried spare ribs with honey sauce. The spare ribs is too salty! In deed, very very salty. Some of us just tried a bit and cannot continue having it. Jason purposely asked for a bowl of rice to eat with it. According to him, it is very nice to haveit with rice, will not feel so salty if compare by eating the pork ribs alone.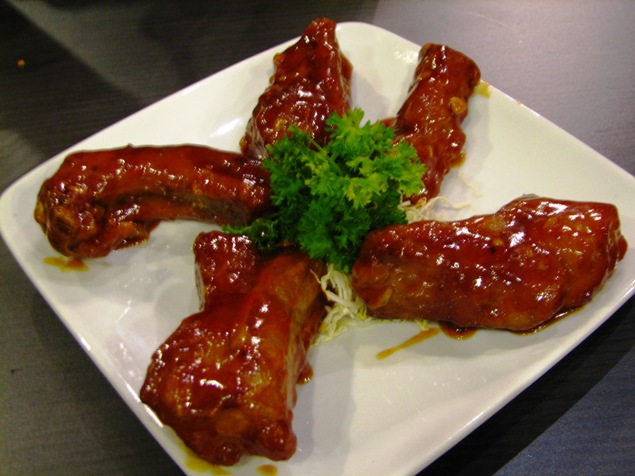 Tempura Cheese Maki (RM18). I also like this dish. It was fried on the outer layer and covered with cheese. Delicious!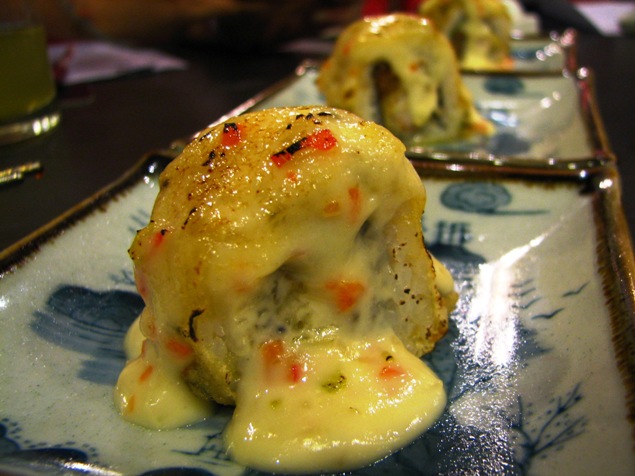 Chicken Bom. One of the new dishes which is not in the menu. Many of us feel that the taste is weird. The outer layer is the chicken. Inside, it is grilled salmon. The taste is not blend well.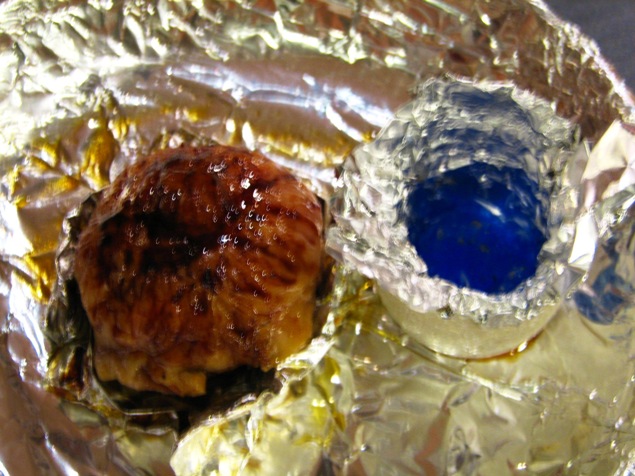 Can you see the grilled salmon? At first, we thought it was tuna.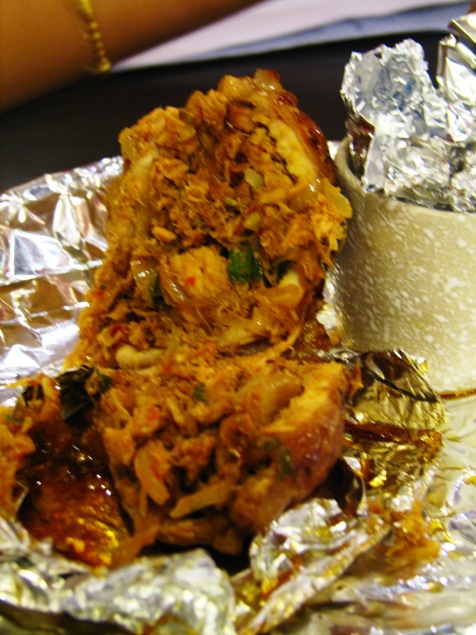 Wanton Noodle (RM22). It is just a normal wanton noodle. However, as you can see, the wanton is HUGE and NICE. There are a lot of pranws inside while you bite. However, RM22 is a bit pricey for just a normal wanton noodle. Nothing is really special about this.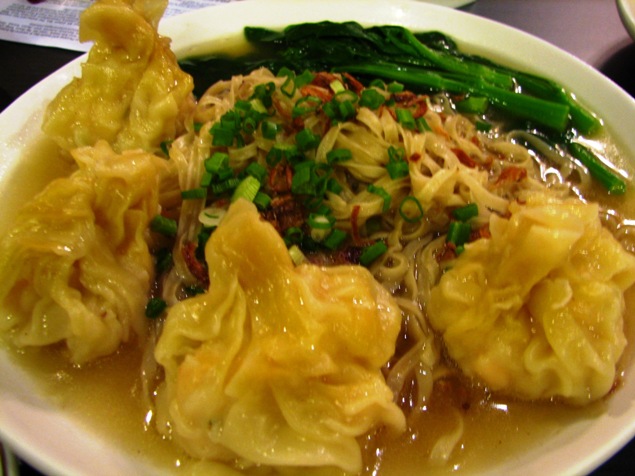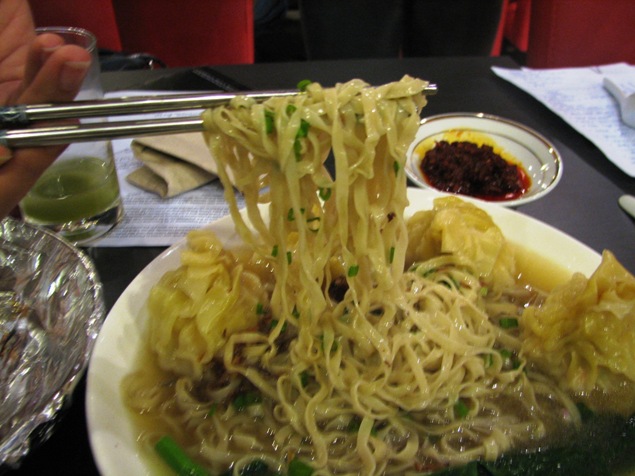 Japanese Yaki Udon (RM12) – Fried Japanese rice noodles with bonito flakes. This dish is a bit normal, same as the wanton noodle. The bonito flakes are moving while it is served.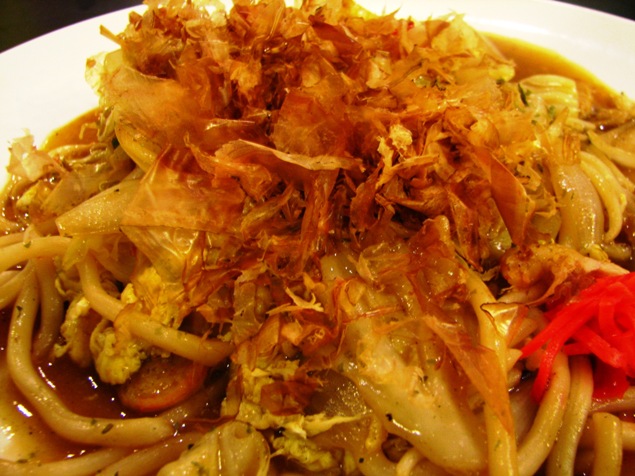 Homemade Desserts:
After the main dish, here comes the most awaiting dessert: Ice Cream!
Macha Ice Cream (RM8) – Green tea ice cream ith red bean paste. The green tea ice cream has a strong green tea taste, according to some of the food bloggers. To me, this ice cream is a bit too plain, not sweet enough. The glutinuos rice is a bit hard, not really like it. The red bean paste is just nice. Overall, not bad. Try it if you are a green tea ice cream fan.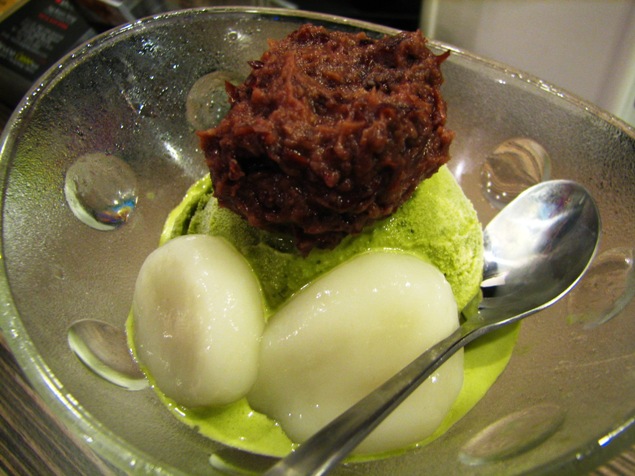 Kuru Goma Ice Cream (RM8) – Black sesame seed ice cream with crushed peanuts. I like this ice cream so much! Very nice! If compare to Macha Ice Cream, I feel that Kuru Goma Ice Cream is more like an ice cream. LOL. Thumbs Up!!!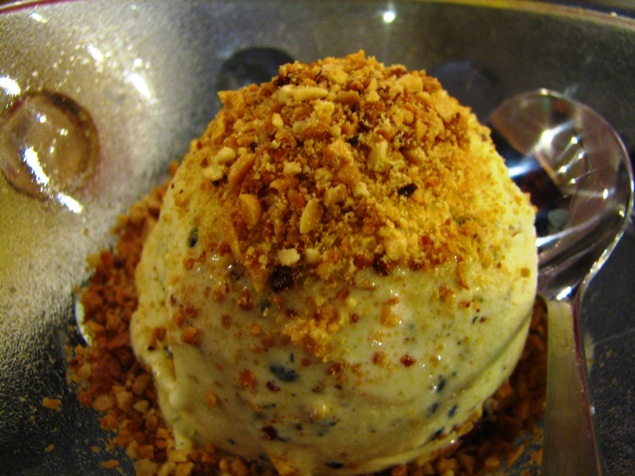 The Chef, Mr Edwin Teo.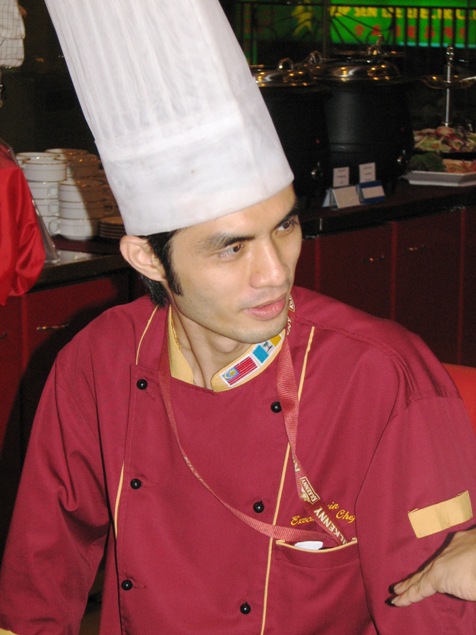 Name Card, with the address and phone number.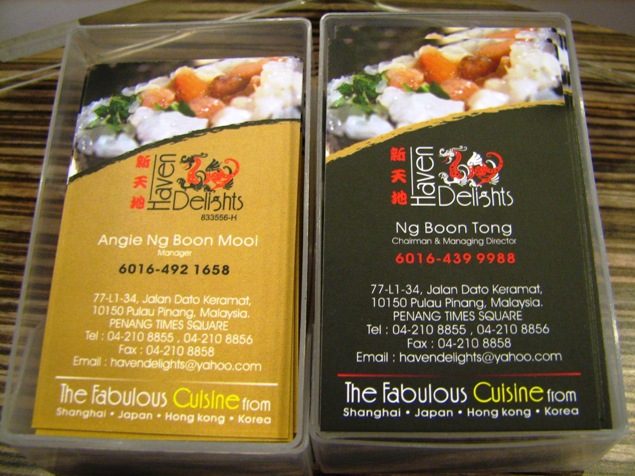 Haven Delight is open from 10.30am – 11pm.
List of Attendance:
Criz Lai
CK Lam
Penang Tua Pui
Steven Goh
Nicholas Chan
Jason and Gill
Lingzie
Allen Ooi
Allie Sun
Carrie Soon
Mary Teo
Bee
Ken Chan
Rebecca Saw
Big Boys Oven
Tags: Abalone, Beef, Black Sesame, Buffet, Chef, Chicken, Dato Keramat, Dragon Fruit, Eel, Egg, Georgetown, Green Tea, Grill, Herb, Honey, Hong Kong, Ice Cream, Japanese, Kimchi, Korean, Lamb, Maki, MAyo, Noodle, Peanuts, Penang, Pork Ribs, Prawn, Salmon, Sauce, Scallop, Shanghai, Spicy, Teriyaki, Time Square, Tofu, Udon, Unagi, Wanton