Another food review arranged by Criz. Our destination for the review was Ivy's Kitchen, located at 54 Chow Thye Road. Last month, there was a lunch review in Ivy's Kitchen as well. I never attended but I have read the reviews by our food bloggers. This time, 6 of us were invited to try out the dinner instead.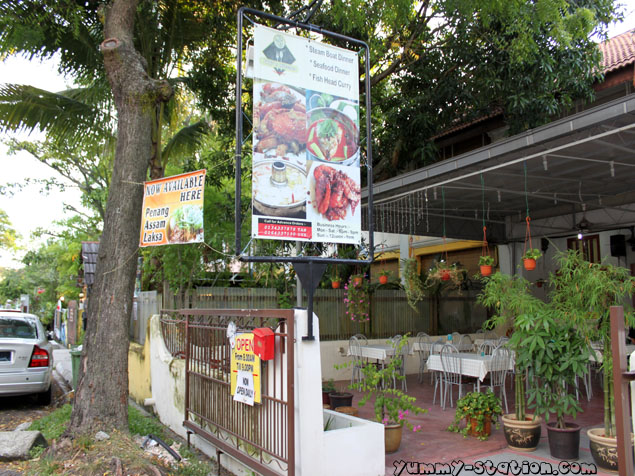 A big banner is hang on top of the entrance. As you can see, Ivy's Kitchen offers Steam Boat Dinner, Seafood Dinner and Fish Head Curry. Of course, these 3 are only some of the dishes among others.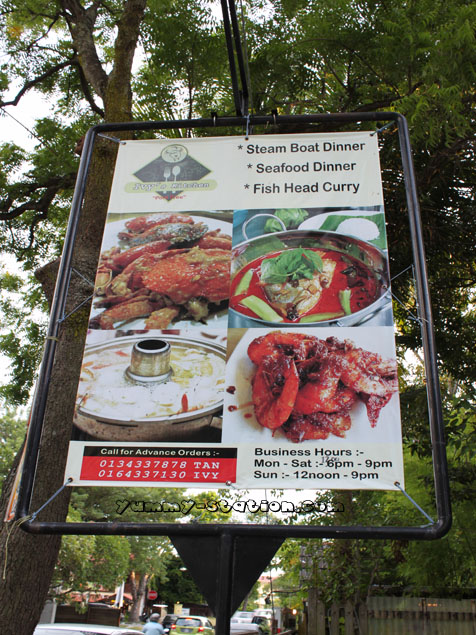 You can choose to sit outside or inside with air conditioning. It's your decision. However, order and payment need to be done inside.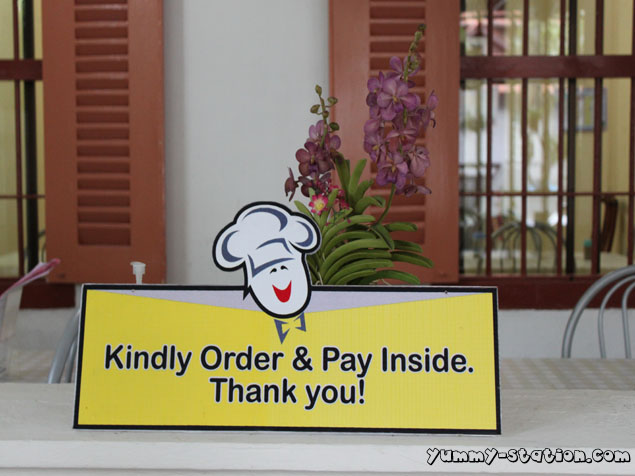 Table setting inside the restaurant.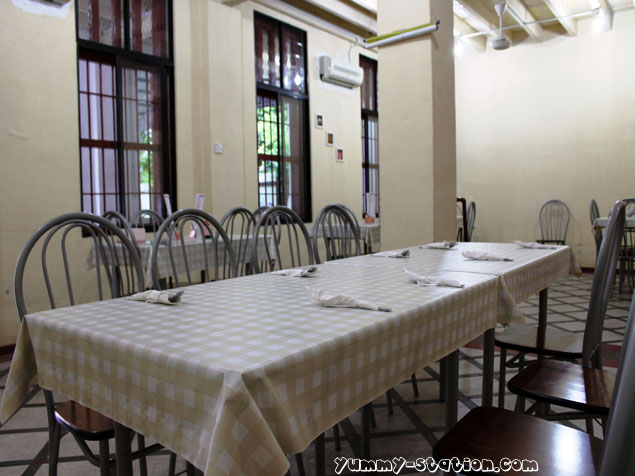 We suppose to order our own drink. Since we have no idea on what to choose, Mr Tan decided to give us different colors of drink, for the photo taking purposes.

First, it comes with 5 colorful drinks.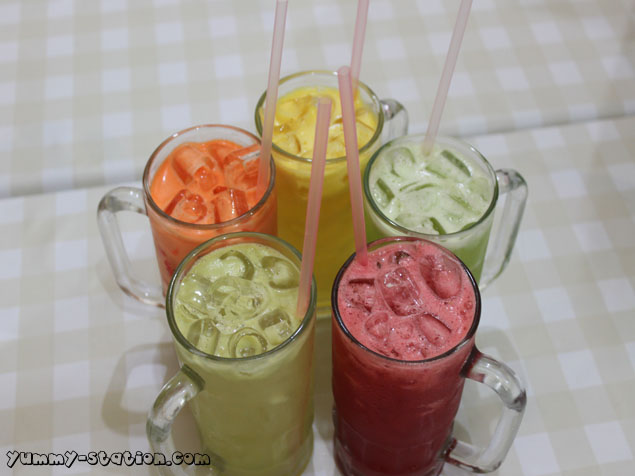 Then, add in another one, become 6. But we have 7!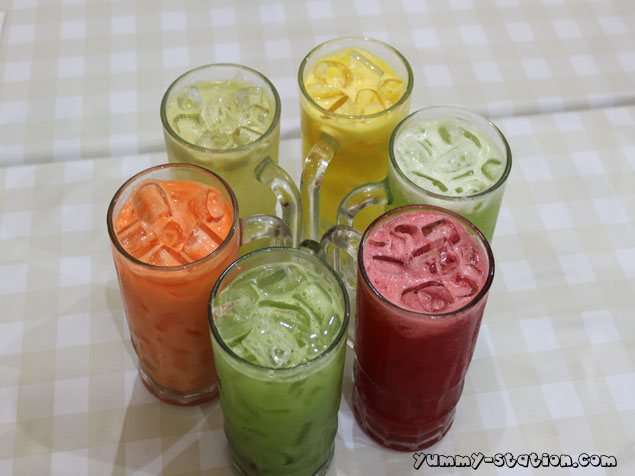 Here comes another one, to make it 7. All the 7 drinks are: Honeydew, Watermelon, Apple with Lime, Cucumber Mint, Carrot with Milk, Orange and Ambala Sour Plum. Each drink costs RM2.20. According to NKOTB who has the Apple with Lime, the lime is too strong against the apple. For Cucumber Mint, Waco said it tasted like cucumber. Hmmmmm, of course it tasted like cucumber, if not, it tasted like banana? LOL.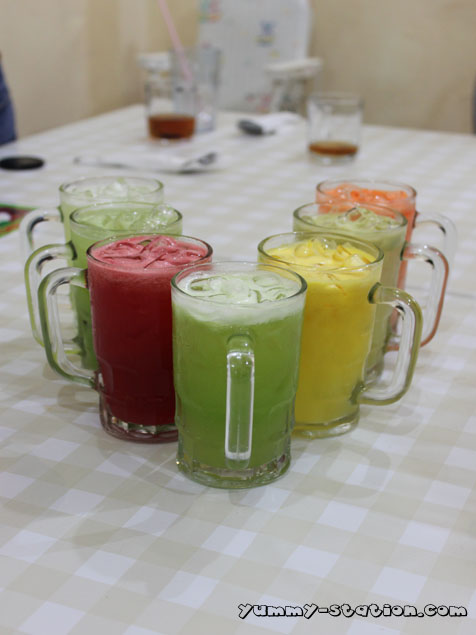 Our first dish of the night, Sweet and Sour Flower Crab. The gravy is very good. However, I never feel the sourness. Besides, I like it to be more spicy. Mr Tan explained, if it is too spicy, children are not able to take it. All the dishes are meant for whole family. This has cleared all the doubts. We suggested to have the level of spiciness:  mild, moderate and super spicy for customers to choose their desired level. Sounds great right? This dish will become perfect if Fried Man Tou is provided, to dip it with the gravy. Slurp…….
The charges for Sweet and Sour Flower Crab is RM30 per 600g. By looking and the photo below, can you guess how much we have eaten? Honestly, I have no idea. If you want to know, ask Mr Tan or Ms Ivy. Maybe, you can get a free treat from Mr Tan by guessing it right. I said, MAYBE.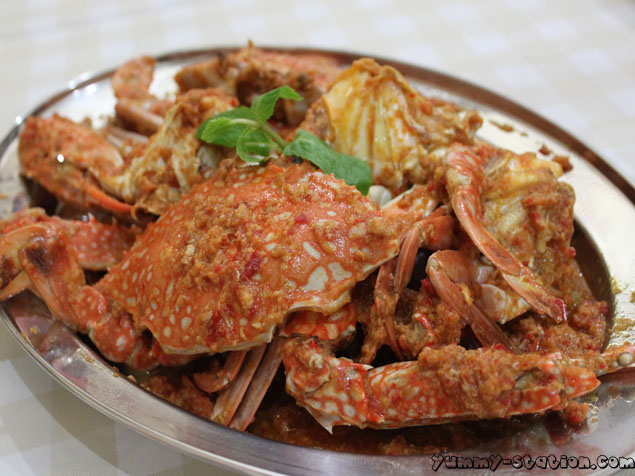 Joo Hoo Char – RM10. This dish is very common. You can find it in most of the Nyonya restaurant. I just like it.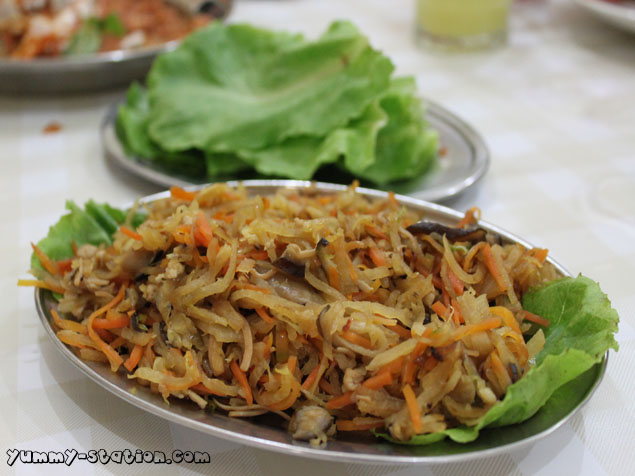 Whose hand? This one is pretty easy to guess. It is nice to have the Joo Hoo Char with the vege.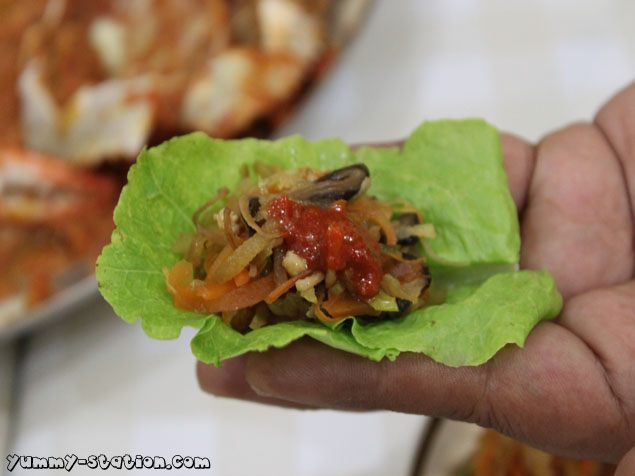 Lobak is the next. If Mr Tan never mentioned the meat was chicken, I did not notice also. I just eat. To me, it is just normal. I still prefer the one my mum made. Haha. RM6 for this plate of Lobak.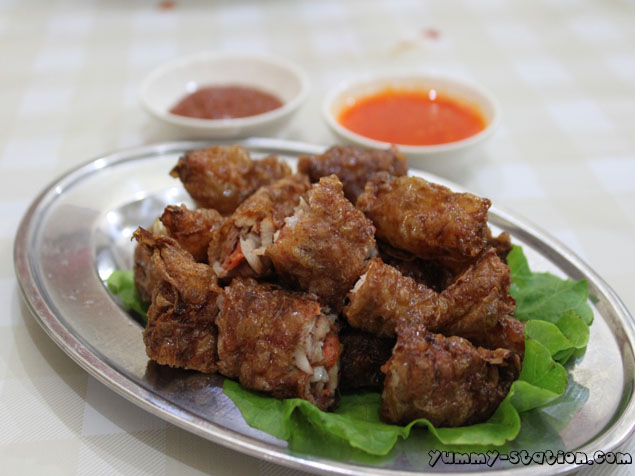 Here comes the Asam Prawn. The size of the prawn is small, if compare to other restaurant. But with the price of RM4-RM5, it's worth it! I like this Asam Prawn. YUMMY!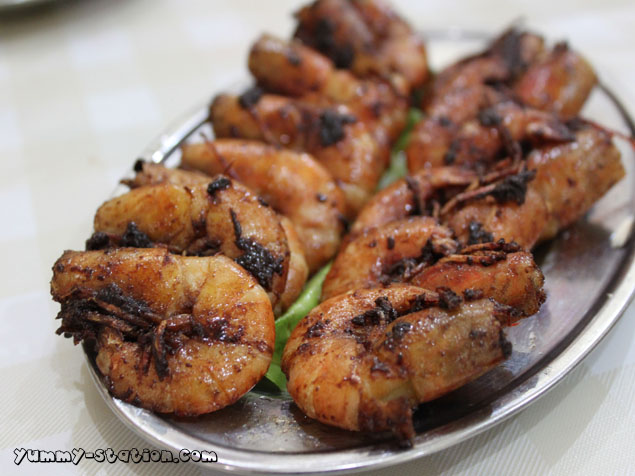 Sambal Kai Lan. It has 3 categories: Small (RM8), Medium (RM10) and Large (RM14). If you dine in Ivy's Kitchen, don't forget to order this dish with more sambal or more spicy. The sambal is just fantastic.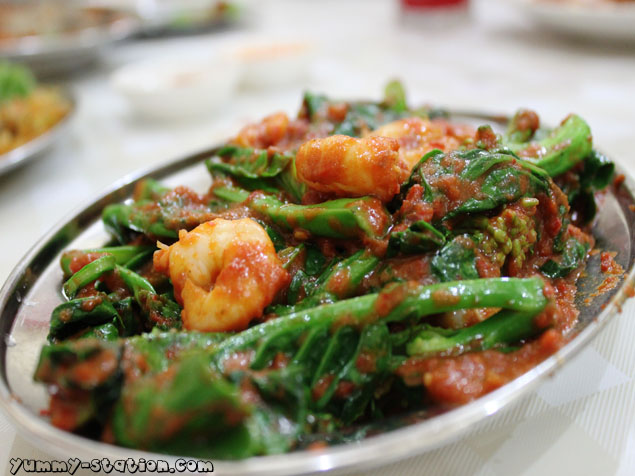 Fish Curry or in Malay, Gulai Tumis Ikan. Black Promfret was being used in this curry. The curry is sour. Spicy wise, it is OK for me. The price is charged according to the weight of the fish. RM10 per 100g. Again, how much is the fish curry below costs? Same answer from me, ask Mr Tan.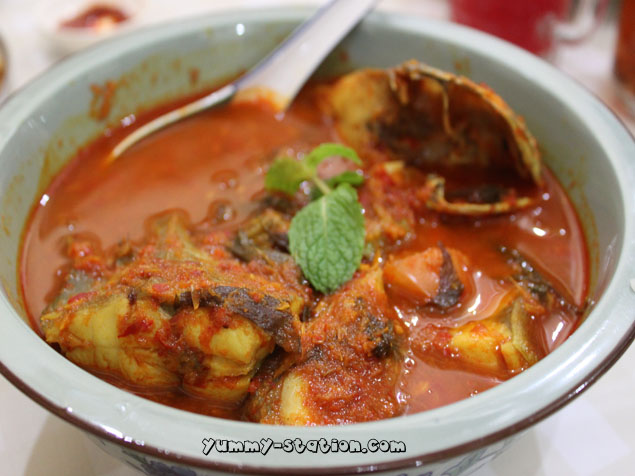 Tofu Seaweed Soup – Small (RM8), Medium (RM10) and Large (RM14). It is a very normal soup. Nothing special.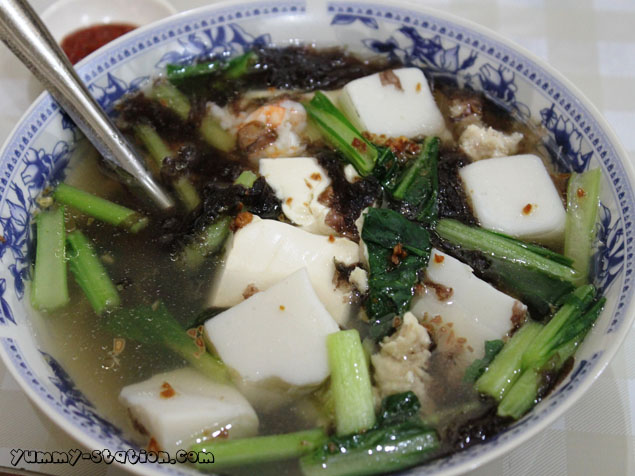 Additional dish: Beef Rendang, courtesy of Mr Tan. The gravy was superb. However, the beef was not tender enough. Besides, maybe the beef can be replaced by chicken or pork, since some people don't eat beef.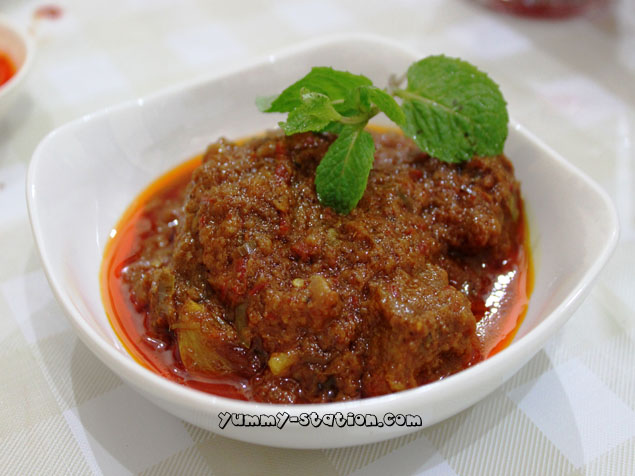 Red Bean Longan – RM2 per bowl.
It is full of red bean, sago and longan, worth the price.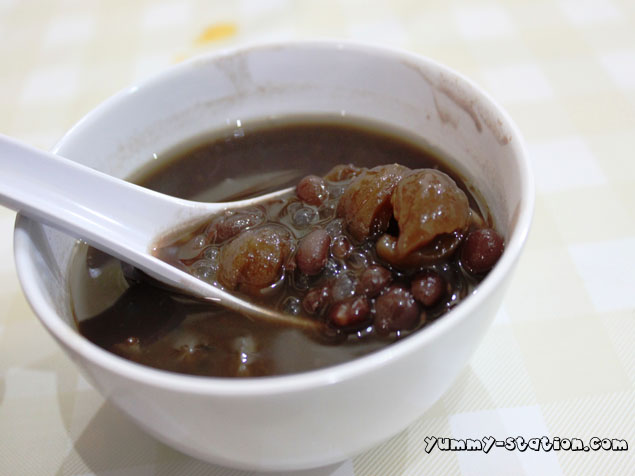 Overall, I was very full after this dinner. All dishes are delicious and great, especially Sweet and Sour Flower Crab, Asam Prawn, Sambal Kai Lan and Beef Rendang. If you cannot think of a place to go for your dinner, try Ivy's Kitchen out. It's simply delicious and yummy!
Map:

View Yummy Station in a larger map
Address:
58 Jalan Chow Thye
10250 Penang
Tel:
013-433 7878 (Mr Tan)
016-433 7130 (Ms Ivy)
Business Hour:
Open Daily 12pm-9pm
Tags: Ambala, Apple, Asam, Asam Prawn, Beef, Carrot, Chicken, Chow Thye, Crab, Cucumber, Curry, Dessert, Fish, Flower Crab, Georgetown, Honeydew, Joo Hoo Char, Lime, Lobak, Longan, Milk, Mint, Nyonya, Orange, Penang, Plum, Prawn, Promfret, Red Bean, Rendang, Sago, Seaweed, Soup, Sour, Sweet, Tofu, Town, Vegetables, Watermelon