This post suppose to be posted 2 months ago. Hahaha. But it is good also for posting late, so all of you can recall the good time we have during the gathering, right?

Just before this gathering, we have a pre gathering at 75 Celcius at noon. I have to rush back home since I am car pool with Mary and Cariso. Mary fetched us this time. We reached Vintage Bulgaria quite early. We have a nice parking lot just opposite the restaurant. Vintage Bulgaria Restaurant & Bar is very obvious on that row of shop lot due to its color: White, Green and Red.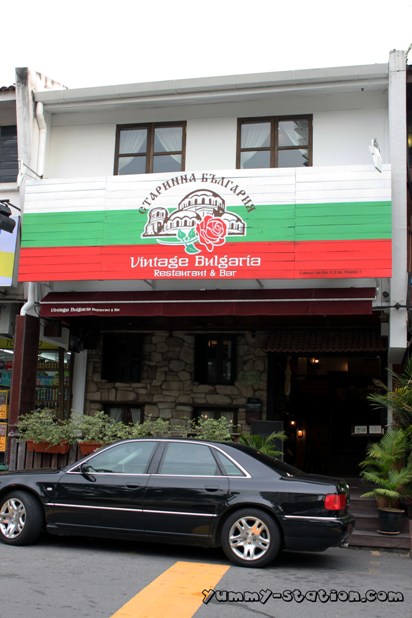 Happy Hour is from 12pm-7pm.
Restaurant interior.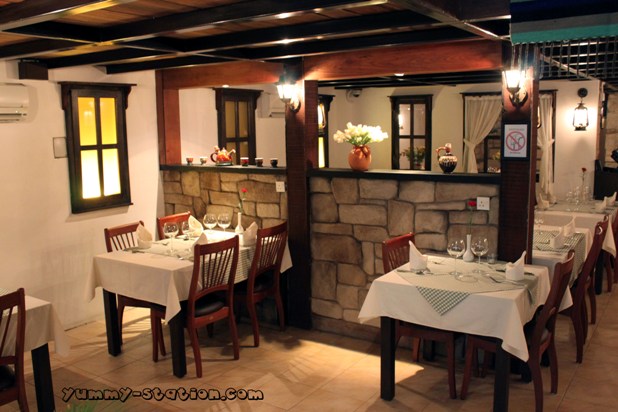 Just step into the restaurant, you can see this colorful design in front of you.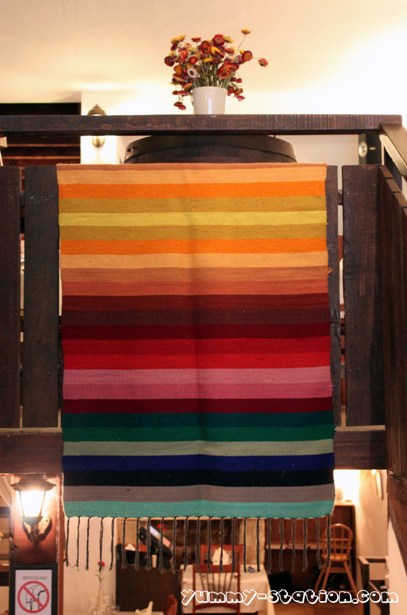 IQ test: Which country is this flag represent?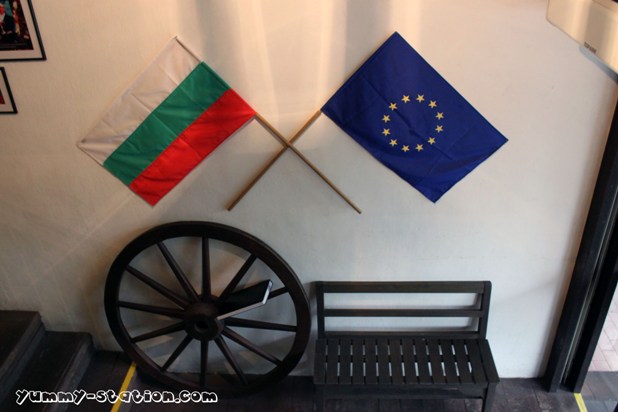 Nice decoration.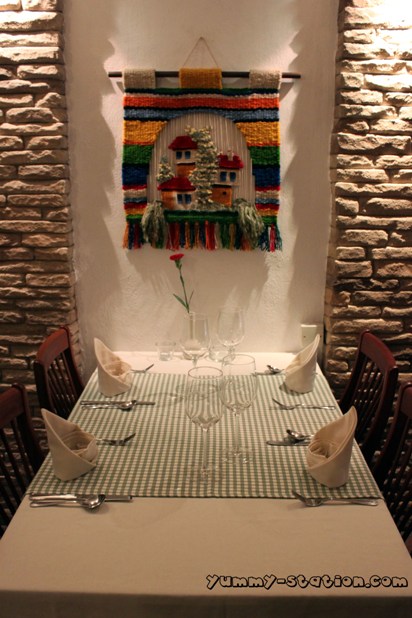 Closed up.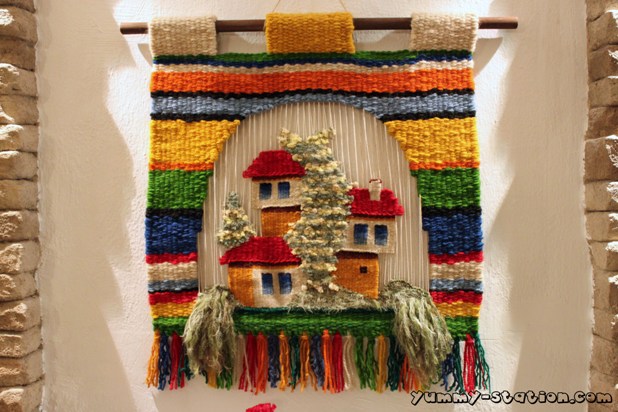 This is the menu of the night. We have around 40 people and the rest of the customers who visited Vintage Bulgaria on that night, need to order the same dishes like what we have. Cool huh?! The set dinner consists of soup, main course, dessert and beverages.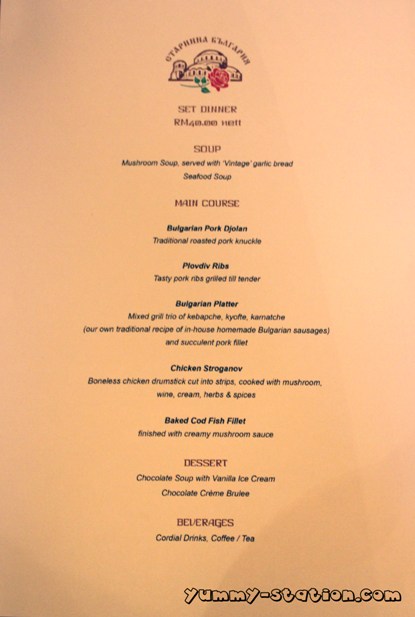 Mushroom Soup, served with 'Vintage' garlic bread. This is simply delicious. If you want to try other than mushroom soup, you can order the Seafood Soup (No photo as it is not clear, too bad).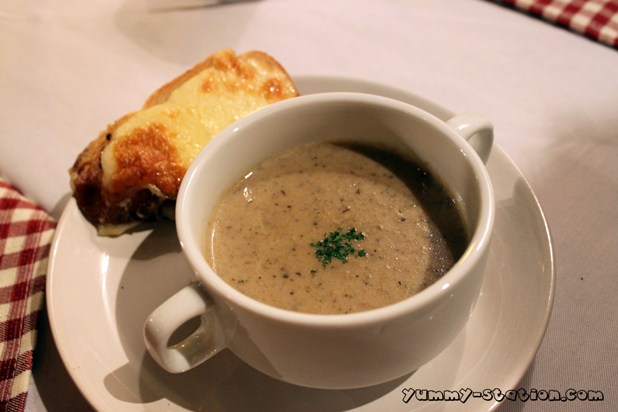 Baked Cod Fish Fillet, finished with creamy mushroom sauce. It looks nice but the portion is a bit too little. Do you think so?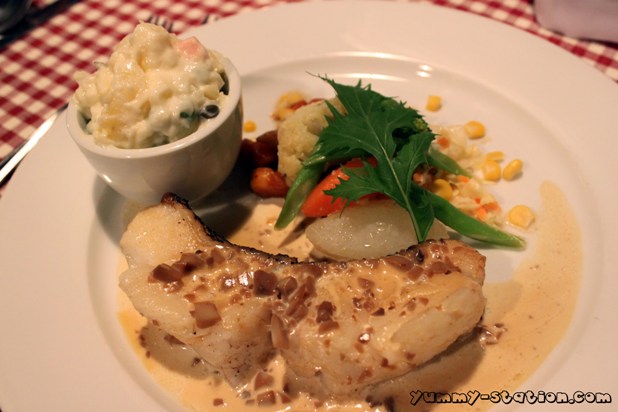 Chicken Stroganov. It is the boneless chicken drumstick cut into strips, cooked with mushroom, wine, cream, herbs and spices.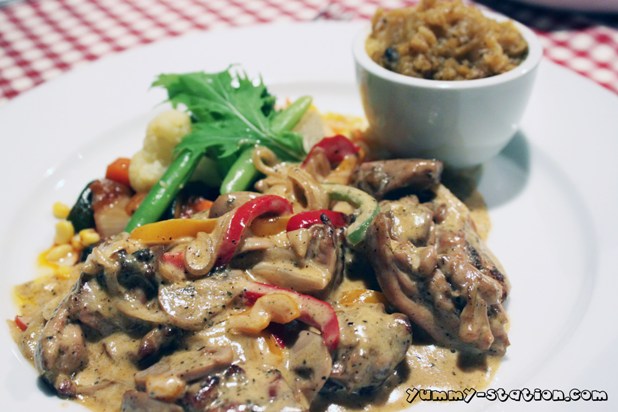 Plovdiv Ribs. This is the main course I ordered. The meat is very tender and soft, just like the description on the menu, tasty pork ribs grilled till tender. Thumbs Up!!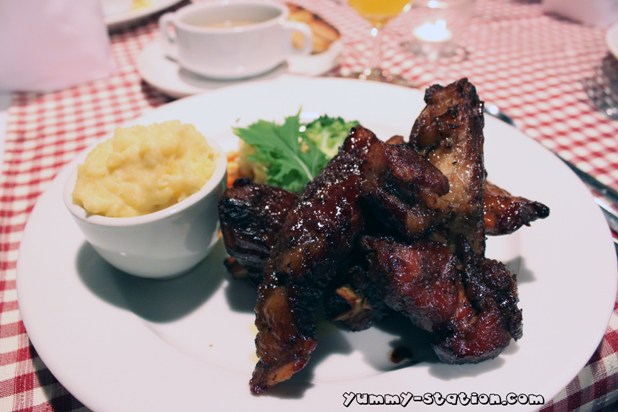 Bulgarian Pork Djolan. It is the recommended dish on the night from other floggers. I never order this as I scared it will be too much fat. It seems like I am wrong. I manage to try one bite, it is yummy. This pork knuckle that roasted in a traditional way is a MUST order dish if you are a pork lover.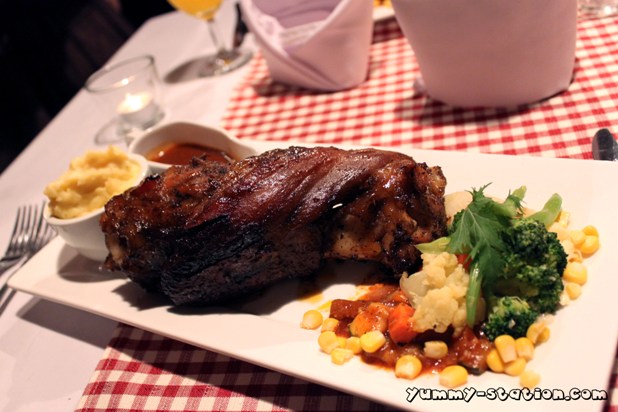 Bulgarian Platter: Mix grilled trio of kebapche, kyofte and karnatche. They are the home made Bulgarian sausages and pork fillet from traditional recipe. I also have a chance to taste on it, a bit too salty to my liking.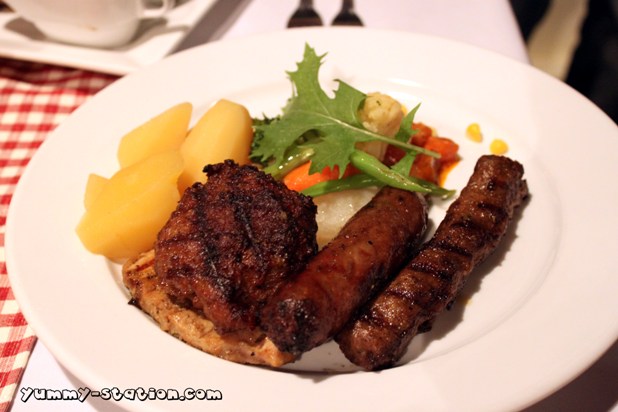 After the main course, here comes the dessert. However, these desserts are not the on in the menu.
Winter Butterfly Homemade Cake sponsored 3 cakes for the gathering: Oreo Cheese Cake, Cream Cheese Mousse Cake and Chocolate Brownie.
Oreo Cheese Cake. I like this Oreo Cheese Cake very much. It is so rich with cheese and Oreo. Many said they don't like it because it is too rich. Hahaha.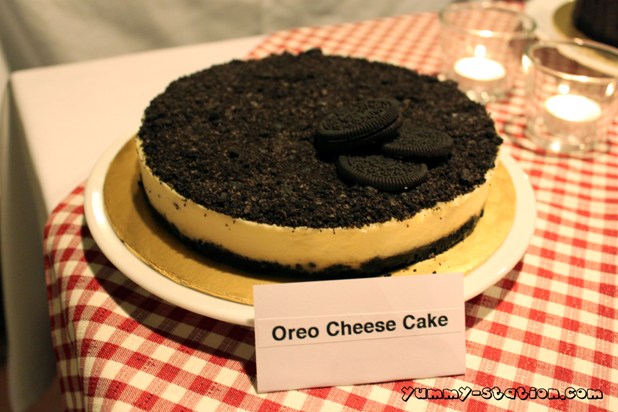 We are celebrating the birthday for those whose birthday fall in the month of July, August and September.
Cream Cheese Mousse Cake. This one is good too. The Cream Cheese is not that sweet which made most of us like it very much.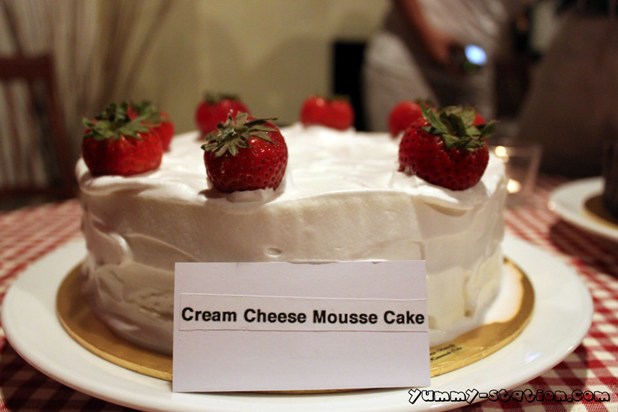 Can you guess who is the one holding the cake?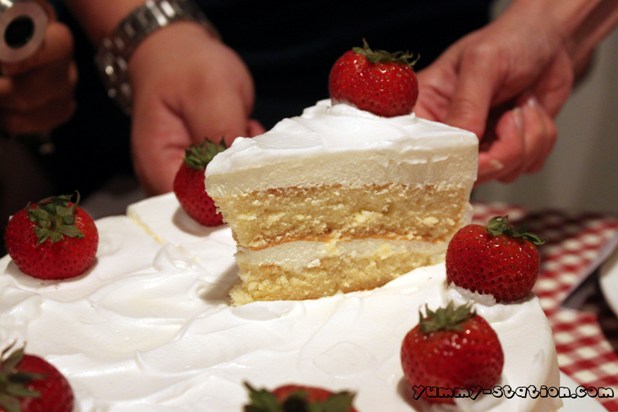 Chocolate Brownies. I thought I will like this the most but it is not. Although the chocolate is rich, it is too dry overall.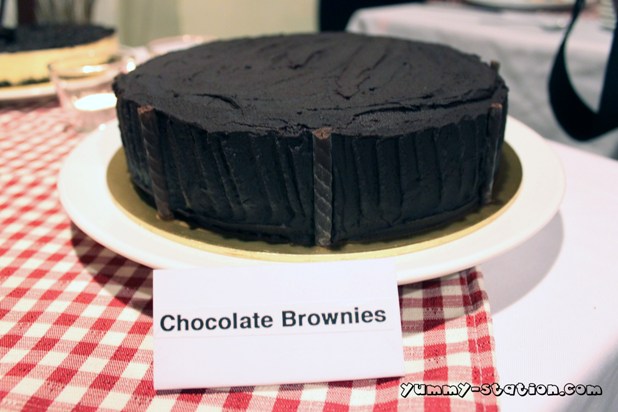 After these 3 cakes, we have another sponsored food: Gelato from Gelatissimo. The flavors include rum & raisins, mango, chocolate, green tea and ……… I forgot. All of them are so nice!!! I can finish all of them.
After all the sponsored desserts, here are the real dessert from the menu.
Chocolate Soup with Vanilla Ice Cream. I am regret for not ordering this. I only have a teaspoon on this.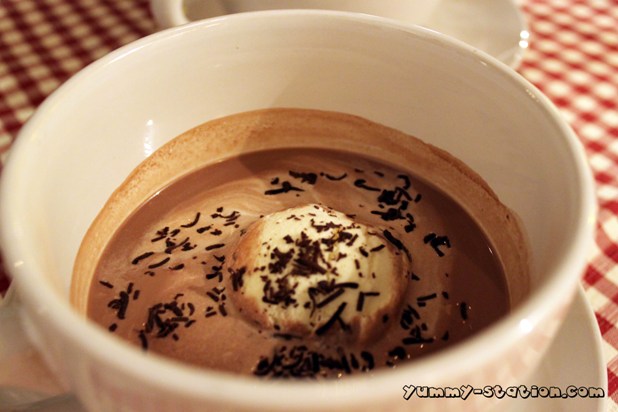 This is the dessert I ordered, Chocolate Creme Brulee. I have no idea what is this. I just simply made the order.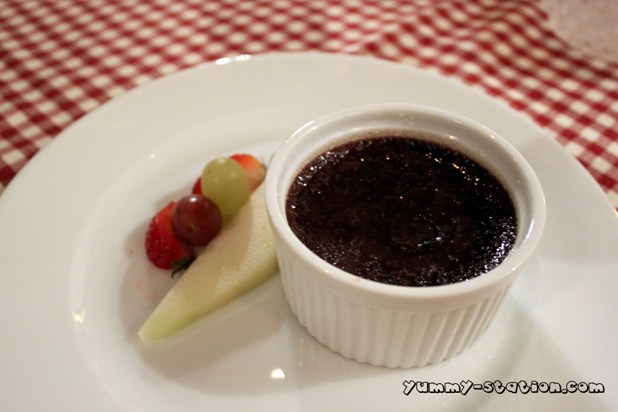 It is too sweet. I still prefer the Chocolate Soup. Can I change it?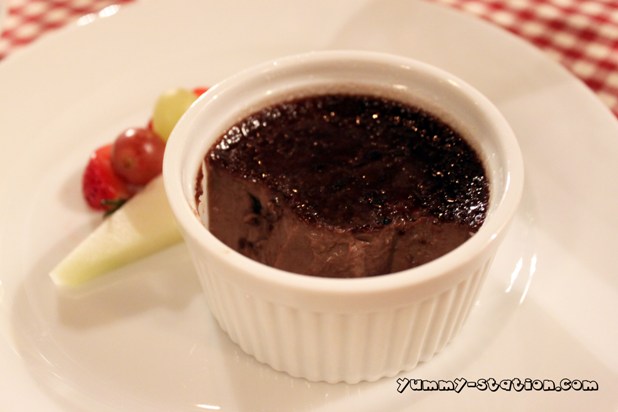 For the beverages, I have a cup of coffee.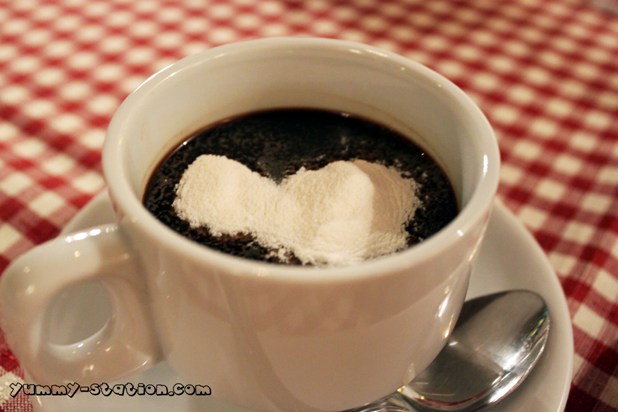 This 4th gathering is full of laughter. All Floggers were enjoying the night, thanks to Alan. We have fun and happy to meet all the new floggers for the very first time. All attendance will have a pen and restaurant discount vouchers as door gifts.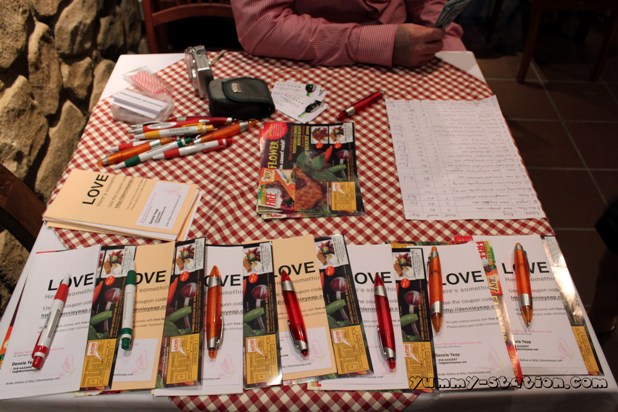 Vintage Bulgaria Restaurant & Bar
(next to Ingolf – The German Restaurant)
1-E, Jalan Sg Kelian
Tanjung Bungah
Penang, Malaysia
Tel: +604 8981890
Tags: 75 Celcius, Bake, Brownie, Brulee, Cheese, Cheese Cake, Chicken, Chocolate, Cod Fish, Cream Cheese, Fillet, Fish, Gelatissimo, Gelato, Grill, Herb, Hillside, Mousse Cake, Mushroom, Oreo, Penang, Platter, Pork, Pork Ribs, Seafood, Soup, Spices, Vintage, Wine