Sushi Kitchen is back to serve you with all delicious food starting from June 2010!!! Don't miss the opportunity to try it out!

*I got a SMS from Sushi Kitchen today (1st Jan 2010), saying that they will extend the business for another 3 days until 3rd Jan 2010. Please call and make the reservation now in order to taste all the delicious food from Sushi Kitchen. Happy New Year 2010!!!
Sushi Kitchen, from the name, you already know it is a Japanese restaurant. However, Sushi Kitchen serves meatless Japanese food. I was a little bit shock when my friend told me about this. Since they are going to terminate the business, I agreed to go with my friends for dinner.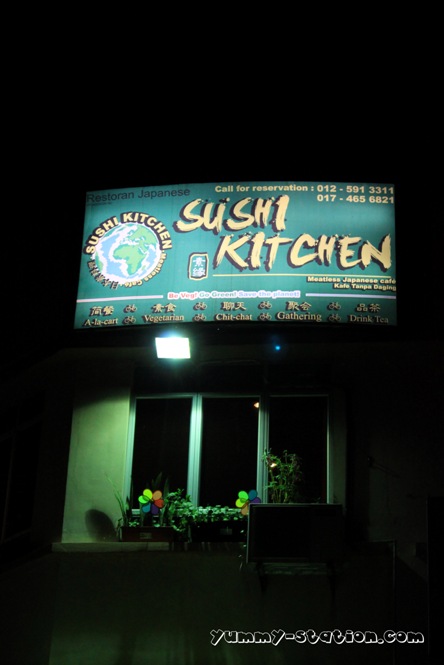 Entrance. The door is very tight. You need to use your whole energy just to pull the door open.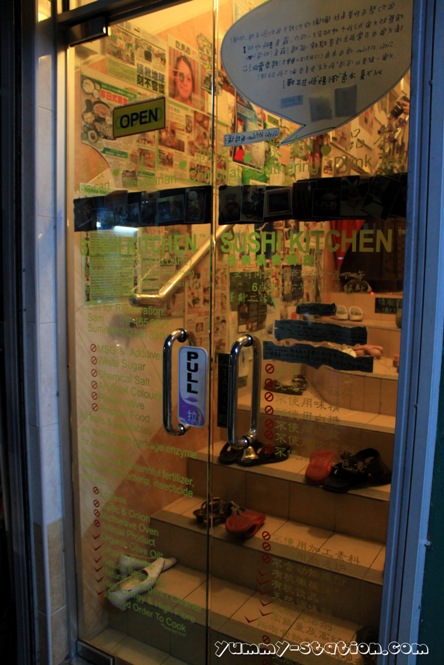 Newspaper cutting from Guang Ming Daily. The chopsticks used in Sushi Kitchen are environmental friendly and biodegradable.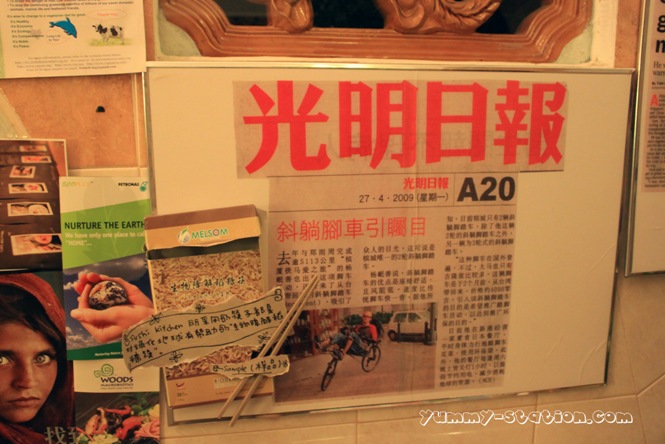 Before entering into the dining area.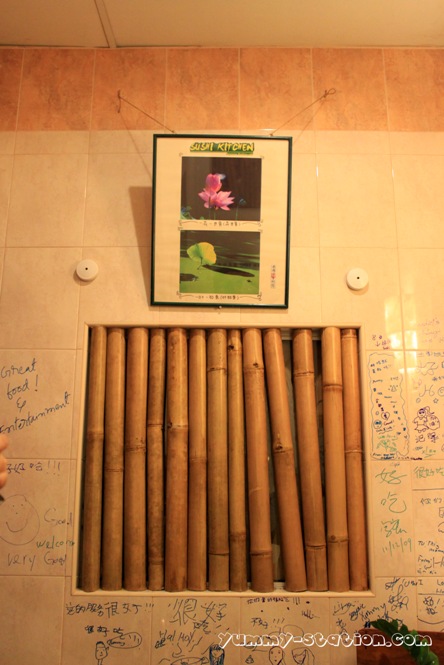 Dining Area, tatami style.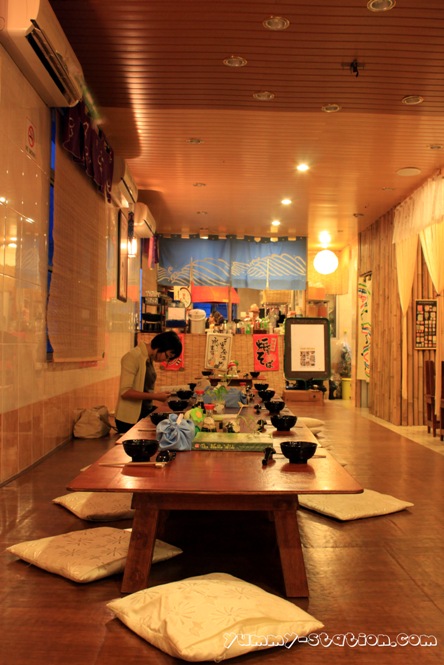 Food preparation area.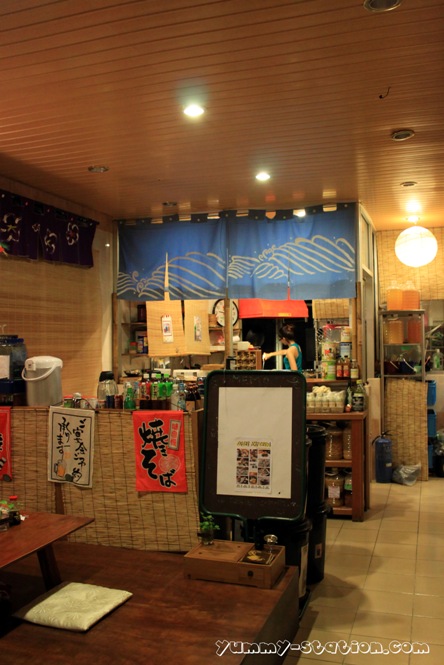 Surrounding.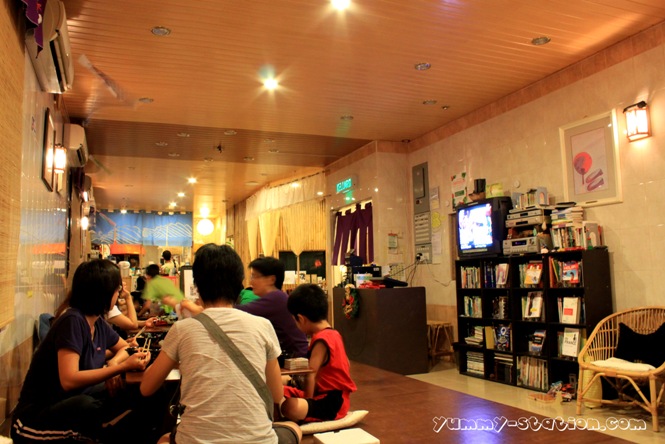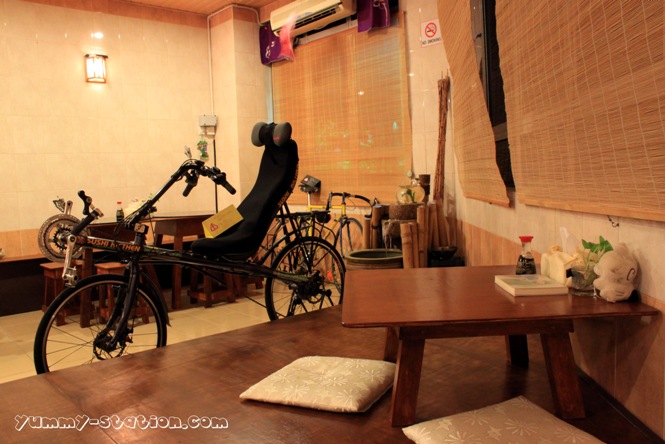 Cutlery set.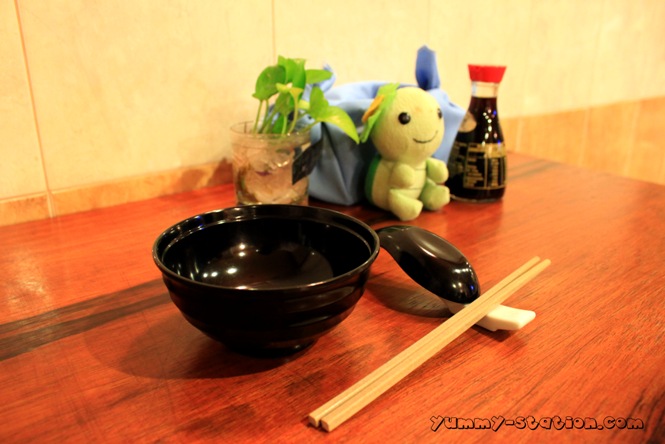 I visited Sushi Kitchen twice. The food is nice, that is why.

During My First Visit
Sweet Potato Noodles – RM4.00
This is a good recommendation from my friend. I like the noodle, together with the gravy. The gravy is just nice, not too salty nor sweet.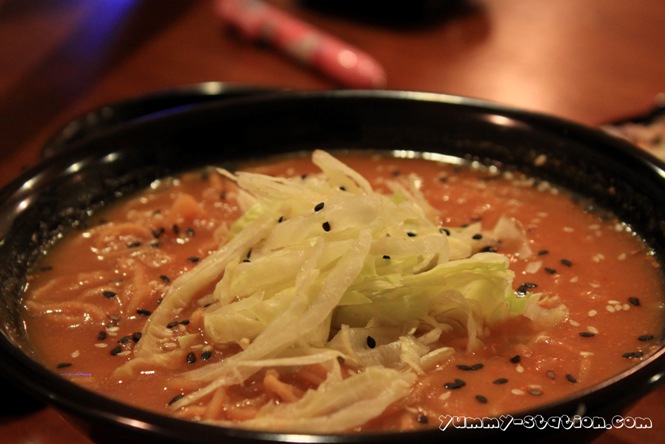 This is a must photo for most of the noodles.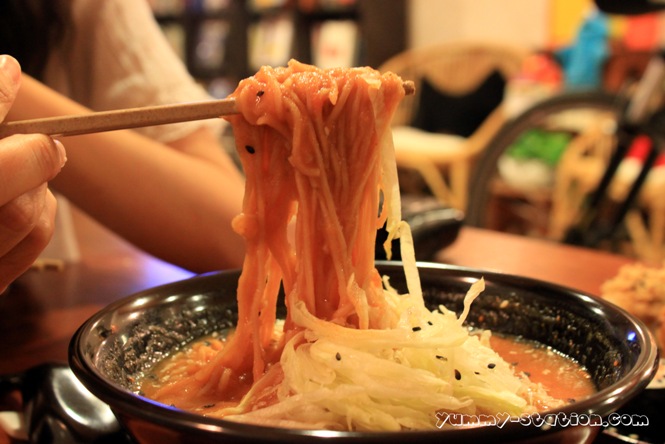 Fried Udon – RM7.80
We ordered this as my friend said we can finish it in just 4 mouthful! In fact, it is not. According to her, the portion is bigger if compare to last time when she dined here. The Udon texture is springy. Yummy.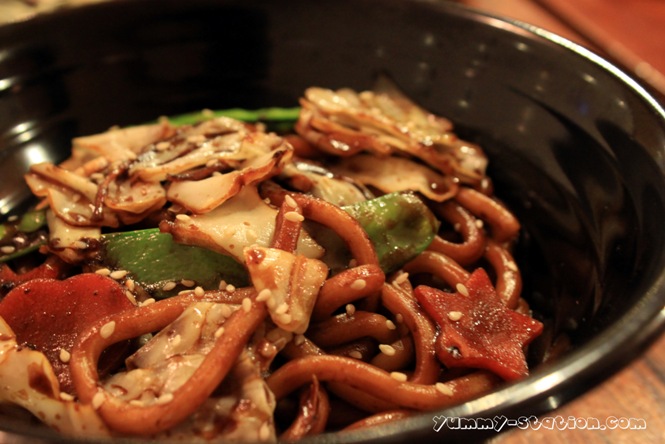 Seaweed Fried Rice (Brown Rice) – RM10.80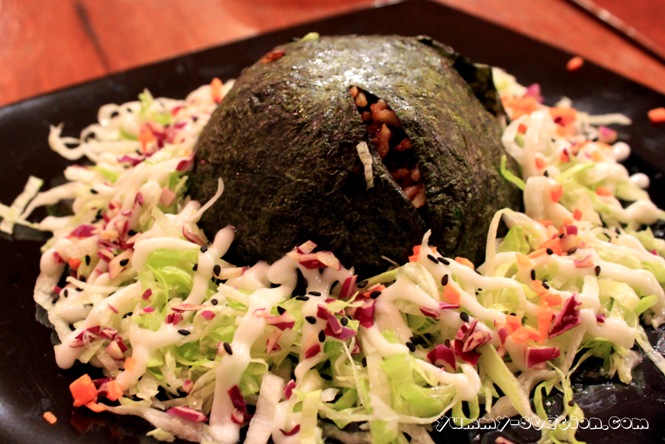 This is the recommendation from the waitress. We go for brown rice since the white rice is finish. I like the presentation of this dish. The rice which is covered up by the seaweed placed in the center, surrounded by all the vegetables. Nice! To our surprise, this fried rice is really tasty.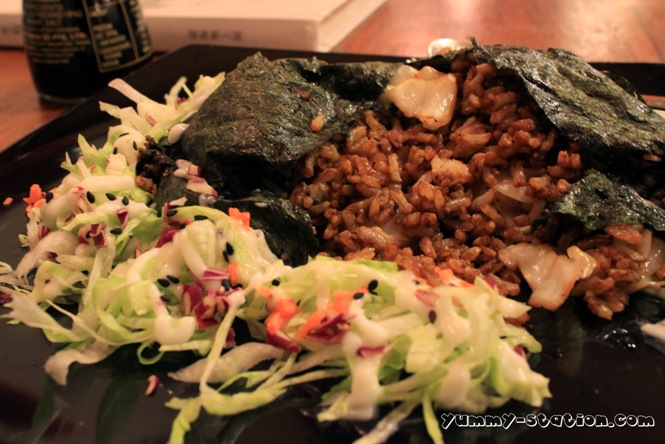 It will be weird if we come to Sushi Kitchen without ordering any Sushi.
Happiness Family (Big) – RM24.80
This combination of sushi is really delicious. Thumbs Up!! There are total of 5 types of Sushi plus the green beans. If you dine with a bunch of friends, this is a must order dish. All sushi are so damn good until we forgot to eat it with wasabi.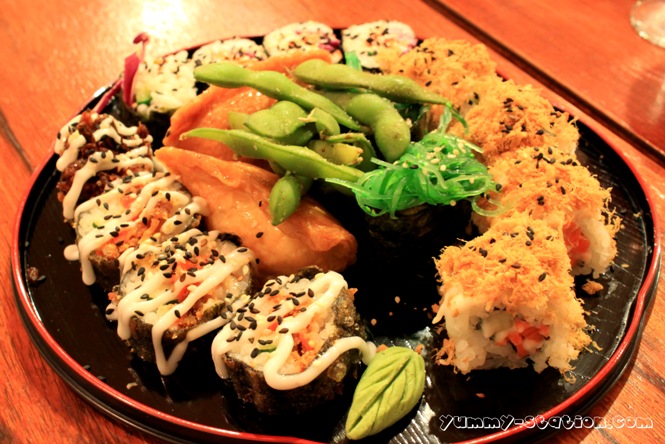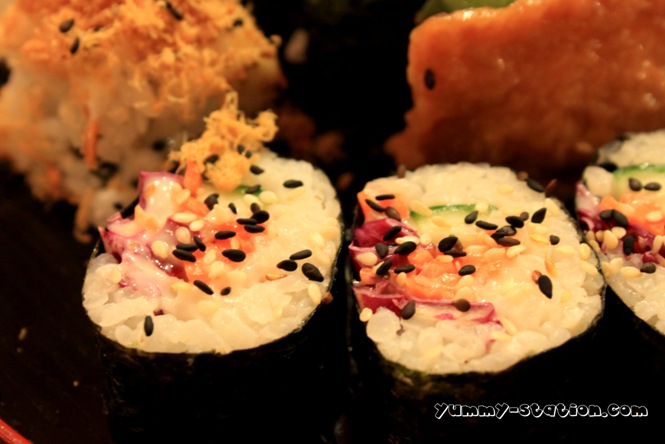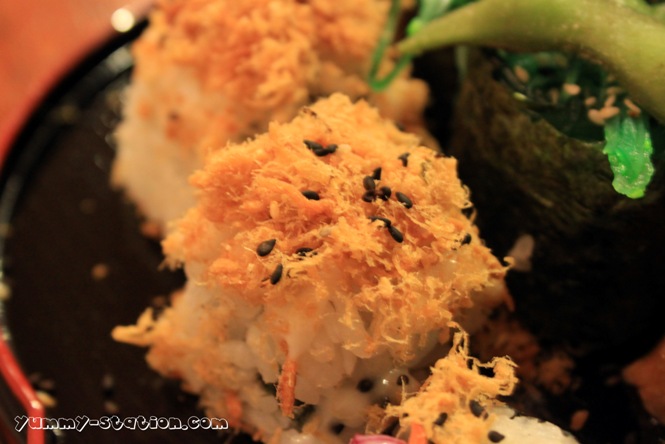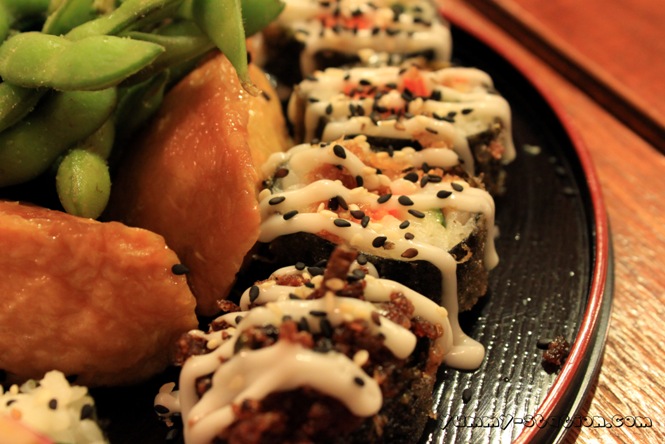 Golden Age (3 pcs) – RM8.80
Another yummy sushi. Can you guess what is on top of the sushi? It's my favorite fruits, MANGO!!! The Mango taste is so good as it is already fully ripe. I have nothing much to say about this. Speechless after put it into my mouth!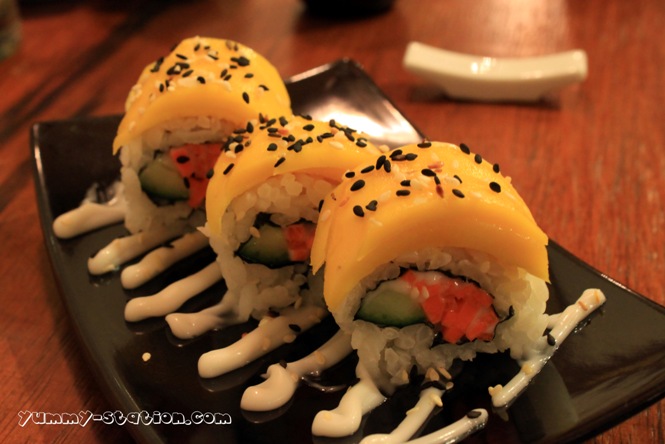 Low Beauty Roll – RM6.80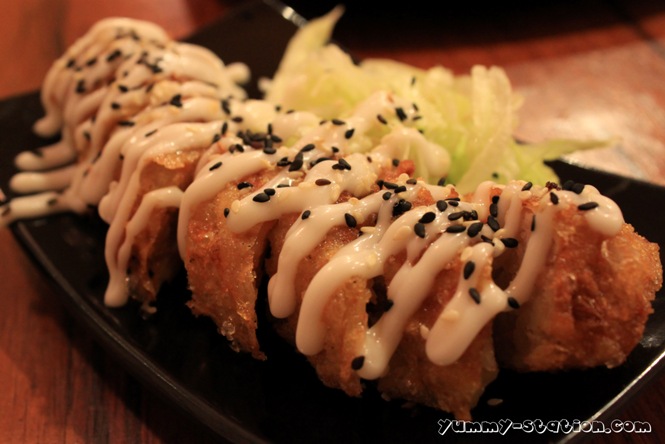 During My Second Visit
I ordered all different food from what I have previously, for the photo taking purpose. I cannot order too many food since we only have 2 persons this time, compare to 3 previously.
G-ken Floss Fried Rice (Brown Rice) – RM10.80
Initially, I want to order the spicy fried rice. Too bad it is not available. In the end, I chose this fried rice instead. I ordered brown rice again since it was really nice. Furthermore, it is more healthy than the white rice. I just found out why it is call G-ken floss. G-ken sounds like Chicken. LOL.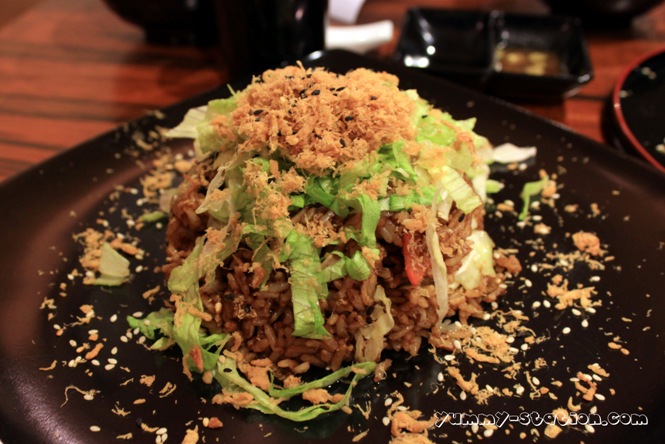 Inside-Out Roll (Mixed Version) – RM9.80 and Rainbow (6 pcs) – RM7.80
The sushi never let me down. It is very delicious and the taste is just great. This time, I remember to try it with wasabi. Perfect match!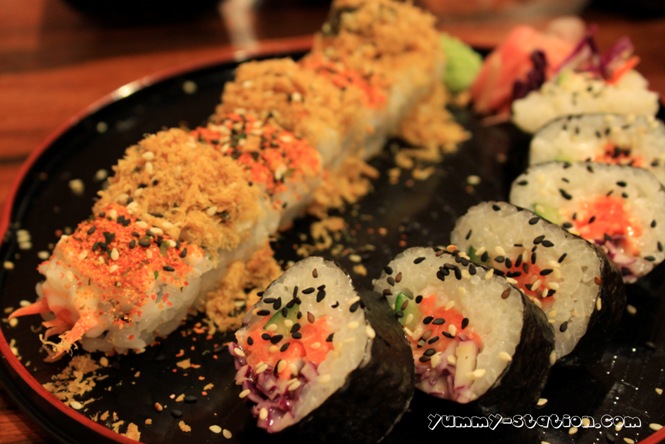 Radient Light Fried Udon – RM9.80
This is an add on order. I scared we will not full for just eating the fried rice and sushi. This is the bad choice of the night. It is not that good. Both of us also have the same opinion. I rather order the Sweet Potato Noodle.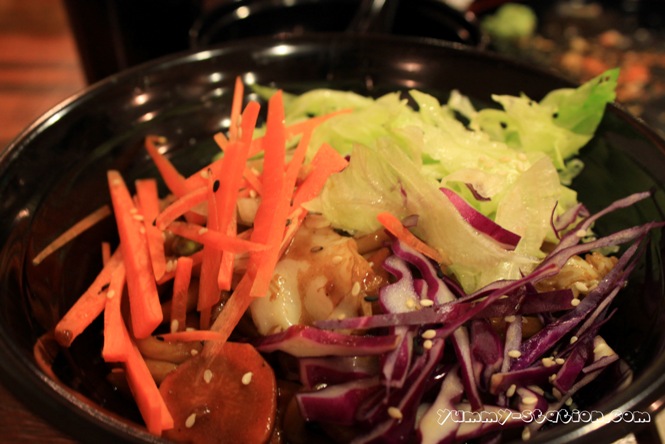 By the way, what is the difference between Radient Light Fried Udon and Fried Udon? Radient Light Fried Udon has all the vegetables on top, that's all.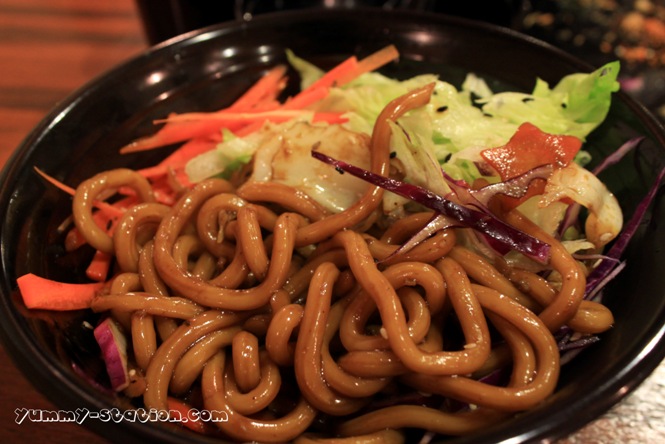 Overall, the food from Sushi Kitchen is NICE, especially the Fried Rice, Sushi and Sweet Potato Noodles. It is really sad that they are going to terminate their business starting from Jan 1 2010. Which means, 31st December 2009 will be the last business day for Sushi Kitchen. If you never try out Sushi Kitchen, do try your luck to make a reservation on the very last day. I hope you still get your seats!
Before leaving, we left some comments on the wall. If you manage to go on their last business day, you can see that I have added the date for my second visit.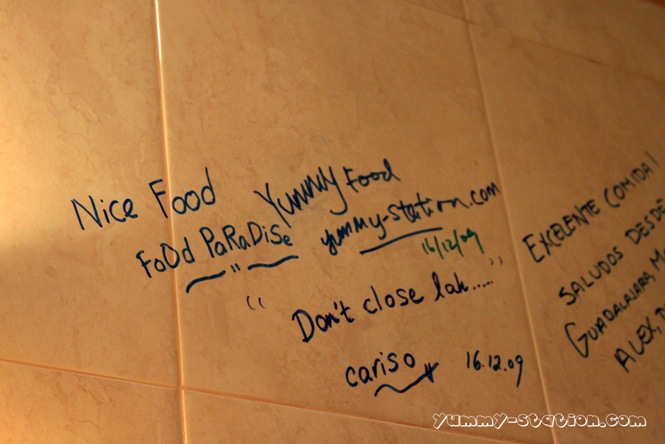 Thank you note for all the comments.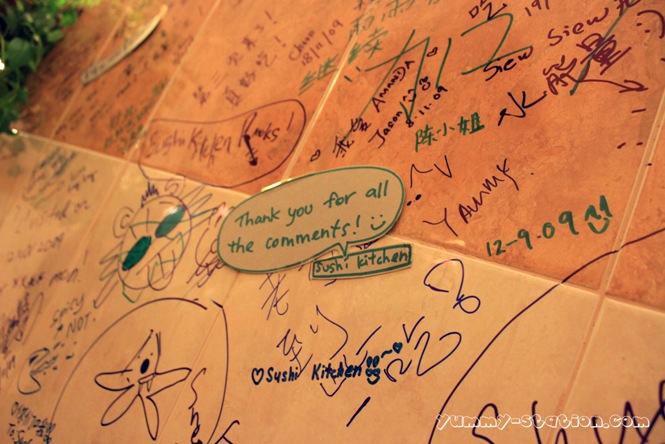 Terminate business notice. It is 16 days left during my first visit.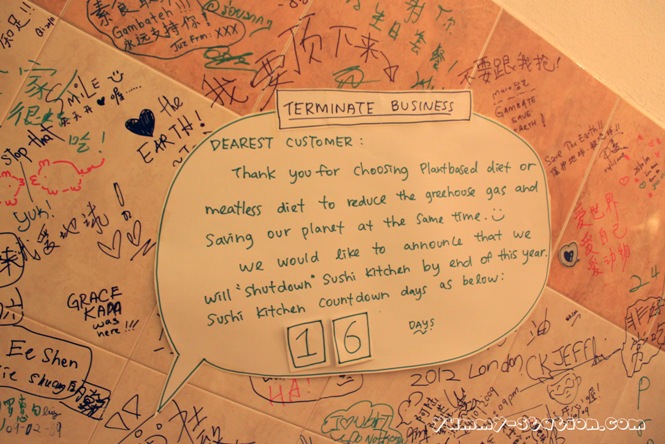 In Chinese.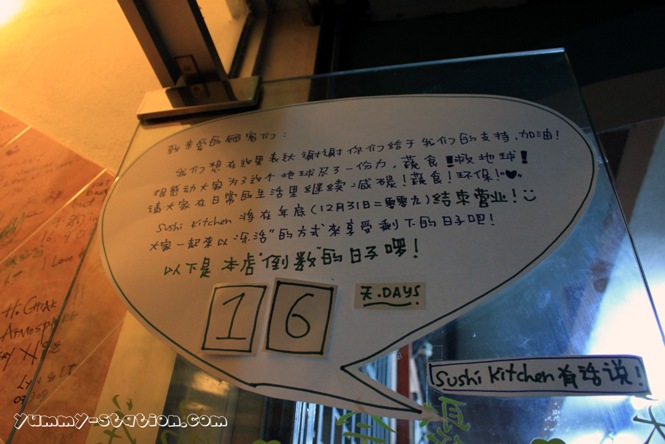 2 days left on my second visit.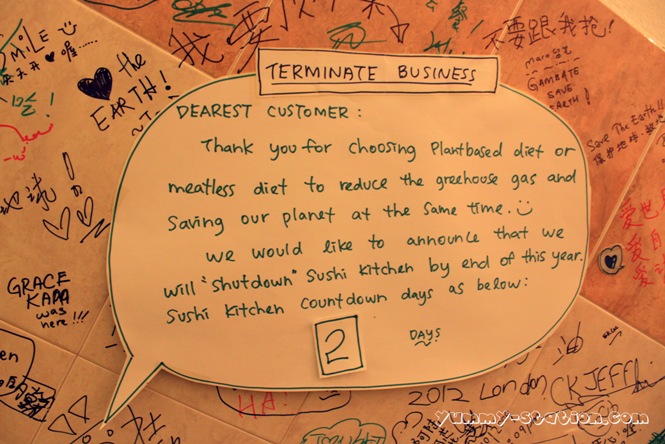 Good bye Sushi Kitchen, I hope you will reopening soon in the near future! For more information, do visit Sushi Kitchen website: http://sushi-kitchen-cafe.blogspot.com.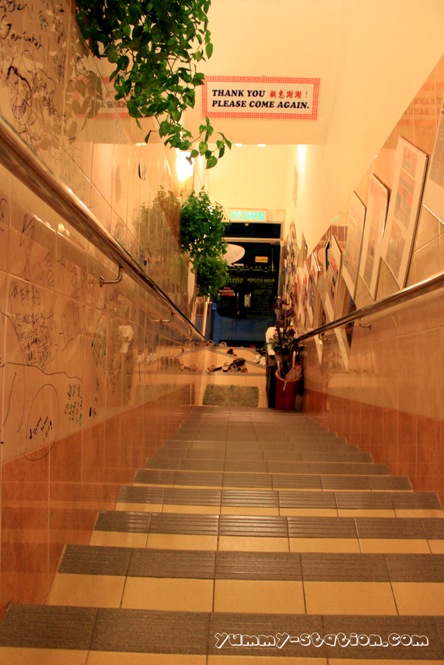 Address:
No 2A-1, Jalan Sungai Ara, Desa Ara, Sungai Ara, 11900 Bayan Lepas, Penang.
Phone Reservation: 012-591 3311; 017-465 6821
Business Hour:
11.00am ~ 3pm (Last order at 2.15pm)
6.30pm ~ 11pm (Last order at 10.15pm)
Closed on Tuesday.
Tags: Brown Rice, Cafe, Fried Rice, Green Tea, Japanese, Mango, Meatless, Noodle, Penang, Sungai Ara, Sushi, Sweet Potato, Tatami, Udon, Vegetables, Vegetarian, Wasabi