* Update: The restaurant is closed and the shop lot is replaced by O'Briens, the Irish Sandwich Cafe.
I never notice this restaurant until my friend suggested to have a gathering there. Woolloomooloo – Modern Autralian Cuisine Restaurant is located just opposite of Queensbay Mall, beside the Tutti Frutti Frozen Yogurt. There are 2 customer parking lots in front of the restaurant. Although it has only 2, it is better than none. You can always try your luck there.


We are the first group to dine in Woolloomooloo on that day. We have the chance to take any shot we like.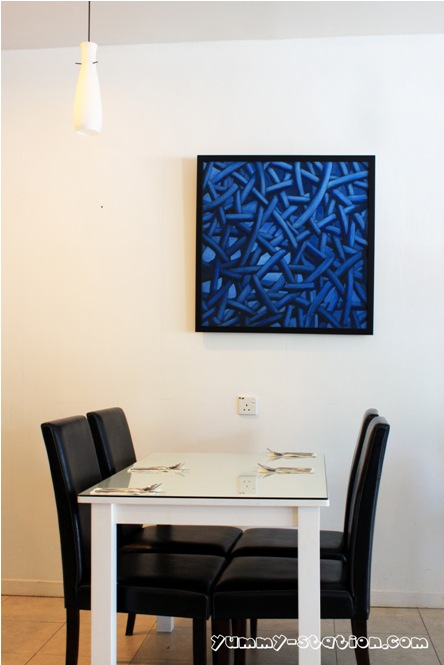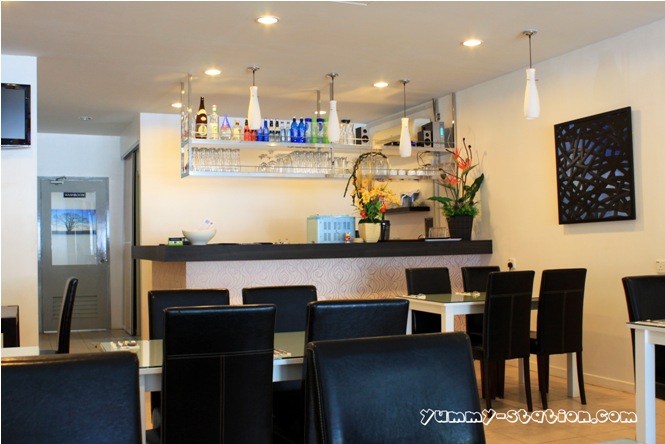 Woolloomooloo has the set lunch for RM19.80. It includes: Your Choice of one Drink, Appetizer of the Day, Main Course and Dessert.
For drinks, you can choose from Ice Lemon Tea, Hot/Cold Honey Green Tea or Hot Coffee.
Hot Honey Green Tea.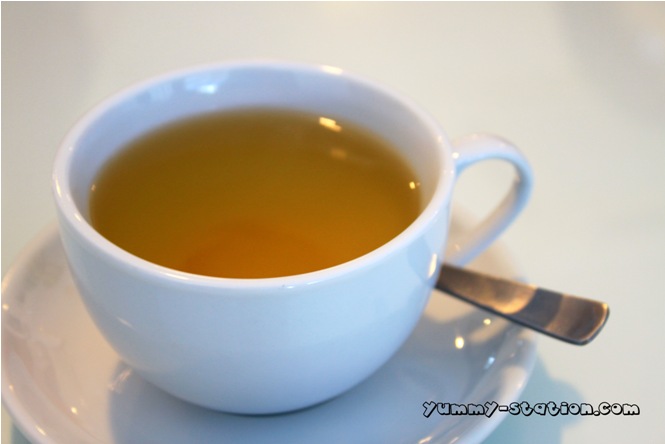 Ice Lemon Tea and Ice Honey Green Tea.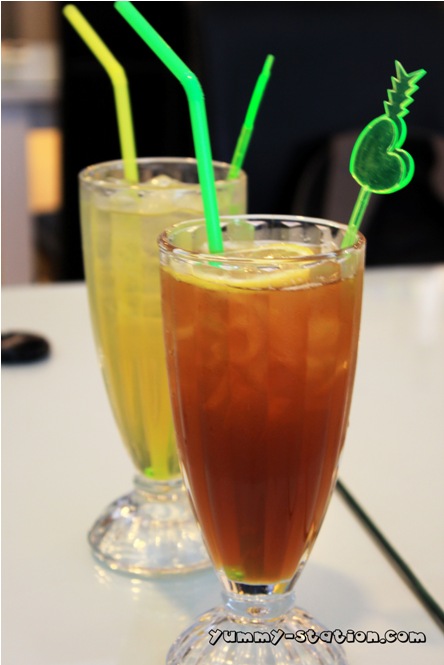 Hot Coffee.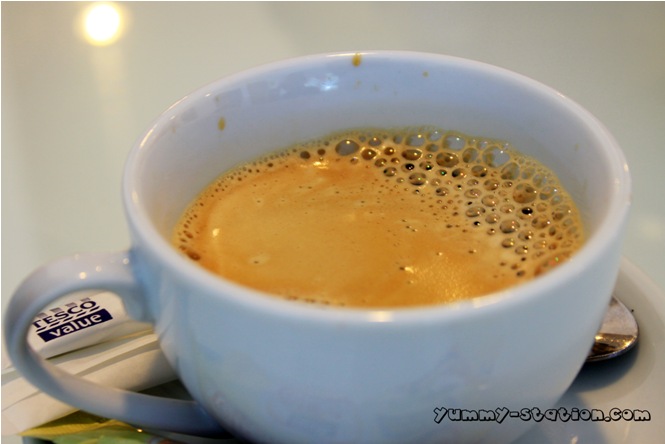 Appetizer of the Day – Chicken Salad. At first, I thought the Appetizer will be the Mushroom Soup. Anyhow, Salad is also not bad after all.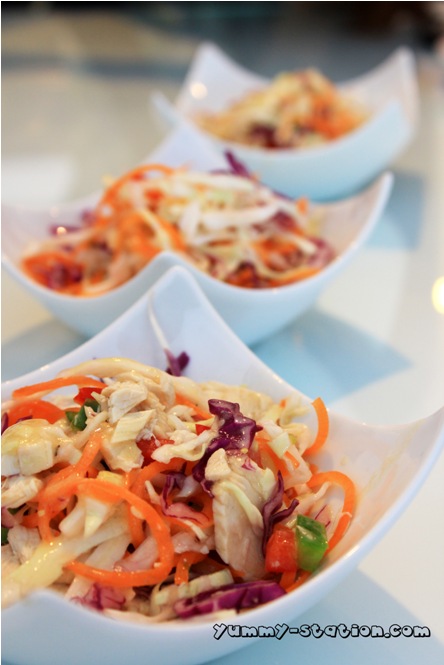 The salad tastes sour. However, we forgot to stir and mix it before we ate. That is the reason why. It tastes better after the stirring and mixing. There are a lot of chicken meat in the salad. The portion is very generous.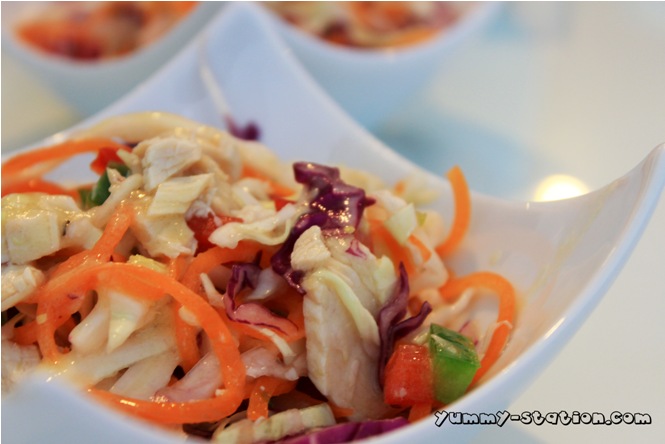 Main Course:
Beer Battered Fish and Chips with Salad and Tartar Sauce.
It is a very simple dish. The fish itself is tasteless, if without the Tartar sauce. Just a normal fish and chip to me. Why the brown paper is used to wrap the fish? I have no idea.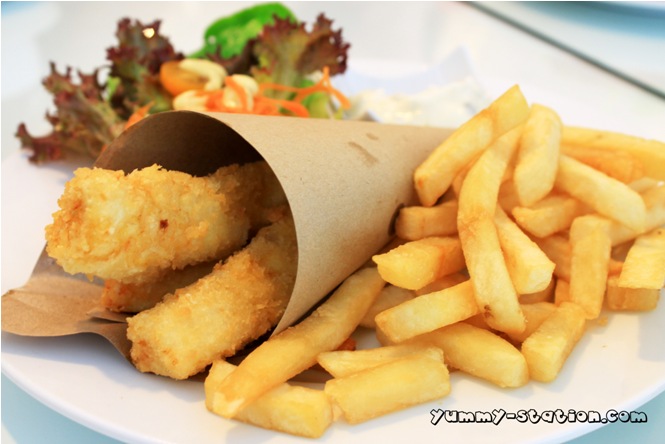 Polenta-encrusted Fried Chicken with Green Pea Mash & Tomato Relish.
The Green Pea Mash is nice and special. Normal dish with nice presentation though.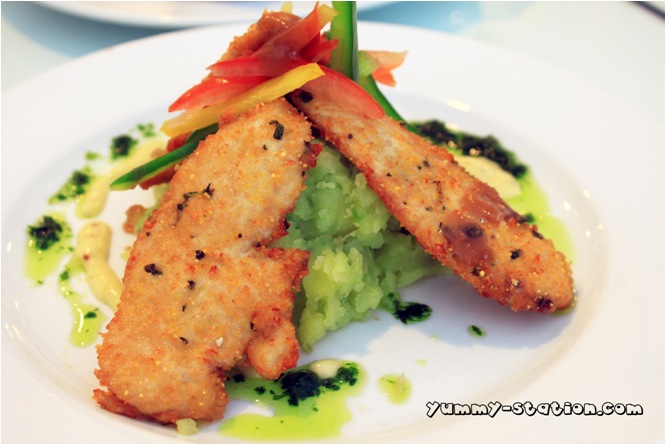 Green Curry Chicken with Jasmine Rice
The curry is spicy, if you taste it without having the rice together. This is what we did.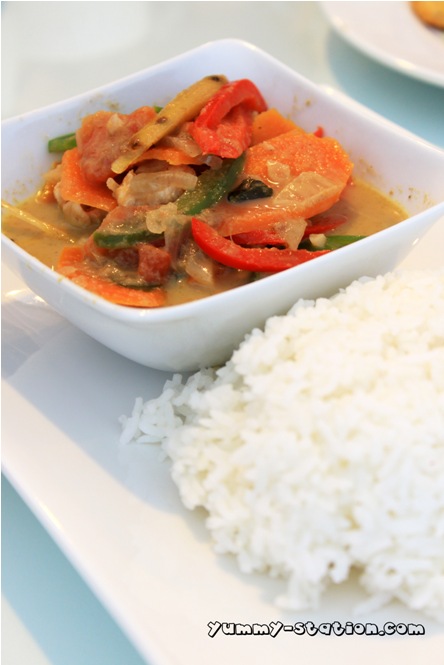 This dish is good to eat with the rice. That is the purpose why the green curry is come together with the Jasmine Rice.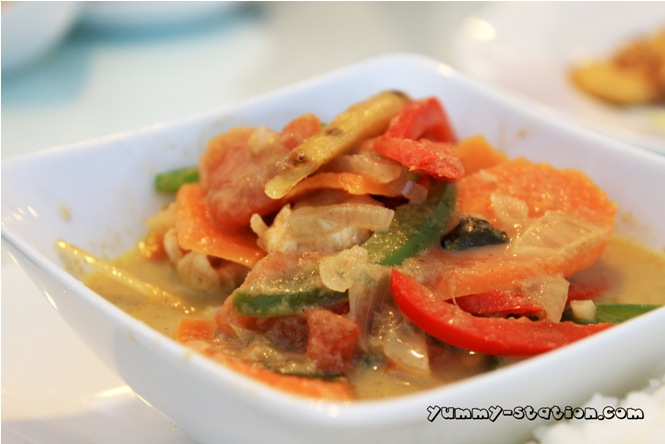 Woolloomooloo Beef Burger with Cheese, Caramelized Onion and Fries
The beef burger is good! Like it quite a lot.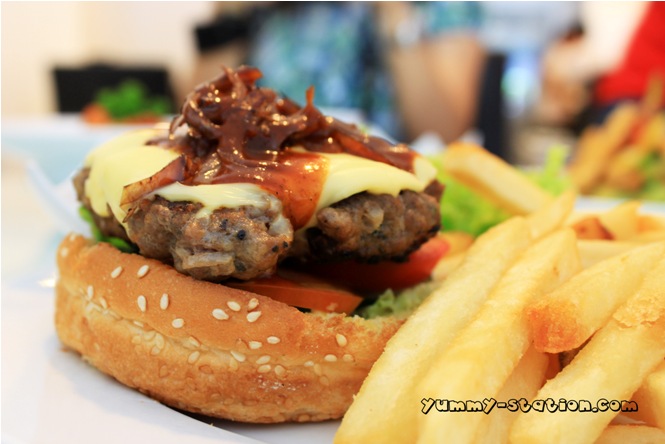 Penne with Chicken Sausages & Roasted Tomato Sauce
I am a bit disappointed with this dish. It is just a very normal dish. All of us think that, the sausages should change to chicken or other stuff.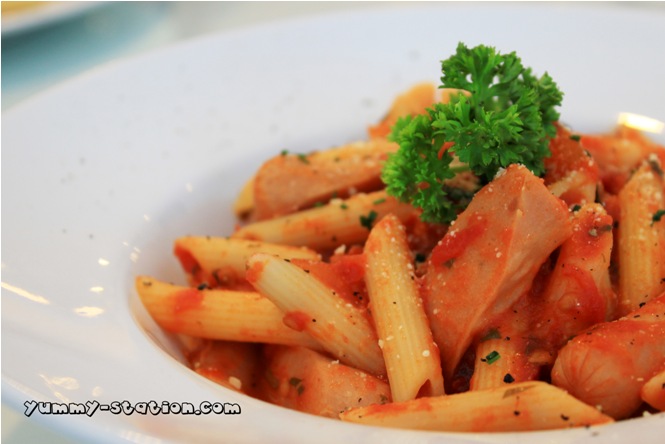 Linguine with Smoked Salmon & Dill Cream Sauce
I like this dish because of the Smoke Salmon. Haha. Besides, the taste is also not bad at all! Again, we forgot to mix it properly. By that time, it is almost finish. Towards the end, all of us only noticed there is a wine taste. It will be a nice dish from the very beginning if we mix it properly before start eating.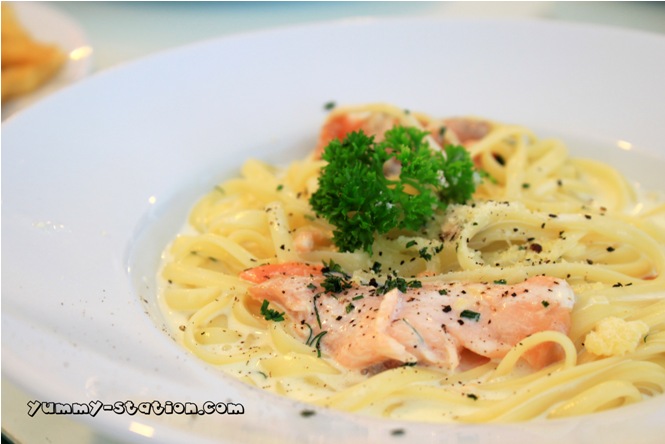 After the main course, we were served with the dessert. The dessert was a bit special. Carrot Jelly and Cucumber Jelly, you try before? At first, we cannot tell what is the taste. We asked the waiter in the end. Of course, the ice cream is nice too!
Carrot Jelly with Ice Cream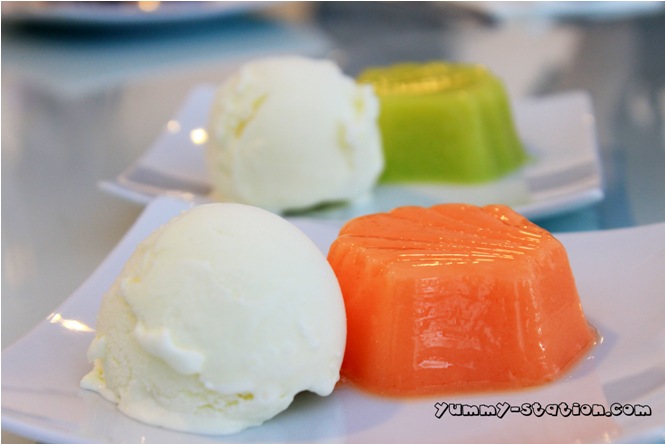 Cucumber Jelly with Ice Cream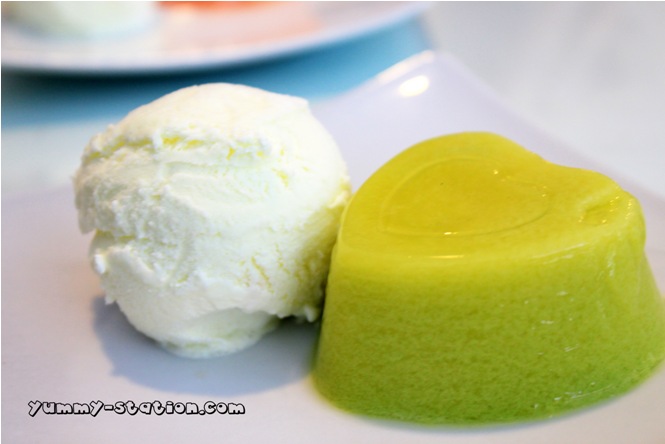 Apart from the dessert served by Woolloomooloo, we have 2nd round of dessert, Macaroon brought by my friend.
Macaroon
Although Macaroon tend to be sweet, I still feel this is too sweet for me. Anyhow, Thanks to my friend for treating us.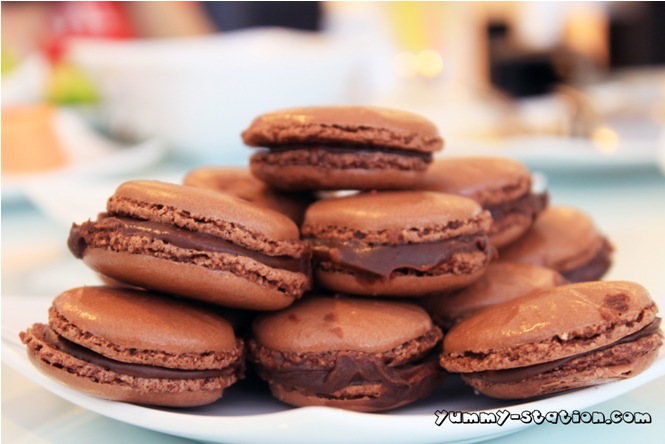 Overall, the food is OK. The environment is good for gathering. However, I never see any specialty from the set lunch menu. They are just simply the western food to me. Maybe, next time we should order some à la carte Australian Cuisine instead. After all, Woolloomooloo is the Modern Autralian Cuisine Restaurant.
Address:
21-G, Persiaran Bayan Indah, Bayan Bay, 11900 Penang.
Business Hour:
Tuesday to Sunday 11am – 3pm; 6pm – 10pm (Close on Monday)
Contact Number: 016-404 9118
Tags: Australian, Bayan Baru, Bayan Bay, Beef, Beef Burger, Burger, Carrot, Cheese, Chicken, Chicken Salad, Chicken Sausage, Coffee, Cucumber, Curry, Fried Chicken, Fries, Frozen Yogurt, Green Curry, Green Pea, Green Tea, Honey Green Tea, Ice Cream, Ice Lemon Tea, Jasmine Rice, Jelly, Macaroon, Mushroom Soup, Onion, Penang, Persiaran Bayan Indah, Polenta, Queensbay, Rice, Salad, Sausage, Tomato, Tutti Frutti, Woolloomooloo, Yogurt