After having the lunch at Kaffa Kafe @ China Street (will post the review at a later date, do stay tune), I headed to Lighthouse Coffee per plan. Yes, I need coffee! I heard and read about Lighthouse Coffee for some time and yet to try it. Lighthouse Coffee is located at Penang Logan Heritage, Bishop Street, Georgetown, Penang.
Main Entrance. If you wish to sit outside, there is a table and some chairs for you.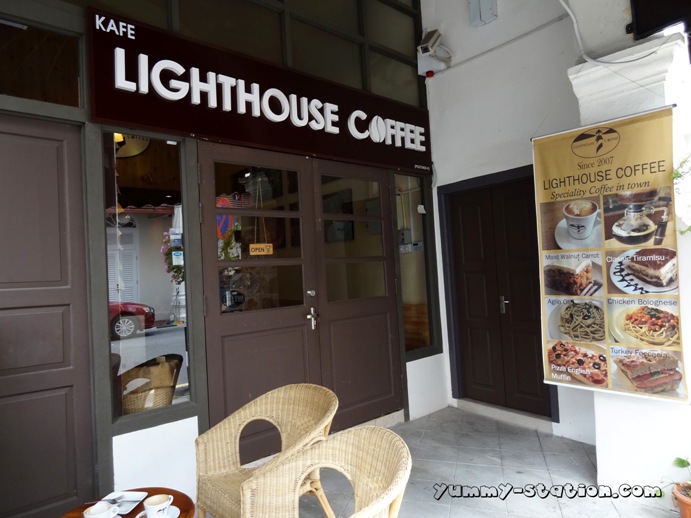 There is a banner hang on the wall at the main entrance to promote their signature menu items. Too bad, I never try any of the desserts, pasta and sandwiches shown.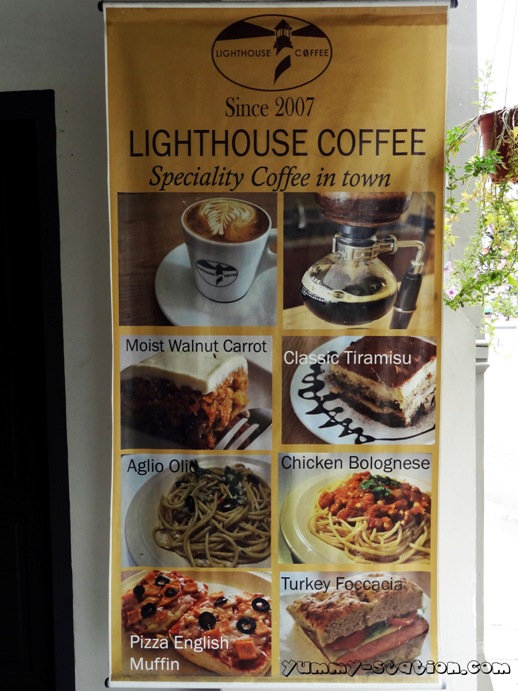 For ordering, you will need to make your order at the counter. Your items will then be served to you at your table.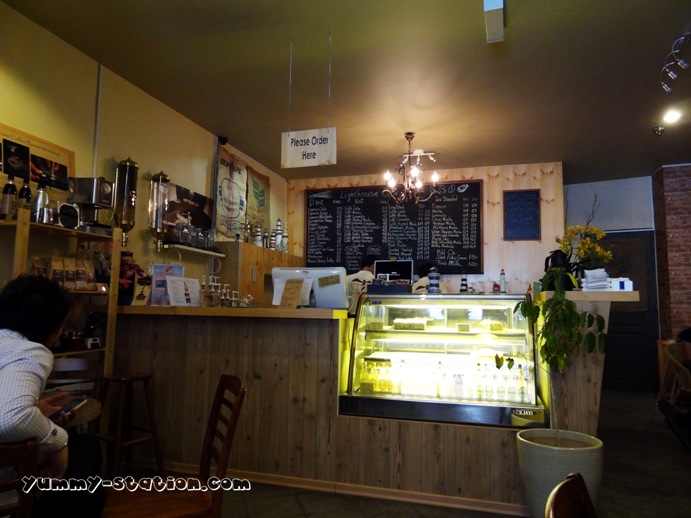 Interior.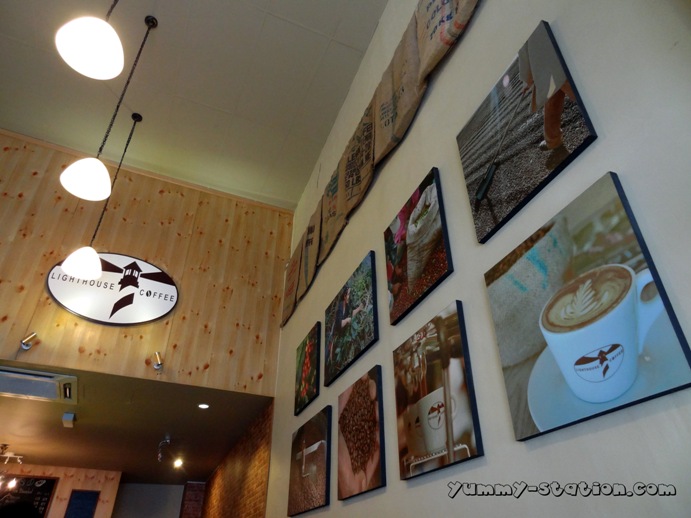 I took this photo after most of the people left. When I reached there, there was only 1 table left, all fully occupied.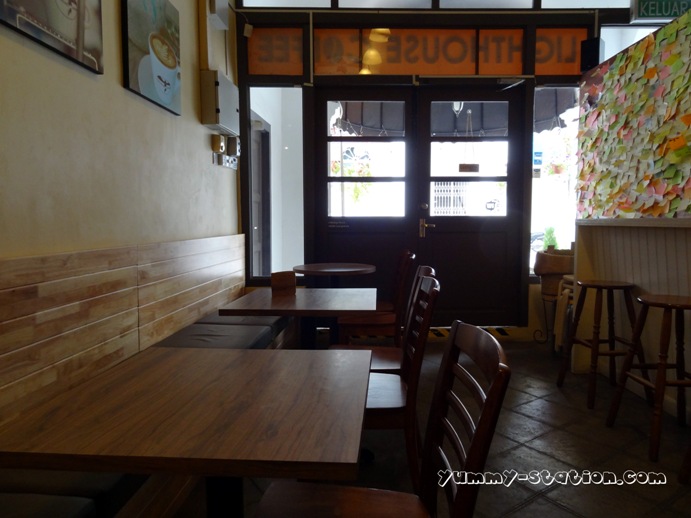 Once you are seated, the waiter will pass the menu to you. There are a lot of coffee varieties for you to choose from.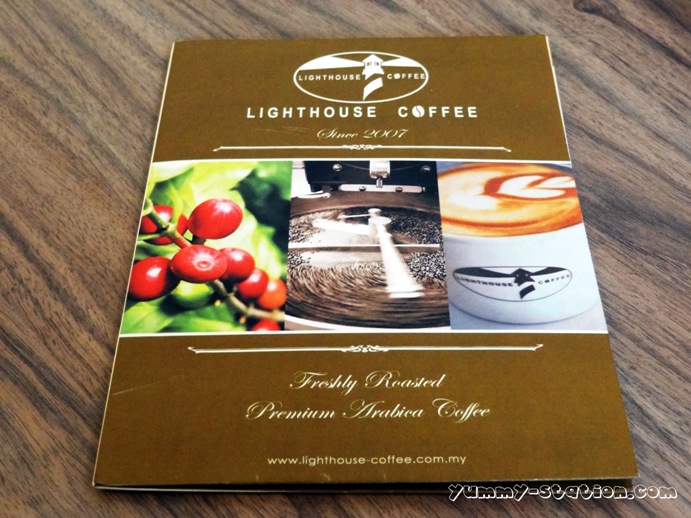 To make your life easier, Lighthouse Coffee listed out the Lighthouse Selective Meals and Beverages on the menu. At least, if you are a first timer, you will know what to order.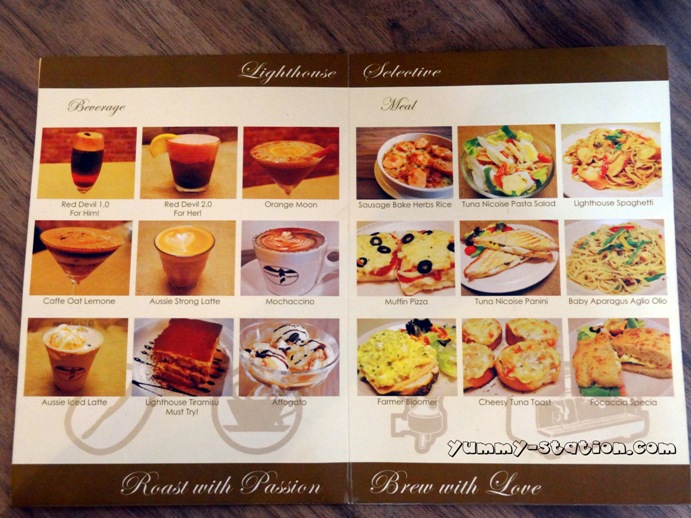 After browsing through the menu for some time, decision has been made.
Aussie Ice Latte – RM10.90 (Regular). I ordered this due to the name since it is a Barista Recommended. When it saw this in the menu, I was a bit surprise to see the ice cream in it. I have totally no idea about this Aussie Ice Latte prior to this. It is always nice to try something new, right? Taste wise, the ice cream blends well with the latte. I was not able to finish all as I accidentally knocked the cup and the latte spilt on the table. Too bad.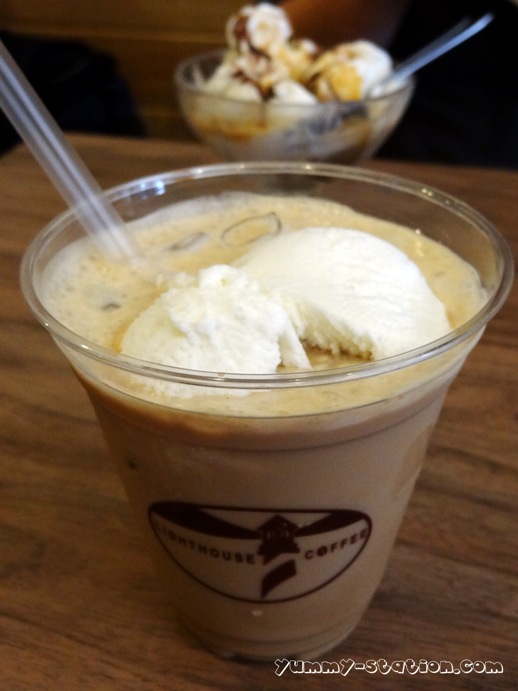 Butterscotch Caramello – RM9.50. I thought it will full of butterscotch taste but it turn out not to be. A very normal coffee to me.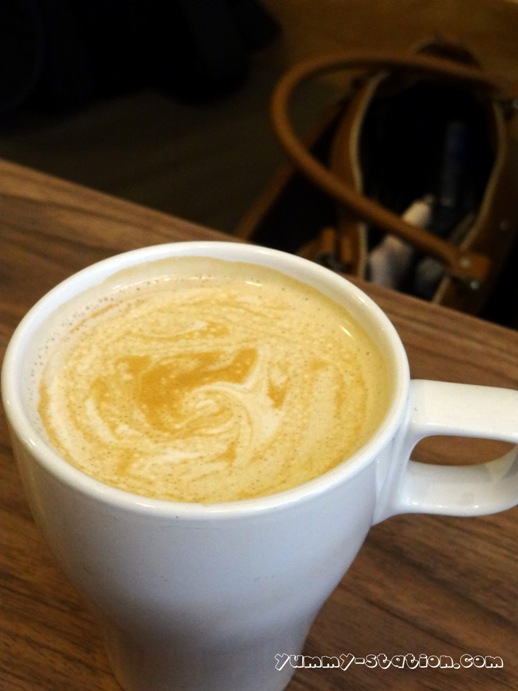 Classic Affogato – RM7.90. This is good, really good. The combination is just great. You can taste the bitterness of the coffee with the sweetness of ice cream. A MUST order item.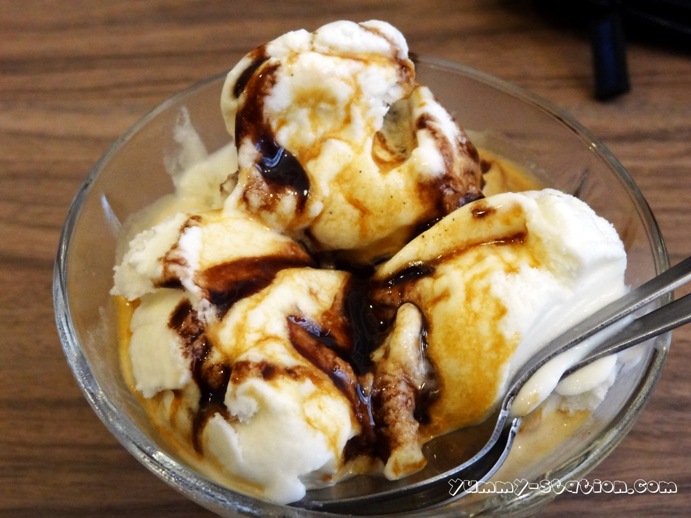 Oreo Crepe – RM10.90. I ordered this since Tiramisu is not available. It is just so so to me. Nothing much to shout about. I think I have eaten a better one, from Nadeje Cake House @ Malacca.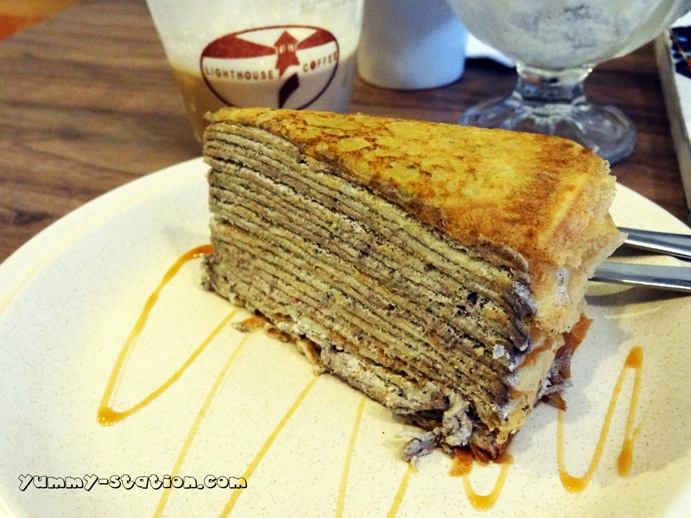 There are magazines for you to spend your time with, while having the coffee. What a relaxing life.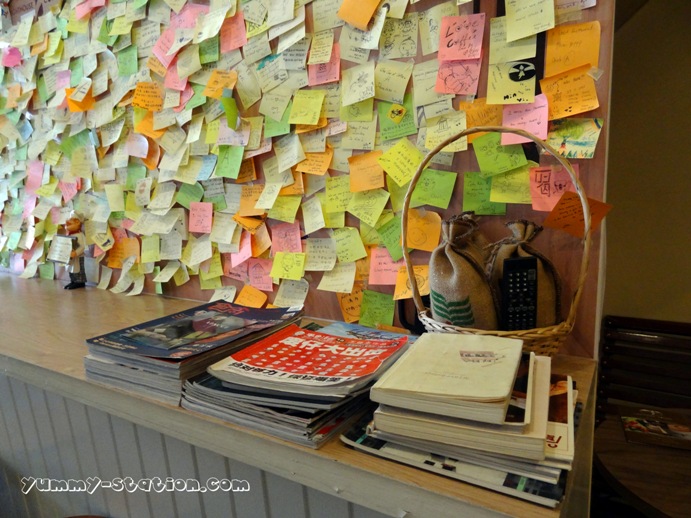 Besides reading the magazines, you also can write something on a post it note and stick on the wall. You can ask the post it note from the counter.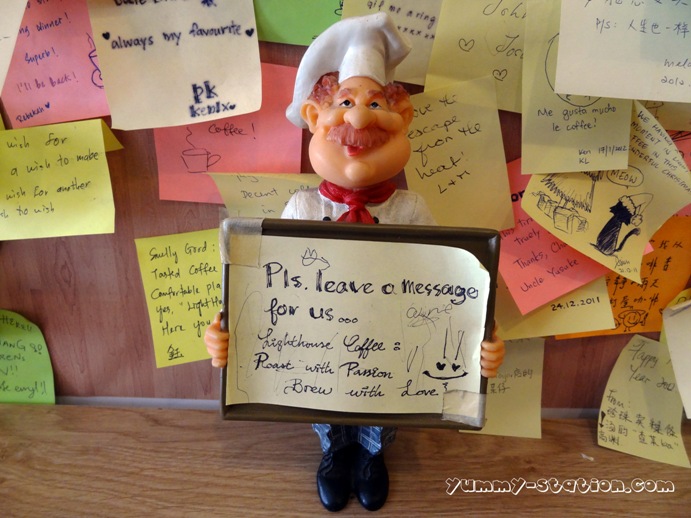 See, all the notes are on the wall. Can you find yours?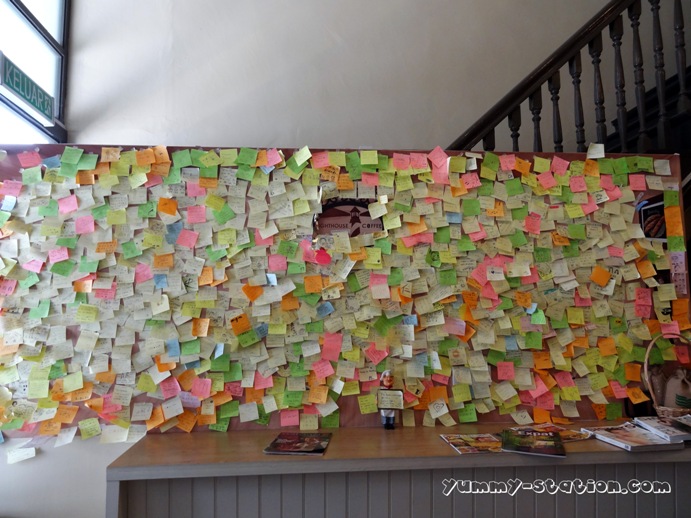 On the left corner of the main entrance, there is a bag full of coffee beans. There are 4 types of coffee beans for display: Roasted Coffee, Guatemala Antigua, Colombia Supremo and Sumetera Mandheling. Can you recognize and differentiate them if the name is not there?
I entered Lighthouse Coffee through the back door. If I went alone, I will not know about this. My friend leads me there. You will never miss it as it is clearly written on the door "Welcome 2 Lighthouse Coffee Bar".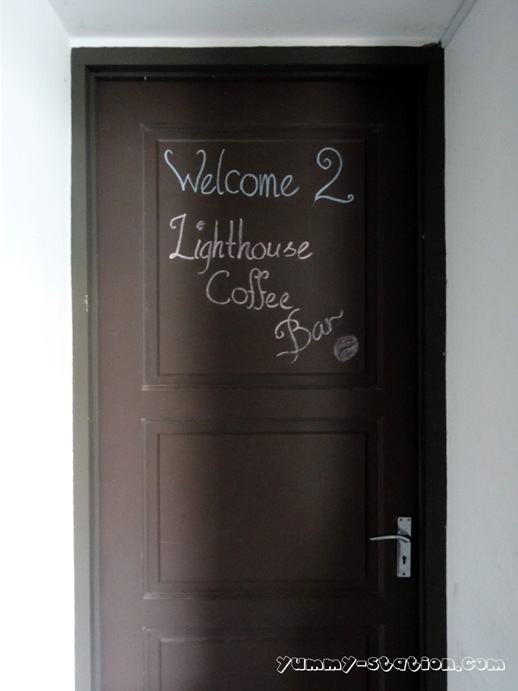 Overall, If you like coffee, you will like Lighthouse Coffee. When I entered Lighthouse coffee, the room is full of strong aroma of coffee that will make you awake. I like it! There are a lot of coffee varieties on the menu for you to try out. It is also a nice place for relaxing and some chit chat session. However, the place is quite small. If you go with a big group of people, maybe it will not fit all of you at one time. Good timing is needed.
For next round, I want to try the Lighthouse Tiramisu, I hope it is available by then. It is a MUST TRY item as stated in the menu. Of course, will not miss out the Affogato. If there are still rooms in my stomach, I would like to try the Cheesy Tuna Toast as well. It looks yummy on the menu, don't you think so?
Address:
Lighthouse Coffee
Logan Heritage Building, No 4 Bishop Street, 10300 Georgetown, Penang
Phone: 012-436 0836
Business Hours: 8.30am ~ 8.30pm
Tags: Affogato, Aroma, Bishop Street, Butterscotch Caramello, Coffee, Colombia Supremo, Crepe, Dessert, Georgetown, Guatemala Antigua, Heritage, Kaffa, Kaffa Kafe, Lighthouse, Lighthouse Coffee, Logan, Oreo, Pasta, Penang, Penang Logan Heritage, Roasted, Roasted Coffee, Sandwich, Sumetera Mandheling, Toast, Tuna