Talk about vegetarian food, some people will put it in the bottom of the list if they need to make a decision on what to eat. People don't like it mainly because most dishes are vegetables and fake meat. For me, I am OK with vegetarian food, or should I say, I like it a lot.
Idealite 品味舒食 is the restaurant that I will always pass by when I went to Queensbay Mall for lunch. I never step into it as one of my friend doesn't really like it. I only can say, everyone's taste is different. You should try it yourself and not just blindly listen to your friend. Last week, I have the chance to try out the food in another branch in Gurney Plaza. It is located at 3rd floor, just beside the Tong Pak Fu Dessert shop.
By opening up the menu, you will find the Idealite's story: What is their mission, vision and purpose. You will also get to know what is Shu-Food means. It also includes the Top 10 Super Antioxidant Food in Idealite.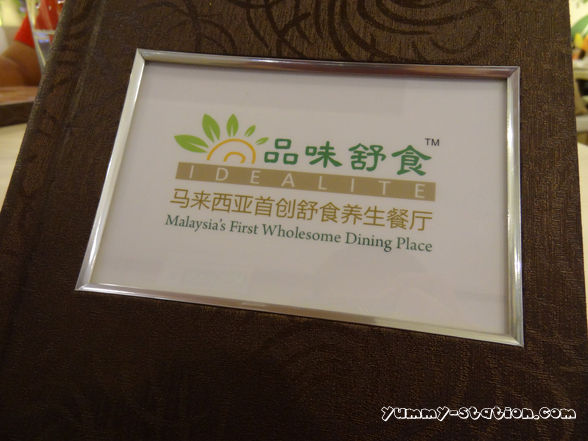 Idealite's boss is kind enough for letting us to taste most of their top choice dishes in the below category: Sushi and Salad, Snacks, Brown Rice, Pumpkin Ramen, Spaghetti and the latest Panda Diary.
Hokkaido Vege Sushi 北海道蔬菜寿司 – RM9.70. It looks like popiah to me. The ingredient including burdock, purple cabbage and a plethora of vegetables. Mary mentioned that the plum sauce on top is a bit too much, should have it separately for customers to dip it themselves. This rice roll is really taste good. It is a good dish to start with.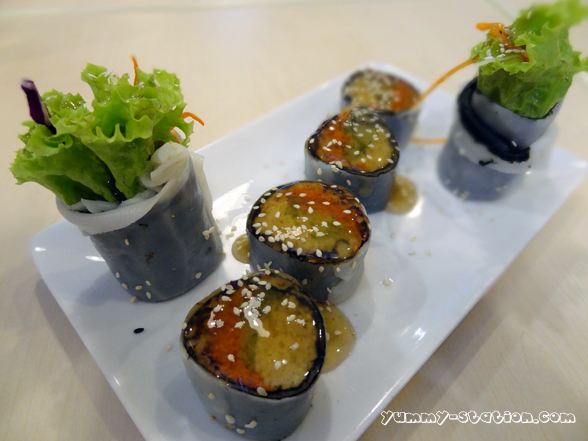 Japanese Golden Dumpling 日式黄金饺子 RM10.70. The dumpling is crispy when you have a bite on it. I am a bit curious on the price tag. Why they are more expensive than the Hokkaido Vege Sushi? Most likely are the ingredient used. I forgot to ask about it. However, a good snack for you to try out.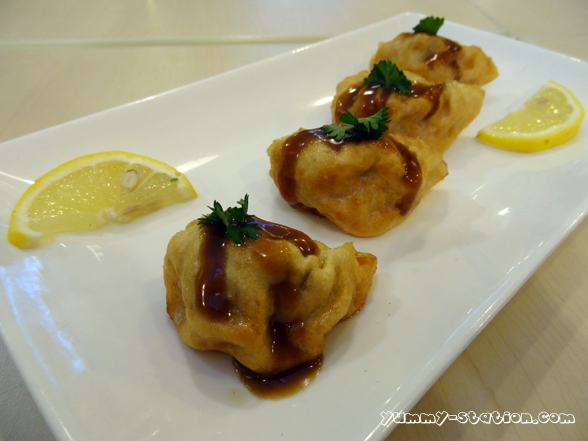 Japanese Hericium Salad 日式猴头菇沙拉 – RM17.70. This is the very first time I taste on Hericium Mushroom. It tastes like chicken and it is super delicious! What is Hericium Mushroom? Hericium is amongst one of the "Four Great Dishes" of the world: Hericium, bear claws, sea cucumber and shark's fin. It is tender and flavorful. This is one of the highly recommended item!!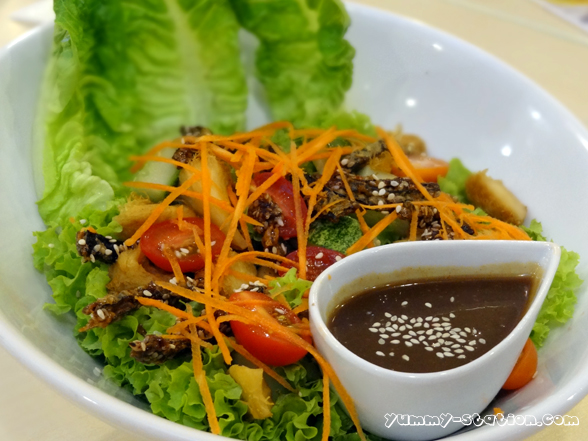 Nyonya Rendang Hericium Chee Cheong Fun 娘惹仁当猴头菇肠粉 – RM13.70. This is the cheaper item which has Hericium in it. If you want to try but don't want to pay so much on the food, you can try this dish. This item is like the curry Chee Cheong Fun from the hawker, just that the gravy is rendang and of course, this is healthier if comparison is being made.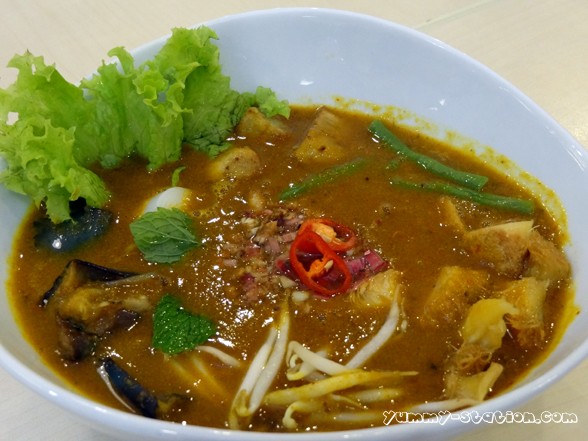 Provence Tempura Mushroom 普罗旺斯天妇罗鲜菇 – RM10.70. I seldom eat fried food nowadays but I cannot help it with this Provence Tempura Mushroom. It is so good until you cannot stop eating. The portion is big and this is definitely the worth ordering item.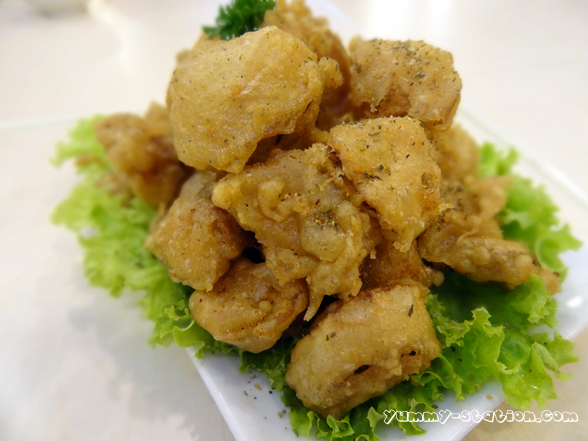 For the below 3 items, each comes with brown rice and soup.
Royal Sweet & Sour Hericium Meal 皇家酸甜猴头菇餐 – RM18.70.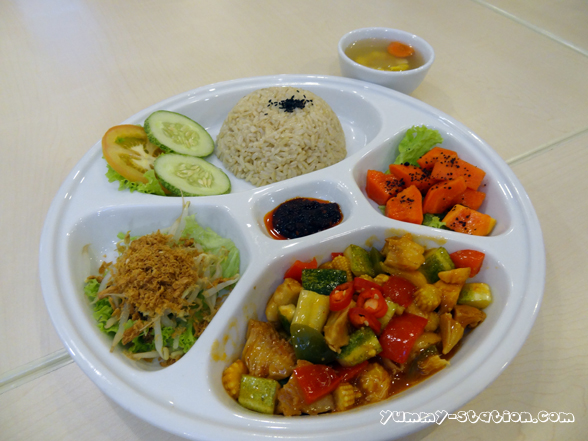 Signature Nasi Lemak 特色香辣椰浆饭 – RM15.70.
Black Pepper Eryngii Mushroom Meal 黑胡椒杏鲍菇餐 – RM13.70.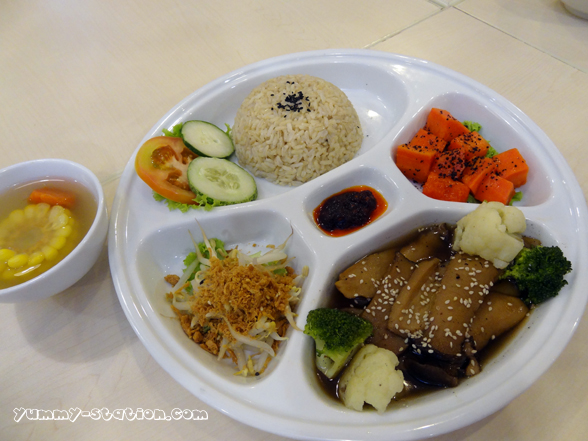 Signature Hakka Lei Cha 招牌七彩客家擂茶饭 – RM14.70. I always heard about this dish and finally, I have the chance to taste it. For people who don't like basil, this is not the food for you. I quite like it but if the whole bowl is mine, I will not pour all the gravy into it. It is a bit too wet for my liking.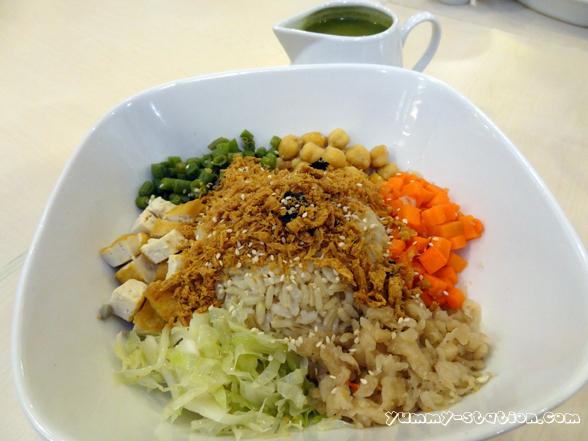 Bak Kut Teh Rice 豆菇茶饭 – RM13.70. Another top choice dish from Idealite. The soup base is really good, taste like the real Bak Kut Teh. The ingredients are a lot too. Like it! If you are craving for Bak Kut Teh but don't want to have so much met, this is the best pick!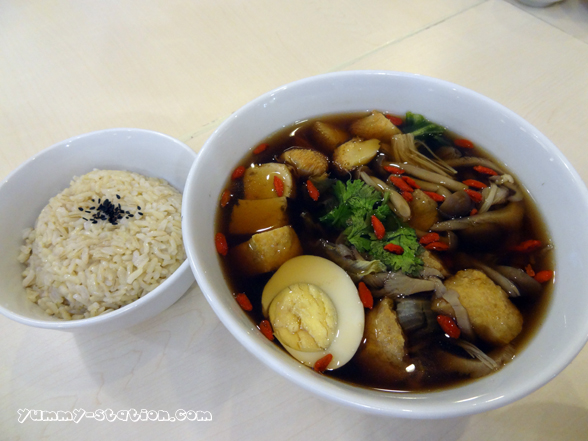 Hokkaido Miso Ramen 北海道味增拉面 – RM15.70. It is labelled as Kid's favorite in the menu. I like it too. Am I a kid? Haha. I think kid loves it because it is not spicy and the sweet soup is all fresh and naturally delicious.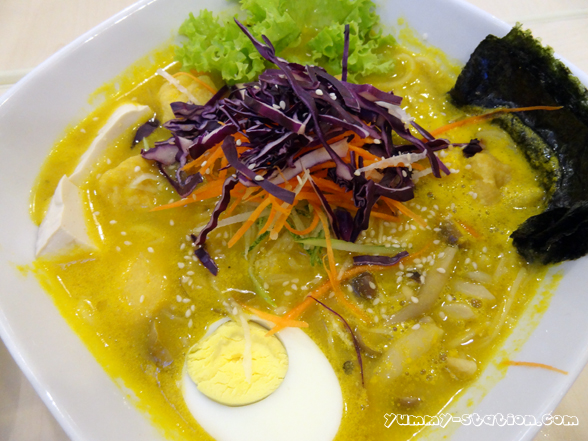 Green Curry Ramen 清咖哩拌面 – RM13.70. When you see green curry, for sure you will think of the Thai green curry which used the coconut milk. This one is made with organic oat milk instead. It is not that spicy though.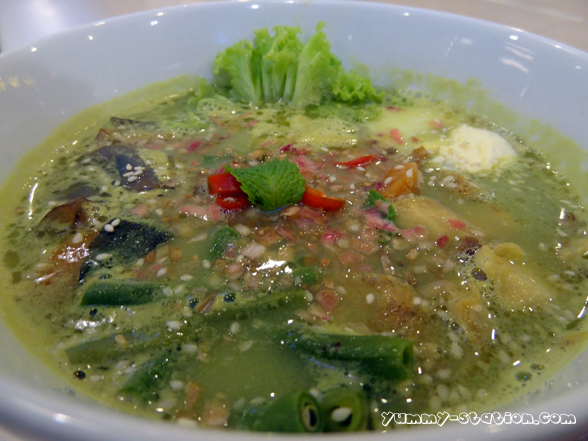 Thai Style Spaghetti 泰式酸辣意大利面 – RM16.70. The taste is a bit weird to me. Don't know how to describe it. The food presentation is not the normal one that I am expected. The Spaghetti is tossed with smooth and creamy Thai sauce cooked with oat milk.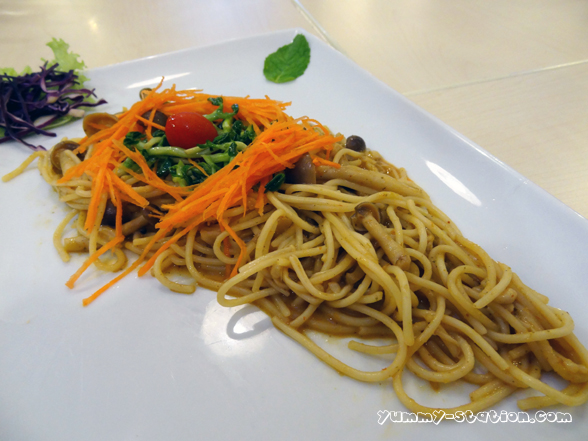 Fu-Wa & Fong-Yi 福娃与凤仪 – RM6.70 and Sesame Bun 黑芝麻包 – RM5.70. Panda bun with lotus filling. I think kids will love it. I like the Sesame Bun more. You need to eat it carefully to prevent the sesame bursting out. However, it is a bit sweet.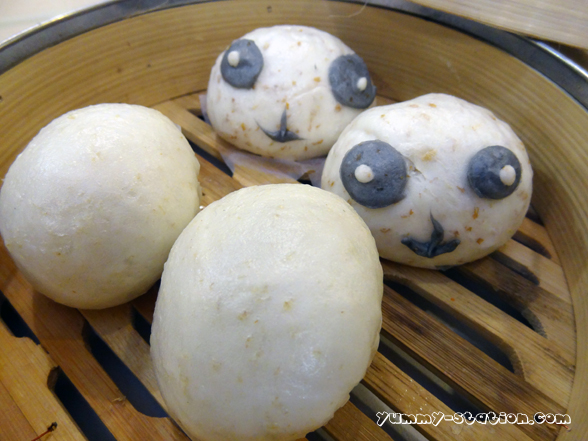 Pumpkin Piglet Bun 金瓜猪仔包 – RM6.70. Another kids' favorite! They are too cute, aren't they?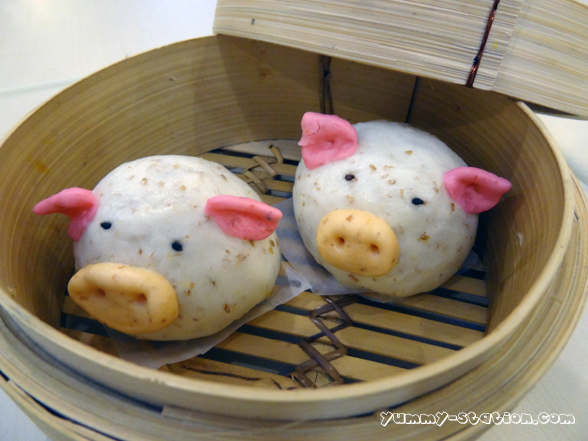 Fu-Wa Hot Spring 福娃泡汤 – RM8.70. Oriental fresh mushroom soup. You can opt for no eggs option. It taste like the shark fin soup during the wedding dinner.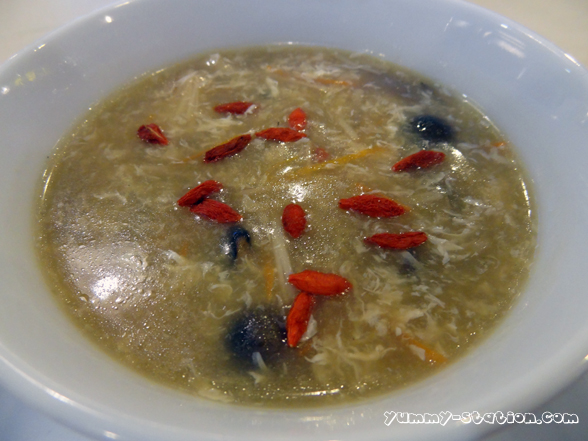 Sesame Sauce Chee Cheong Fun 芝麻拌肠粉 – RM5.70. The Chee Cheong Fun in Idealite is different than the one selling outside. The Chee Sheong Fun is Benzoic Acid free!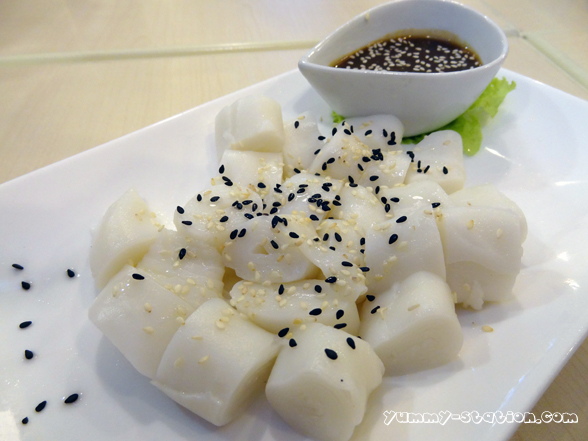 Idealite Chee Cheong Fun 招牌珠肠粉 – RM4.70.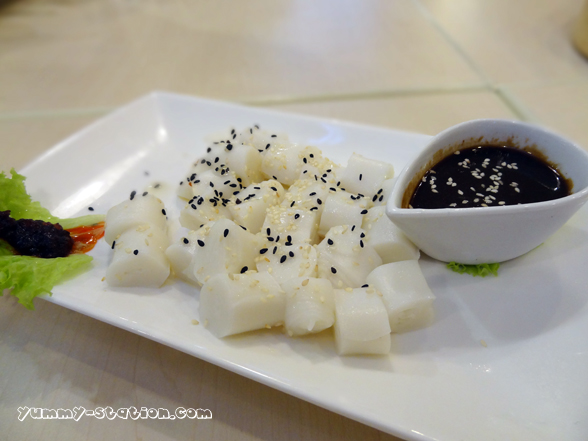 Overall, I like it! It is a nice place for good vegetarian food and for you to get healthier. If you ask me pick the top dish I like, it will be hard for me. There are quite a number of dishes I like, especially those with Hericium Mushroom! If you think vegetarian food is boring and not healthy (as some of them are oily), Idealite will prove you wrong. If you have not tried it, do give it a try. Don't ever listen to your friend. I believe you can judge it yourself.
Main Outlet:
27C, Jalan Gottlieb 10350 Penang. (Beside Waterfall Hotel)
Tel: 604-2263650
Business hours: Tue- Sun 8:00am to 9:30pm (Closed on Monday)
Queensbay Mall
3F-10A Queens Street.
Tel: 604-6431228
Business Hour: 10:30am to 10:00pm
Gurney Plaza
3F-60
Tel: 604 – 2267296
Tags: Bak Kut Teh, Brown Rice, Chee Cheong Fun, Dumpling, Fu Wa, Green Curry, Gurney Plaza, Hakka, Hakka Lei Cha, Hericium, Hokkaido, Idealite, Japanese, Miso, Miso Ramen, Mushroom, Nasi Lemak, Nyonya, Panda, Penang, Piglet, Pumpkin, Queensbay Mall, Ramen, Rendang, Salad, Sesame, Spaghetti, Sushi, Tempura, Thai, Vegetarian, Wholesome