9 more days. Chinese New Year is just 9 days away! Have you planned your family reunion dinner yet? Will it be the traditional dinner at home with all the relatives? Will it be the steamboat dinner? Will it be the restaurant reunion dinner? Or you totally forgot about the Chinese New Year? Anyway, if you are still looking for a nice and healthy reunion dinner for your family, try your luck at Idealite Wellness Restaurant, which is serving the Shu-Food (Balanced nutrients, whole grained, meatless, no MSG and delicious) for their Prosperity Menu during the Chinese New Year.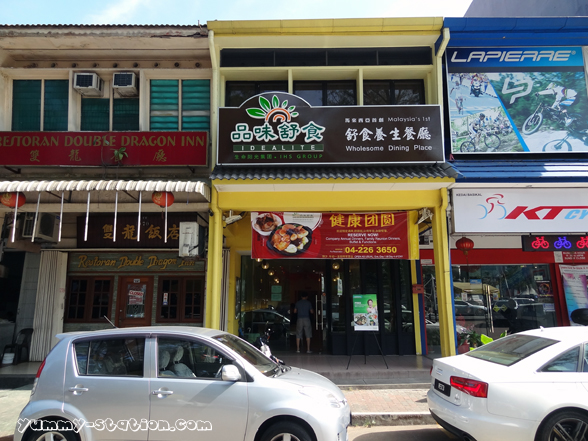 Idealite Gottlieb Road outlet will open as usual on the Eve, Day 1 till Day 4 of the Chinese New Year. No more worries for cannot find a restaurant for gathering during the festive season. Just give them a call and make the reservation before it is fully booked.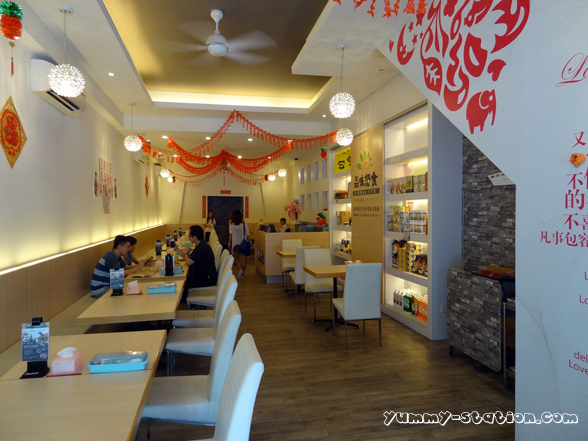 For this year 2015 Chinese New Year Prosperity Menu, there will be 2 packages for you to choose from: RM 488 Package A and RM 688 Package B. Both packages are suitable for 10 pax.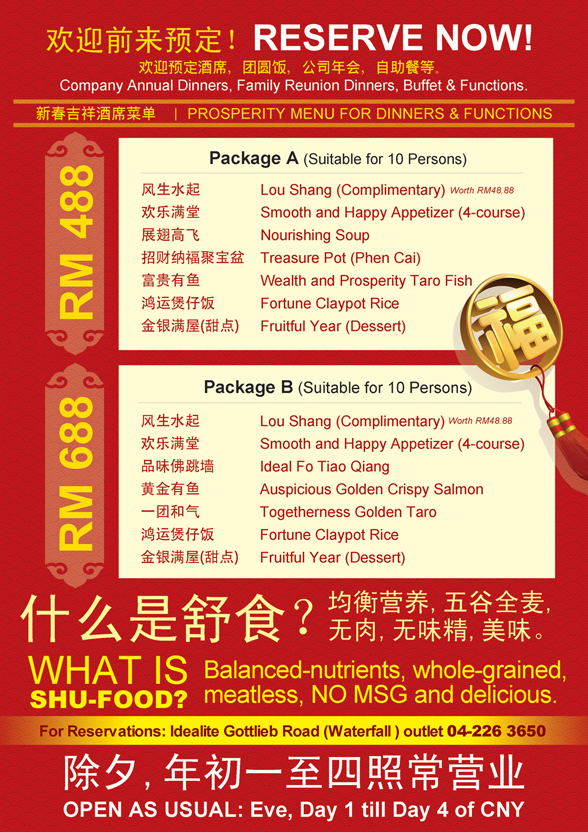 风生水起 Lou Shang. One of the activity during the Chinese New Year gathering lunch or dinner. Normally it is being done during the 7th Day of the Chinese New Year 人日. However, not everyone will be back until the 7th Day. That is why, people will have this anytime they want during the festival.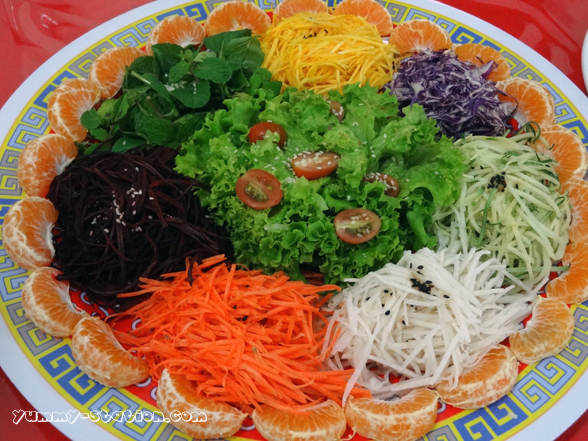 All the fresh vegetables and fruit are being used. Do you see the yellow slices? At first I thought they are the mango slices. It's pumpkin!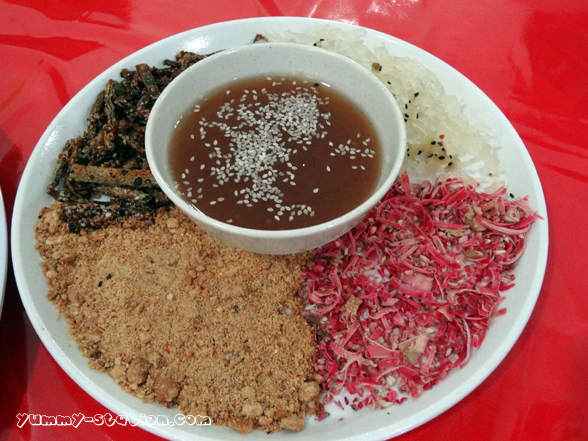 For the sauce, it is a combination of plum sauce and brown rice enzyme.
It is such an appetizing item. I like this Lou Shang because of the freshness and colorfulness. Of course, they are tasty and healthy as well. You can get this Lou Shang separately at the price of RM9.88 for small, RM28.88 for medium and RM48.88 for large. I am going to reserve one for my reunion dinner, hopefully they still have the stock.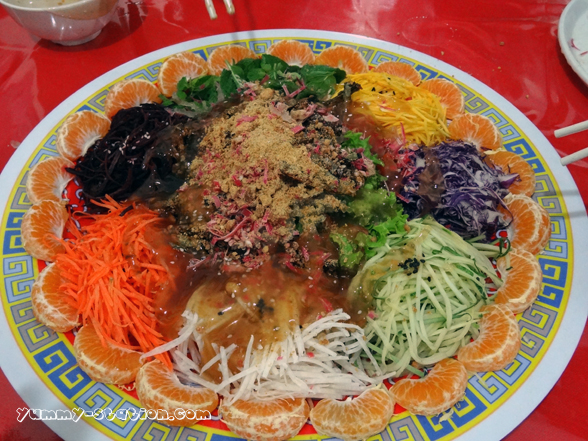 欢乐满堂 Smooth and Happy Appetizer. 4 types of dishes which are: Pattaya Salad, Scallops, Mutton and Dumplings. These are just the name for each dish. In fact, they are all vegetarian, made by different kind of mushrooms.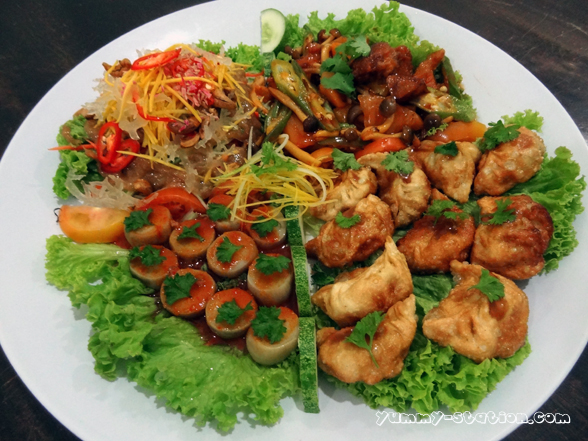 展翅高飞 Nourishing Soup. It consists of wolfberries and an mushrooms. For this dish, you can opt for the egg-less version if you are a vegetarian.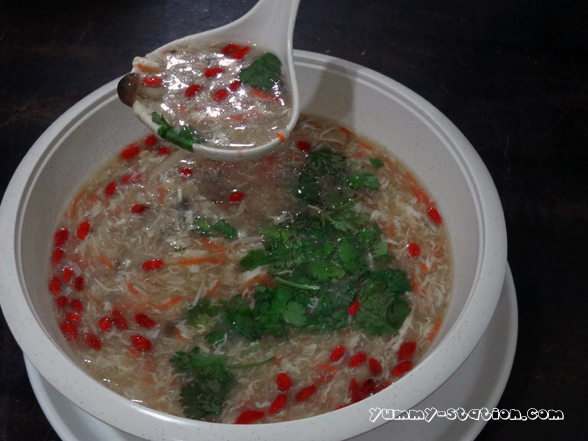 招财纳福聚宝盆 Treasure Pot. Total of 15 ingredients for this special Treasure Pot: Eryngii mushrooms, Hericium mushrooms, Abalone mushrooms, Shitake mushrooms, tofu, radish, green papaya, seaweed, brocolli, pumpkin shredding, carrot, Chinese cabbage, goji berry, baby bak choi and taro. This dish is so flavorful and I like it a lot.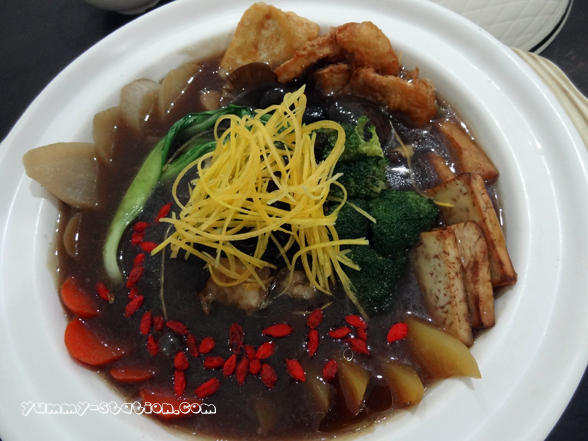 富贵有鱼 Wealth and Prosperity Taro Fish. At a glance, you will think this is a real fish. Of course, it is not. It is made by taro (yam). Yes, whole fish is fully hand made and it is crispy at the outside and filling on the inside. It is a perfect match with the pumpkin slices and sweet and sour sauce. For yam lovers, this is a must dish to order. Great innovation!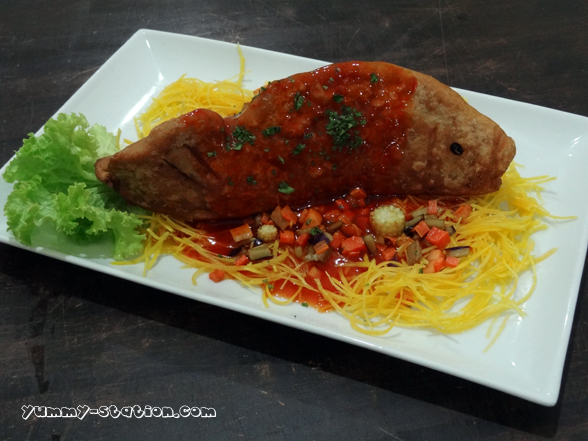 黄金有鱼 Auspicious Golden Crispy Salmon. Can you guess what is the main ingredient of this dish? Carrot!!! It is made with carrots and organic oat milk, garnished with mint sauce.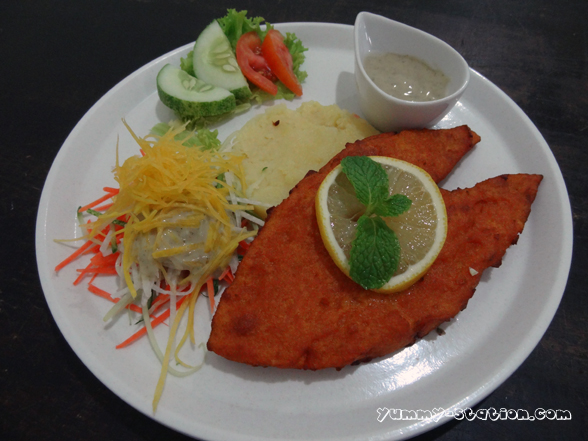 鸿运煲仔饭 Fortune Claypot Rice. For sure, the rice for this dish is brown rice, mix with shredded pumpkins, carrots, red chili and etc. Wondering what are the crispy bites? They are the fried tofu skin. For this claypot rice, I prefer it without the gravy or maybe with lesser gravy.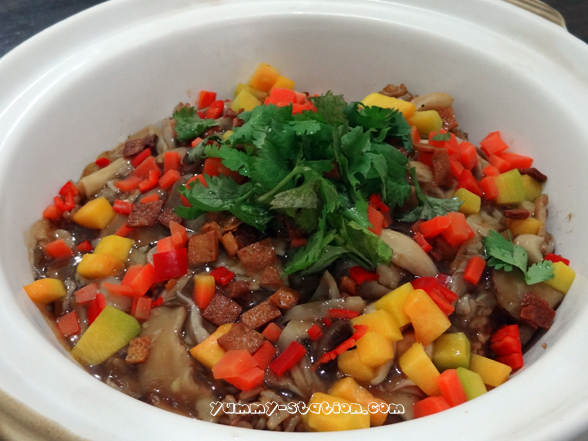 品味佛跳墙 Ideal Fo Tiao Qiang. It contains abalone (eryngii mushroom), shark fin (shark fin melon), sea cucumber (konjac), scallop (organic fresh mushroom), fish maw (organic bamboo shoot), chicken drumstick (abalone mushroom) mushroom, ginseng, and Dang Gui.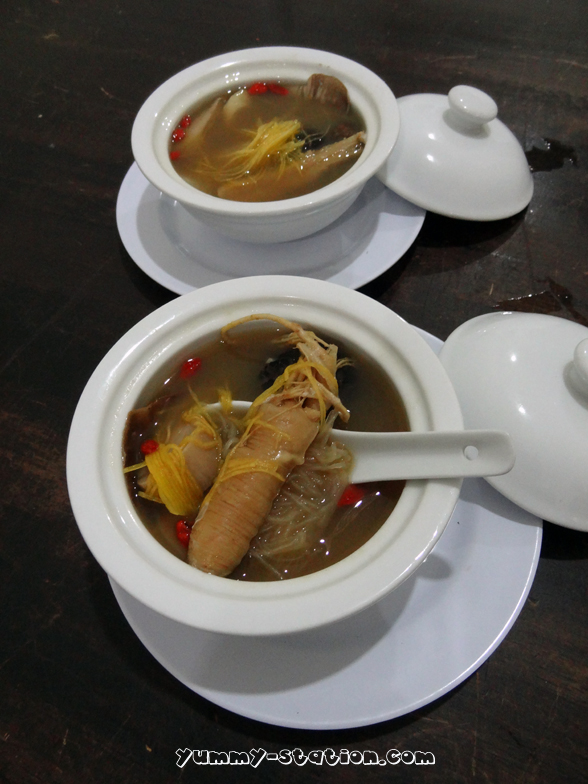 金银满屋 Fruitful Year. The dessert to end the whole meal.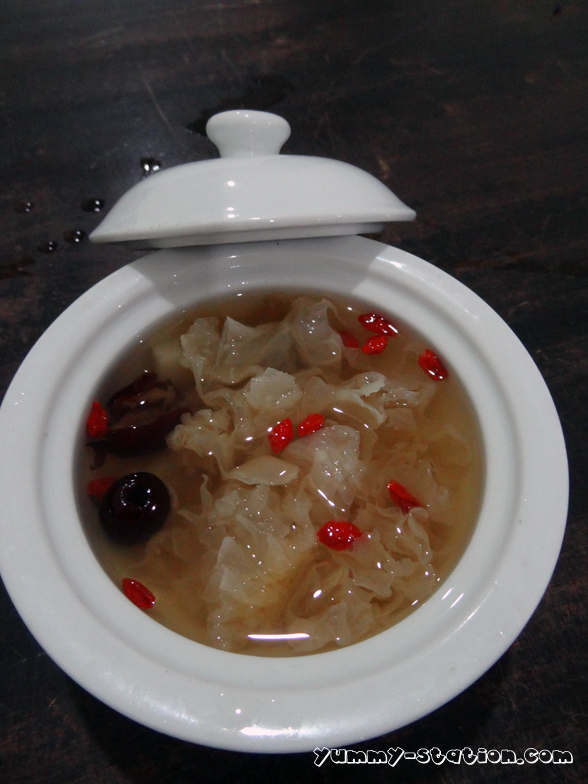 Overall, I like the dishes from the Chinese New Year Prosperity Menu from Idealite. The idea and innovation are awesome. Food wise, they are all healthy with good taste as well, especially the Lou Shang, Treasure Pot and Wealth and Prosperity Taro Fish. Since Chinese New Year is just one week away, it's better for you to call now to make the reservation. Hopefully you are still able to secure a table for the gathering lunch or dinner with friends and family. With more and more people are looking for healthy food and diet lifestyle, Idealite is the restaurant that you should pay a visit often.
Address: 27C, Gottlieb Road, 10350 Penang. (beside Waterfall Hotel).
Contact: 04-2263650
Tags: Chinese New Year, Claypot Rice, Dessert, Dumpling, Fo Tiao Qiang, GottliebRoad, Hericium, Idealite, Lou Shang, Mushrooms, Mutton, Penang, Prosperity, Reunion Dinner, Salad, Salmon, Scallop