For a limited time only, Hotel Equatorial Penang is having its Lively Vietnam Buffet Dinner at Nada Lama Restaurant, from 18 to 24 August 2015, 6.30pm-10pm. Nada Lama Restaurant is located just near to the pool. If you know where Kampachi is, you will not miss it. One on the left and the other one on the right. It is very easy to spot on.
For the start, just head over to the salad and starters station. Fresh Vegetables and different kind of dressing can be found from the Salad counter.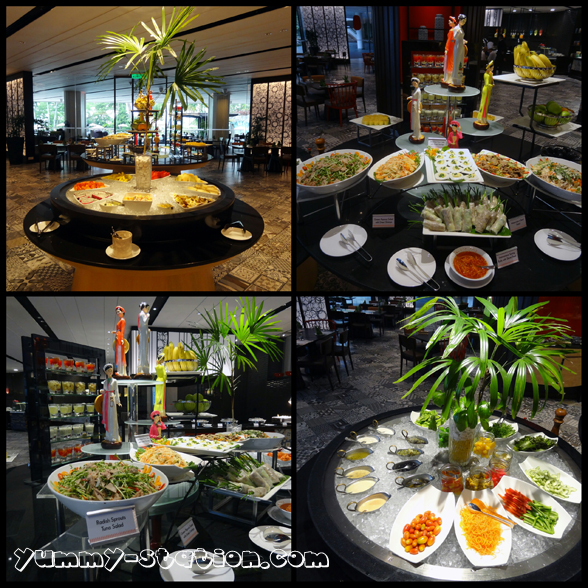 For those who are lazy to make your own salad like me, you can proceed with the ready made salad. There are 6 of them for you to choose from: Vietnamese Spring Rolls with Sliced Beef, Duck, Cabbage & Banana Blossom Salad, Green Papaya Salad with Dried Shrimps, Steamed Rice Cake with Dried Shrimps, Radish Sprouts Tuna Salad and Watercress & Beef Salad.
The Green Papaya Salad with Dried Shrimps and Vietnamese Spring Rolls with Sliced Beef are the 2 items that you cannot miss.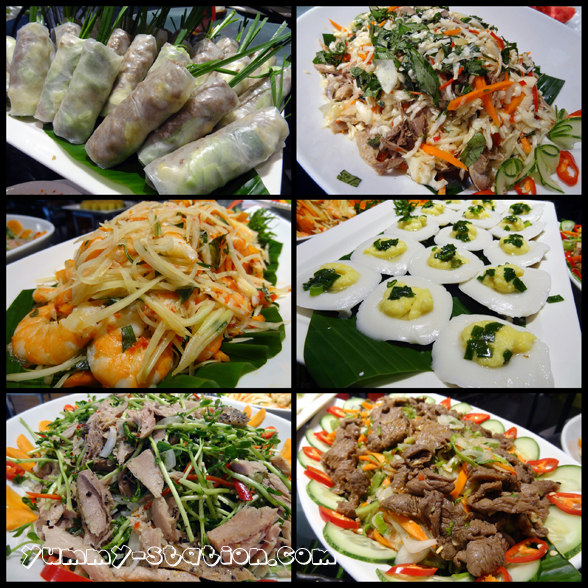 From the Hot Buffet Selection, there are quite a number of dishes served: Steam Rice, Chicken & Egg Fried Rice, Vietnamese Style Stewed Beef, Vietnamese Stewed Chicken in Ginger, Stir Fried Angle Bean in Hot Garlic Sauce, Wok Fried Squid with Sweet and Sour Sauce, Deep Fried Eel with Tamarin Sauce, Fried Tofu stuffed with Fish Paste in Tomato Sauce, Stewed Prawn in Caramel & Fish Sauce, Grilled Duck Leg with Red Fermented Bean Curd and Stewed Red Snapper with Black Bean.
All the dishes look normal but the taste is really good. Personally, I like the Deep Fried Eel with Tamarin Sauce, Fried Tofu stuffed with Fish Paste in Tomato Sauce and Stewed Red Snapper with Black Bean. For the Deed Fried Eel, it is quite hard and chewy for some but the more I eat, the more I like it.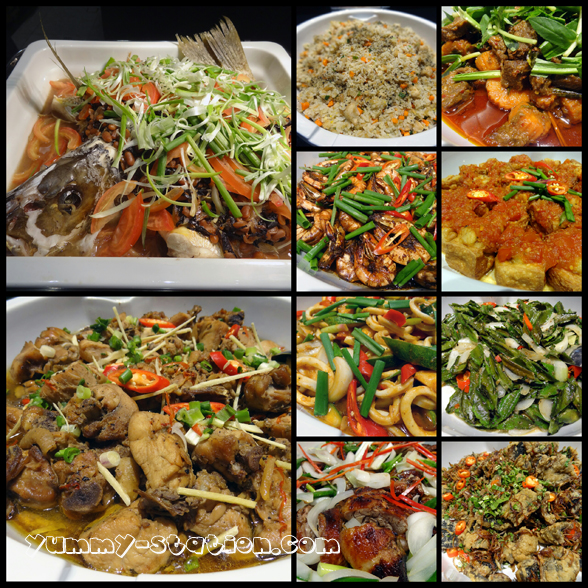 For Vietnamese food, how can we miss out the noodle and vermicelli? Don't worry, both of them are covered in Lively Vietnam Buffet. There are stations for Chicken & Dried Bamboo Shoot with Vermicelli Soup and Rice Noodle with Beef.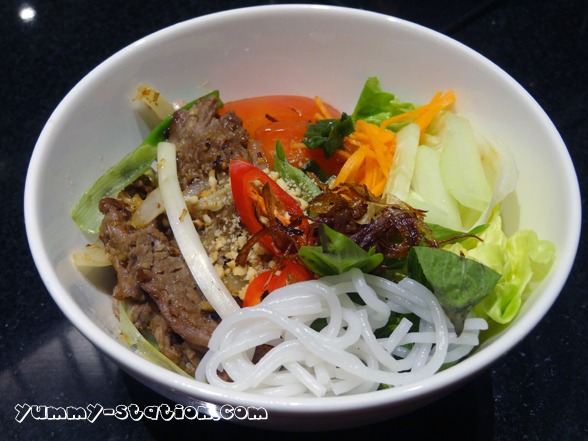 After all the main dishes, you can start to have your dessert. Baked Cassava Cake, Cassava Cake with Fresh Coconut Slice, Jelly & Pomegranate Seed in Sweet Syrup, Green Bean with Seaweed in Syrup, Mung Bean Seed in Coconut Milk and Stewed Lotus Seeds and White Fungus. Of course, never forget about the coffee. There are espresso machines for single/double shot Espresso, single/double shot  Black Coffee, Cappuccino, Latte Macchiato and Milch.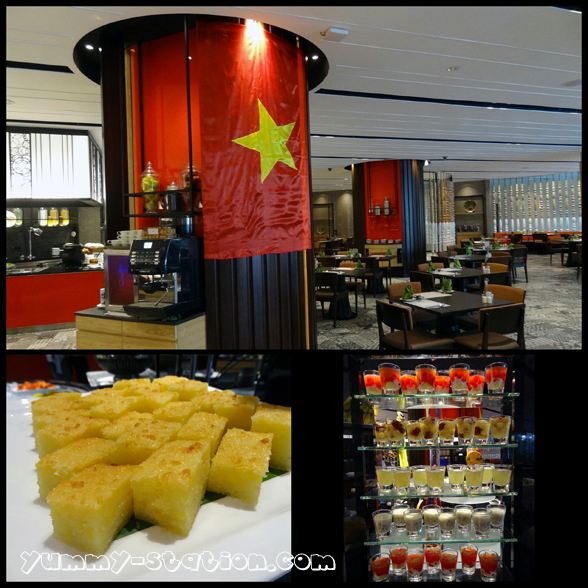 It is not ended here. Japanese Cheese Cake, Suji Cake, Opera Cake, Cream Caramel, Chocolate Fudge Cake, Pineapple Crumble Cake and Bread and Butter Pudding are among those that are there waiting for all the desserts lover.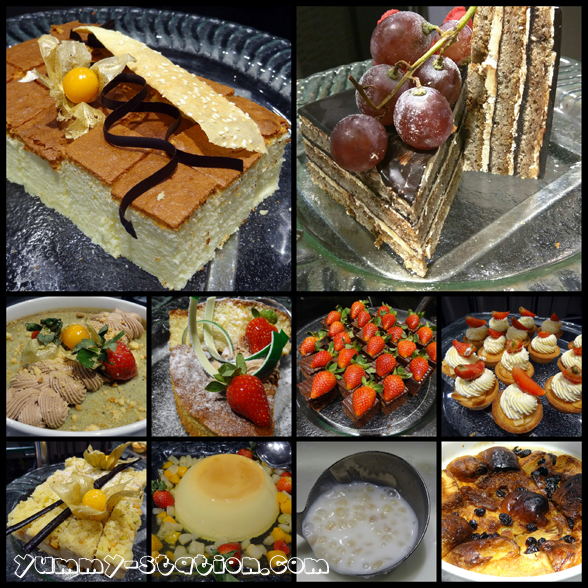 To end your buffet dinner, Ice Kacang and Ice Cream will be the best choice after all. You can make our own ice cream cone, top with your favorite ice cream flavor. There are chocolate, vanilla, coffee, yam, corn, and etc. For Ice Kacang, many toppings are there: raisins, chocolate chip, peanut, coconut slice, sweet corn, and so on. Yum!!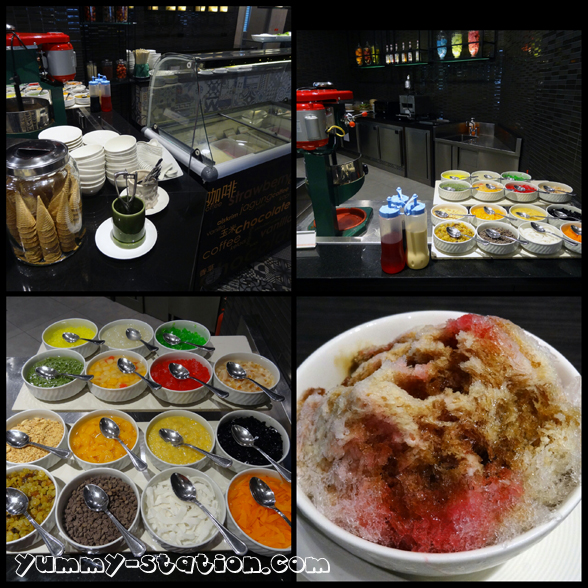 The Lively Vietnam Buffet Dinner is brought to you by the Vietnam Chef Tran Kim Hoang Trong and his team.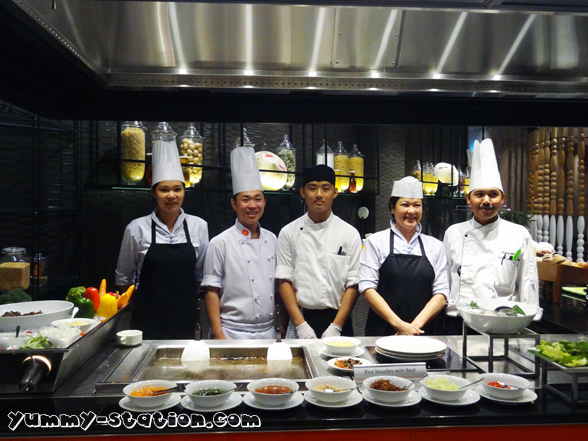 Overall, Lively Vietnam Buffet is very unique to me. I don't really see many hotel is having the buffet dinner with Vietnamese food theme. Most of them are Western, International or Japanese. Too bad, the buffet dinner is only last for a week time, it is too short, in my opinion. It should have at least a month or at least 2-3 weeks time frame, instead of 1. Another thing, I think they should have a counter with Vietnamese Coffee instead. Vietnam is very famous for its coffee, they should have promoted it in this buffet, but sadly, there is none. Little disappointment here. For people who like Vietnamese food, just head over to Hotel Equatorial Penang to enjoy all the great Vietnamese food from the Vietnam Chef.
Lively Vietnam Buffet is priced at RM148 nett for adult and RM74 nett for child. Prices are inclusive of 10% service charge and 6% GST. For reservation, please call +604-6327073.
Hotel Equatorial Penang
1 Jalan Bukit Jambul
Bayan Lepas
11900 Penang
Malaysia
Tel: +60 4 632 7000
Fax: +60 4 632 7100
Email: info@pen.equatorial.com
Web: penang.equatorial.com
Tags: EQ, Equatorial, Hotel Equatorial, Hotel Equatorial Penang, Lively Vietnam Buffet, Nada Lama, Vietnam, Vietnamese