I always walk pass this Downtown Art Heritage Cafe whenever I go to the Heritage site event. It is located at the corner of Jalan Masjid Kapitan Keling and Lebuh Armenian. This is the hot spot for tourists and even locals whenever there is a Heritage event. However, I've never been to this cafe until I got the invitation from Steven.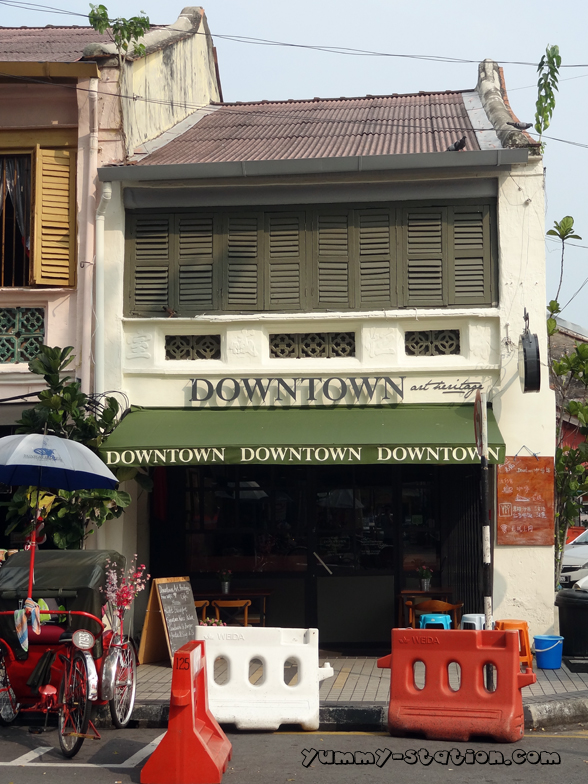 Some menu highlight of the restaurant in Chinese.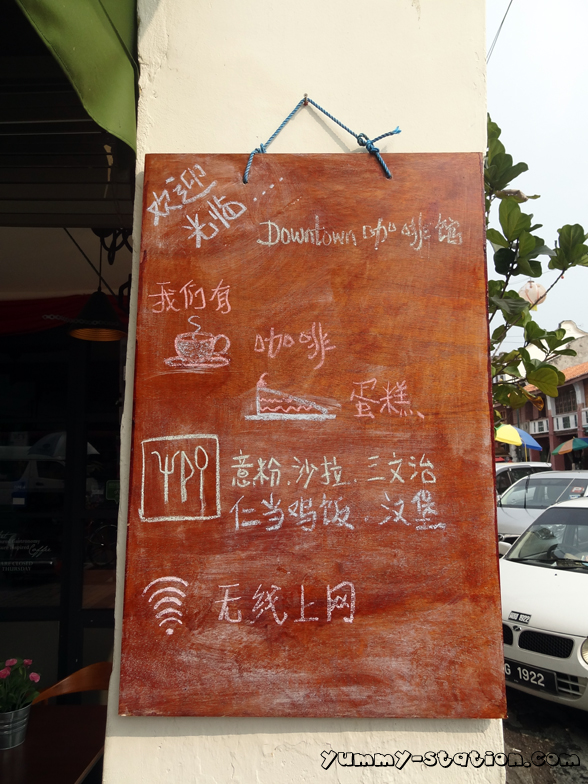 Don't worry, if you have no idea on the Chinese writing, you can refer to the English version just outside of the cafe. Seems like Free Wifi is very important to all of us huh?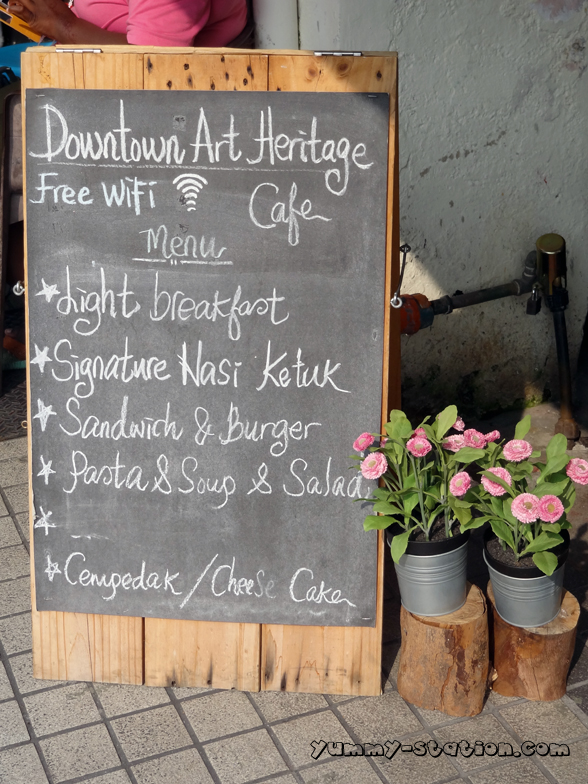 It was a hot day when I reached Downtown Art Heritage Cafe. It is totally a different world when you stepped inside the cafe, it's cool and the environment is cozy and comfortable. I am the first one to reach. While waiting, cold water is being served. How nice!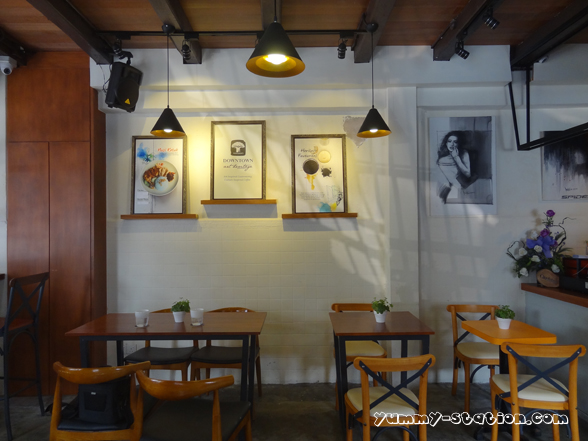 I spotted this board just beside the stairs. Of course, Downtown Art Heritage Cafe does serve cakes!! I will cover the dessert at the last part.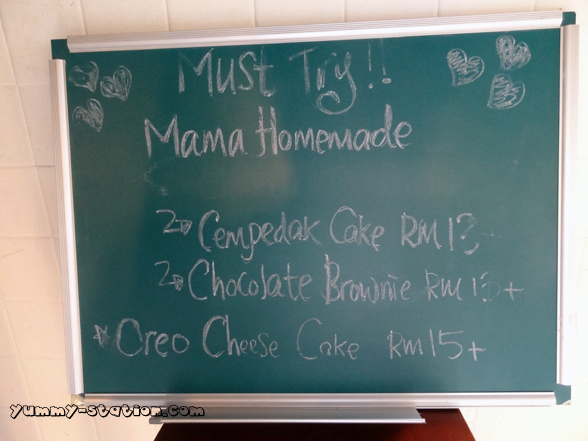 Drinks
Honeydew Float RM10. I like this as I can eat the honeydew in pieces and it is really refreshing.
Orange Lassi RM16. A bit expensive, but I like the orange freshness.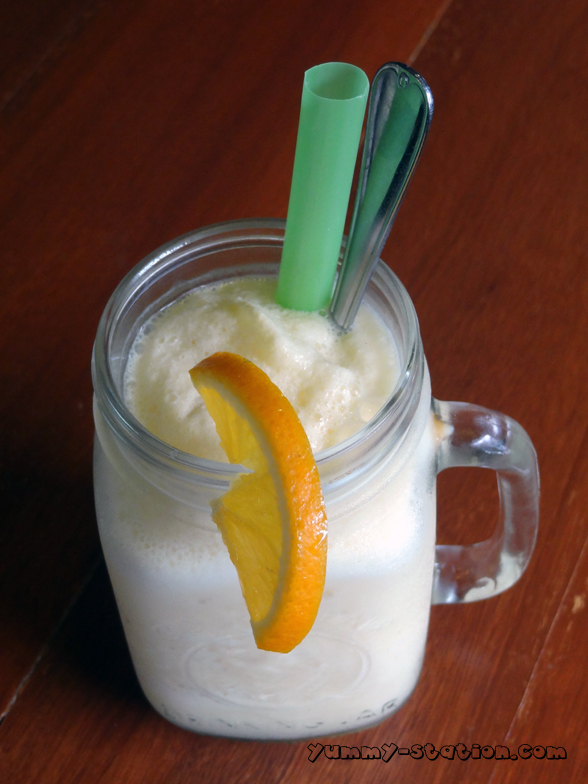 House's Special – Rose Syrup with Vanilla Ice Cream and Basil Seeds RM7. Like what I said, it is a hot day. As you can see, the Vanilla ice cream melted in a fast manner. This drink is too sweet to my liking, mostly due to the ice cream and the rose syrup. But I like the idea of having Basil Seeds, you can drink and bite at the same time.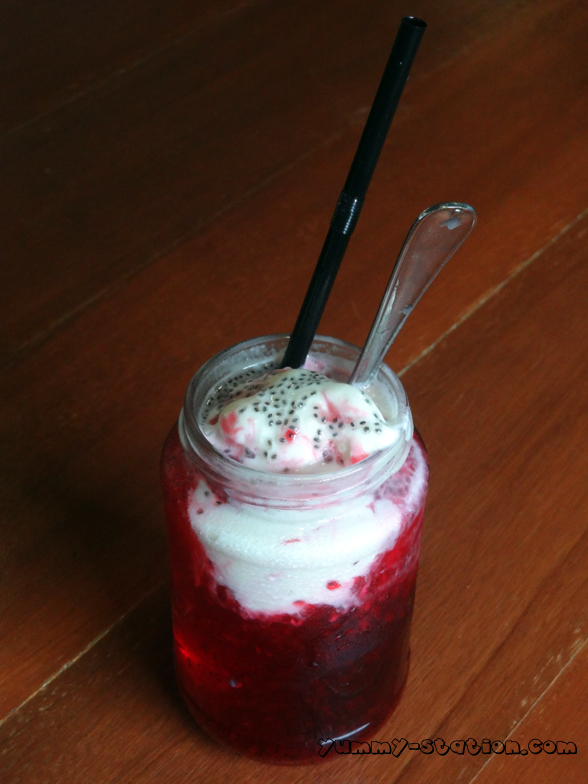 Italian Sausage with tomatoes Baked RM18. It is salty, maybe due to the Italian sausage and cheese. It is well fit if have it with the toast though.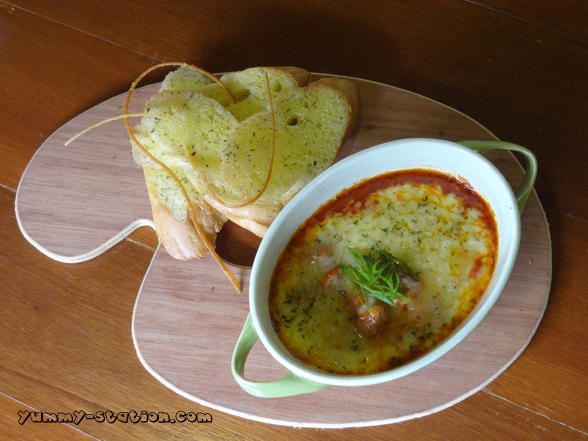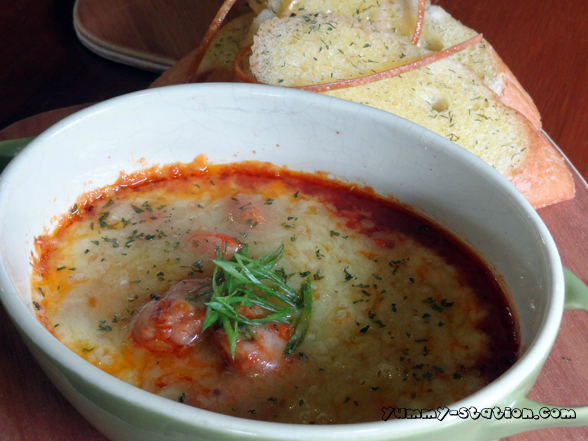 Four Cheese Shrimp Sandwich RM16. This sandwich is just superb. I like it a lot. You will get 3 big shrimps on this sandwich. This is not all for all the shrimps lovers. You will also get the shrimps chunks in the filling that mix with the vege and dressing.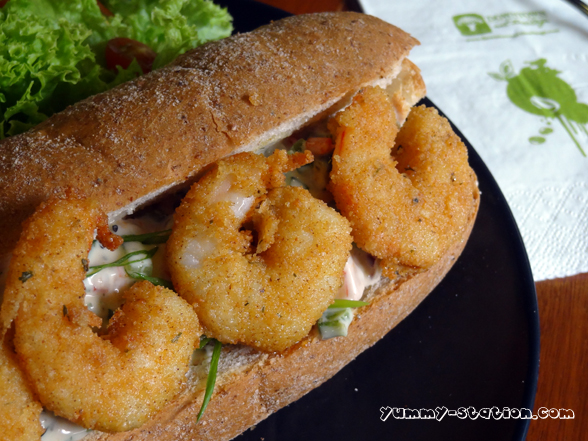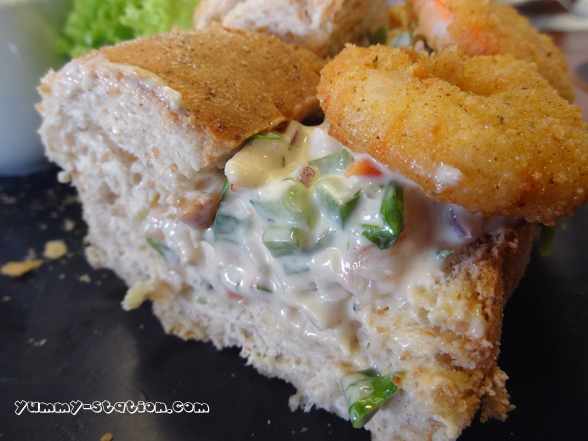 Downtown Signature Nasi Ketuk RM25. It served with Chicken Rendang, a very popular native dish that is richly cooked with combinations of local herbs & spices, marinated with house special rice. The rice is really fragrant and the Chicken Rendang is a huge whole leg. This explains why the price is set at RM25. The spiciness is still at acceptable level.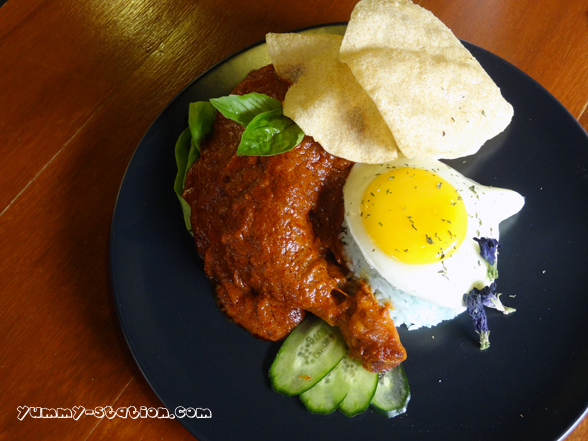 Nasi Lemak Sotong RM14. For people who like spiciness, this is the one that you must order. It is very spicy! But, it will let you to crave for more when you started eating. When I saw the boiled squids covered with the gravy, I thought it will not be good as the squids are not mix well the gravy. I was wrong. For the rice, you can taste the turmeric, if you eat the rice alone.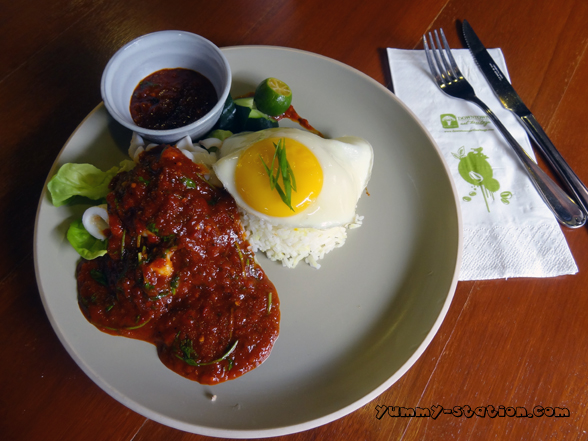 Lemongrass Chicken RM12, well marinated pan seared chicken fillet served with spicy peanut sauce and local fresh. This dish is the best option for those who opt for a healthier meal and eat clean. The chicken is tender and juicy. One thing to shout about this dish, the spicy peanut sauce!!! I would like to ask for more sauce, to dip with the chicken. Yum!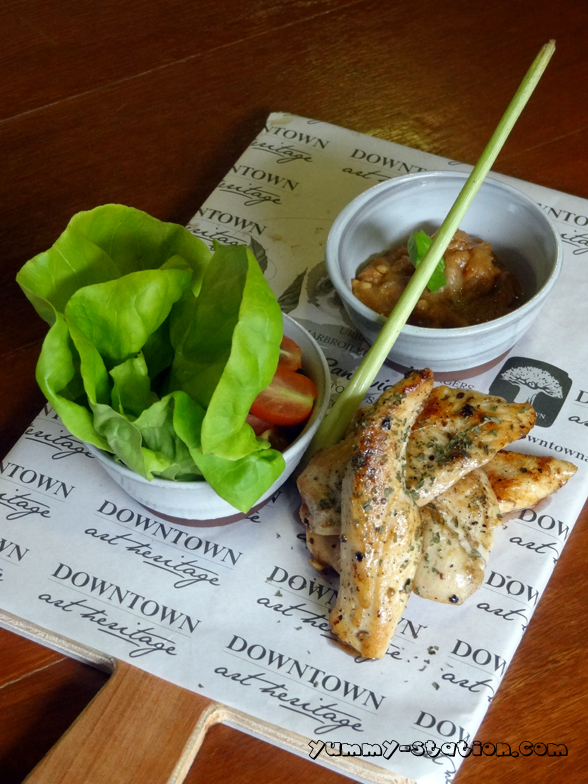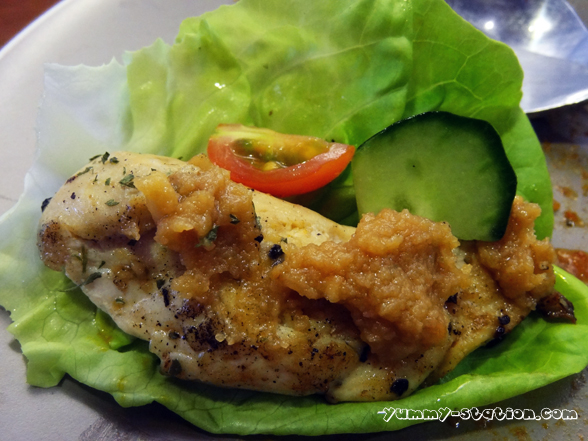 Homemade Chocolate Brownie with Ice Cream RM13. It will not go wrong for a warm brownie served with vanilla ice cream.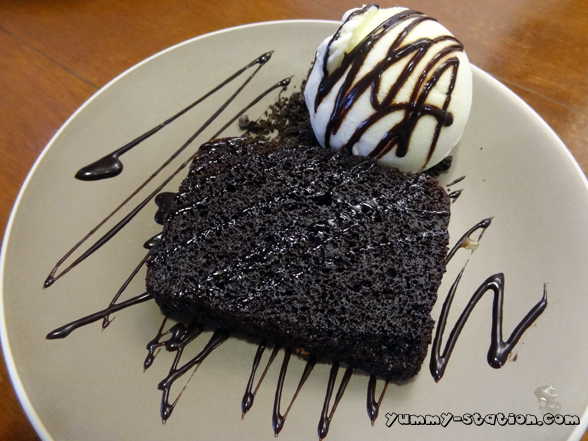 Cempedak Cake RM13. The Cempedak smell is really strong. We can smell it when it was out from the oven after the reheat. It is a very unique cake after all. My first try on Cempedak cake.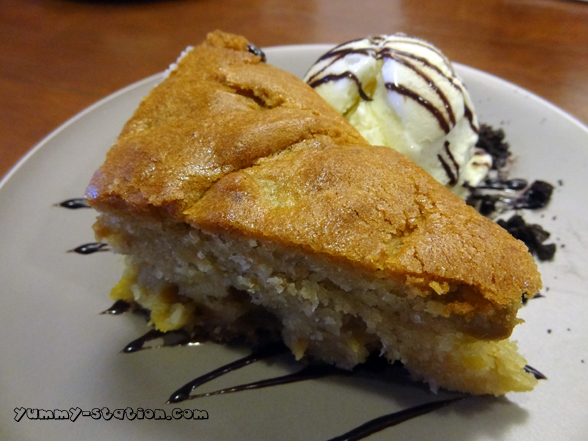 Upper floor, have some places for event hosting.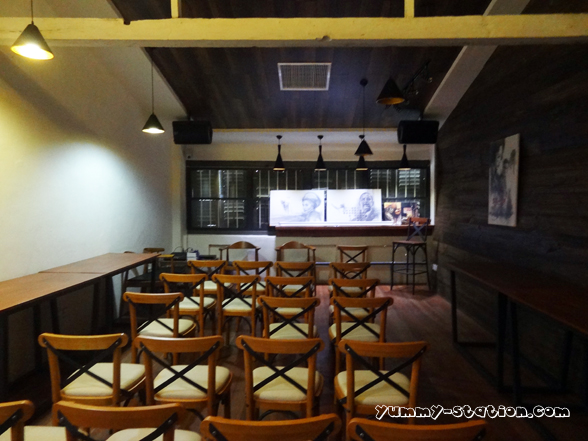 Paintings from Mecho. Nice paintings!!! Do you know who are in the paintings?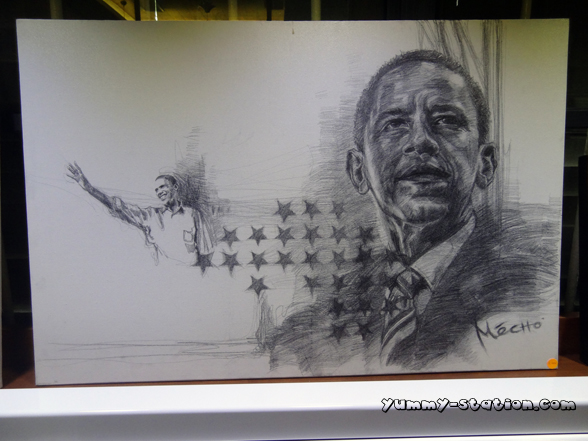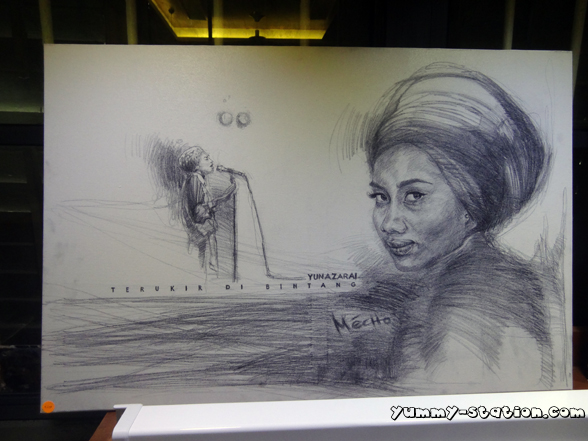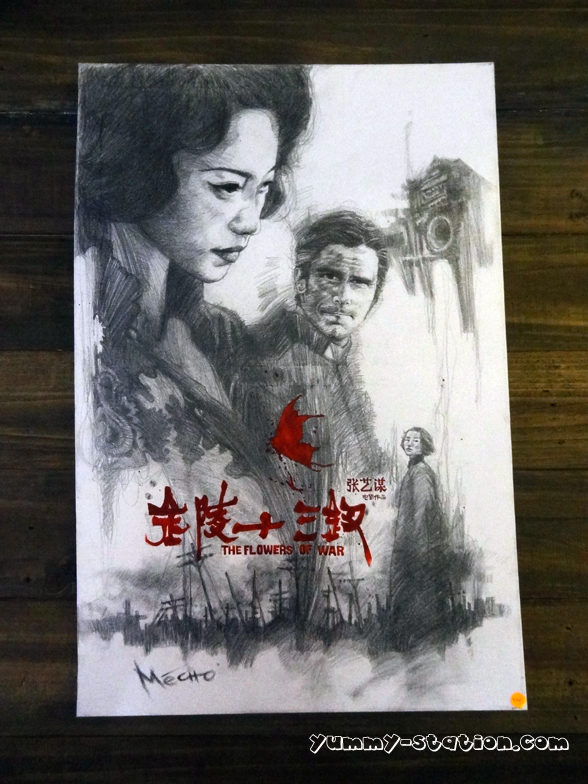 Overall, I like Downtown Art Heritage Cafe. It is a good place for friends gathering with good food and drinks. However, it is a hot spot for tourists and not easy to get a parking lot near by. I parked quite a distance and walked around 3-5 minutes to this cafe. Food wise, I like the Four Cheese Shrimp Sandwich and Lemongrass Chicken the most!! They are yummy!! The spicy peanut sauce for the lemongrass was awesome. If I can have a jar of the sauce, I will finish them without noticing about it. It is that good! We are even suggesting the owner to make the spicy peanut sauce and sell it! The rice set was good too especially the sambal gravy from Nasi Lemak Sotong. It is a nice experience to dine there. I would like to go back some day to have the Four Cheese Shrimp Sandwich and Lemongrass Chicken once again all by myself!
Only Cash term is accepted in Downtown Art Heritage Cafe.
Operation hours: 11:00am – 6:00pm (Closed on Thursday)
Contact: 604-261 1303
Address: No. 149, Jalan Masjid Kapitan Keling, 10200, Georgetown, Penang.
Tags: Armenian Street, Downtown Art Heritage Cafe, Georgetown, Jalan Masjid Kapitan Keling, Penang, Penang Heritage