* This is not a Food Review.
Before I buy any product, especially electrical or electronic products, I will go online and search for the reviews, to know what are the pros and cons, what is the feedback from users and whether is it worth the price. After getting all the information, only I will decide. Of course, I have exceptional case that I bought the product without reading any review or only read some of them (Those that I really love it without need to think for more). For TV box, it will be good for you to get more information before getting a suitable one as there are a lot in the market now.
Which TV Box to get? I think this is the main question that you will ask. I am not sure about the rest, but I have one to recommend here: 1OTT Social TV.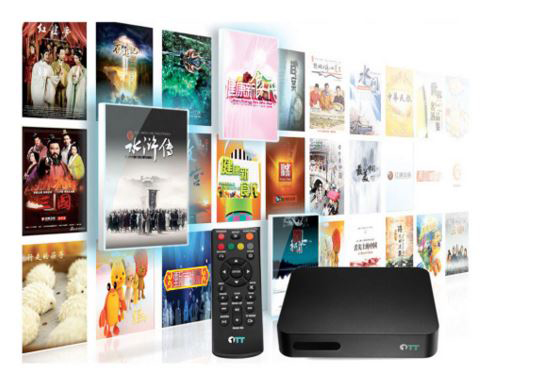 * photo is taken from http://www.cloudmedia.com/1ott/

1OTT Social TV is a TV Box that can let you watch your favorite show or listening to your favorite music on the big screen whenever you want by direct streaming through your internet connection, with only ONE time payment, with NO additional subscription fee and NO hidden cost. This product is the brainchild of Cloud Media, a company pioneering in Connected Entertainment Market, responsible for powering the World's First Internet Connected TV – the HP MediaSmart and developer of the Award-Winning Popcorn HourTM Networked Media. For more information on Cloud Media, please refer to http://www.cloudmedia.com/aboutus/about-cloudmedia. It's a Linux based media player that comes preloaded with 40+ public apps such as Facebook, Youtube, Games, Cooking, Fashion & Lifestyle, Health & Education, etc. It's also acts as an open platform / marketplace for 3rd party app developers to promote their Private Apps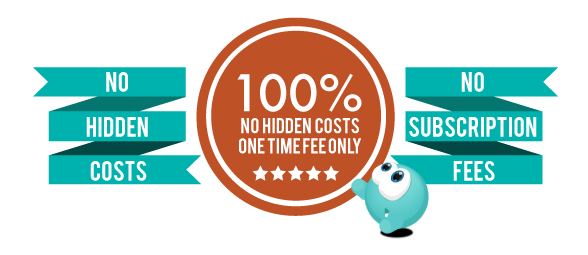 Second question that you may ask, which is important as well (to me), how much of internet speed is needed for the 1OTT Social TV to stream the content? The answer is, 2MB. A minimum of 2MB of internet speed is recommended to view almost all of the content but 4MB is needed if you want to stream live TV.
What you can do with 1OTT Social TV? As you know, it is a TV Box, of course you can use it to watch movies and series. If compare to other TV Box out there like the Mi Box which I owned one, you no longer need to pay and subscribe to any other package to view the IP TV. It has 50++ Live TV Channels from  China International Broadcast Network with all the latest TV programs, drama series and movies from China, Hong Kong and Taiwan.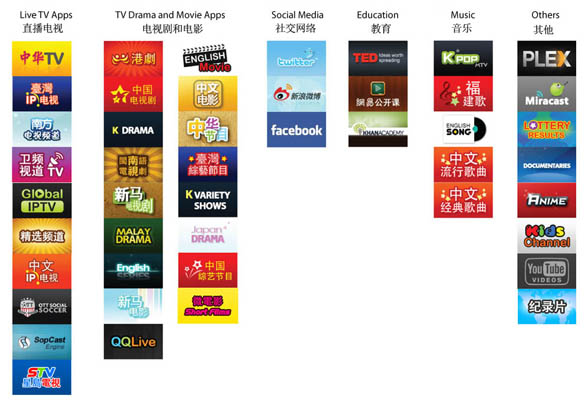 Besides, you can view your social media through the 1OTT Social TV as well, Facebook, Twitter, Weibo, YouTube, you named it. You also can mirror your tablet or smartphone screen to your home TV by using the iOSCast or Miracast. 1OTT Social TV Box also let you to access your favorite collection of videos, photos and music conveniently from your PLEX server at anytime and anywhere.
For parents, there are endless hours of education content that you can learn and enjoy the fun together with your kids. If they are bored with the learning, Cartoon or Animation channels are available too! I'm sure they will love them!
After you have the brief idea on 1OTT Social TV, it's time for me to go through with you on my experience with this 1OTT Social TV.
The 1OTT Social TV comes with a player, a remote control, a power adapter, a USB micro cable, 2 AAA batteries for the remote control and a quick start guide.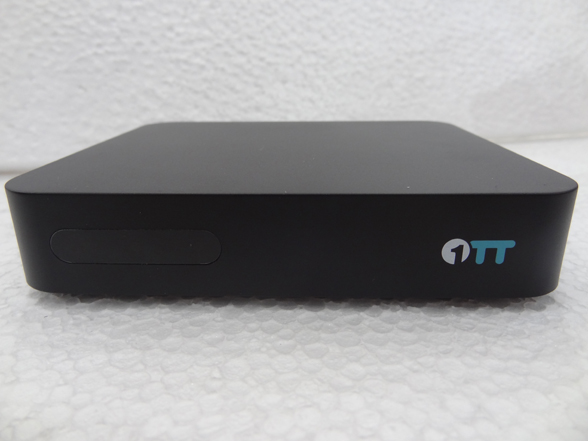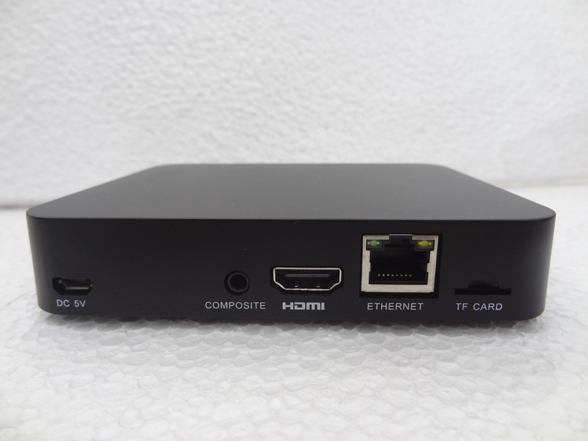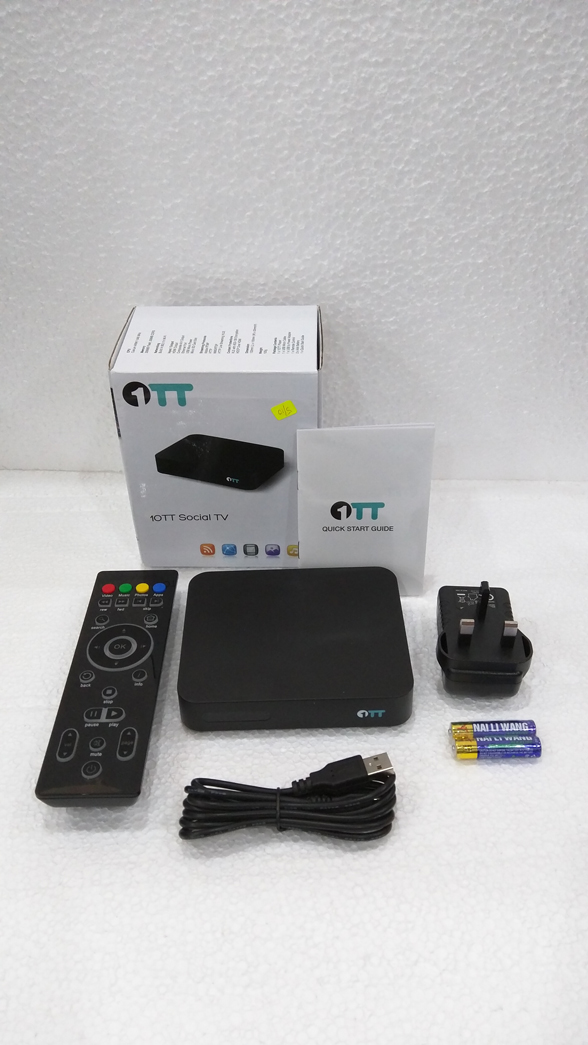 The setup is easy. Once you plug-in all the cables, just wait for the welcome screen to show on your TV. Next, install the VOD apps by entering the code provided when you purchased the player. Viola! You can start stream your movies or series now!

Before I go further, let me explain a bit on what is VOD. VOD is Video On Demand. It is a private apps developed by 3rd part developers. It pulls the video content from 100+ websites the offers free contents. Currently, the VOD library features more than 12,000 titles which is update daily and weekly basis, including movies, series, variety shows, and MTV's from US, Hong Kong, China, Korea, Japan, Malaysia, Singapore, India, Indonesia, etc.
The VOD app that I like the most are English Movies/Series, Cantonese Series and Chinese Movie. I watched a lot of series and movies. Currently, I download them and watch it on my PC. With the 1OTT Social TV, I can save my downloading time. I only need to turn on the TV and start to stream. How easy and convenient is that. Some of the series which I missed previously, I can watch it back from the series apps. I no longer need to Google just to find the source for downloading.
Just go into the English Series app, on the top right, you can see it stated 1/96, which means, there are a total of 96 titles under English series!! English Variety Shows and Animated Series are another 2 category under English Series. If you click inside, there is another list coming out. The Walking Dead: Season 6 is there!! There is a bracket showing [5/16], this means the total episode of The Walking Dead: Season 6 is 16 and currently, it has 5 episodes.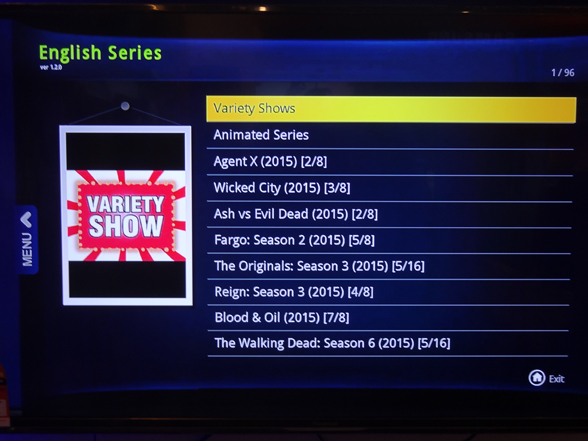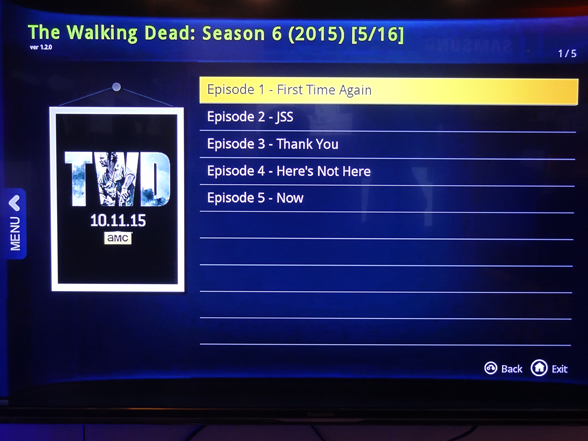 Some screenshots from the series.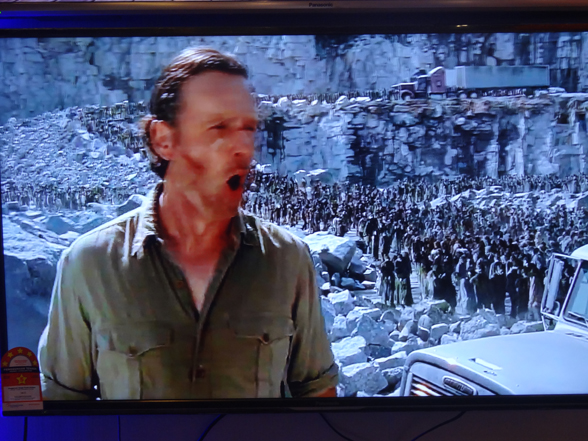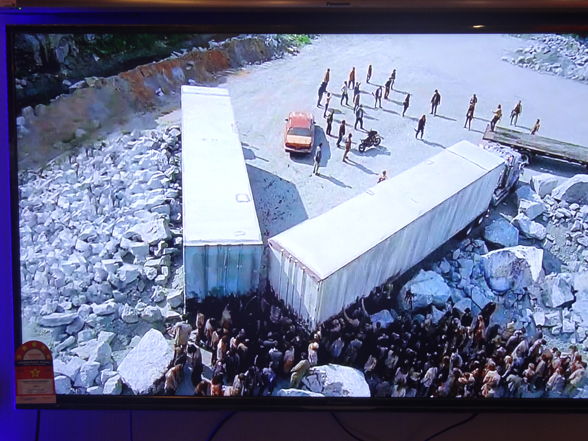 Oh, before I forgot, you can select the quality by pressing the left button on the remote, and choose Video Quality. 720p HD and 1080p HD will be my choice!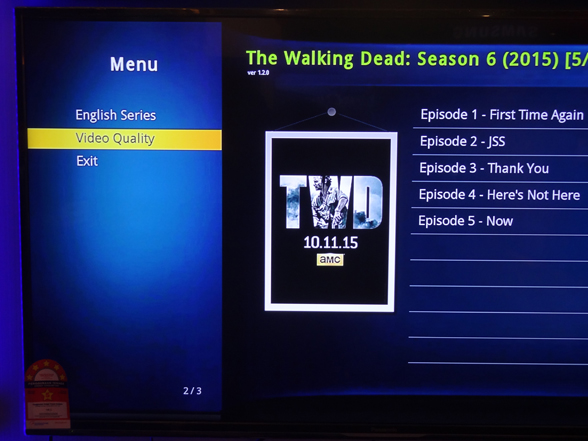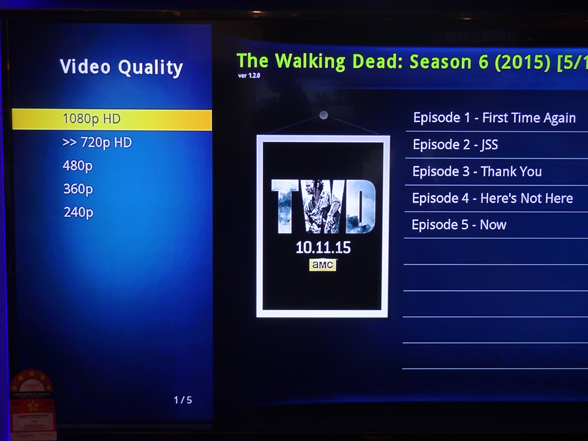 It is the same for the Cantonese Series app too. Click on the Cantonese Series app, and it will list out the whole series list. There are a total of 52 series. You can notice that Drama Song, Variety Shows and Drama in HD are another 3 categories showing up under Cantonese Series app. You also can see [THE END] at the end of the series name, which means, this series has ended and it has full episodes for you to watch from the beginning to the end.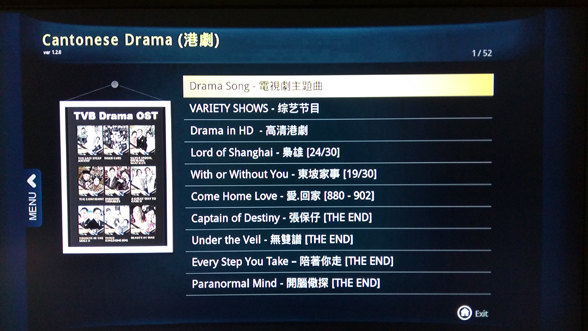 Same as the English Series, if you click into one of them, it will list out all the episodes. Just click on the episode you want.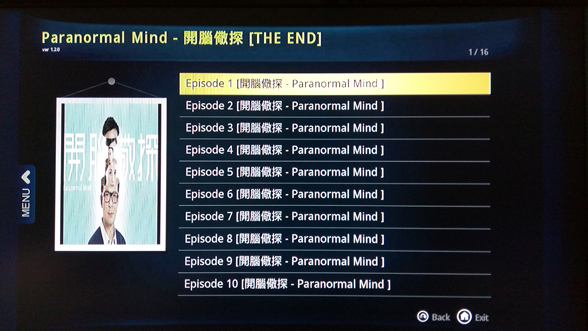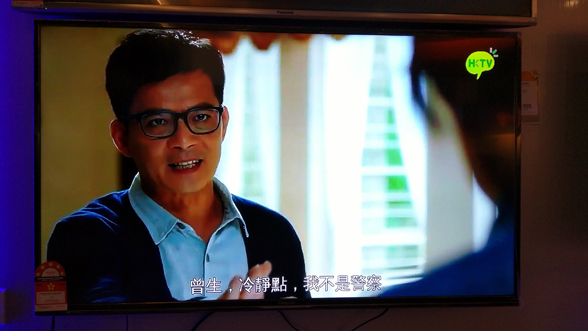 For the Chinese Movies app, there are 4 categories on the main page. I think your parents or grandparents will like the Classic Movies category.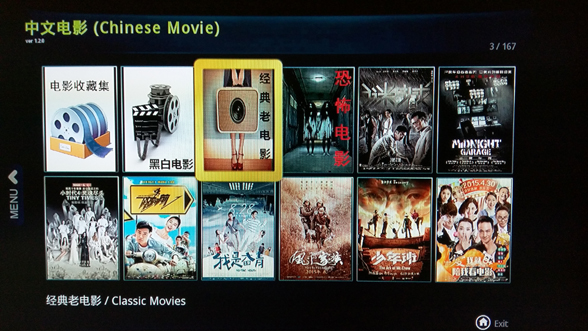 Once clicking into it, you can see the Classic Movies listed, with the title at the bottom, telling you whether it is in Mandarin or Cantonese. There are a total of 32 classic movies to date. This 1OTT Social TV Box is definitely one of the TV Box that you can consider to get it as a gift to your parents.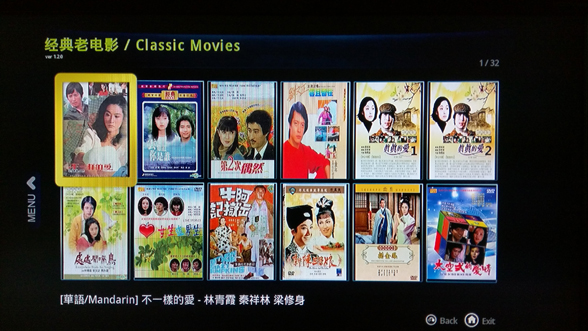 There are still so many apps there. You even can find Indonesia Movies, Indian Series/Movies, Malay Drama/Movies and Thai Series/Movies that you can hardly find in other TV Box. There is an Announcement app, by clicking that, you can see what is the announcement for all the shows. You will know what are the new shows available.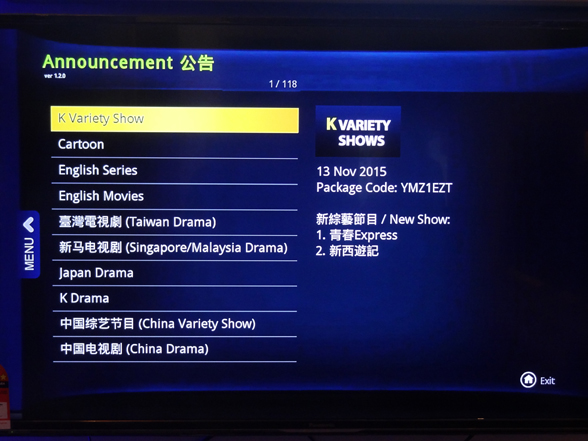 After talking so much on the 1OTT Social TV, here comes the question that you will definitely ask: How much?
1OTT is retailing at RM479 (inclusive 6% GST) at all BHB Outlets. In addition to the overall warranty, a "90 days 1-for-1 exchange warranty" and a "free remote control upgrade to V8 back-lit and long range remote control worth RM30 (while stocks last)" are provided EXCLUSIVELY through the purchase at any BHB branches, excluding Kitchentech outlets.
Overall, I like this 1OTT Social TV. I like it because I can view my favorite movies and series by streaming them on the go, no need to waste time to go online to find the source and downloading them. What's more? It only needs a one-time payment with no additional cost!!! How cool is that! Only one thing that is worrying me, I don't have enough time to watch all series or movies!!! 1OTT is definitely a good buy for own use, or even as a gift. From now on until 31 December 2015, just quote the below code: AO8002, you will get additional BONUS, which is a FREE Sarowin HDMI Cable worth RM68!!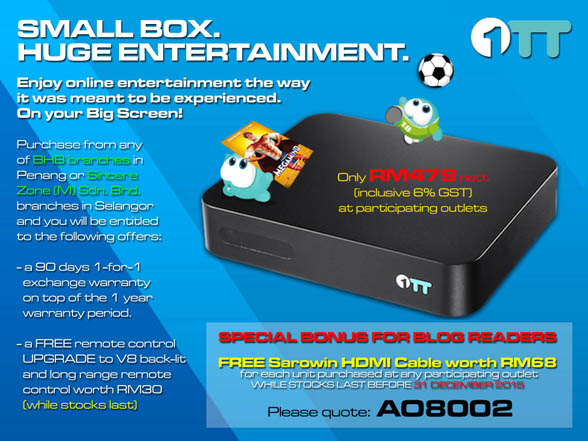 Specifications:
Operating System: Linux Based
User Interface: Adobe Flash Lite (Stagecraft 1.2)
Streaming Protocols
Adobe RTMP
HTTP
MMS/RTSP
HTTP Live Streaming(HLS)
Supported DRM
HDCP Over HDMI
AES-128 Bit HLS Encryption
CPU: Cavium ARM11 640 MHz
Memory: 256MB Flash, 256MB DDR3
Networking: 802.11n Wi-Fi, 10/100 Ethernet
Input /Output
HDMI Output, Composite A/V Output,
Ethernet Port, USB Micro Power and
MicroSD Slot
Size: 123.0 (L) x 100.0 (W) x 25.0 (H) mm
Weight: 120 gm
What's Included:
1OTT Player x 1
USB Micro Cable x 1
USB to Power Adapter x 1
Remote Control x 1
AAA Batteries x 2
Quick Start Guide x1
If you are interested to become a reseller for the 1OTT Social TV, please email leslie@vidcrowdmedia.com for more information.
The bloggers were also presented with a WIFI access based FreeOTT for the sole purpose of their personal demonstration and usage. The unit STRICTLY acts as a premium giveaway by Vidcrowd Media Sdn. Bhd. and is not available for sale.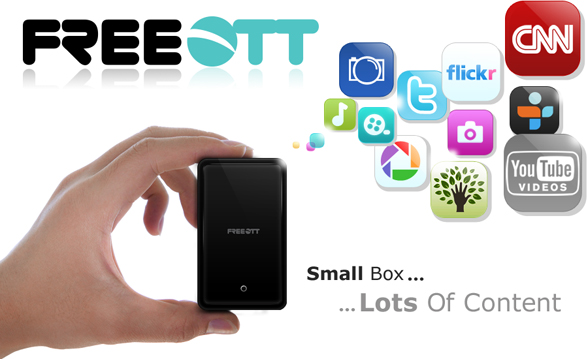 Disclaimer: The reviewer or any other related business entity or website (hereinafter "Company") associated with the manufacturing and/or distribution of the 1OTT product (hereinafter "Product") is not responsible for any miscommunication that may occur regarding channel and content listings and availability. You agree to understand that the channels and content are provided via 3rd party app developers (hereinafter "external apps") and is streamed over the internet via these external apps. You agree to understand that the Product is merely a device that allows you to connect through your own internet provider and stream any content that is available via these external apps that are available through the Product.
Tags: 1OTT Social TV, Ban Hin Bee (BHB) group, CloudMedia, Vidcrowd Media Sdn. Bhd.