* This is not a food review.
Time flies!!! 2015 has come to and end and one more day to go for 2016! Have you started to plan your 2016 resolution? But before that, let's go and celebrate the year of 2016 by enjoying the countdown fun! Many places including Queensbay Mall and Karpal Singh Drive will have the countdown celebration. I always wish to go for the countdown celebration but when I think of the traffic, I will just cancel the plan. All roads will be jam and it will be super hard just to get a parking space. Last year, I was stuck in traffic when the celebration began.

FOCUS ON CELEBRATING AND NOT ON PARKING
Anyway, these issues can be solved by using the Uber services. Uber driver will pick you up and send you to the celebration destination as you wish. You only need to sit inside the car and relax. After the celebration, just use the Uber services once more to go home! It's so convenient and hassle free! No longer need to worry about all those traffic and parking problems anymore!
Just install the Uber app into your smartphone, either on IOS or Android. Register an account by entering your email address, mobile phone and credit/debit card number, just as easy as that!
What's more, from now until 31 Jan 2016, you will get a one time free ride up to RM25 by using the Promo Code: ILUVPG4.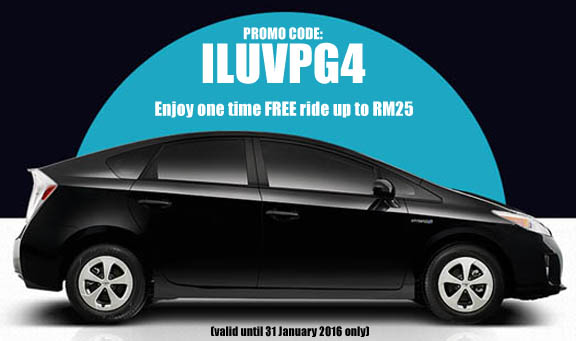 If you are yet to try out Uber, it's time for you to do so. It's super convenient. I like it because of the cashless system. I just need to bring along my smartphone and I can go anywhere I want with just a few taps.
Tags: Uber