G Hotel will celebrate 2016 Christmas with its Christmas Buffet (Christmas Eve Dinner, Christmas Day Brunch and Christmas Day Dinner) at Taste Cafe (G Hotel Gurney) and SPOON (G Hotel Kelawai) on the 24 and 25 December. All buffets are priced at RM160 for Taste Cafe and RM150 for SPOON.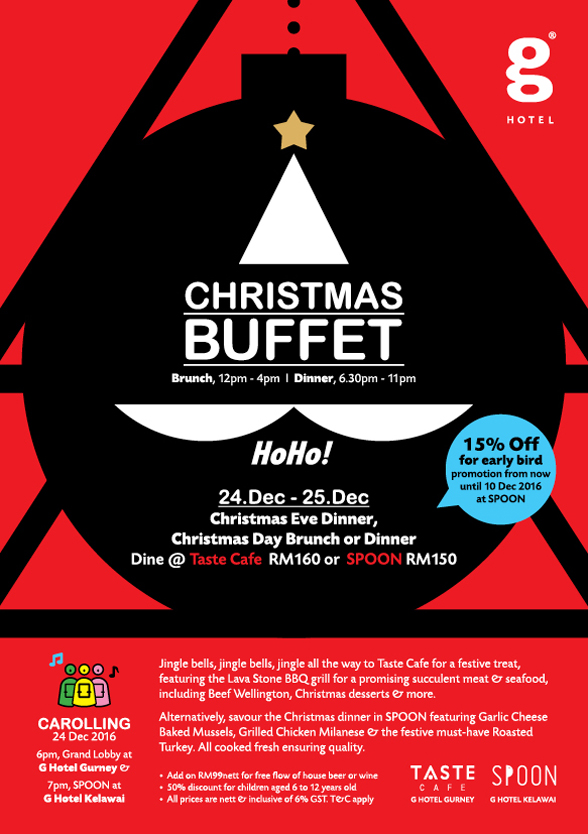 Taste Cafe with 207 seating capacity.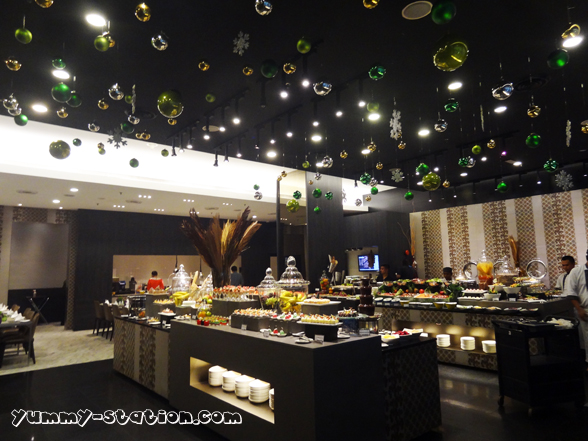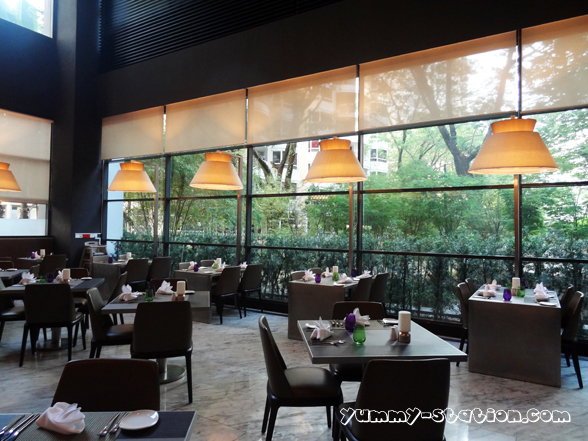 Roasted Turkey with Apple Cranberry Sauce.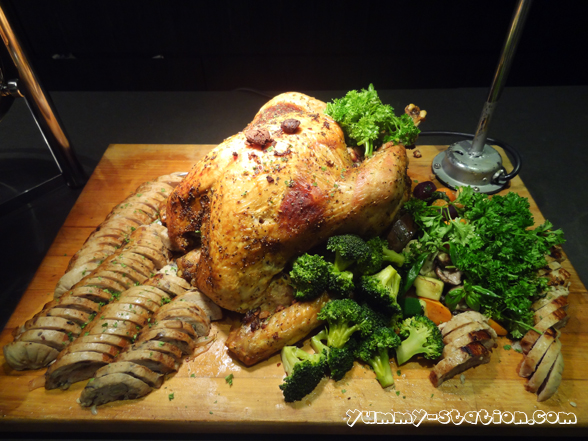 Roasted Whole Lamb.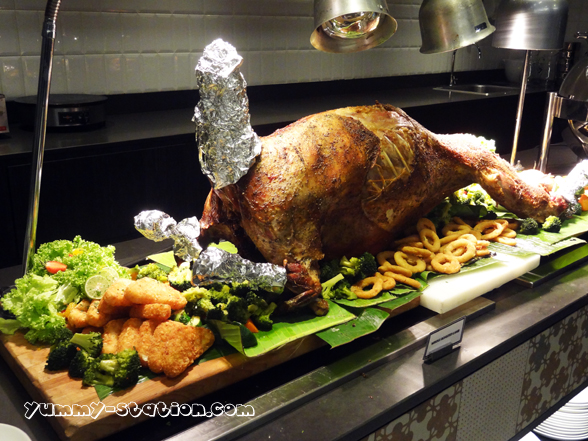 Appetizer - Roasted Chicken Salad, Fruit Salad, Marinated Capsicum Salad With Fennel & Olive Dressing, Smoked Tenggiri, Smoked Salmon, Chicken Salami, Sushi, Spicy Pasta Salad.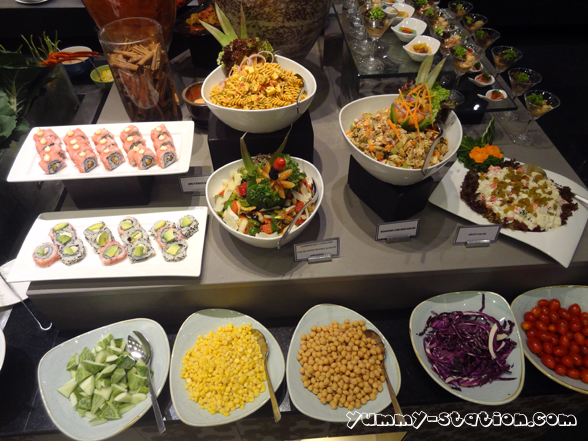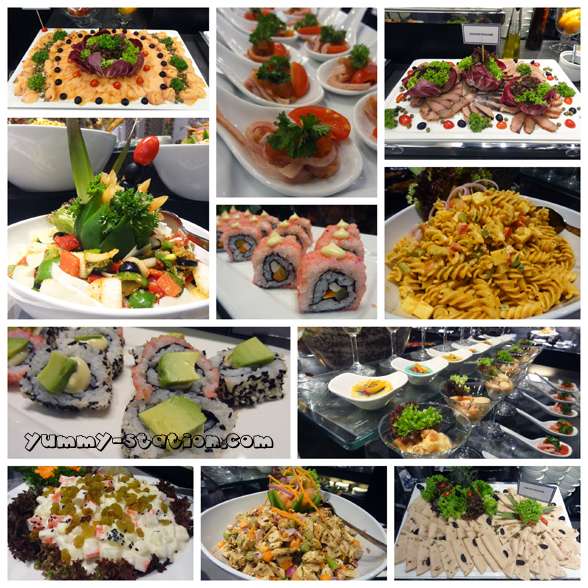 Sashimi.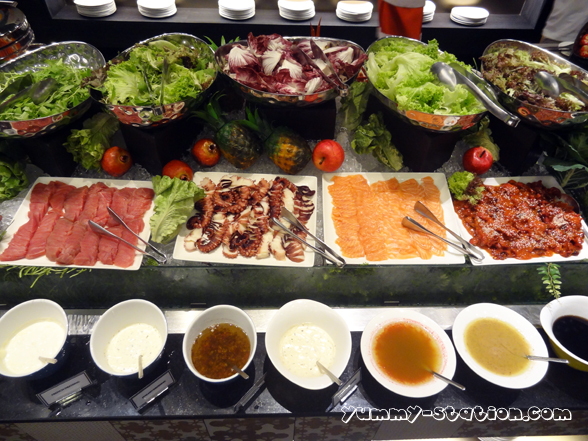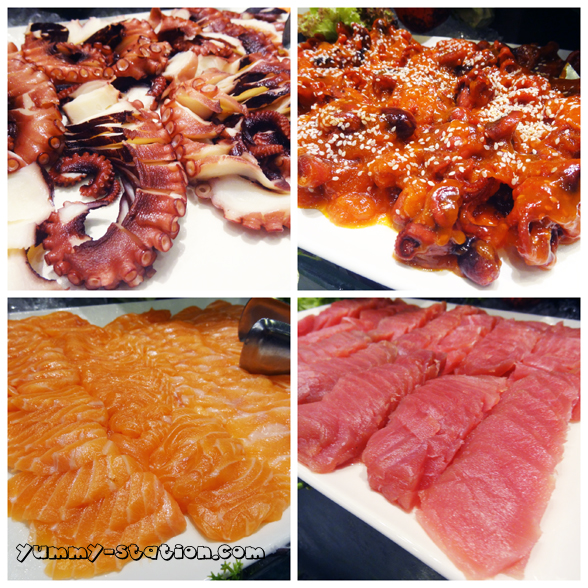 Seafood on Ice.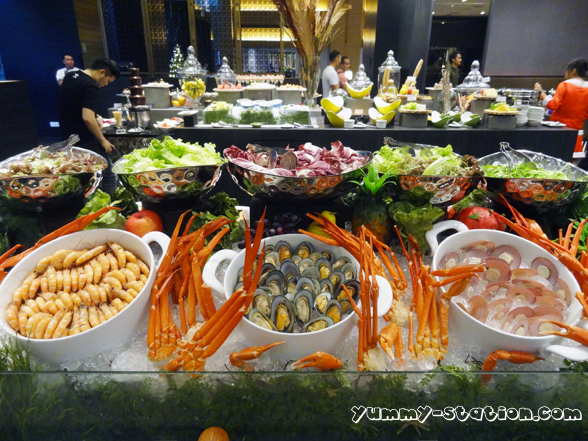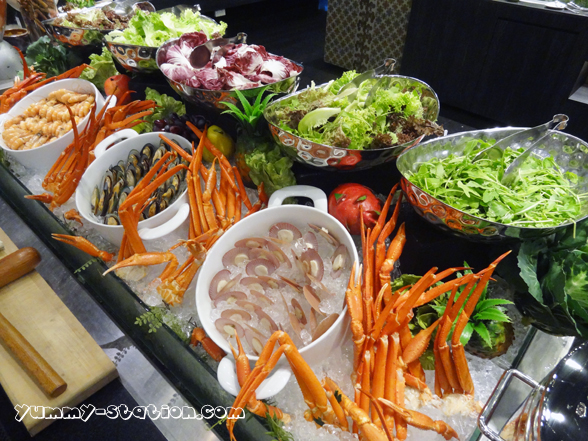 Lava Stone Station featuring seafood & premium meats served with 6 types of sauces and condiments to enhance the taste of the meats.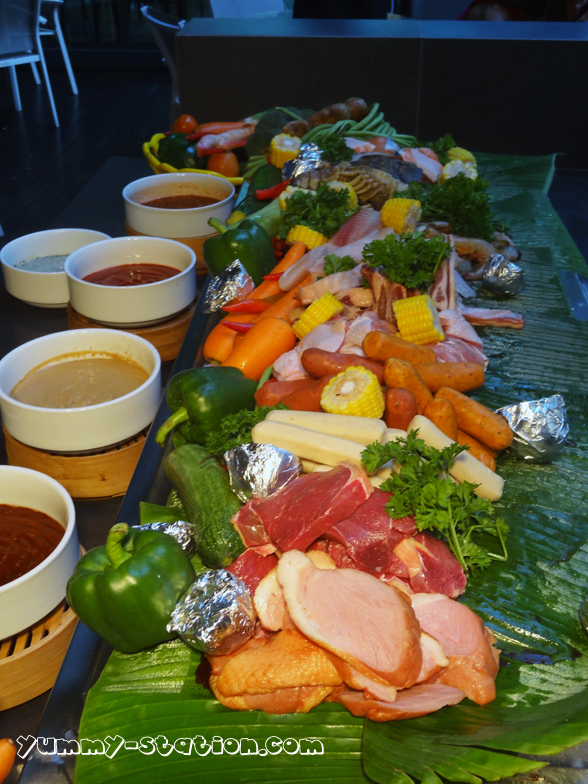 Chef Sean is grilling the seafood & meats with Penang's first ever Lava Stone BBQ grill imported from Indonesia.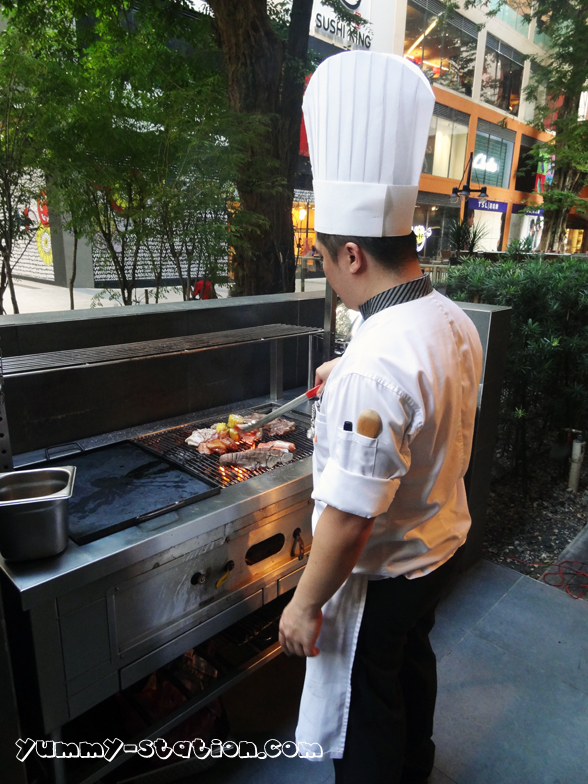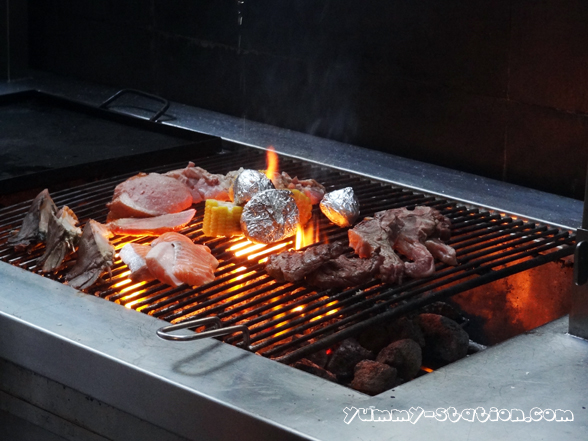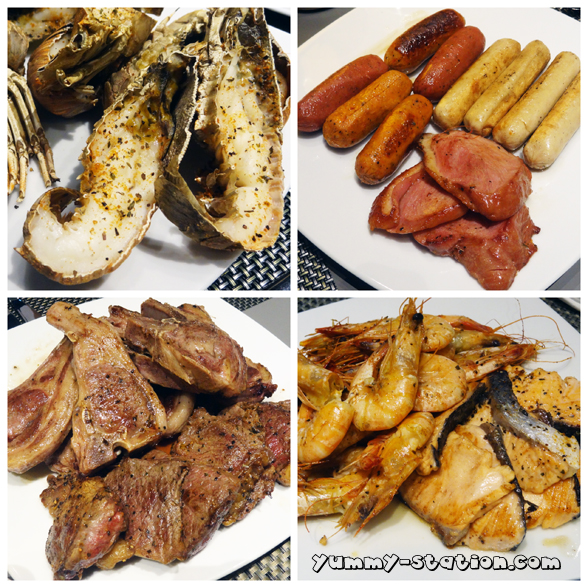 Soup – Creamy Carrot Soup and Braised Dried Scallop & Crap Meat Soup with bread.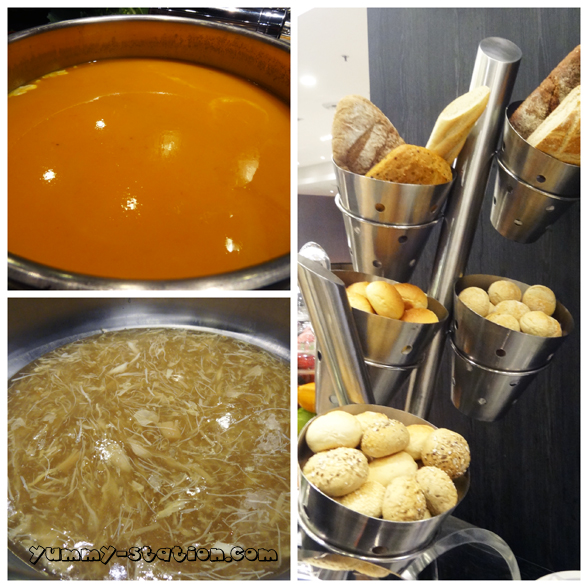 Pasta Station and Chicken Quesadilla & Oven-fresh Pizza.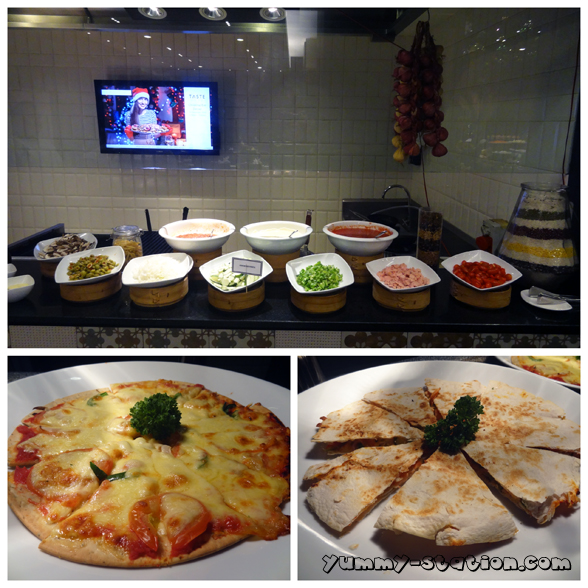 Main - Beef Osso Buco, Stir Fried Beef with Capsicum, Turkey Schnitzel, Oyster Au Gratin, Buttered Herb Potato, Almond Butter Rice.
Main - Fried Noodle with Seafood, Buttered Baby Young Corn Brussels Sprout & Carrot & Cauliflower, Chicken & Mushroom Pie, Pan Seared Duck with Fruity Sauce, Grilled Fish Fillet with Citrus Salsa, Crispy Chicken with Mango Sauce.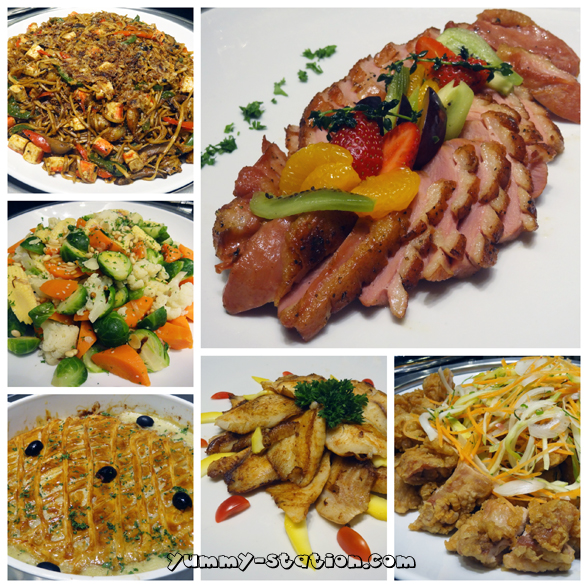 Fruits, Mixed Fruits Salad (Rojak) and Cheese Station.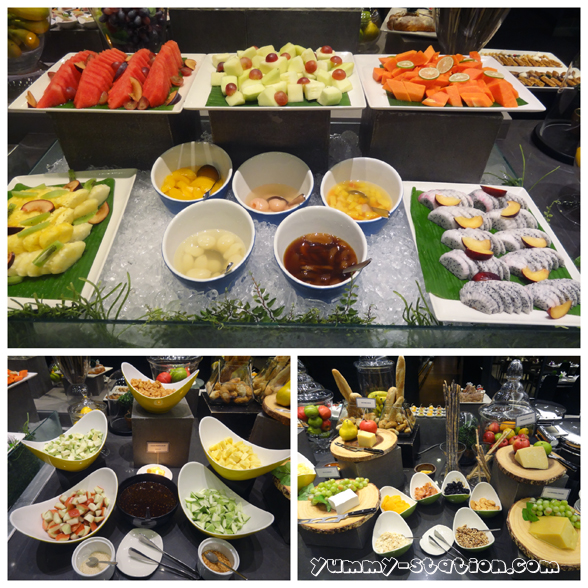 Desserts - Cinnamon Banana Bread Pudding, Mini Fruit Tarts, Christmas Yule Log, Raspberry Panna Cotta, Chocolate Raspberry Mousse, Assorted Christmas cookies.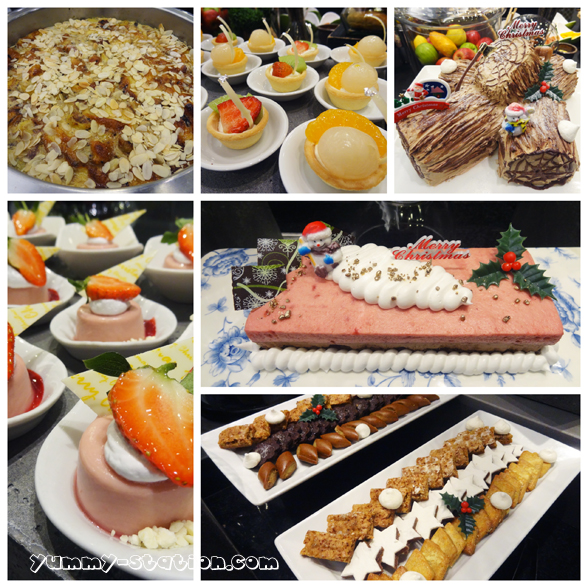 Desserts - Macaroon,  Chocolate fountain, Cherry Trifle in Glass, Chocolate Banana Cake, Warm Christmas Pudding with Vanilla Sauce, New York Cheese Cake.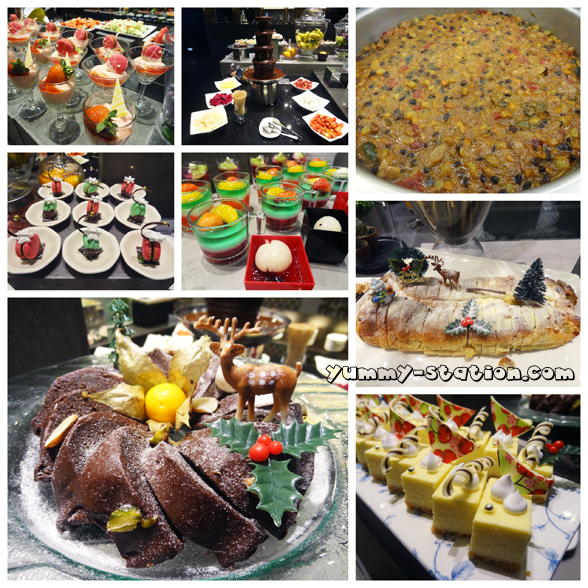 Pumpkin Pie.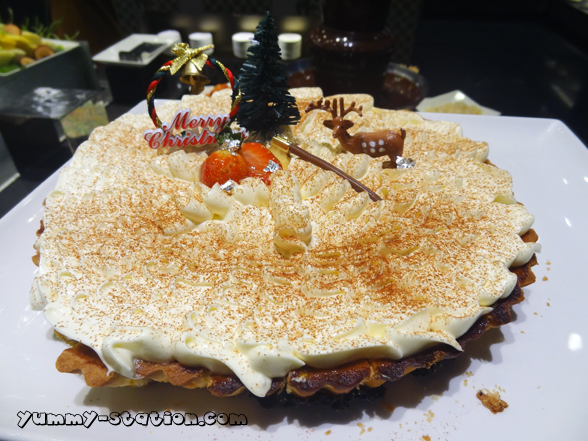 Christmas Fruit Cake.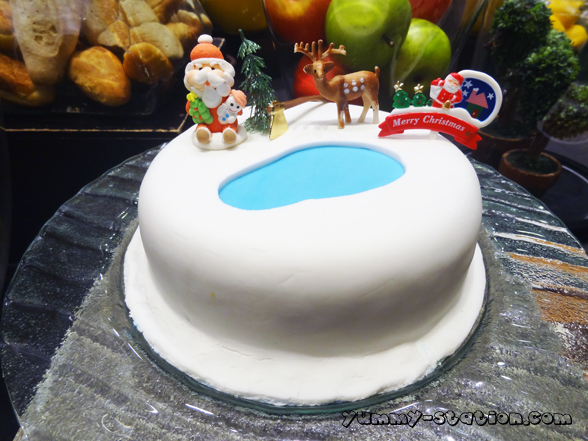 Christmas & New Year Buffet Discount.

For reservations or more information about G Hotel Gurney and G Hotel Kelawai's holiday festivities, please visit www.ghotel.com.my or call +604 238 0000 for the booking and assistance.
Tags: 2016 Christmas, 2016 Xmas, Christmas, G Hotel, G Hotel Gurney, G Hotel Kelawai, SPOON, Taste Cafe, Xmas