Do you know where to go if you want to try out different food from different country at one go in Penang? Yes, just head to the Garden Cafe in Golden Sands Resort by Shangri-La. Around The World Buffet Dinner will be waiting for you on every Thursday from 6pm to 10pm at RM98 nett per adult.
Freshly baked bread and rolls to go with the Minestrone Genovese and Szechuan Hot and Sour Soup.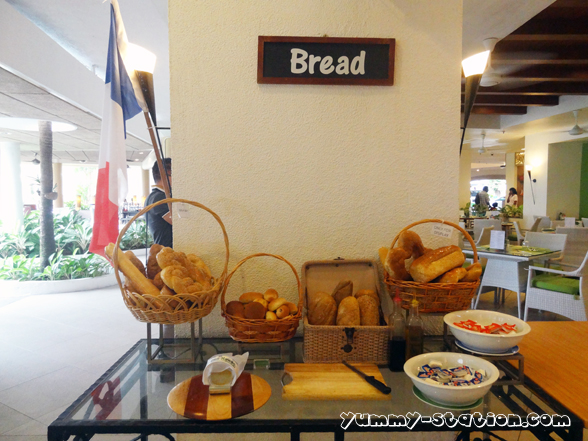 Salad and Appetizer
Corn and Filament Crab Salad, Mixed Highland Greens, Chipotle Dash Grilled Chicken Caesar, Tomato Salad with Crumble Feta, Boiled Chatt Potato with Chopped Parsley, Greek Fattouch, Lebanese Tabbouleh, Fresh Sliced Cucumber Raita, Silician Pasta Salad with Tuna, Casper, and Anchovies, Stewed Mussels with Garlic and Tomato Pulp Sauce, Cheese Platter, along with condiments and dressing.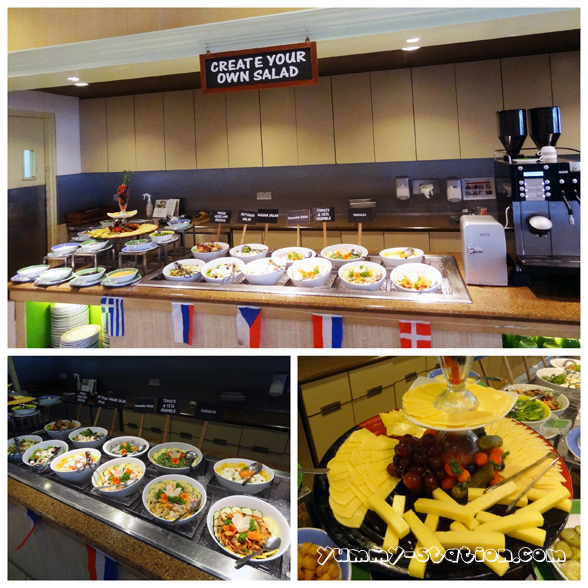 Chilled Poached Prawns, Mussel and Smoked Salmon.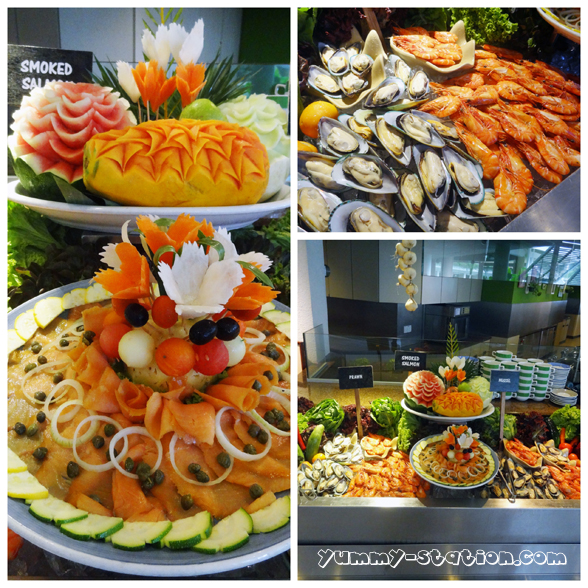 Kids Corner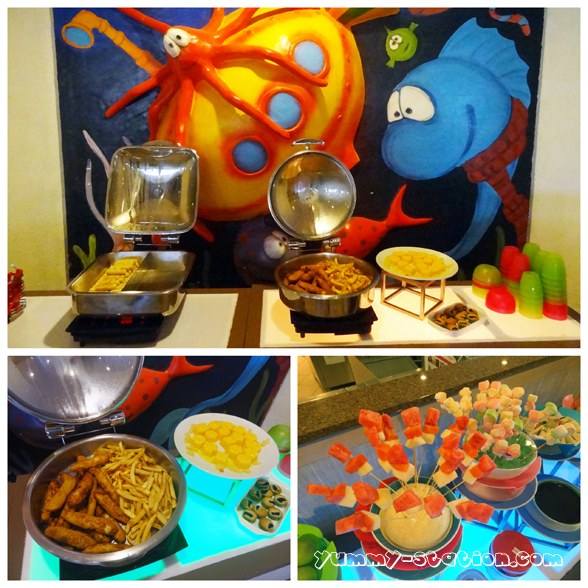 Hot Dishes
Steam Rice and Chinese Fried Rice, Saute Potatoes with Onioin and Mozzarella Cheese, Chinese Squid with Ginger and Onion, Herbal Prawn, Baked Cauliflower Polonaise and Broccoli Florette, Stir-fried mixed vegetable with Oyster Sauce, Deep-fried Fish with Sweet and Sour Sauce.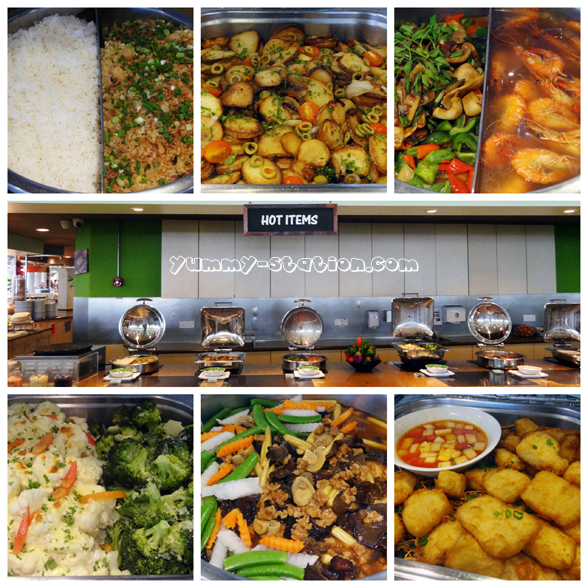 Roasted Chicken with Home-grown Garden Rosemary on Bruised Cherry Tomato, Roast Beef with Dried Spiced Rubbed on Grilled Pepper and Onion (accompanied with homemade Yorkshire), Chicken Cordon Bleu with Remoulade Sauce, Fried Koay Teow, Malaysian Chicken Murtabak and Roti Canai with Dhal Vegetable Curry and Fish Curry, Lamb Chop with Thyme Reduction, Mediterranean Baked Egg Plant with Pasta and Potatoes.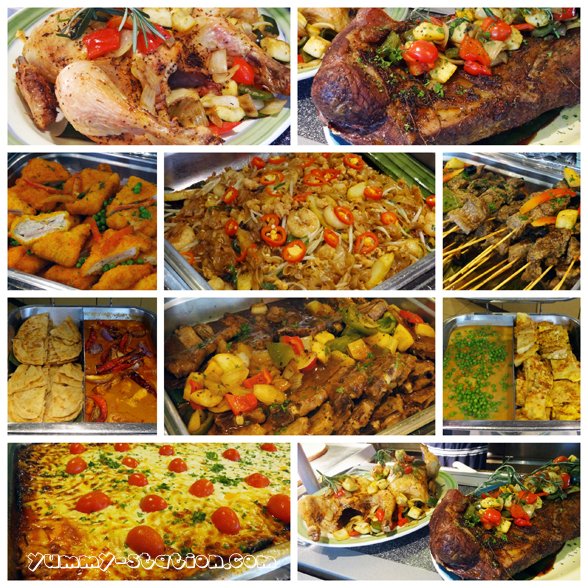 Egyptian Chicken Sharwarma with Condiments and Arabian Bread.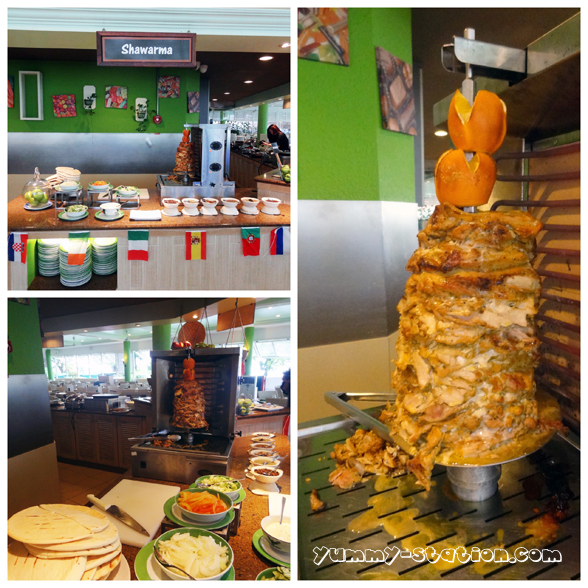 Noodle Station
Penang "Curry Mee', accompanied with Egg noodle, rice vermicelli, boiled egg, bean curd, cooked prawn, local parsley, fried shallot and scallion.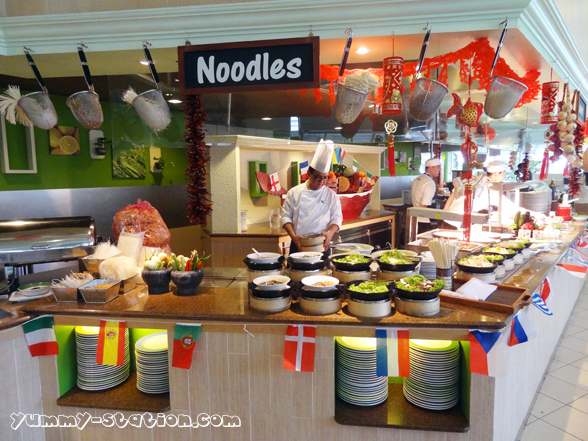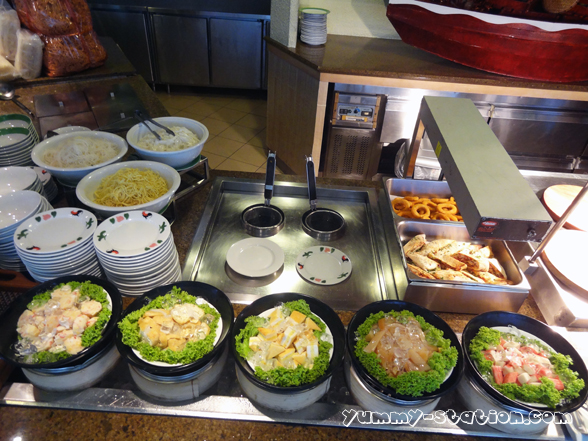 Milano Pasta Station
Choice of pasta – Spaghetti, Penne, Tagliatelle, Fusile, Macaroni
Choice of sauce – bolognese, napolitana, marinara, carbonara wth choices of condiments – bell pepper, tomato, slice beef bacon, slice chicken ham, slice mushroom, slice chilies, anchovies, marinted olives, pesto, grated parmiagino.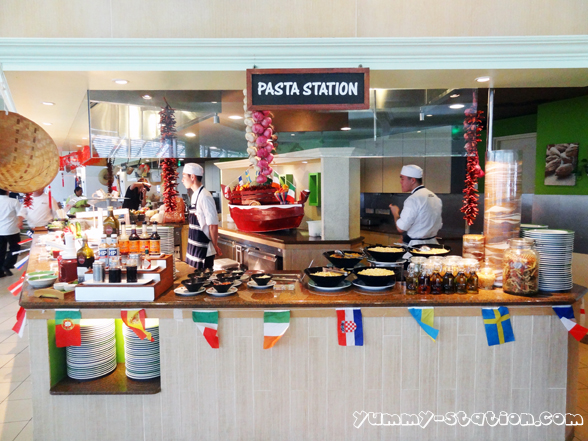 Freshly Cut Tropical Fruits.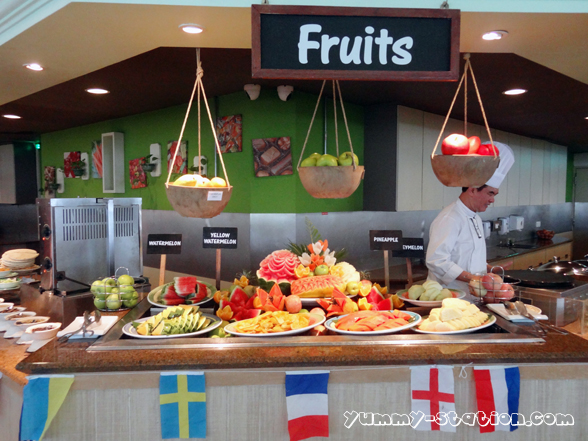 Dessert
Banana bread & butter pudding, Cinnamon Apple Strudel, Assorted French Mini Pastries, Caramelise Orange, Profiteroles with Chocolate, Mango Pudding, Raspberry Pie,. Cream Caramel, Chocolate Mousse, Tiramisu, Charlotte Royale.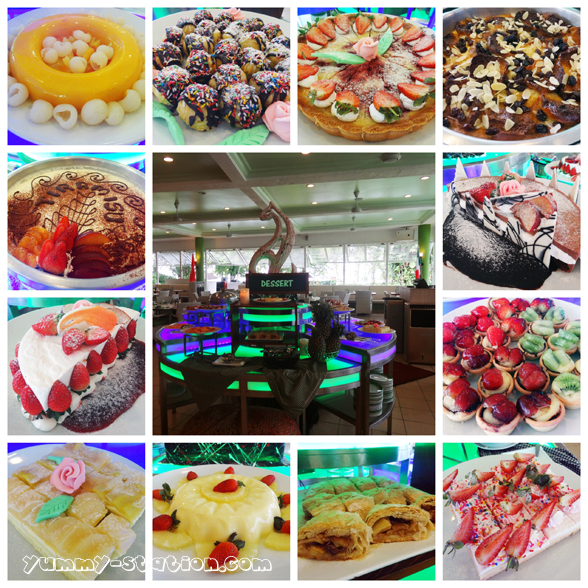 Overall, for RM98 nett, you will have the chance to taste all the food from around the world, it is really worth the money! Sharwarma is the top pick from me. The chicken is really juicy and good. I have it twice, one with the Arabian bread and one only with the chicken. It is really so good. Tiramisu and Cinnamon Apple Strudel are both desserts that you cannot miss.
Buffet/Menu list from Golden Sands Resort
Monday: International Buffet Dinner @ Garden Cafe, 6pm-10pm, RM88 nett per adult.
Tuesday: International Buffet Dinner @ Garden Cafe, 6pm-10pm, RM88 nett per adult.
Wednesday: Oodles of Noodles Buffet Dinner @ Garden Cafe, 6pm-10pm, RM88 nett per adult.
Thursday: Around The World Buffet Dinner @ Garden Cafe, 6pm-10pm, RM98 nett per adult.
Friday: Thrilling Grilling @ Sigi's Bar & Grill, 6.30pm-10pm, RM108 nett per adult.
Saturday: From the Ocean Buffet Dinner @ Garden Cafe, 6pm-10pm, RM128 nett per adult.
Sunday: Splash Sunday Lunch @ Garden Cafe, 12pm-3pm, RM69 nett per adult (food only)/RM89 nett per adult (for food and swimming pool), Top up RM20 nett for entrance to Adventure Zone.
Sunday Barbecue Bash @ Sigi's Bar & Grill, 6.30pm-10pm, RM108 nett per adult.
Kids eat free for all buffet/menu list above. Senior Citizen will get 40% off for International Buffet Dinner, Oodles of Noodles Buffet Dinner, Around The World Buffet Dinner and Splash Sunday Lunch.
Golden Sands Resort by Shangri-La
Address: Batu Feringgi Beach, Penang, 11100, Malaysia
Phone:+604 886 1911 Fax:+604 881 1880
Email
Tags: Around The World Buffet, Buffet, Buffet Dinner, Golden Sands, Golden Sands Resort, Penang, Shangri-la