Christmas season once again! For this year, SPOON at G Hotel Kelawai has prepared a wide spread of food to celebrate the festive season with all of you.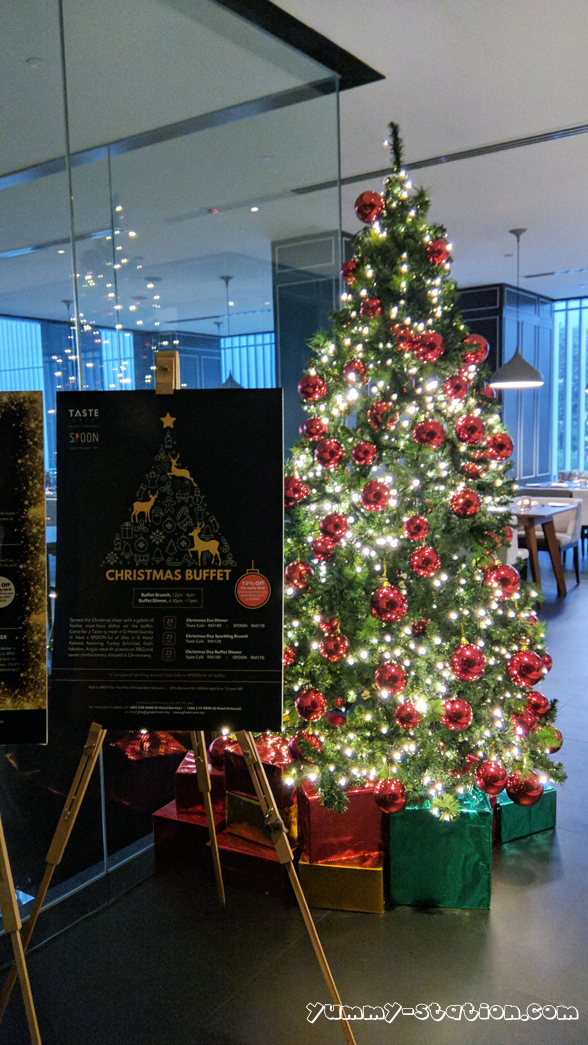 Main
Turkey Piccata Milanese, Paella Valenciana, Paella Valenciana, Grilled Fish Fillet on Mushroom Risotto, Oyster Gratin with Curry Sabayon, Butter Rice, Wok Fried Beef with Black Pepper sauce, Lemon and Sage roasted free-range chicken with pesto cream sauce, Minced chicken and mushroom pie and Lamb champrione, Cream of Cucumber with Green Apple and Double Boiled Chicken Soup with Enoki Mushroom and Lemongrass Flavor.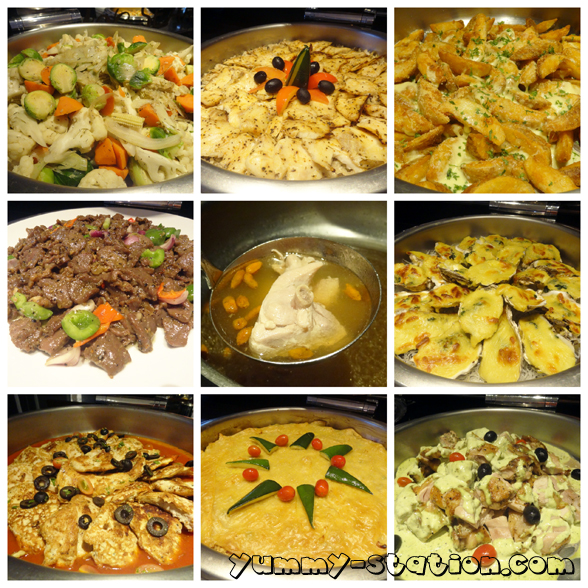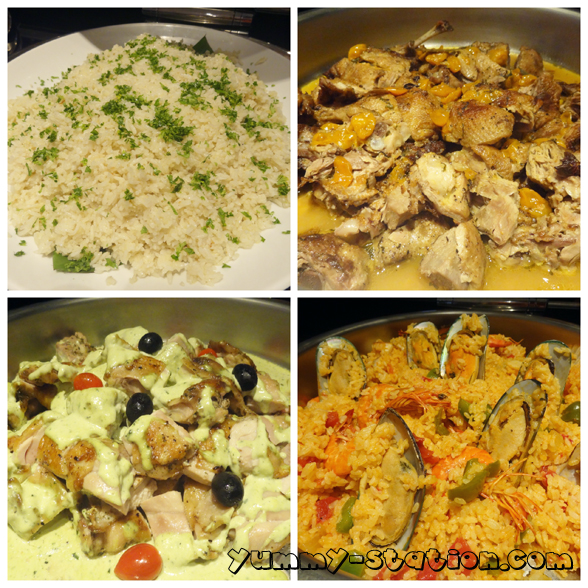 Cheese Station.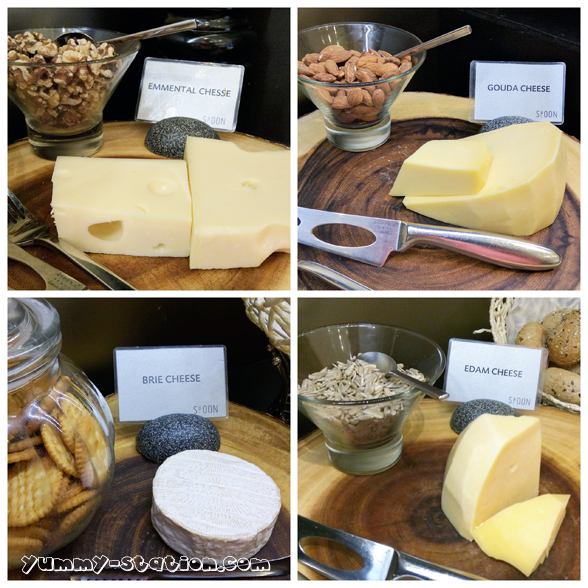 Fresh seafood on ice consist of Crab, Spiner crab, Prawns, Mussels and Scallops, Margarita pizza and Hawaiian Fantasy pizza, Selection of maki and sushi, Prawn Cocktail in Martini Glass.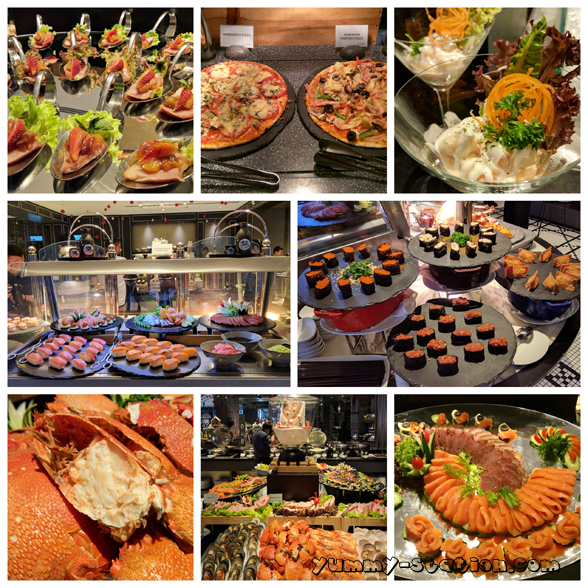 Chef grilling marine morsels and meat such as Squid, King Prawn, Minute Steak, Lamb Chop and Bratwurst Sausages. Shawarma, Italian cuisine: Penne, Linguine and Spaghetti to go with choice of sauce such as Napolitana, Carbonara and Bolognaise.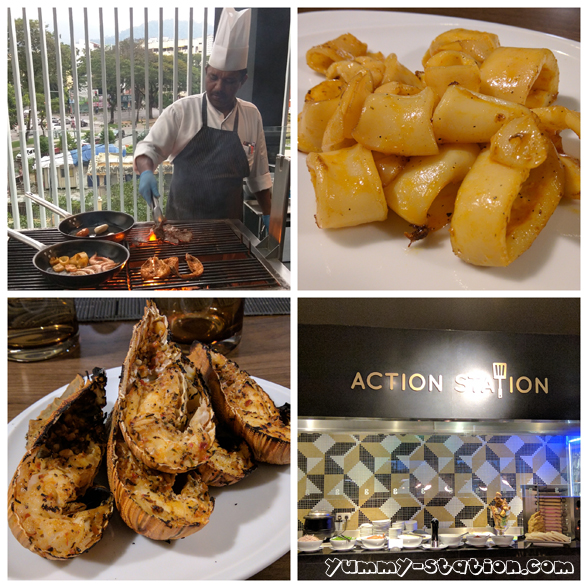 The Christmas must-have Roasted Turkey with traditional stuffing with the choice of Giblet Gravy and Apple Cranberry Sauce.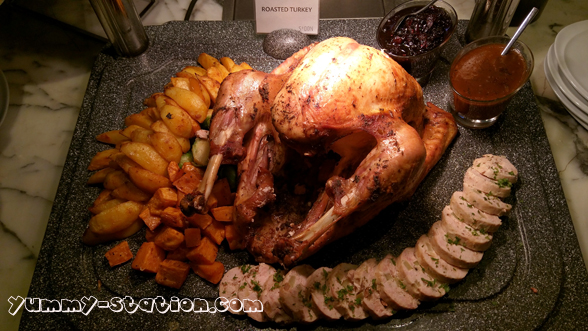 The tender Beef Wellington is an additional of the conceivable dishes at the carvery station.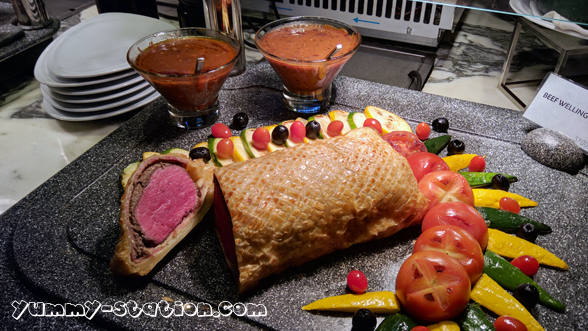 Desserts
New York Cheese Cake, Christollen Bread, Chocolate Fountain, Assorted festive desserts, Tiramisu in Glass, Minced pie, Assorted Christmas Cookies, Christmas Yule Log Cake, Strawberry Chocolate Cake, Christmas Fruit Cake, Decorative Chocolate Cake, Christmas Fruit Cake and Assorted French Pastries.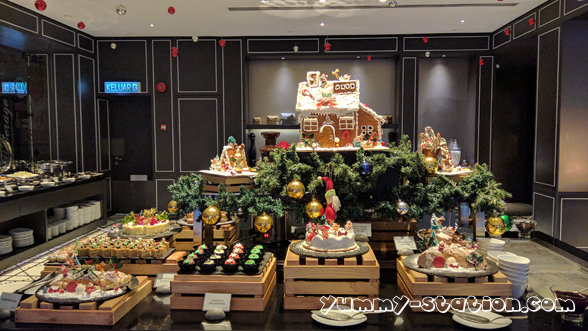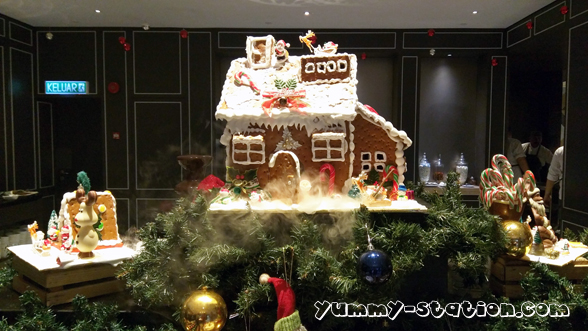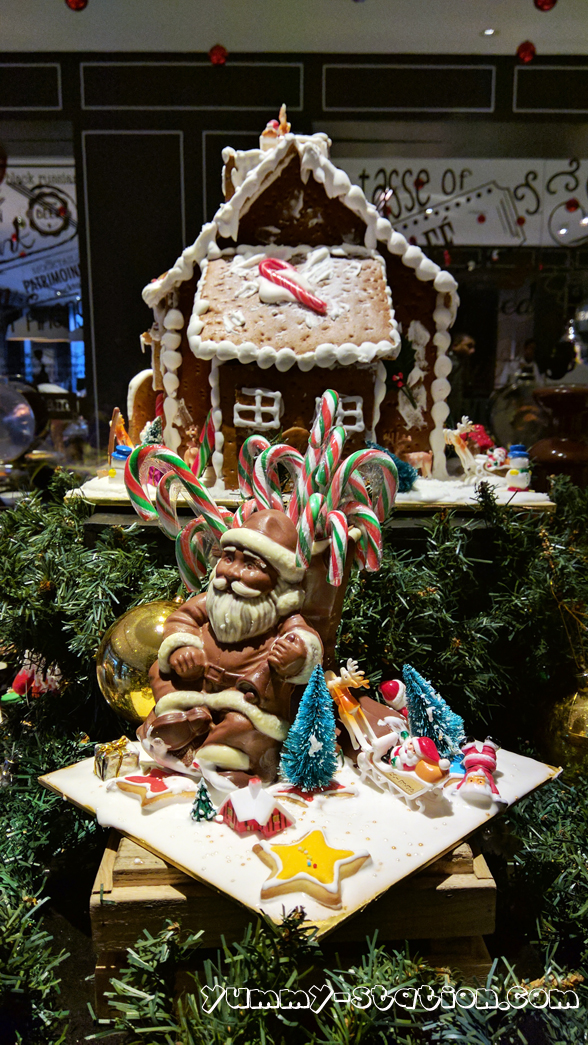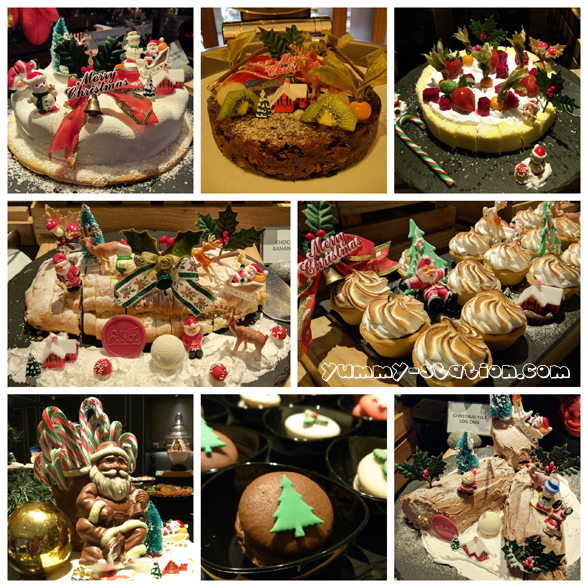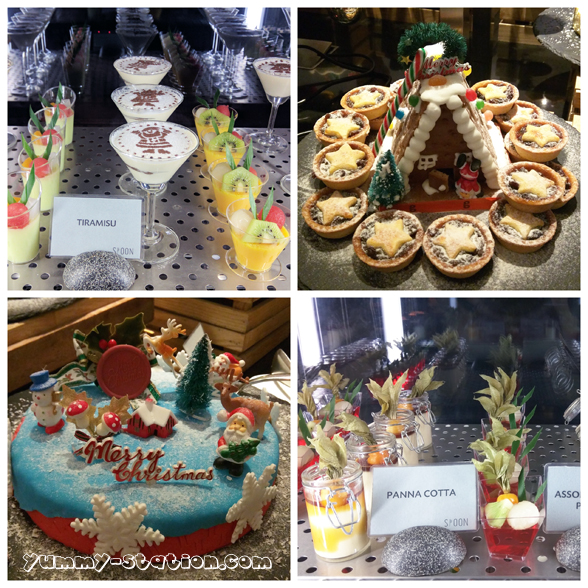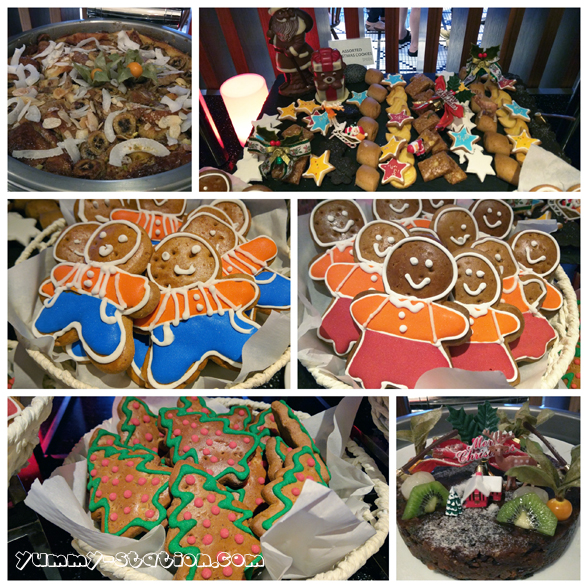 Overall, I like the environment from SPOON. I like the glass window, that you can enjoy the outside view while dining. There are so much to eat and yet, not enough space in the stomach to fill. The Roast Turkey and Beef Wellington are the Top 2 pick from the Christmas Buffet that you cannot miss. Also, the grilled lobster from the BBQ station. For the Desserts, Tiramisu and the Small Chocolate Strawberry Cone are the one you need to try.
Thanks Annie to have me this round, to try out this wonderful Christmas Buffet in G Hotel Kelawai!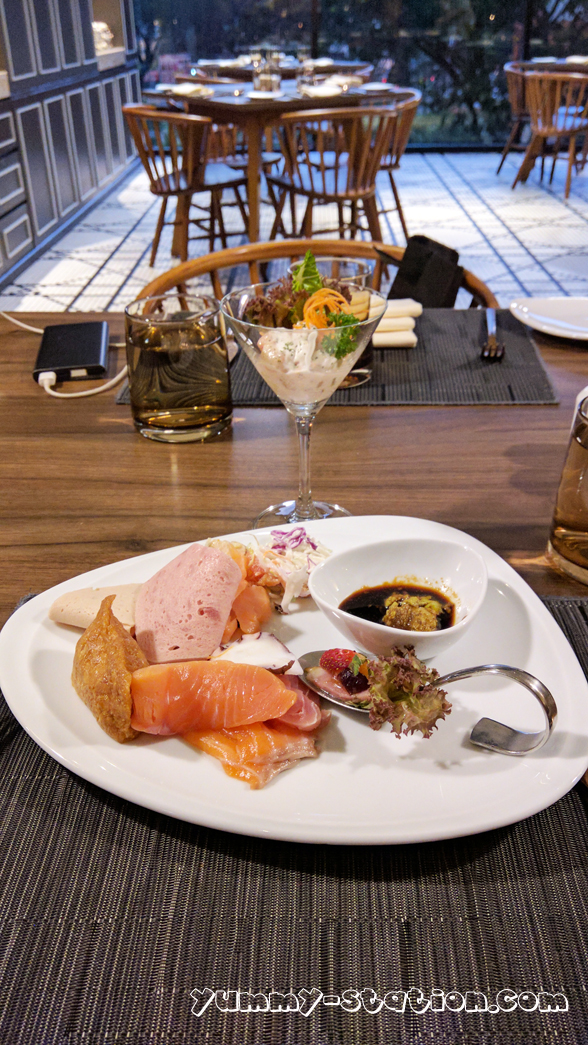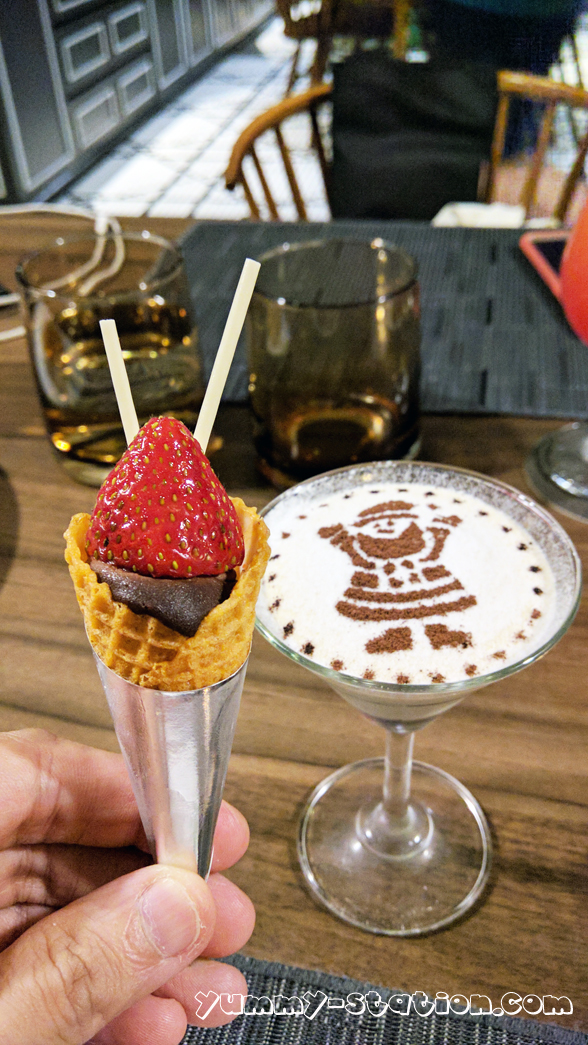 Christmas Eve & Christmas Day Buffet Dinner
SPOON – 6.30pm-11pm, RM170 nett per person.
Taste Cafe – 6.30pm – 11pm, RM180 nett per person.
Christmas Sparkling Brunch
Taste Cafe – 12pm-4pm, RM120 nett per person.
* A free glass of sparkling wine at Taste Cafe or SPOON for all buffets.
* Add RM75 per person to enjoy free flow of house beer and wine.
* 50% off for children aged 6 to 12 years old on all buffets.
* 15% early bird promotion for booking from now till 10 December 2017!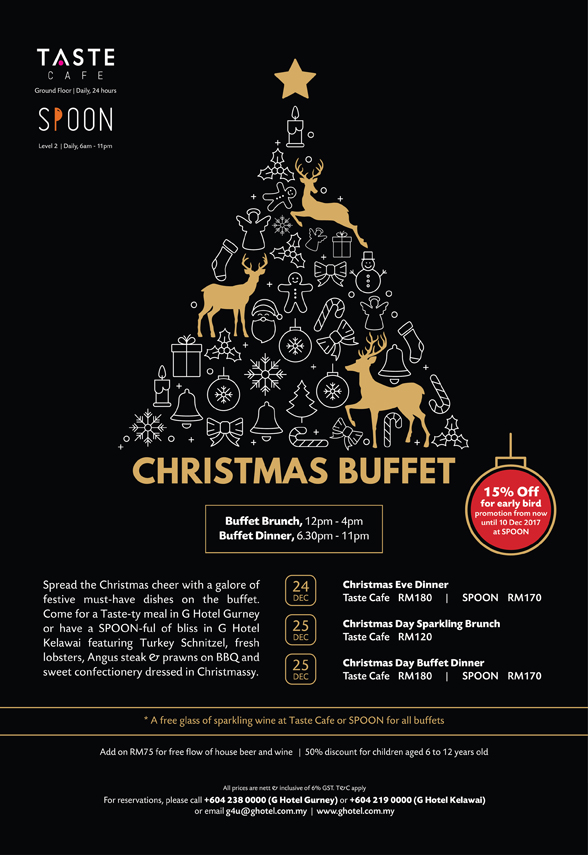 G Hotel Kelawai
2 Persiaran Maktab, 10250 Penang, Malaysia.
Phone: +604-2190000
Fax: +604-2190101
G Hotel Gurney
168A Persiaran Gurney, 10250 Penang, Malaysia.
Phone: +604-2380000
Fax: +604-2380088
Email: g4u@ghotel.com.my
Website: ww.ghotel.com.my
Tags: 2017 Christmas, 2017 Xmas, Christmas 2017, Christmas Buffet, Christmas Buffet Dinner, G Hotel, G Hotel Gurney, G Hotel Kelawai, SPOON, Taste Cafe, Xmas 2017