Since Penang Gurney Plaza has its new wing, this is the 3rd or 4th time I step into it. I seldom go to Gurney Plaza because Queensbay Mall is nearer to me. Most of the time, I will only go to Gurney Plaza for some purpose: gathering with friends, go to the Popular Bookstore, watch movie in GSC or go for a food review. This time, for sure I am going for a review. It's an invited session by Jason and Gelatissimo.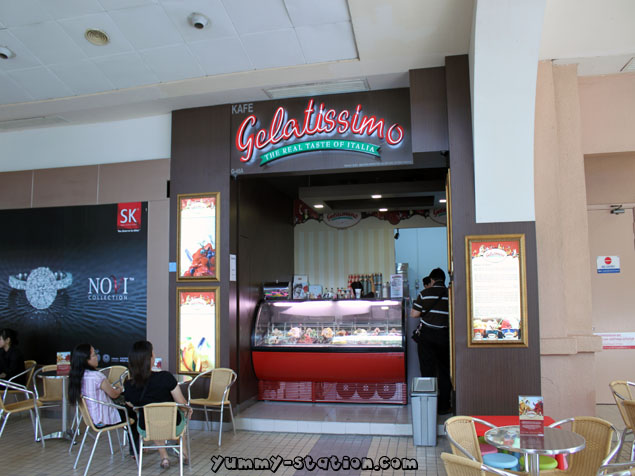 Gelatissimo is a small shop lot along the Gurney Place. It is the at the end if you are walking from Winter Warmers. If you are coming out from the new wing, it is the first shop lot, just beside Manila Place.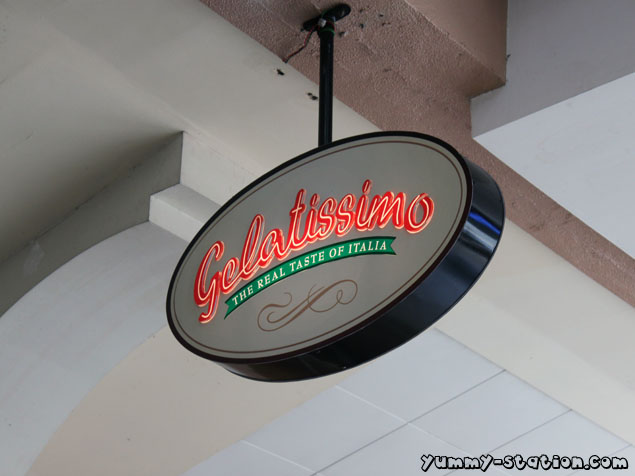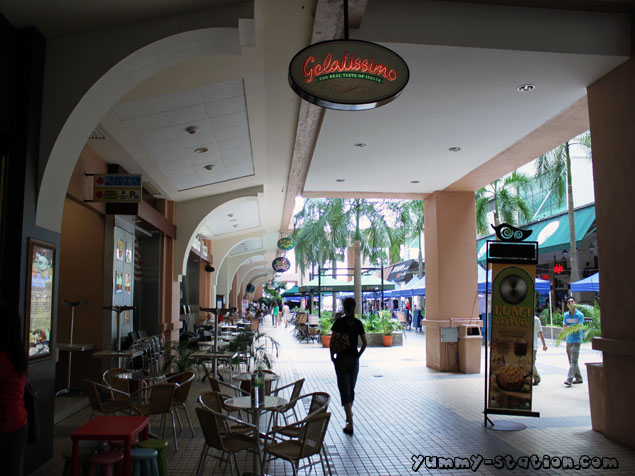 History of Gelato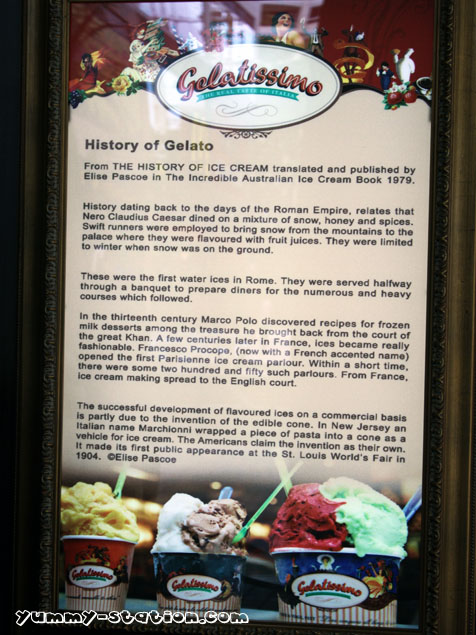 After reading the history, do you actually know what is the difference between an ice cream and gelato? If you ask me, I have totally no idea. In fact, I just knew about gelato years back when I am in US. My brother treated me. That is the very first time I have gelato.
Differences between Ice Cream and Gelato (taken from sandwhy.com):
1. Overrun" (or aeration) of gelato, which is a lot less then ice cream – resulting in a more solid, richer texture (air content in gelato can be as low as 15%, air content in ice cream can go up to 50%).
2. Gelato is not frozen as solidly as ice cream, giving it a smoother, creamier feel.
3. The amounts of basic ingredients found in both – milk/cream, sugar, sometimes eggs – differ slightly also, with gelato having only milk (or water, depending on the flavor) or milk and a little cream, which not only means less fat (2-8% fat vs.the16-20% found in ice creams), but it means the added flavorings are the real star, not the dense, fat-laden cream (nothing against fat-laden cream, mind you) which can cover delicate and subtle flavors.
4. Gelato is usually made in small batches, and usually made with seasonal ingredients, resulting in much fresher flavors.
In short,
GELATO = less fat + no air added = rich creamier taste (taken from WorldOfIceCream.com)
Clear now? I hope so.

OK, back to Gelatissimo.
On the side of the shop lot, you can see the menu.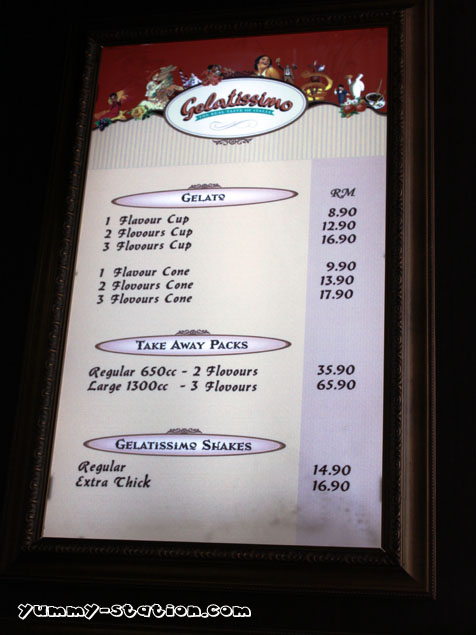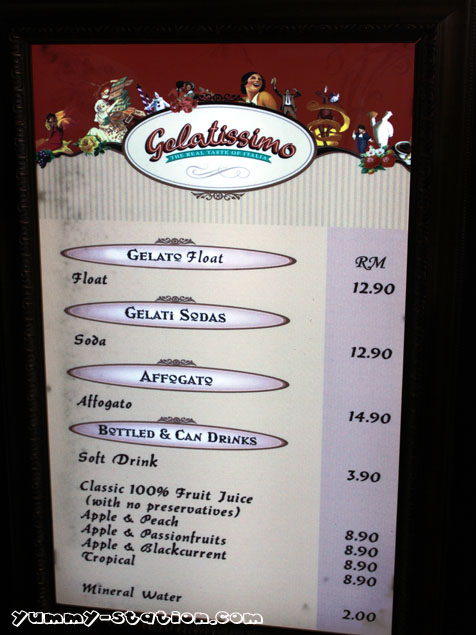 Currently, Gelatissimo is having promotion conjunction with the Mega Sale Carnival.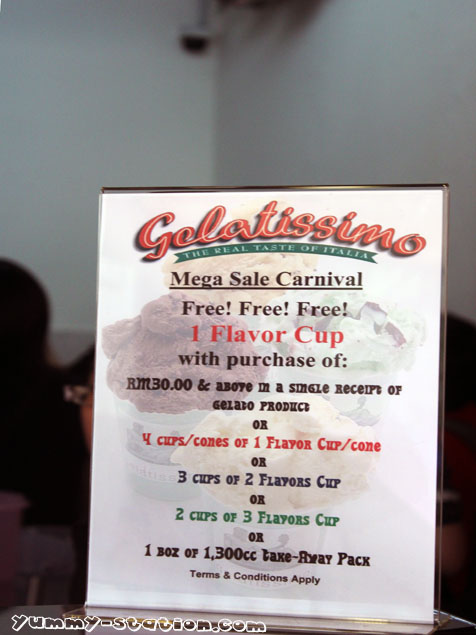 These are the cups used by Gelatissimo. The red is for 1 flavor cup, green for 2 flavors cup and blue for 3 flavors cup. Cone is also available if you don't like the gelato to be  in a cup.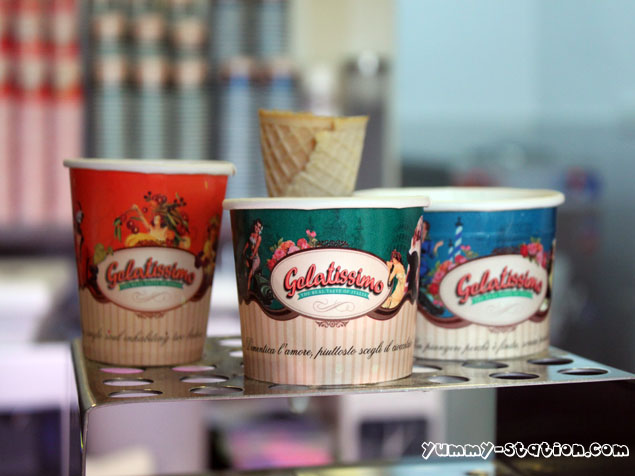 Tada……. Proudly present the Gelatissimo's Gelato. There are so many flavors. Looks tempting right?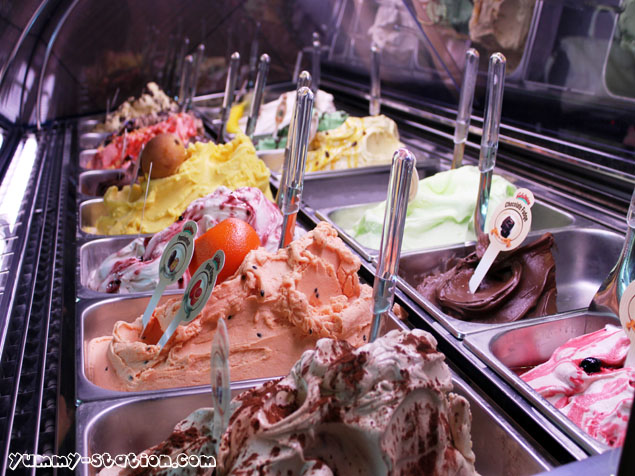 The owner, Mr Hong let us tried out the Affogato as well.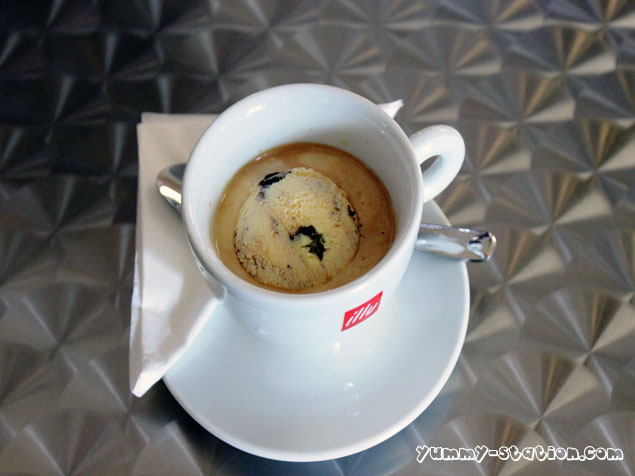 Gelatissimo Mango Shake. Very nice!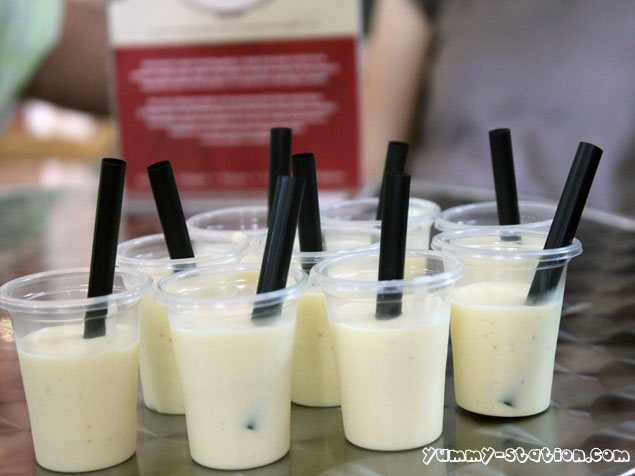 Regular version of the shakes.
Mango Gelato. Oh…. Mango! I'm loving it!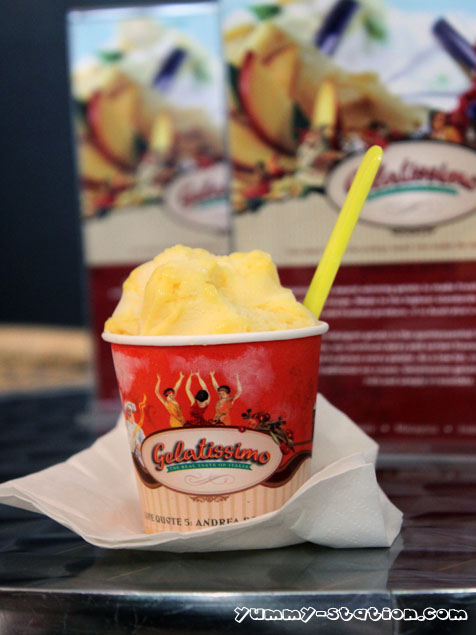 Green Tea & Belgian Chocolate Gelato. I can finish them within seconds!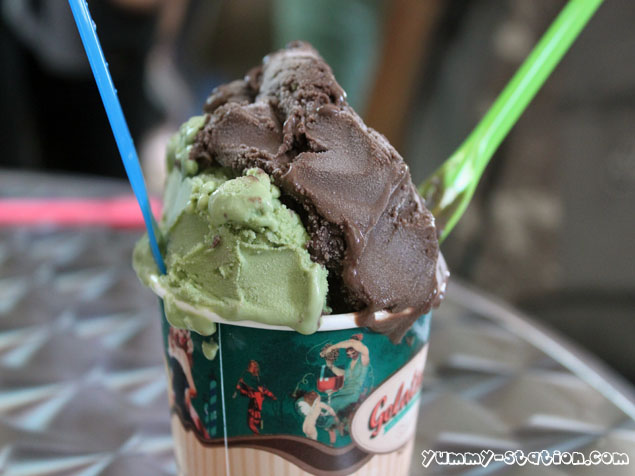 Staffs from Gelatissimo. On the most right is the boss. All the staffs are friendly. You can hear a loud greeting "Hi" and "Welcome", if you go near to their shop lot.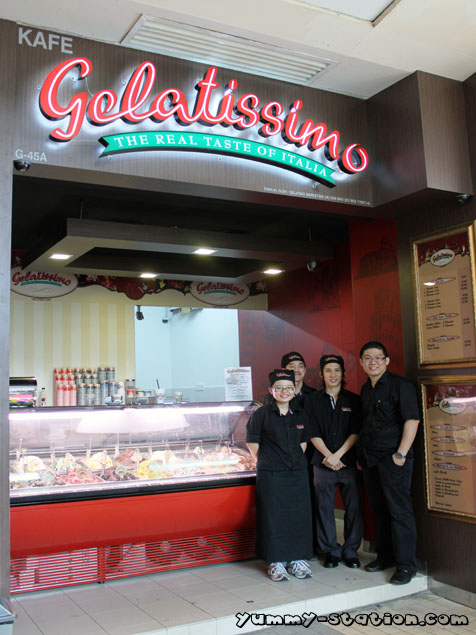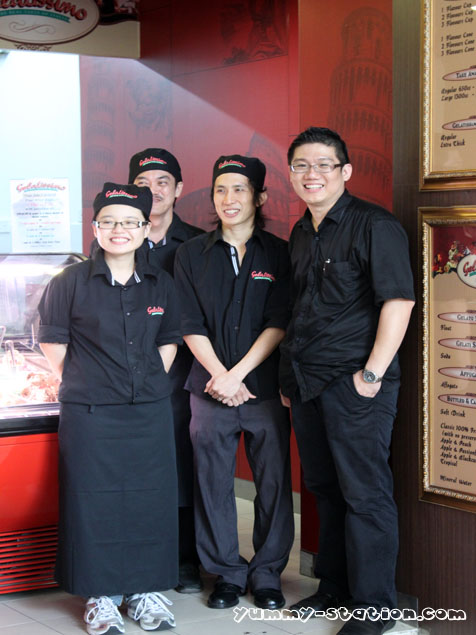 Before going back, I bought my self a take away pack – 650cc. Guess what are the 2 flavors I chose?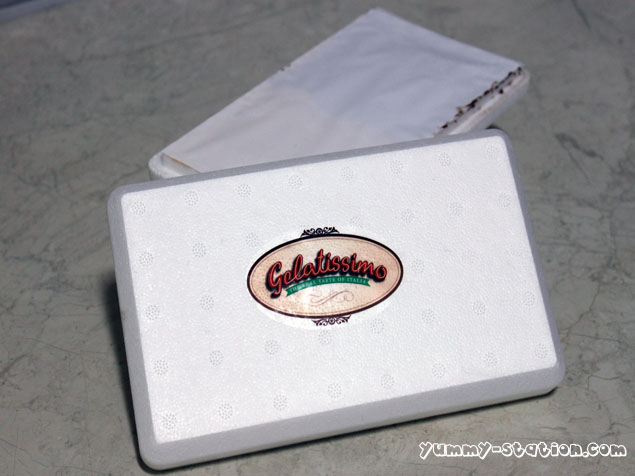 Nice bag for the take away pack.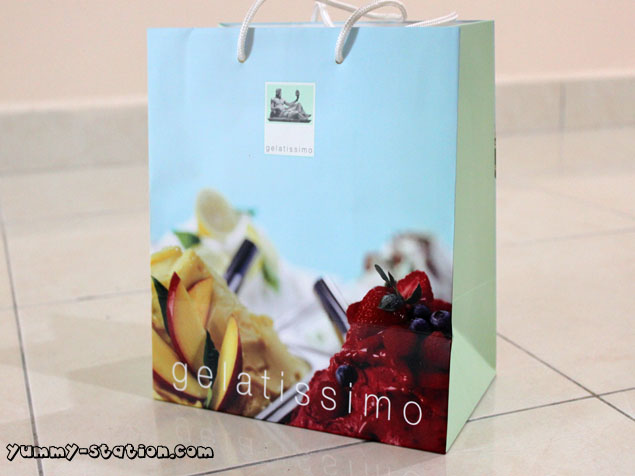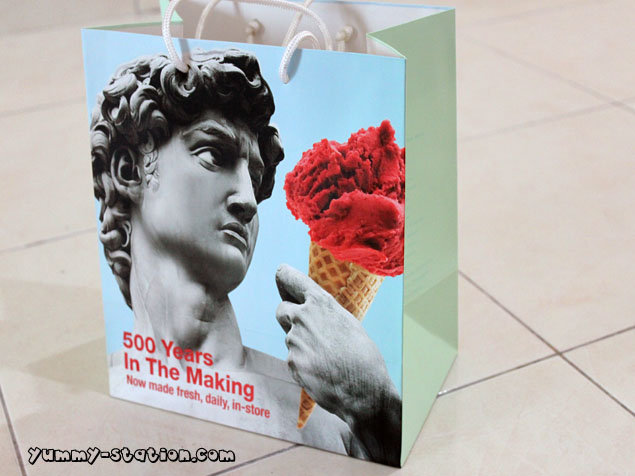 Gelatissimo
G-45A Gurney Plaza, Penang
LG-K08, The Gardens Mall, Mid Valley City, KL
G-53, Jusco 1-Utama Shopping Centre, Selangor
Attendees:
Alan
Allie
Allen
Anna
Bee
Food Promotions
Penang Tua Pui
Jian
Kathleen
Mei Yi
Lingzie
Mary
NKOTB
Thanks Foodpromotions for the address.
Tags: Affogato, Belgian Chocolate, Dessert, Gelatissimo, Gelato, Georgetown, Green Tea, Gurney, Gurney Place, Gurney Plaza, Ice Cream, Mango, Mega Sale Carnival, Milk, Penang, Queensbay Mall, Shake