Sarkies Corner is a colonial coffee shop in E&O Hotel that offers local and international cuisine a la carte. Every weekend, besides the a la carte menu, Sarkies Corner offers the weekend local specialties from 12pm-3pm for RM20++.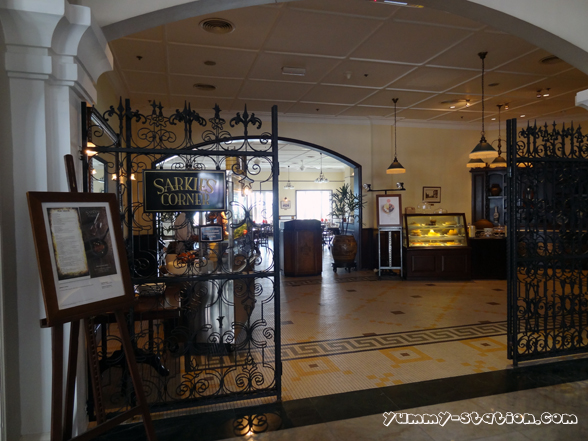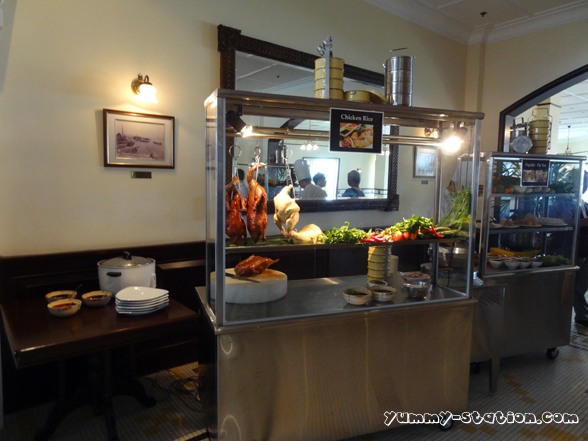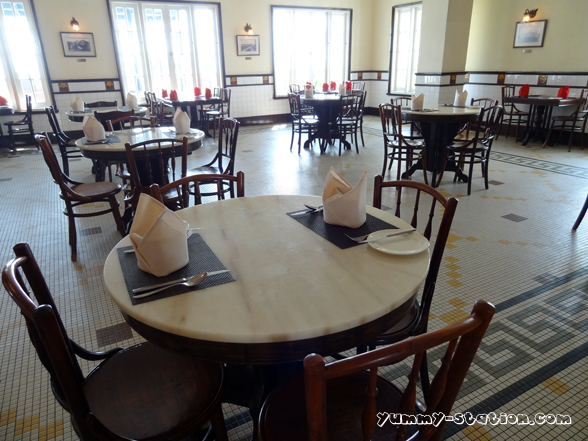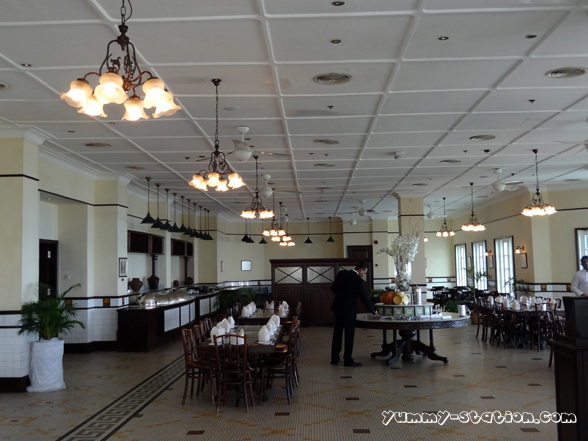 Let's see what they have for every Saturday and Sunday for each week.
Week 1
Roasted Chicken and Duck Rice
You can have both meats at the same time!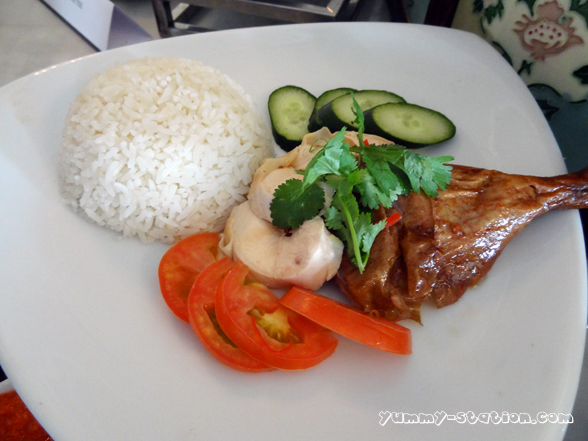 Popiah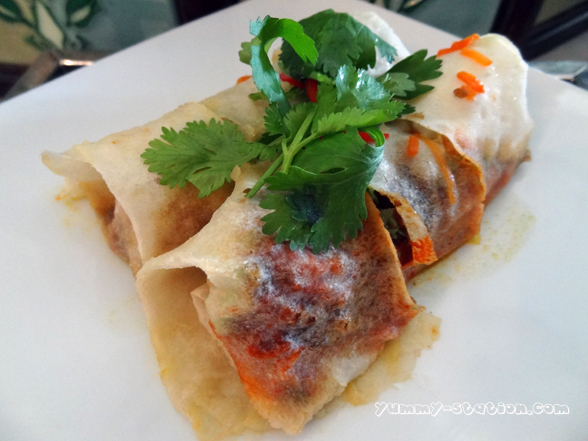 Pie Tee
Both Popiah and Pie Tee have the same ingredient, just the outer part is different.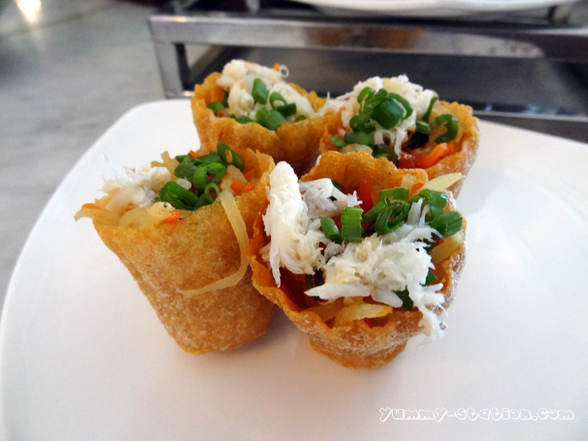 Week 2
Laksa Lemak – Rice Noodles, Fish Broth, Local Lettuce, Pineapple, Cucumber, Ginger Flower, Red Onion, Red Chilli, Mint Leaf, Prawn Paste.
You have the choice to add in the ingredients yourself.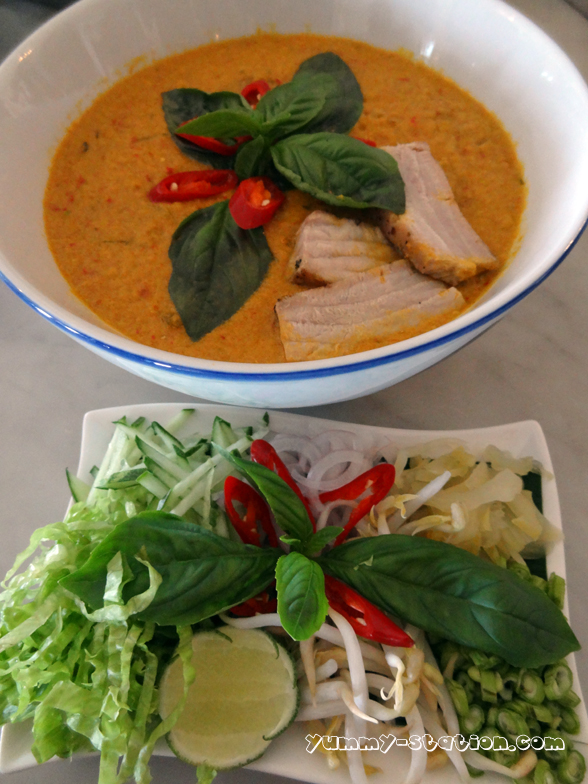 Bubur Pulut Hitam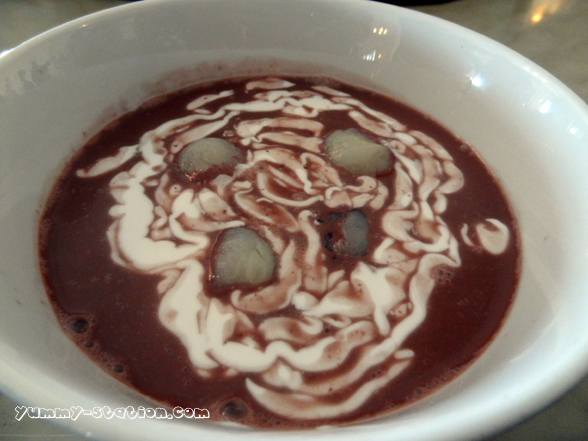 Week 3
Penang Prawn Mee – with 2 Big Prawns.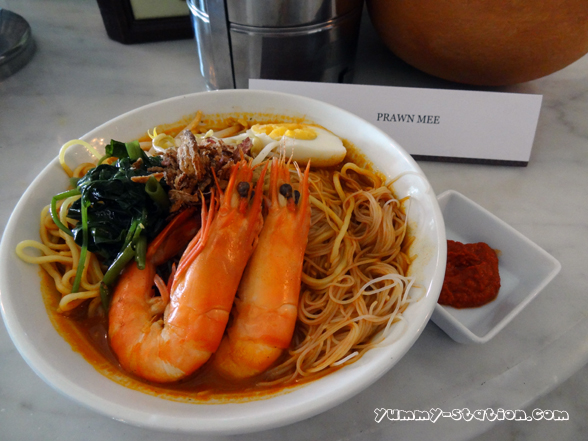 Rojak Buah-buahan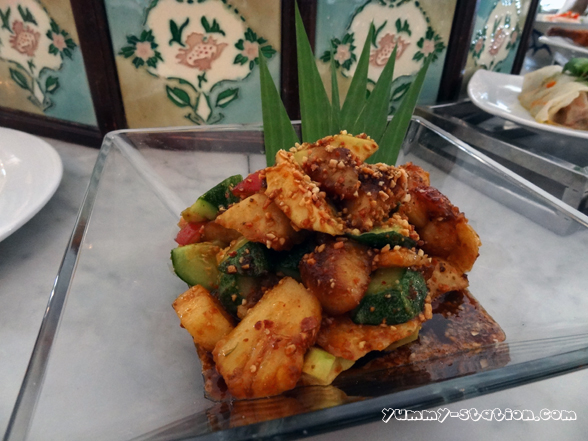 Week 4
Nasi Lemak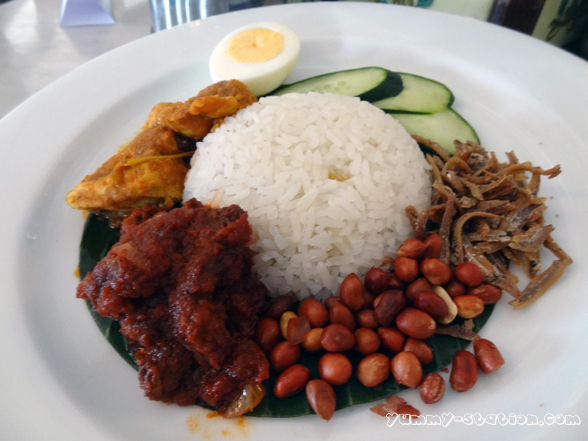 Ice Kacang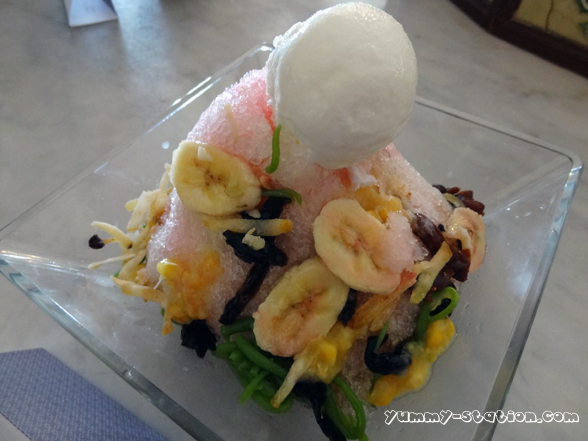 A La Carte Menu
Beef Rendang – Local Spices Beef Stew, Coconut Milk, Chili Lemongrass.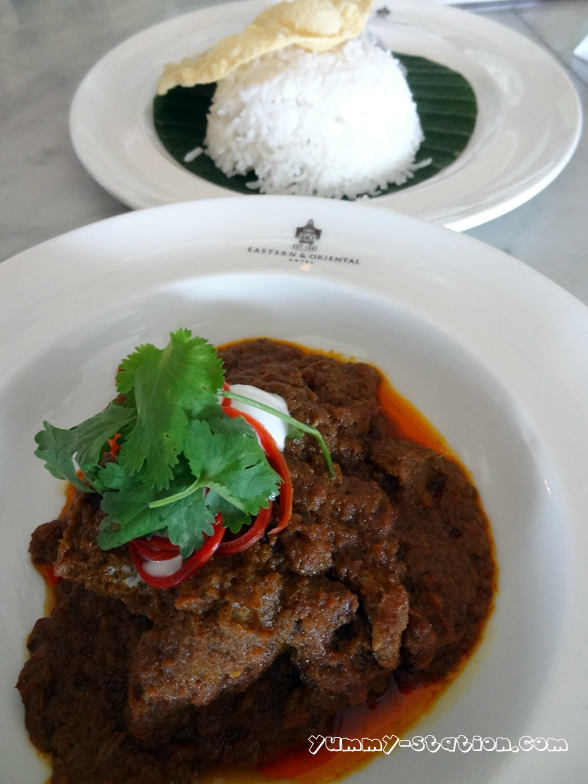 Char Koay Teow – Wok Fried Flat Rice Noodles, Dark Soy Sauce (Choice of Chicken Egg or Duck Egg)
The presentation is special as it is served in a banana leaf, as a cone shape. Normally, only "Koay Kak" will pack like this.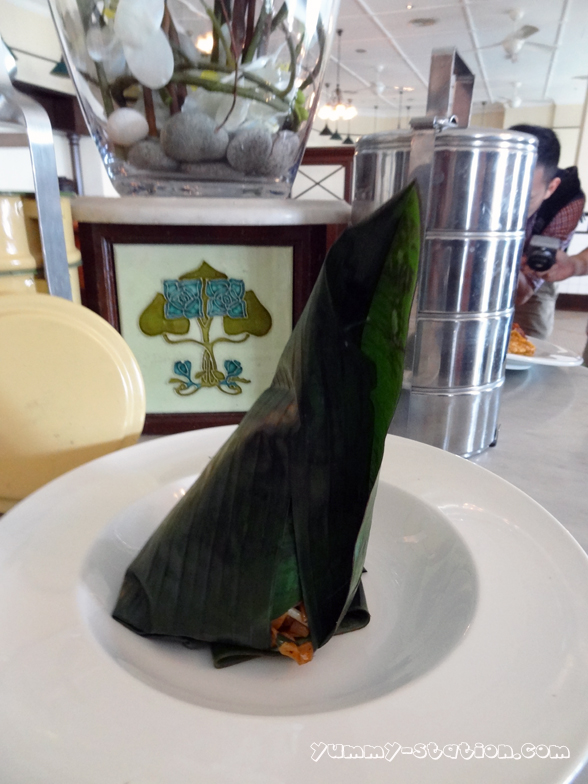 The chef will lift up the banana leaf and the Char Koay Teow will be served on the plate.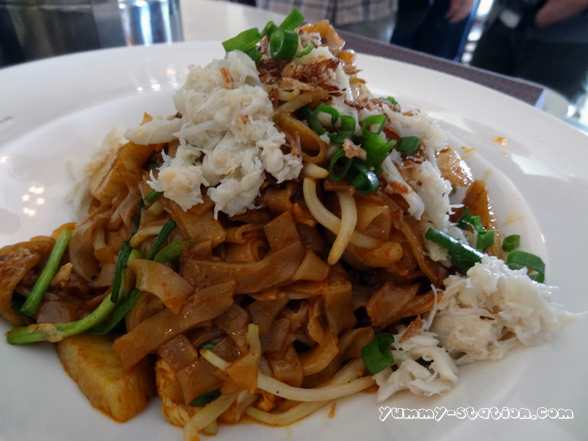 Mamak Mee Goreng – Wok Fried YEllow Noodles, Prawn, Chicken Meat, Chicken Egg, Beansprout, Hard Beancurd, Potatoes, Peanut Sauce.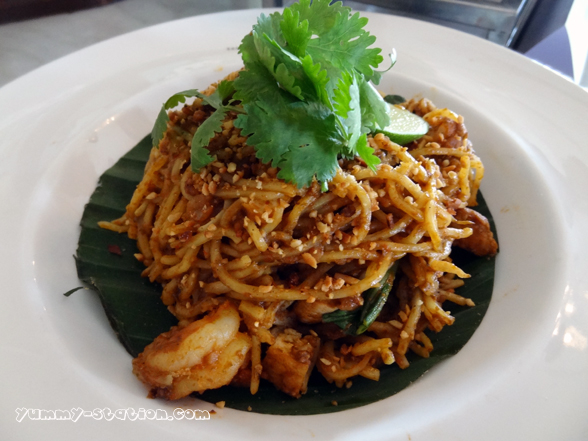 American Beef Burger – Cheese, Mayonnaise, Tomatoes, Cucumbers, Onion Rings, Cherkins, Lettuce, Sesame Seed Bun, Served with French Fries.
Grill Grass Fed Sirloin – Wild Mushroom Ragout, Tomato Relish, Shallot Sauce.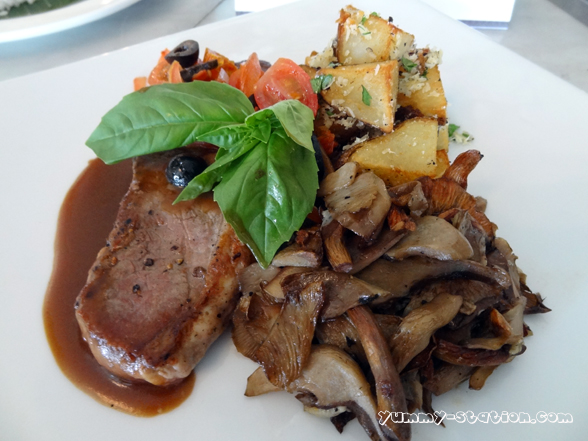 Spaghetti Pomodoro – Served with Parmesan Cheese.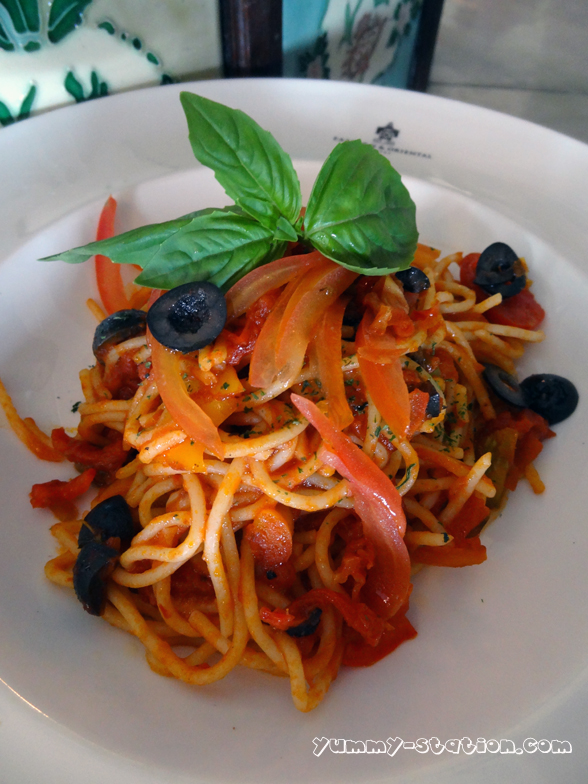 Tagliatelle Carbonara – Roasted Chicken Breast, Mushroom, Cream.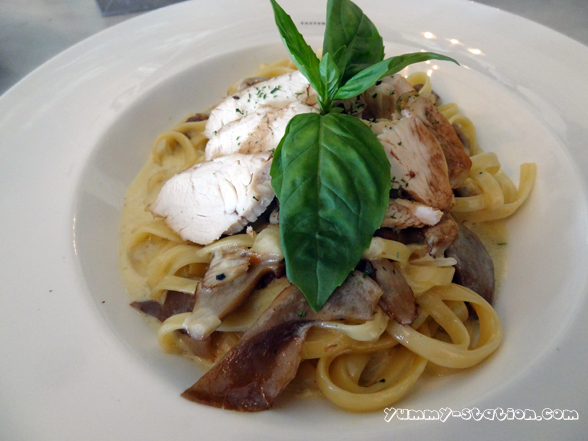 Koay Teow Soup – Flat Rice Noodles, Rich Chicken Broth, Fish Balls, Fish Cakes, Chicken Meat, Choy Sum.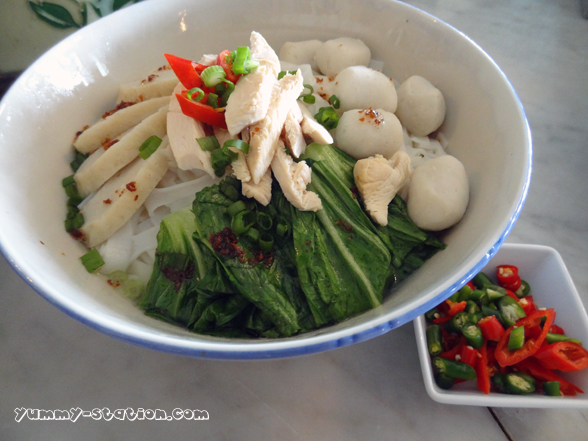 Seasonal Tropical Fruits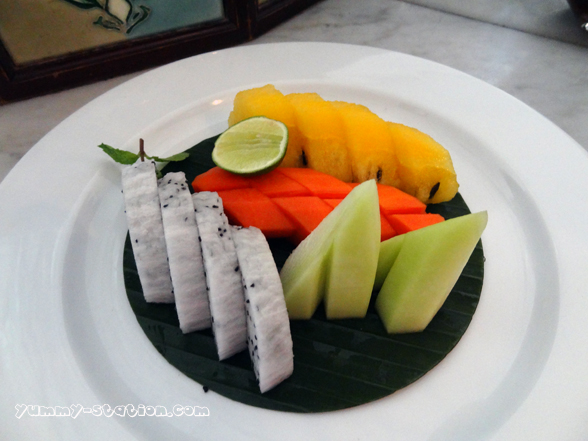 Chef Ang – The Man behind all the dishes.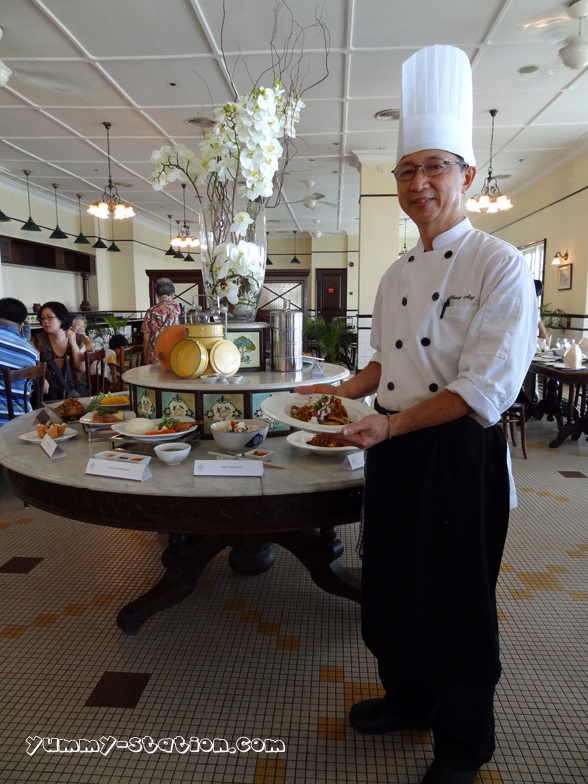 EASTERN & ORIENTAL HOTEL
SARKIES CORNER
Address: 10 Lebuh Farquhar, 10200 Georgetown, Penang.
Operating hours 11:00 am – 11:00 pm (Daily)
Enquiries & Reservations: +(6) 04 222 2000 ext. 3175
Tags: A La Carte, Beef Burger, Beef Rendang, Beef Sirloin, Bubur Pulut Hitam, Char Koay Teow, Duck, E&O, Eastern & Oriental Hotel, Fruits, Georgetown, Ice Kacang, Koay Teow Soup, Laksa, Mee Goreng Mamak, Nasi Lemak, Penang, Pie Tee, Pomodoro, Popiah, Prawn Mee, Roasted Chicken, Rojak, Sarkies Corner, Spaghetti, Tagliatelle, Weekend Local Specialties