When I reached Setia Pearl Island, it was still early. I started to take out my camera, thinking of taking some view before proceed to the restaurant. However, my camera seems to be dead after I power on. Oh no….. I forgot to insert the battery after I charged it. Fortunately, it was not too late for me to go back and take it.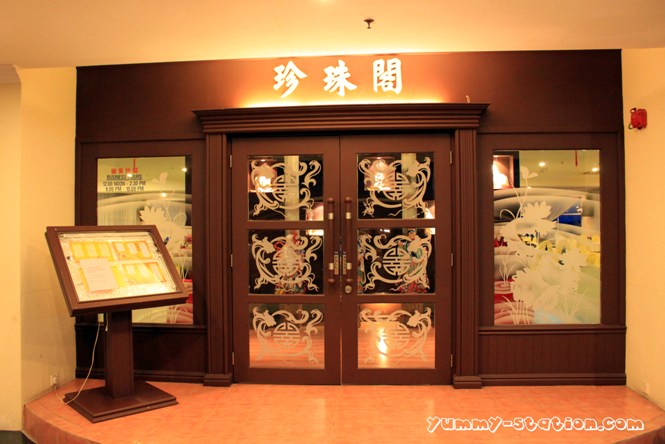 Pearl Palace Restaurant is located on 1st floor. You need to climb up the stairs before entering the restaurant.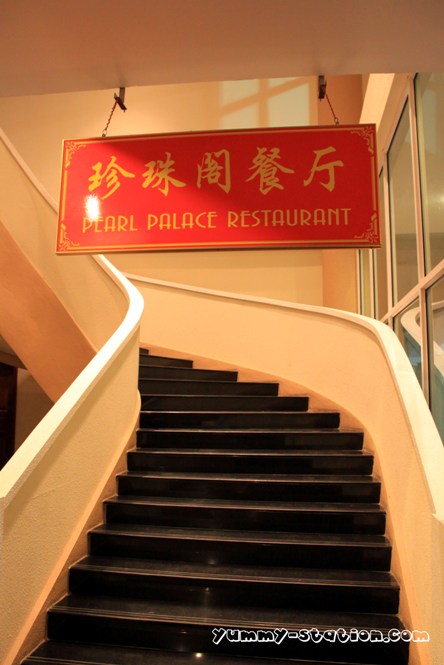 Sauce.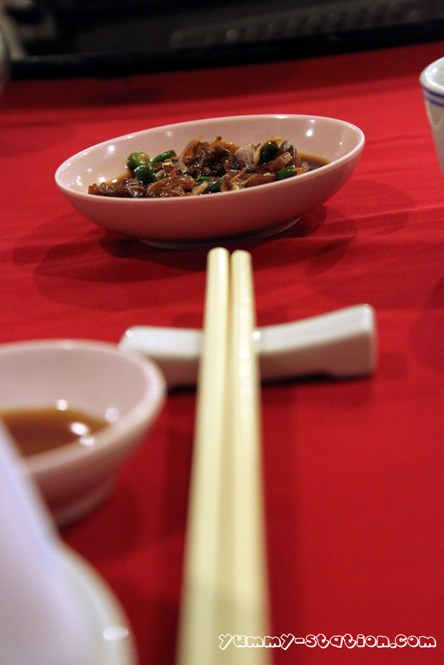 Fish Steamboat. It is Medium size priced at RM45.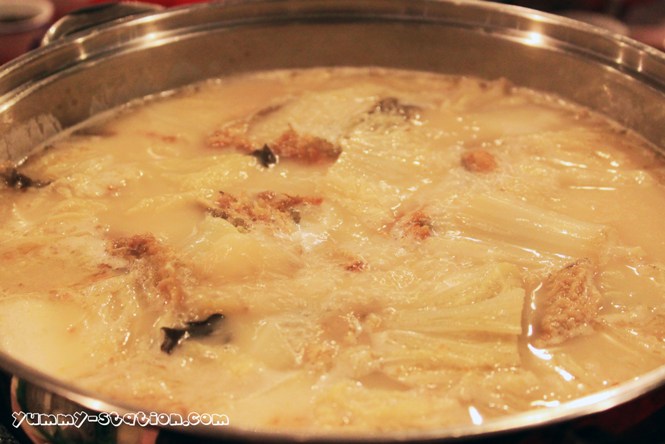 Fried Fish.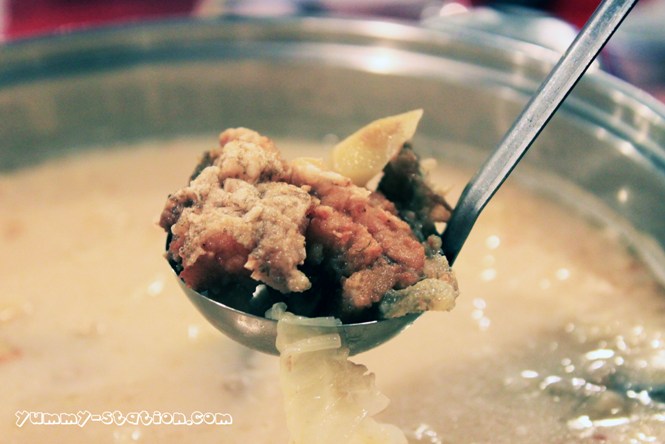 Fresh Fish before put into the steamboat.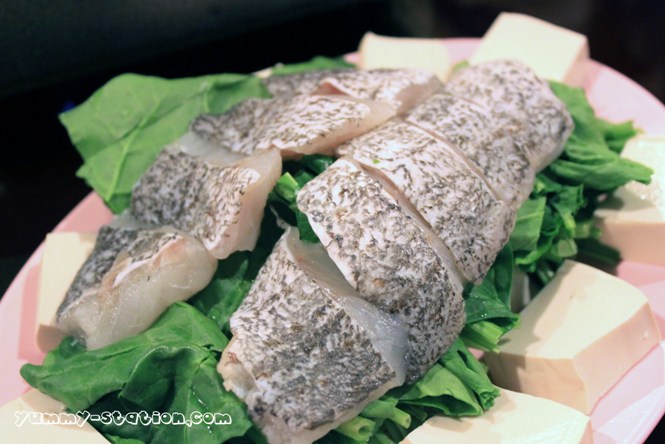 Looks nice? I don't have the chance to try the fish since it's already finish just after I came back from taking photo. Sigh. Anyway, I managed to try out the fried fish and the soup. The fish based soup is nice.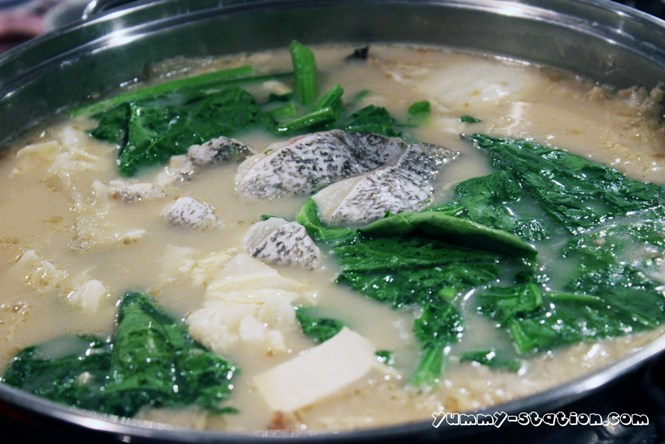 Steamed Beancurd with Salted Egg and Prawn. Price: Small RM25, Medium RM35, Large RM45.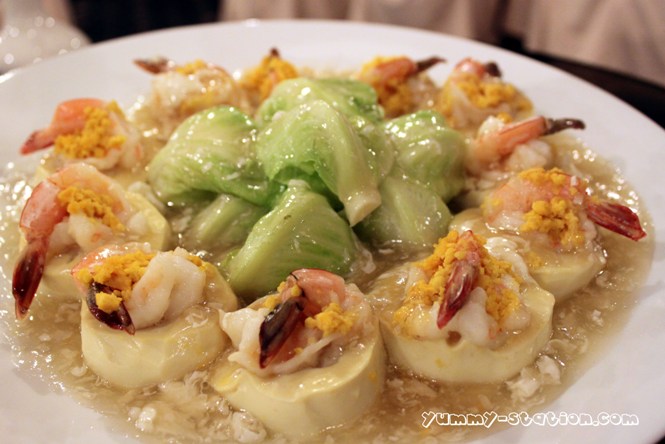 On top of the prawns was the slices of salted egg. The presentation and the combination were good.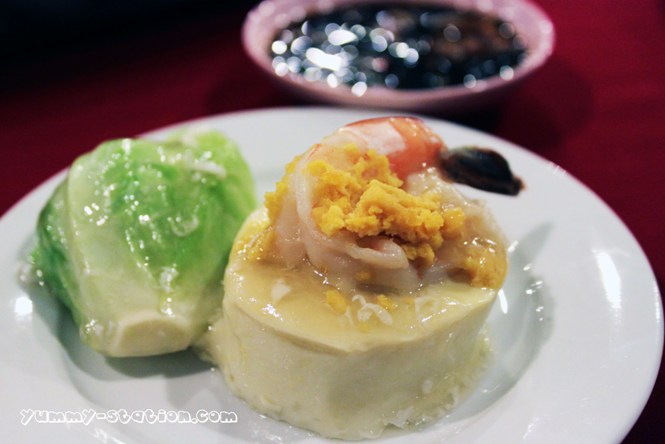 Braised Fresh Mushroom with Bamboo Shoots. Price: Small RM15, Medium RM22, Large RM35. Another dish that I like. I like the Enoki mushroom very much.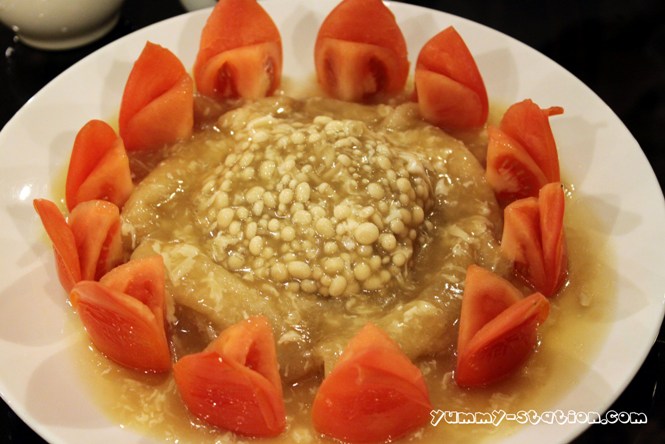 Braised Dried Abalone and Sea Product in Claypot. Price: Small RM80, Medium RM160, Large RM220. What are the ingredients inside the claypot? There are Japanese dried abalones, scallops, sea cucumber, dried oysters and green peas. Abalones and scallops, yummy. I think this is the first time I tried on the abalone. Not everyone know how to cook the abalone with good taste, luckily, this one was good.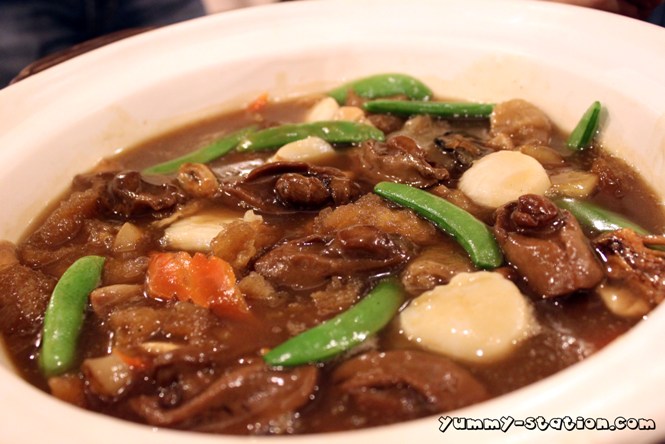 Deep Fried Chicken With Marmite Sauce. Price: Small RM12, Medium RM20, Large RM30. I like this dish as well. However, it was too small plate for all of us. One thing to mention on this dish is the decoration. The carrot carving was really awesome!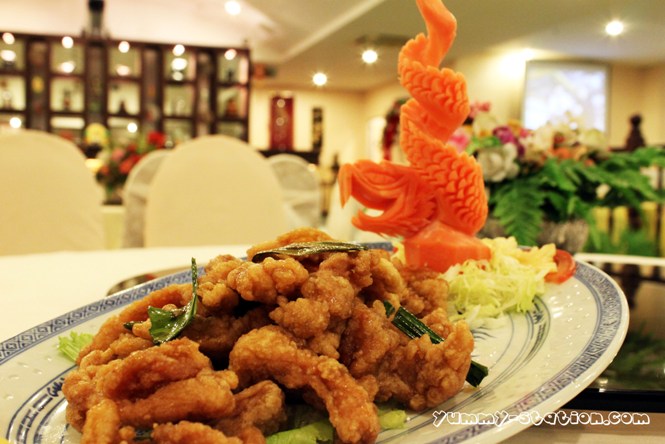 Pomfret in Two Preparation. For the price, it is based on the market price for the Pomfret. It is a unique dish to me. Both steamed and pan fried fish were really delicious. I like the cashew nuts as well.

Fried Wet Hor Fun with Slice Abalone. For normal order, it is not come with the abalone. The price for this Hor Fun without the abalone slices are: Small RM12, Medium RM24, Large RM38.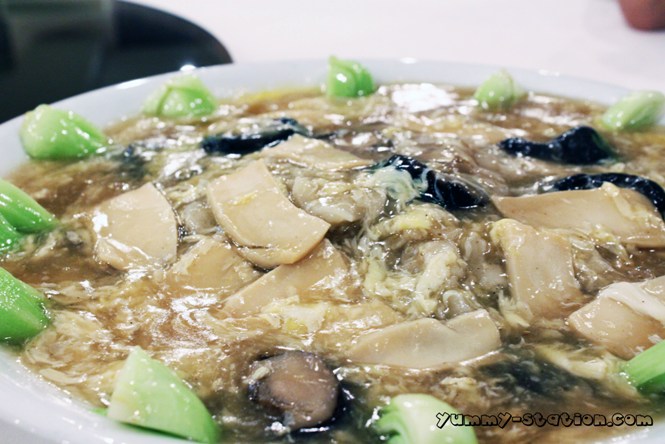 It supposed to be a very normal dish. However, it turn out to disappoint most of us. The Hor Fun was kept in the fridge and not defrost enough before cook it. We have feedback to the cook about this just after the review session. Hopefully he will take note on this and improve it.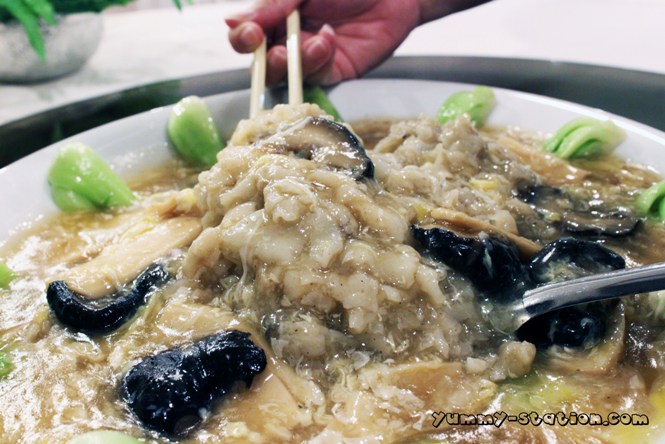 Double Boiled Aloe Vera with Red Dates. Price: Small RM8, Medium RM18, Large RM30.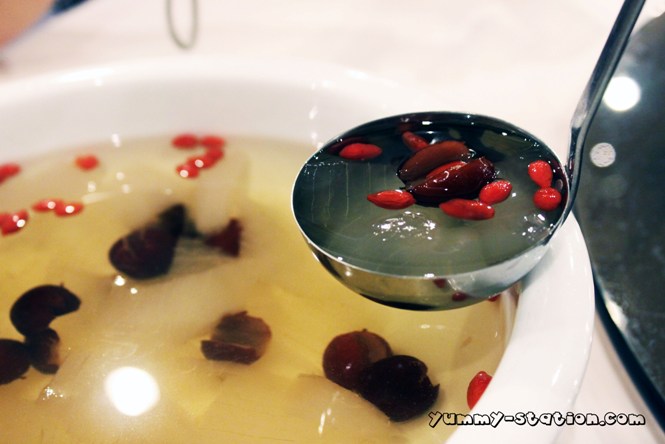 This dessert was good although it was a little bit too sweet. Oh, the aloe vera is planted by their own. Nice dessert for the ladies.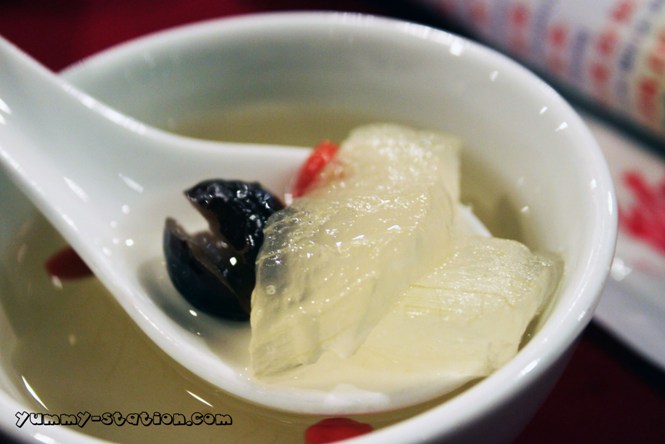 Table setting and the interior.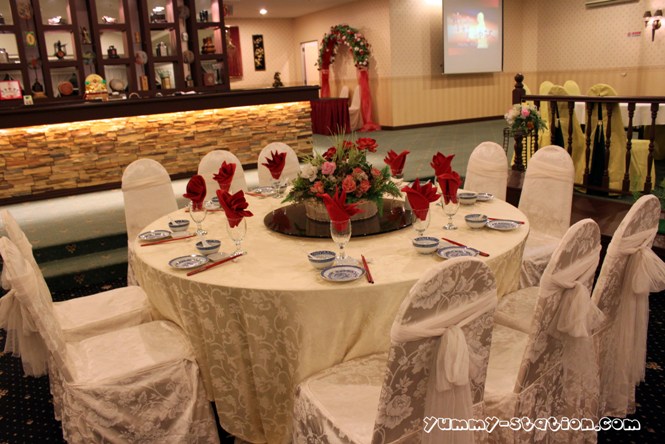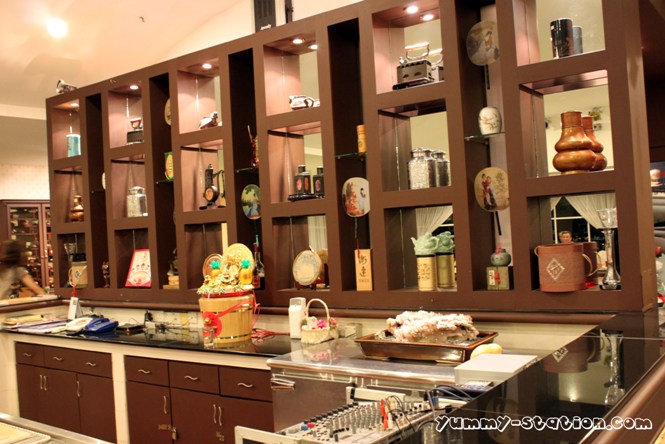 Pearl Palace Restaurant is also having the steamboat packages, set meal packages and wedding packages as follow:
Steamboat Packages
RM68++ (max 4 pax per table)
RM128++ (max 7 pax per table)
RM228++ (max 10 pax per table)
Set Meal Packages
RM48+ (max 2-3 pax per table)
RM118+ (max 4-6 pax per table)
RM228+ (max 7-10 pax per table)
Wedding Packages
For year 2010 (including ballroom rental) available at RM368+, RM428+, RM588.
For year 2010 (excluding ballroom rental) available at RM338+.
Address:
8 Persiaran Kelicap, 11900 Bayan Lepas, Penang.
Business hours:
11am ~ 3pm and 6pm ~ 10pm (Close on Monday)
Phone: 604-643 9888, 604-644 9355
Fax: 604-645 9888
Tags: Abalone, Aloe Vera, Bayan Lepas, Chicken, Enoki, Fish, Green Peas, Hor Fun, Marmite, Oyster, Penang, Pomfret, Prawns, Red Dates, Salted Egg, Scallop, Steamboat, Sungai Ara, Tofu, Wolf Berry