I have been thinking to dine in Terminal One Cafe & Pub since few months back, when I first got the brochure and knew about this place. Finally, I have the chance to step into it today. I tried to search through Google on Terminal One Cafe & Pub, only get one result on the video, no blog post on the food. That is another reason why I went there for lunch when asking on where to eat by my friends.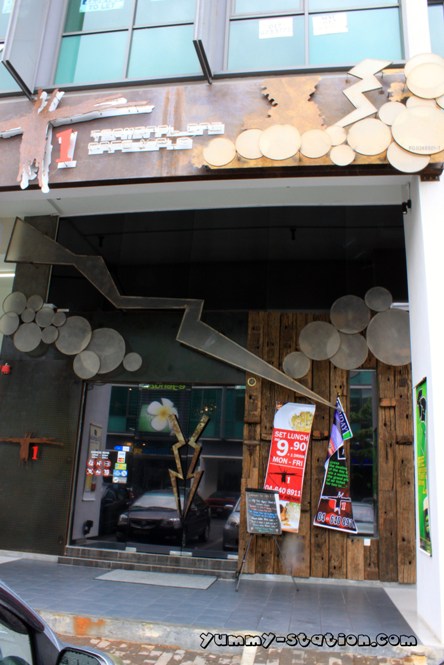 Menu.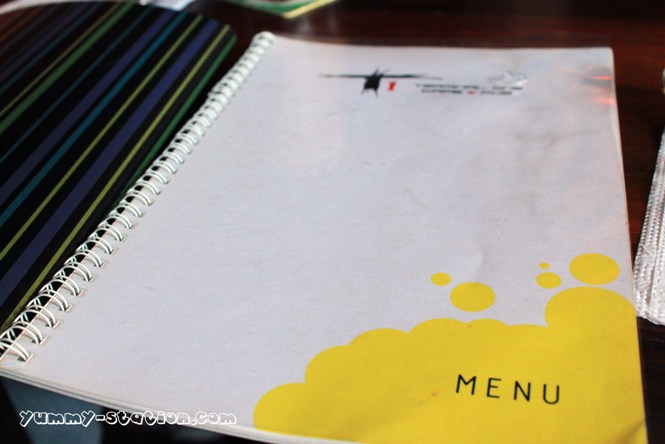 I think the management should change the cover. Do you think so? They must check their menu from time to time to make sure it is in good shape. An A4 size plastic cover will not cost that much though.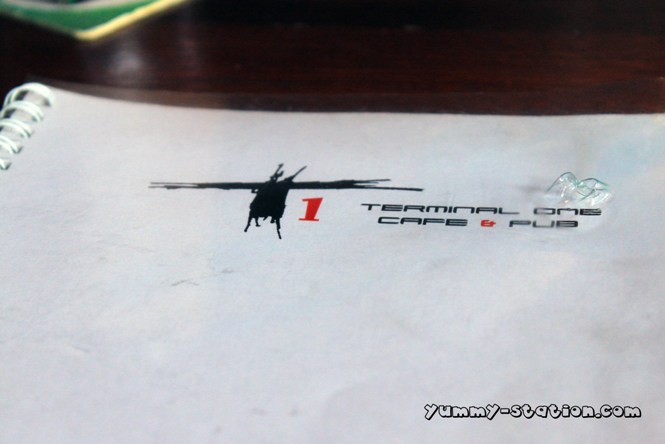 From Monday to Friday, Terminal One offers set lunch at RM9.90 with 1 drink. Sounds reasonable. By the way, I like the T1 logo. Nice.
Cutlery Set.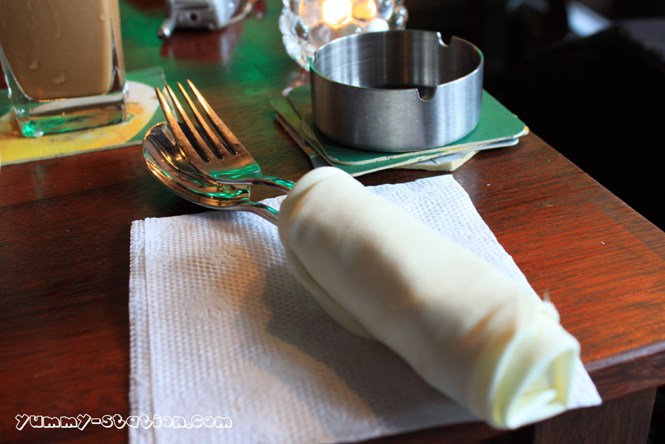 Cold Mochinno. My friends ordered this. Mochinno is included in the set lunch, together with Red Tea. You can have it in either cold or hot.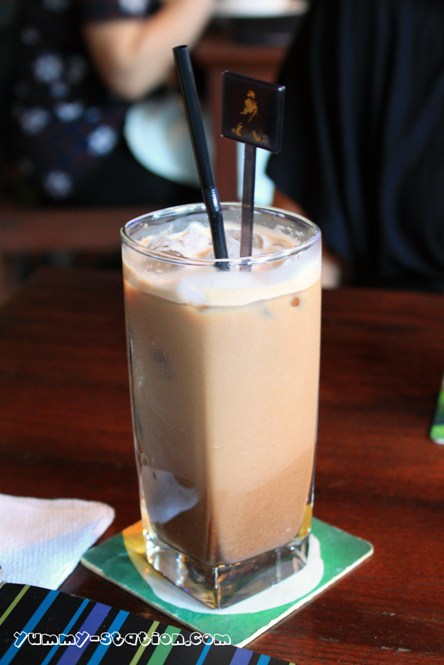 Cold White Coffee. I ordered this since I never order the set lunch. I order À la carte instead. The taste of the white coffee is not strong enough, below average.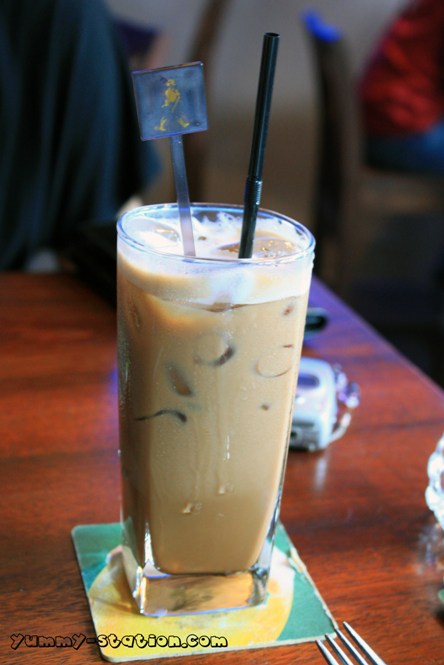 "Wu Xi" Pork Ribs Rice. I tried one of the pork ribs. It is not tender enough. It is hard to cut into 2 pieces by using the spoon and fork. In addition, you will need to chew many times before you can swallow it. However, it is a "worth it" set to order.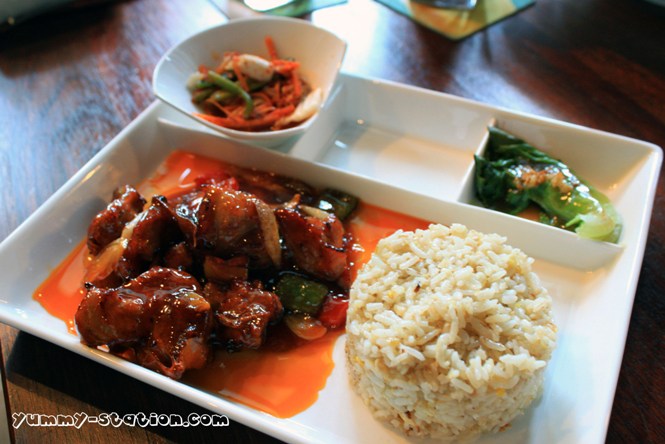 Seafood Tom Yam Noodle. To me, it is normal. The main selling point is it comes with 2 prawns.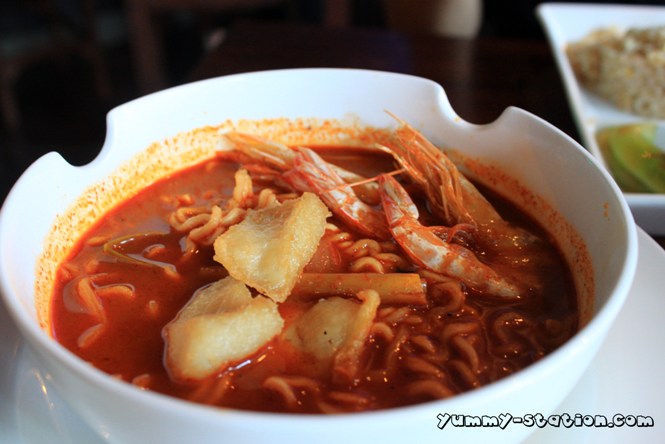 Pasta Alio de Olio (Alio Olio) – RM12.90.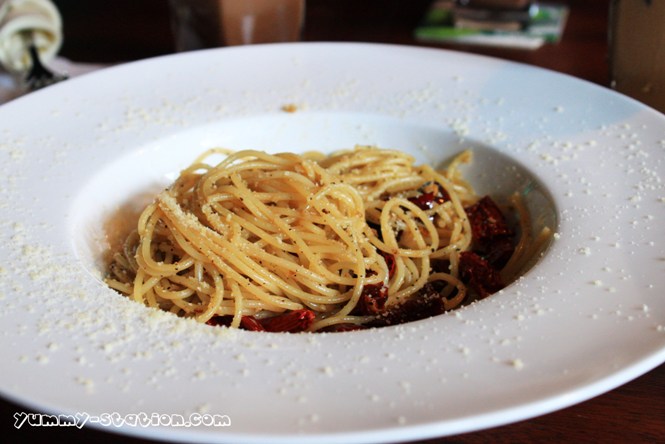 Pan fried pasta with dried chilies, garlic and onions in olive oil. The plate is big but the potion is quite small. There are a lot of dried Chilies and Garlic. The taste is good. If you like spicy food, you can order this.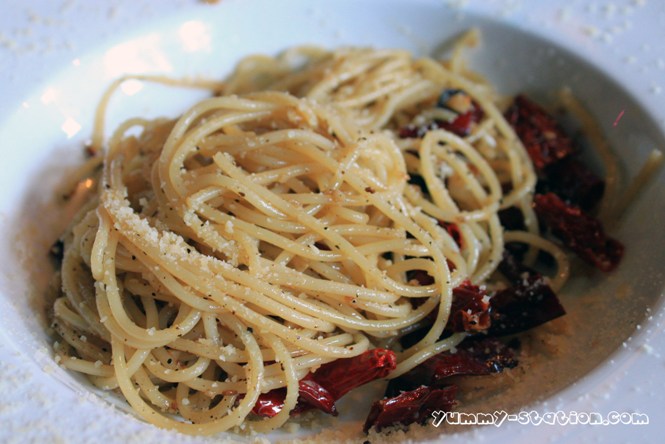 Garlic and Dried Chilies. See, a lot right?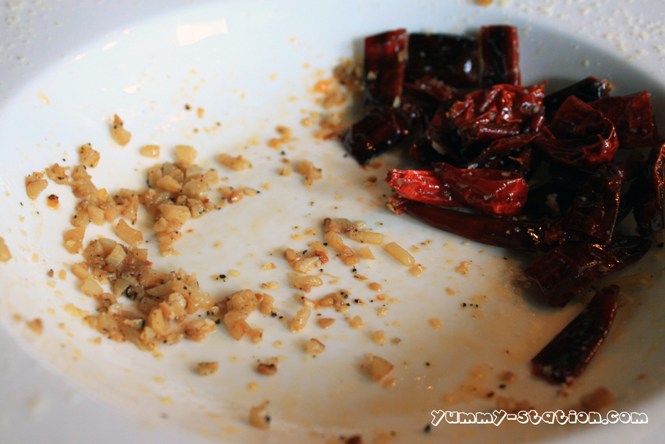 Beside the main course, we still order the BBQ items. There are total of 8 items. If you want to order, you will need to order 1 set, which consists of 8 sticks. You can mix with any items from the menu. The 8 items are: BBQ Prawn Skewers, BBQ Vege Skewers, BBQ Yakitori Stick, Teriyaki Meat Balls, BBQ Satay, Shioyaki Salmon Stick, BBQ Bacon Roll and BBQ Chicken Wing. We ordered one each.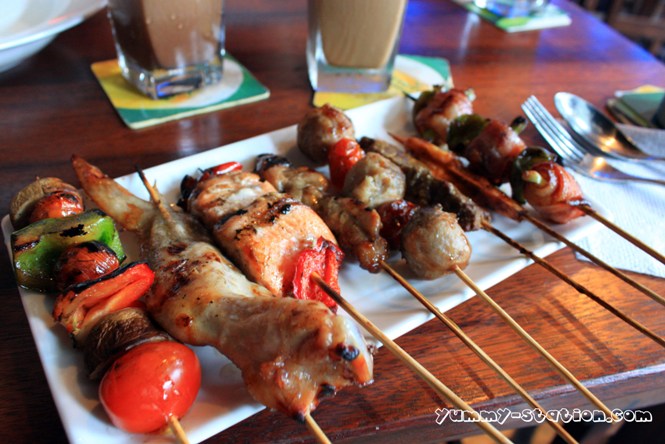 Each Stick costs RM3.50. 1 set will be RM28. If you dine on Thursday, it will be RM2 per stick, total of RM16 per set. All the BBQ items are good, especially Teriyaki Meat Balls, BBQ Bacon Rolls and Shioyaki Salmon Stick. It will be nice if we dine on Thursday, to get a cheaper price. RM3.50 per stick is a bit too expensive.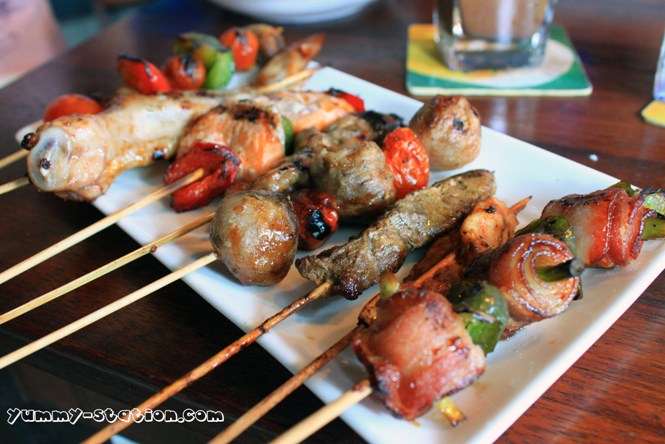 The surrounding. The lights will change color from time to time. To me, Terminal One Cafe & Pub is a good place for gathering and chit chat. However, I am not sure will it be too noisy at night since it will turn into a pub.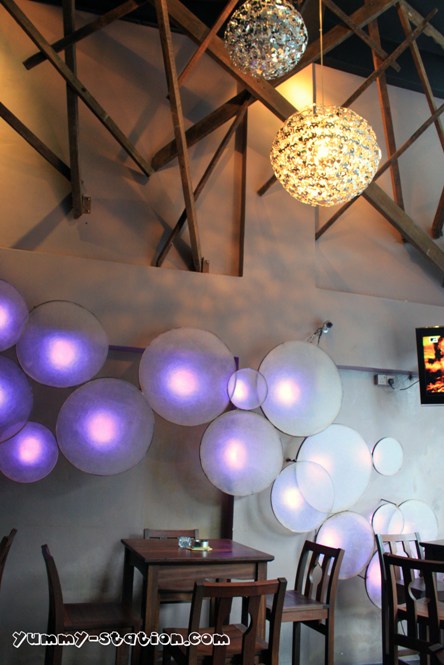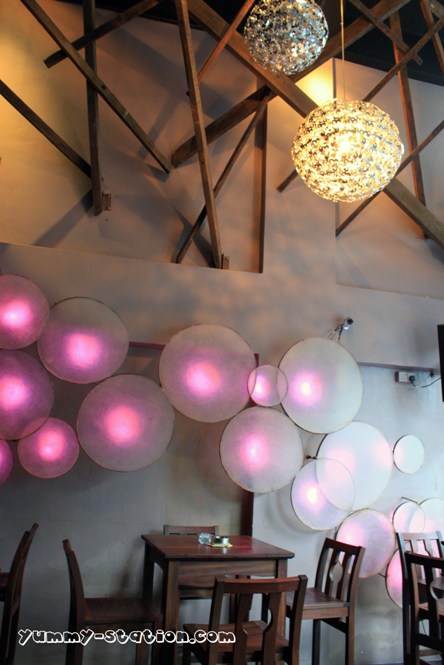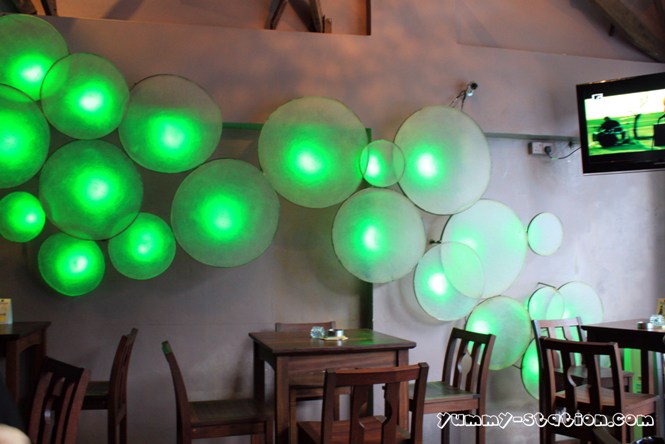 Nice lighting.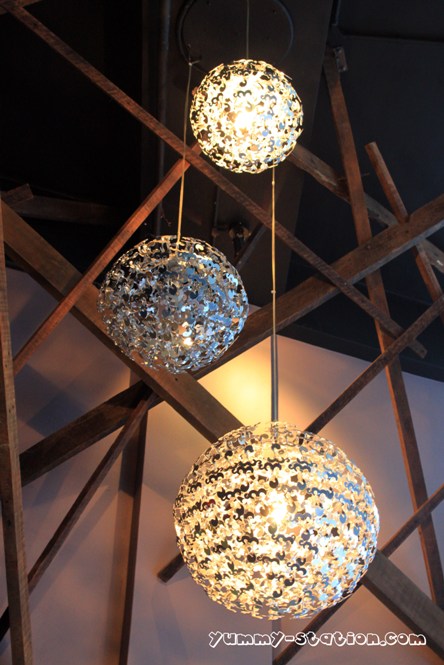 Overall, the food is nice with the reasonable price. For the set lunch, there are 2 choices everyday from Monday to Friday. For factory workers, this is a nice place to have lunch due to its strategic location. The environment is nice and cozy, good place for friend gathering. Maybe I will go again on weekdays to try out the different set lunch.
Business Hours:
Monday ~ Sunday
10am ~ 3am
Address:
Block K-9-1, Lorong Bayan Indah 2
Bay Avenue Bayan Lepas
11900 Penang
Tel: 604-640 8911; Fax: 604-640 8919
Email: terminal1pg@gmail.com
Tags: Alio Olio, Bay Avenue, Bayan Bay, Bayan Lepas, BBQ, Cafe, Dried Chilies, Garlic, Meat Balls, Noodle, Olive Oil, Onion, Pasta, Penang, Pork Ribs, Pub, Seafood, Skewer, Spaghetti, Terminal One, Tom Yam, Western, White Coffee