I never notice there is another Taiwanese Restaurant in Midlands Park Centre. I used to go Midlands Park (or so called One Stop) for computer related stuff when it was still happening back then, but never knew about this restaurant.
This Tainan Restaurant was operated by sisters since it was opened. Until end of last year, it was taken over by a young man, Mr Chong.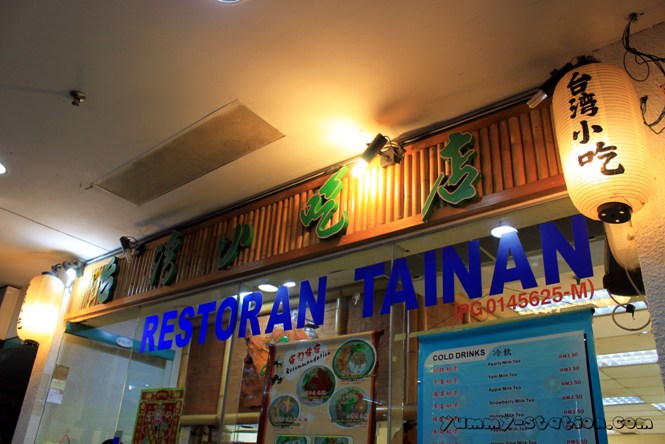 The interior of the restaurant is very simple. It is more on family style rather than those elegant environment.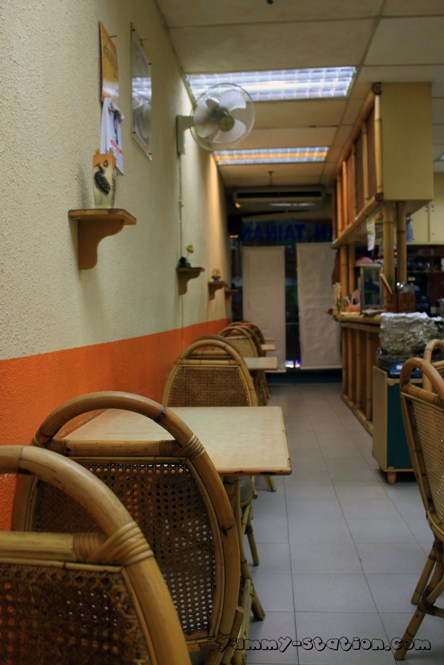 Menu. I like the wood cover of the menu.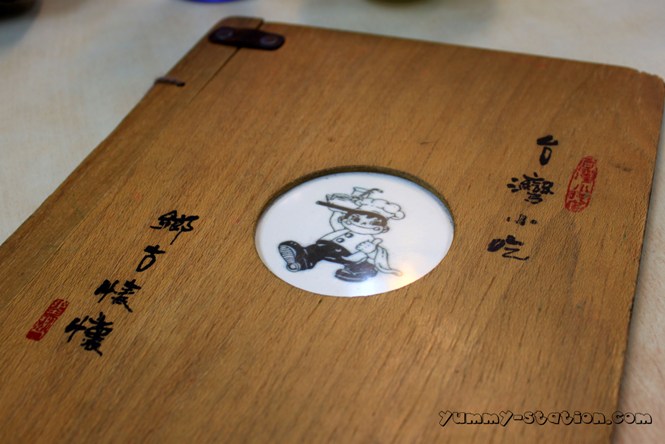 Let's start with some snacks.
Eel Roll 鳗鱼卷 RM6.00. This is nice. It has a lot of ingredients inside the roll. Will order this again for my next visit.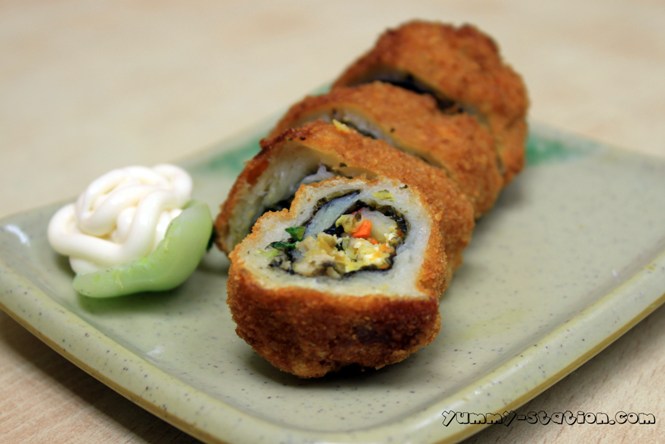 Taiwan Sausage 台湾香肠 RM8.50. Nothing to shout about on this. Pretty normal Taiwan Sausage.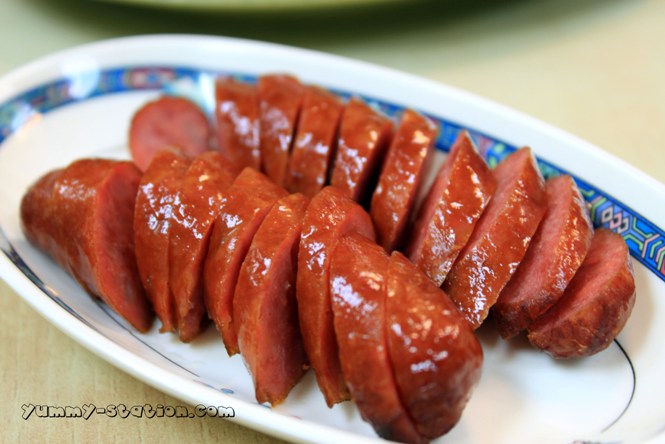 Taiwan Wantan Soup 红油炒手 RM6.50. For those who loved ginger, you will like this very much. Ginger juice is used to mix with the mince pork. From the first bit until the very last bite, you can taste the ginger. To me, I am OK with this, but not to my friend.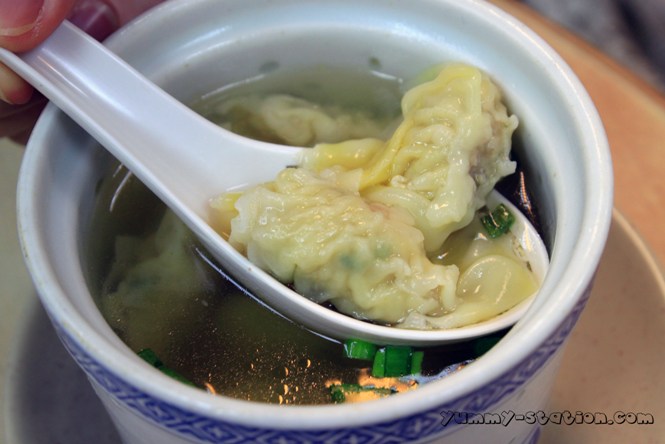 Taiwan Beef Noodle 台湾牛肉面 RM7. The soup is thick and the taste is similar with the taste of other soup. We cannot think of it at first. But later, we remembered after a number of tasting. It is like the taste of an oxtail soup.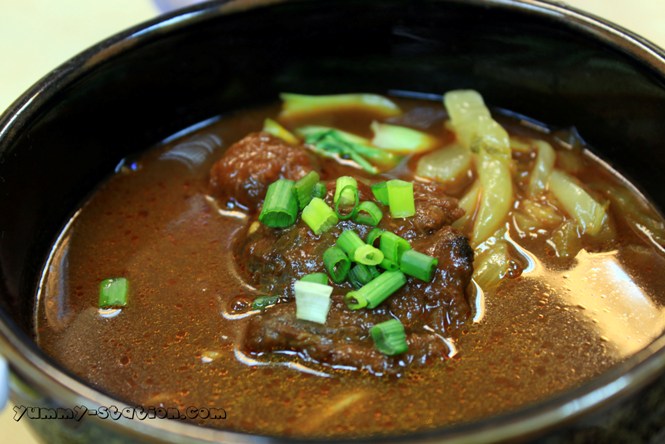 The noodle used is different if compare to other Taiwan Beef Noodle. The beef I had was tender to my liking. According to the owner, they went to the market to get the beef everyday. So, it is fresh! It is recommended to eat it while it was hot.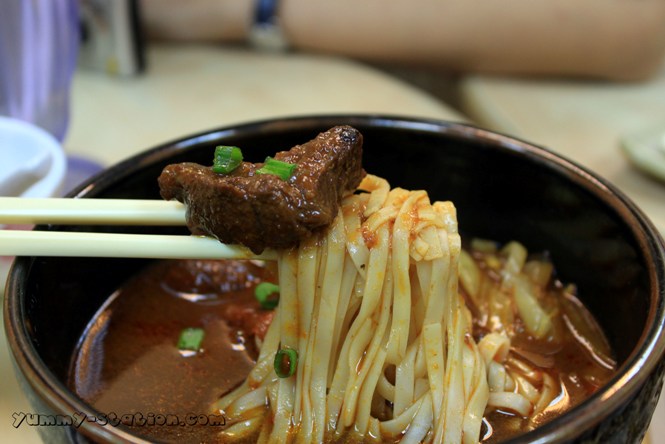 Golden Chicken Wing Rice 香草炸鸡翅饭 RM7. You can taste the rice wine from the chicken wing. For chicken wing lover, this is a MUST for you.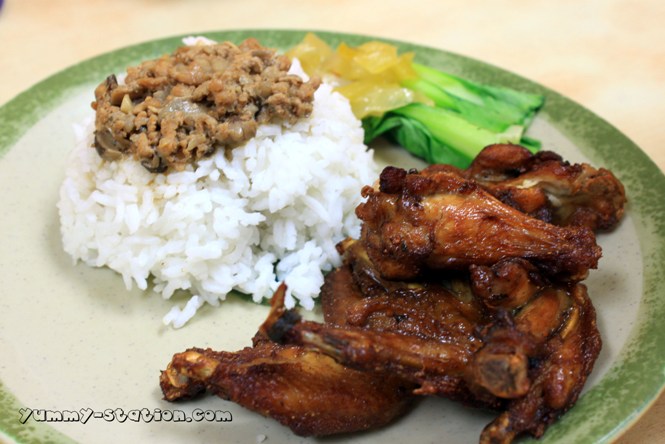 Golden Chicken Drumstick Rice 鸡腿饭 RM7. The drumstick is not bad overall. I am quite like it.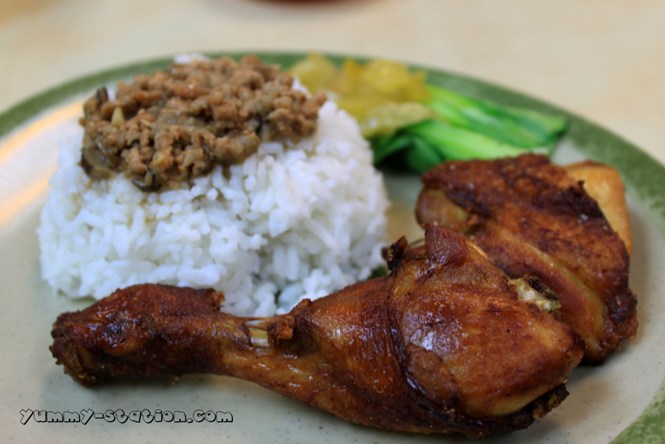 Pork Chop Rice 排骨饭 RM7. The Pork Chop is crispy and NOT OILY. Yes, I am very particular on this. Nice.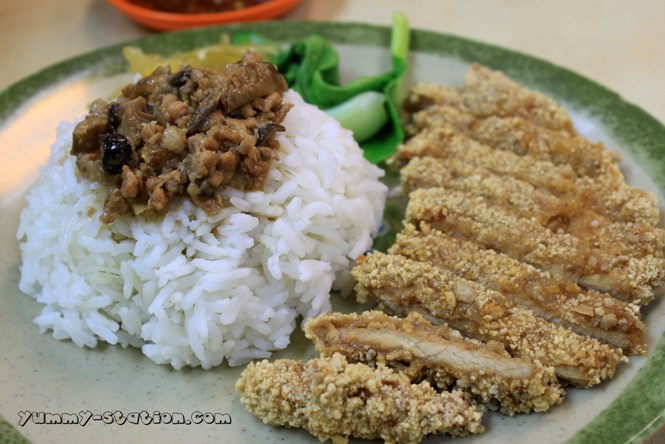 Saucy Chicken Rice 贵妃鸡饭 RM8. Wolf Berries are used for the sauce. The sauce is sweet and the chicken is tender enough. My friends like the egg very much.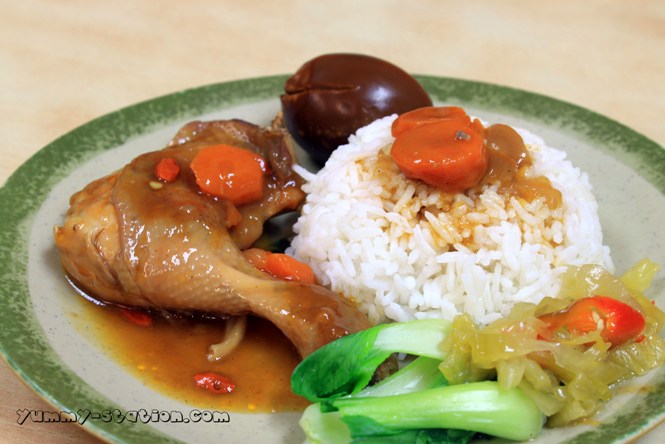 Special Pork Rib Rice 豆瓣酱排骨饭 RM7. This is another dish that I like. It is so nice to have it with the rice, due to the saltiness of the sauce. It blends well with the rice, makes you craving for more!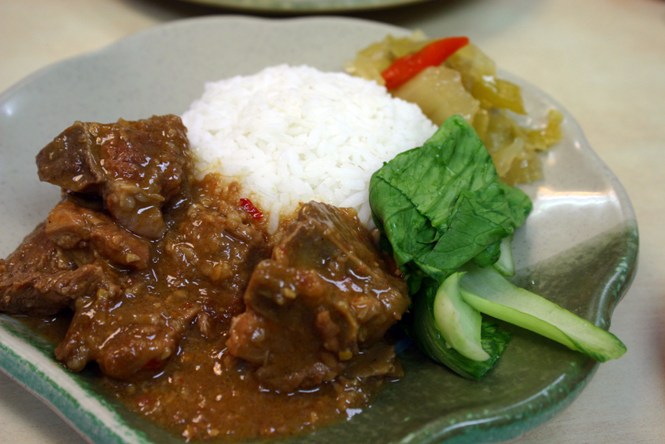 Photo taken from FoOd PaRaDiSe. I somehow forgot to take the photo of this dish. I think I am either busy photo shooting or busy eating. Haha.

For all the dishes above, you can opt for the Set Meal by adding RM4.50, which comes with a Drink, Soup of the Day and Dessert. The dessert on that day is Barley. The desserts are varies from day to day. They have Green Bean, Peanut, Longan White Fungus or even Ice Cream. All depends on your luck.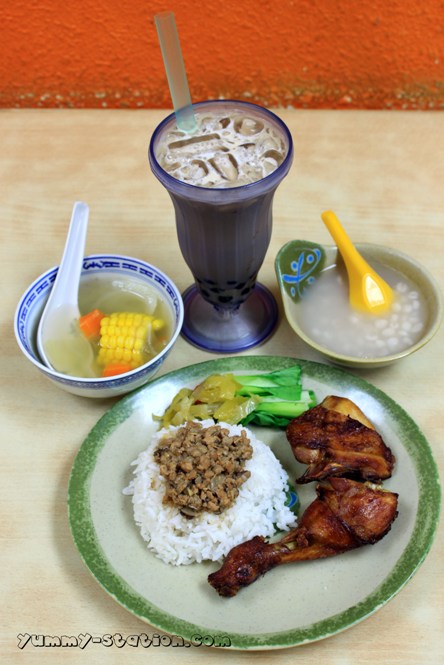 Soup of the day. The soup is very nice. I like it.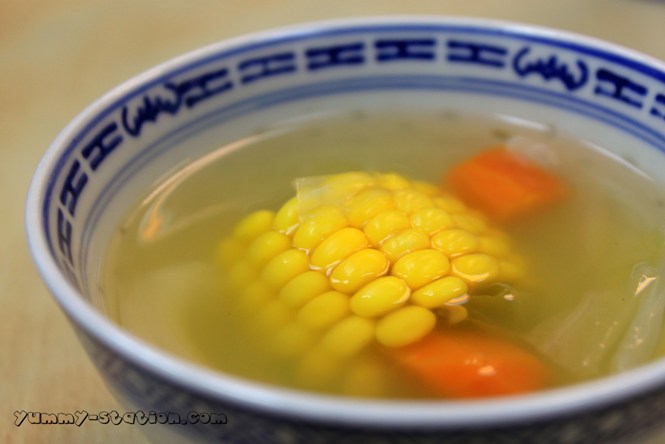 Tainan Restaurant has this so called Free Set Meal card.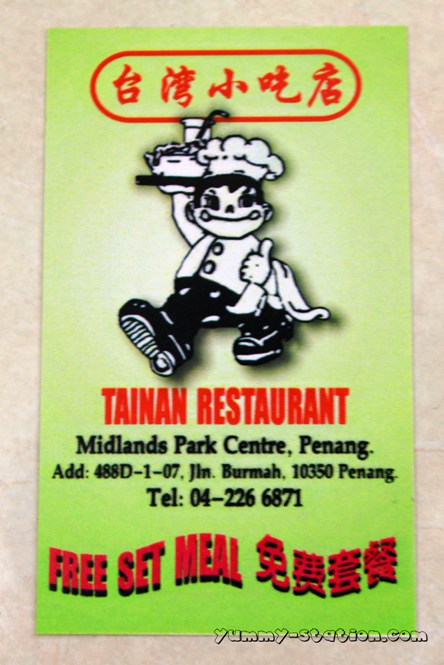 Every set meal will entitle you a stamp. Collect for 15 stamps and you will get a Free Set Meal, except for the Seafood Set Meal.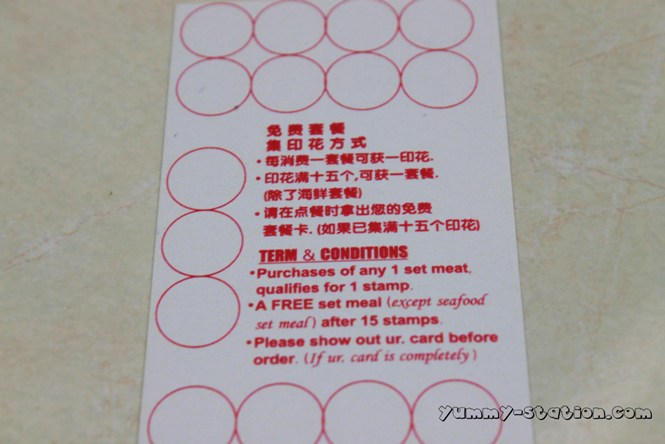 Other Dishes that you can try from Tainan Restaurant:
Chicken Chop Rice 香汁鸡排饭 RM9.50
Salad Fish Fillet Rice 果汁沙拉鱼柳饭 RM9.50
Salmon Fish Rice 炸鲑鱼饭 RM13.00
Tempura Prawn Rice 虾排饭 RM 10.50
Taiwan Sausage Rice 台湾香肠饭 RM7
Drunken Chicken Rice 醉鸡饭 RM8
Taiwan Beef Rice 台湾牛肉饭 RM7
Udon Noodle 锅烧面 RM8
Taiwan Wantan Noodle 红油炒手面 RM6.50
Prawn Noodle 虾卷饭 RM6.50
Drunken Chicken 醉鸡 RM9.50
Eel Roll Rice 鳗鱼卷饭 RM7.50
Taiwan Braised Pork Rice 台湾鲁肉饭 RM5.00
Taiwan Dumpling 锅贴 RM6.50
Prawn Roll 虾卷 RM7.50
Crispy Nestum Chicken Ball Rice 沙律麦香鸡丸饭 RM6.50
Crispy Chicken Ball 沙律麦香鸡丸 RM8.00
Overall, I like most of the food served. If you pass by this restaurant, do give it a try. Don't ever let the front view of the restaurant fools you away. With the cheap price range, you cannot complain much about it. If you want to try Taiwanese Food with a reasonable price, Tainan Restaurant will be your choice. I will go and try out other food next time in future.
Address:
Tainan Restaurant 台湾小吃点
Midlands Park Centre
488D-1-07, Jalan Burma, 10350 Penang.
Phone: 04-2266871
Business Hour:
Monday: Off
Tuesday ~ Sunday: 11am-8pm

View Yummy Station in a larger map
Tags: Barley, Chicken, Chicken Wing, Dessert, Drumstick, Dumpling, Eel, Egg, Fillet, Fish, Georgetown, Ice Cream, Midlands, Noodle, One Stop, Peanut, Penang, Pork, Pork Rib, Prawn, Rice, Salad, Salmon, Seafood, Set Meal, Tainan, Taiwan Sausage, Taiwanese, Udon, Wantan, White Fungus, Wolf Berries