Hi everyone! I am back.
Today, I am proudly present to you the homemade Sushi Roll and Nigiri from Yummy Station! I am addicted to Sushi making since I am back. I have been trying here and there to make it perfect. However, there are still a lot of improvements needed.
First Try
Before started, I have few rounds of shopping to get all the ingredients needed. I have no idea how many cup of rice needed since it is the first time on my own (Previously, tried 1 cup with my sister but it seems like it was too little). So, I tried with 2 cups of rice. It turned out to be too much rice! The ingredients I used are Nori, Tamago, Imitation Crab and Cucumber.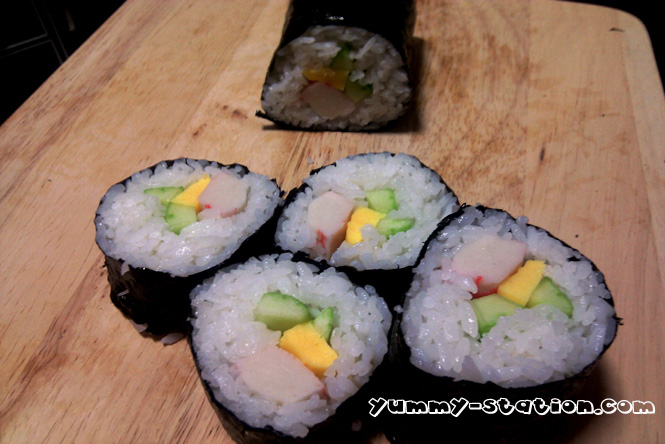 * Tips: For the Imitation Crab, DON'T EVER buy those cheap one. I bought it and regretted. Why? When I peel off the plastic, the red thing was coming out together and the Imitation Crab Meat become white and no longer red on the top!
Second Try
This round, I cooked 1 1/2 cups of rice. The rice is still too much. The ingredients are still the same as the first try, just added another ingredient, Baby Asparagus. I stuffed more ingredients inside.

I also tried Kappa Maki and Tamago Maki. But I never took the Maki photo itself. It was mixed with the sushi roll. The photo is not that nice. I will try to make it another day and update the photo here.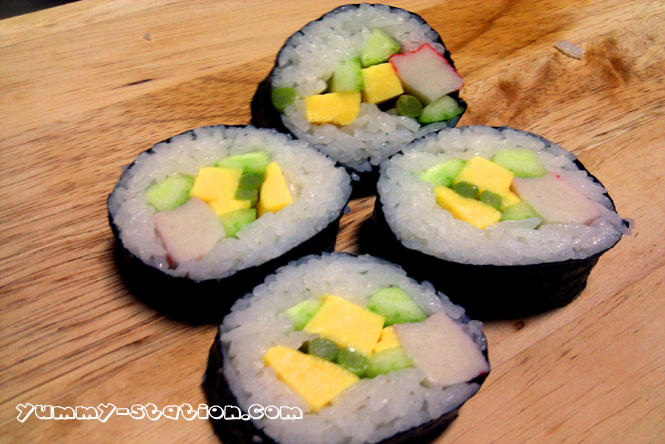 Third Try
For the third time, I only cooked 1 cup of rice. The quantity of the rice is OK, but it is still too much if you are the only one to consume the whole thing. This round, I made the Nigiri and not the Sushi Roll anymore. Again, I am using the same ingredients, which are Tamago, Imitation Crab and Baby Asparagus.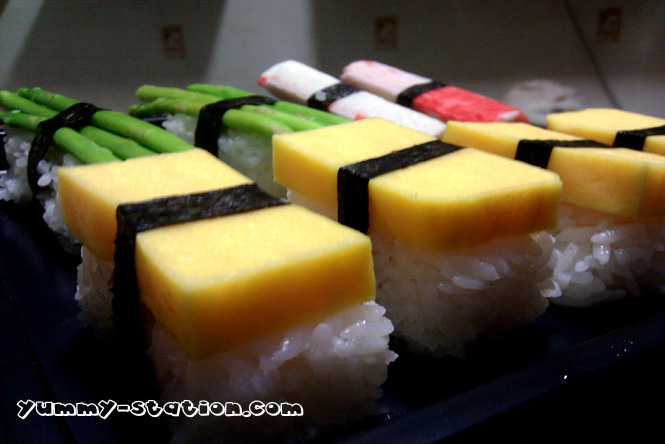 From the photo, you can see why I said we need to get a good Imitation Crab and not the cheap one.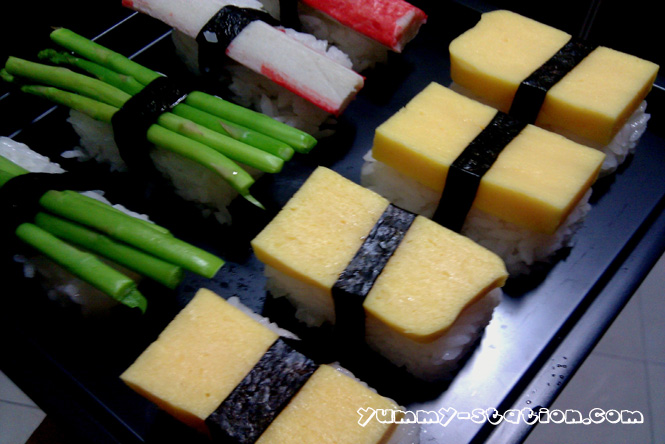 Overall, it is a nice experience for me to try making the sushi by myself, by referring to the recipe from Internet. For the taste wise, I will say the Sushi Roll and Nigiri are OK. Of course, it cannot compare to those from the restaurant. Next, I will try with the Sashimi. However, it is not easy to get Sashimi grade fish here. I will see what I can get by then.
Tags: Asparagus, Baby Asparagus, Egg, Imitation Crab, Japanese, Maki, Mold, Nigiri, Nori, Rice Vinegar, Sashimi, Sushi, Sushi Rice, Sushi Roll, Tamago, Yummy Station