After hearing and reading so many reviews on Fullhouse Lifestyle Store and Cafe, finally, it opens in Penang on November 11, 2011 @ Penang Time Square. Just after a week of the grand opening, we headed there for lunch.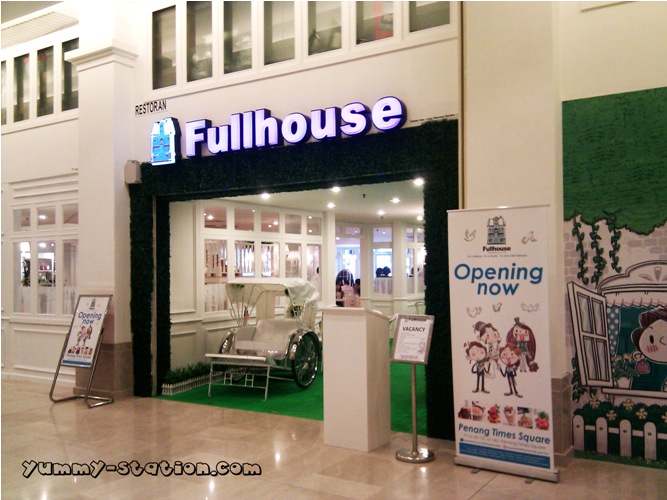 Beside the Entrance.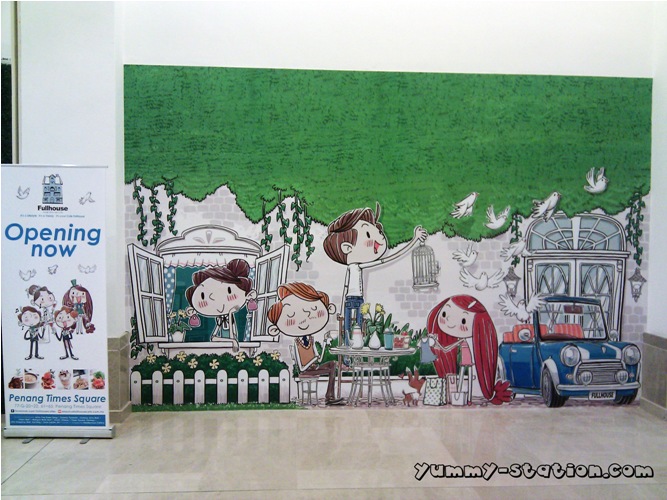 Logo at the Cashier.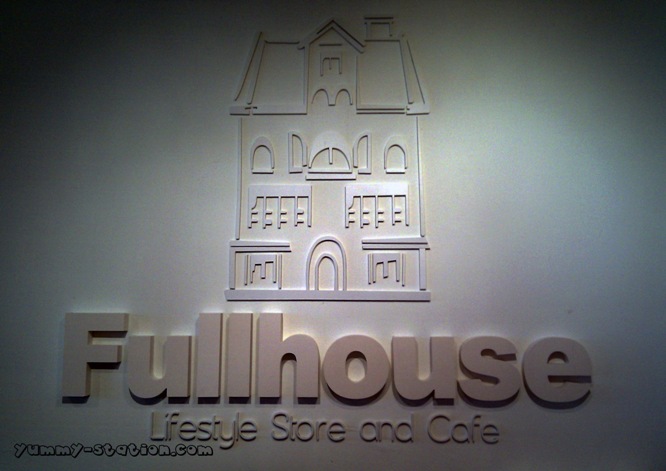 Surrounding. I like the color they used, WHITE! It makes the environment become brighter.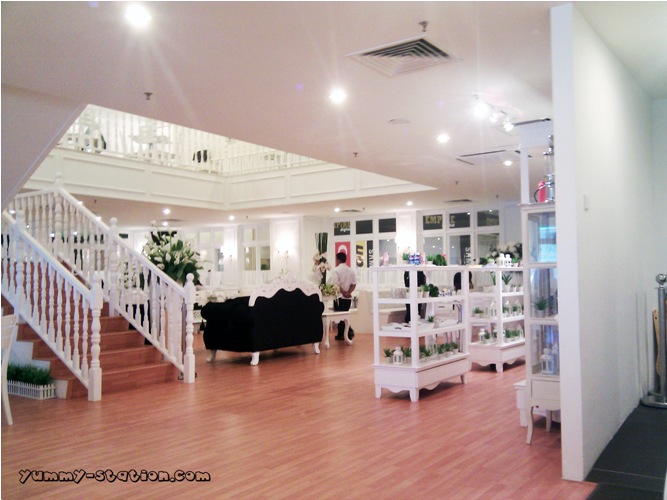 All tables and chairs are in white.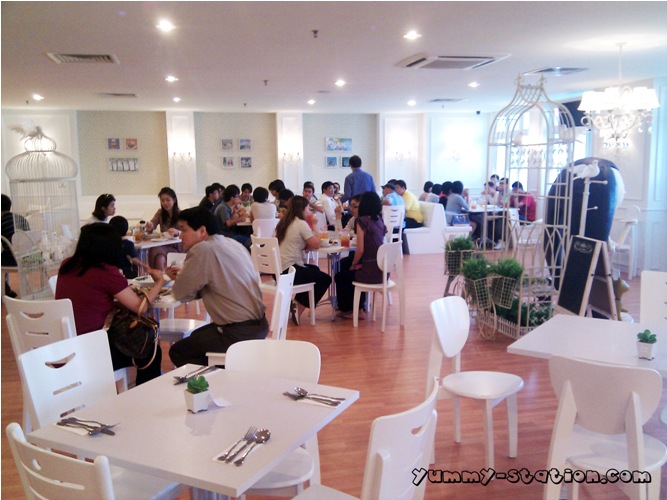 You can see this if you enter the restaurant through another entrance facing the main road. Cute character.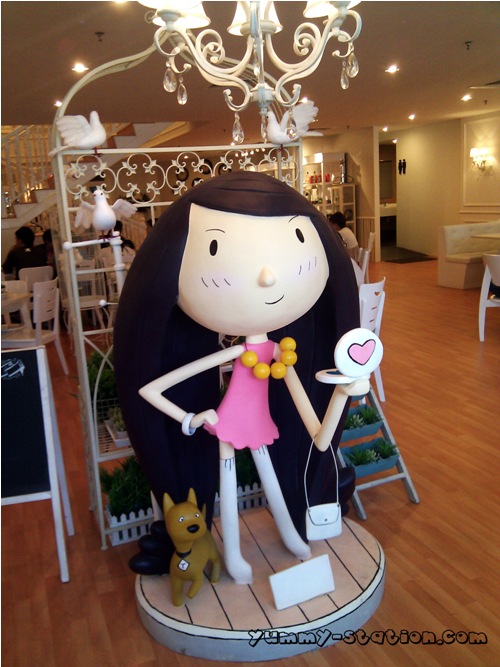 Menu. It is more like a magazine or small booklet. For lunch, there are 5 set lunch for your to choose from. The set lunch includes Soup of the Day, Main Course, Drink and Dessert.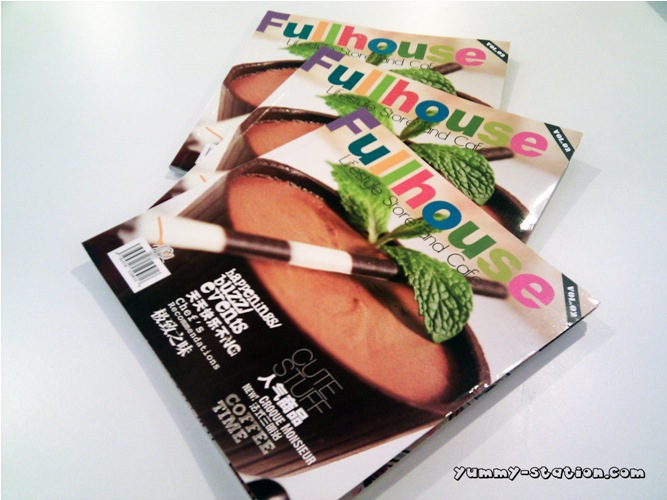 Soup of the Day and Ice Lemon Tea. The soup is not bad, but more on sweet taste. The Ice Lemon Tea is too sweet for my liking.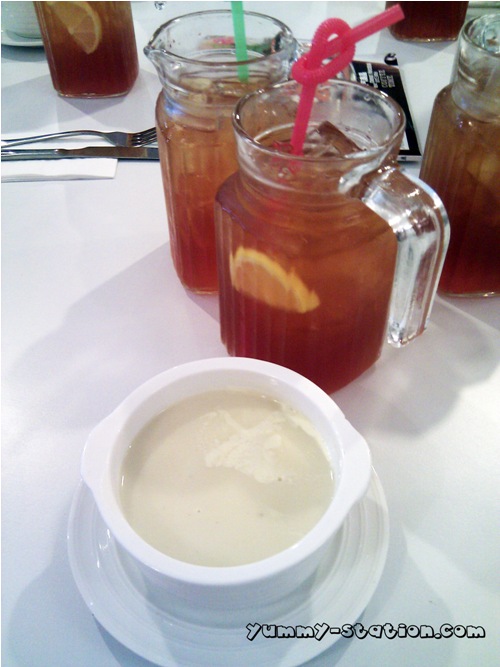 Soup of the Day after adding black pepper. It is much better after adding the pepper.Do you think the pepper looks like a hopping dog? I just notice that.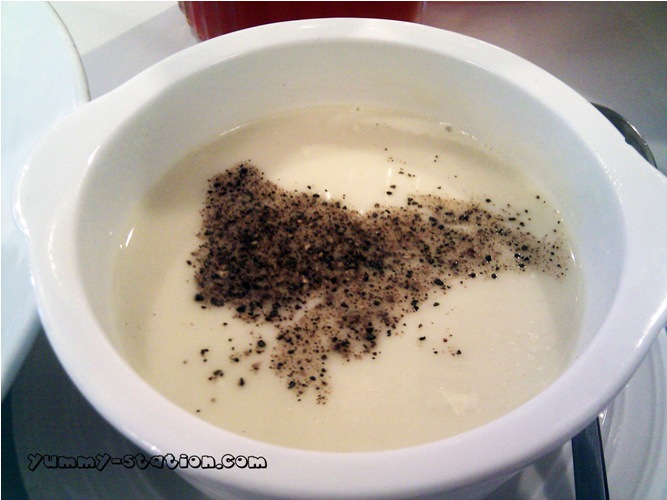 Set Lunch
No. 201
Set 1: Thomas's Favourite Meal – Spaghetti Pasta with Turkey Ham and Mushroom Cream
RM16.90
The sauce is creamy. If you like cream sauce for the pasta, then you will like this. The ham and mushroom come with a generous portion. After eating for some time, I feel a bit too much already. I still prefer to have the tomato sauce as the base for pasta.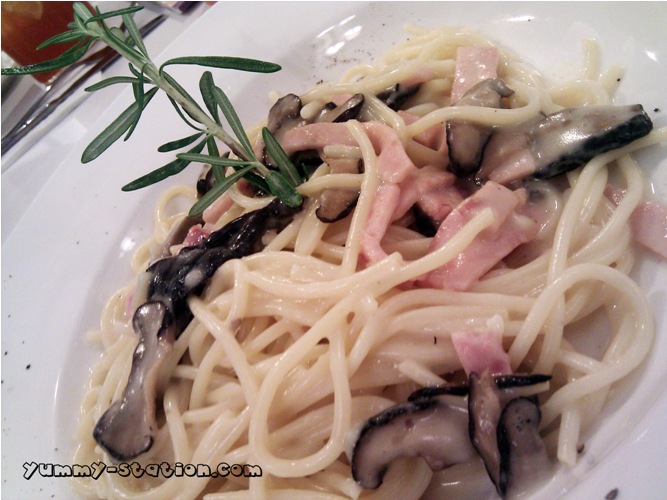 No. 203
Set 3: Tony's Favourite Meal – Wok-Sear Chicken Chop with Daily Vegetable
RM18.90
The chicken chop comes in a small portion. It is just a normal chicken chop. Presentation wise also on average side.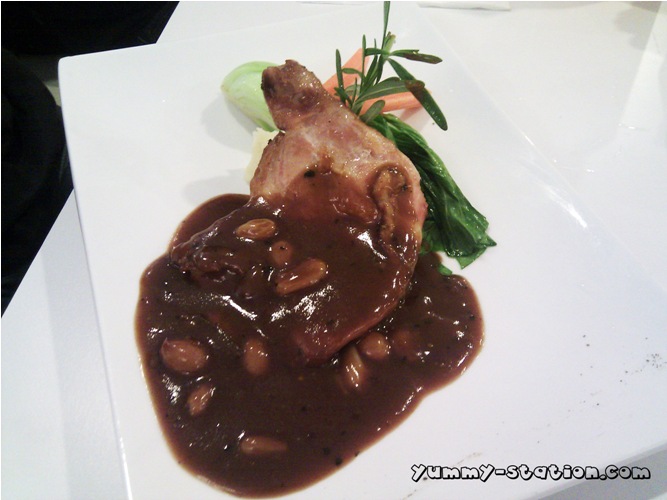 No. 205
Set 5: Tracy's New Recipe – Al-Funghi Spaghetti
RM16.90
This Spaghetti surprised me. Although it is in dry version, I like it more than the Spaghetti Pasta with Turkey Ham and Mushroom Cream. It has the Bird's Eye Chili (Cili Padi or Cabai Burung) in it. With this, it level up the taste with some spiciness, which is very good. Like it!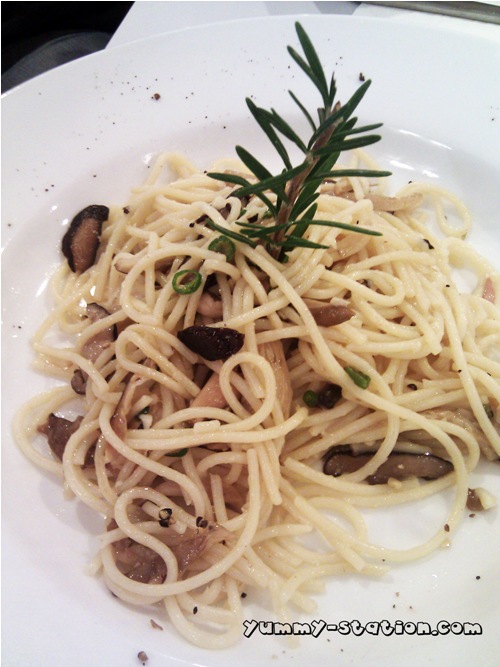 Dessert – Petitfour. It is a small piece of cake or tart from the selection below. They are sweet. To me, it is very normal. You can buy it separately: 1pc – RM2.50; 6pcs – RM13.00; 12pcs – RM24.00.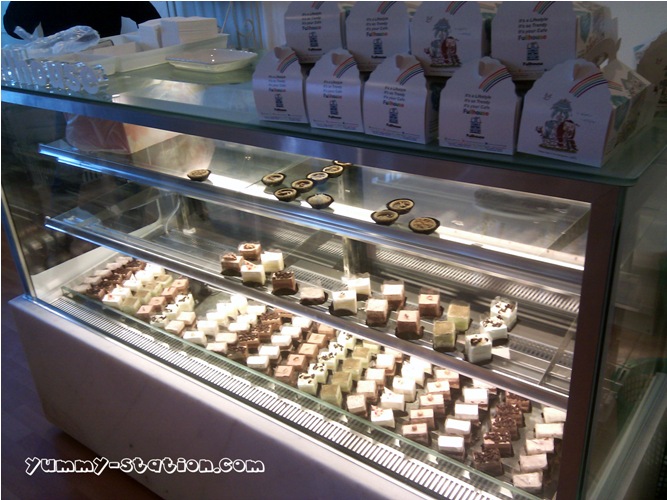 Set lunch menu taken from the website (For the set lunch we ordered).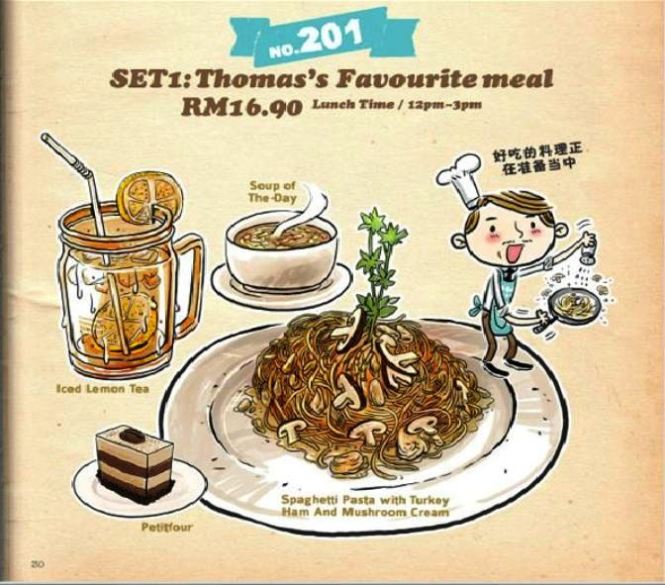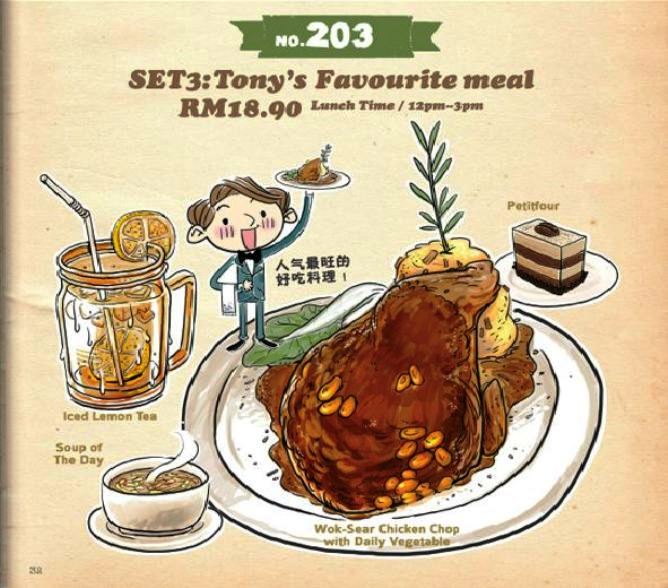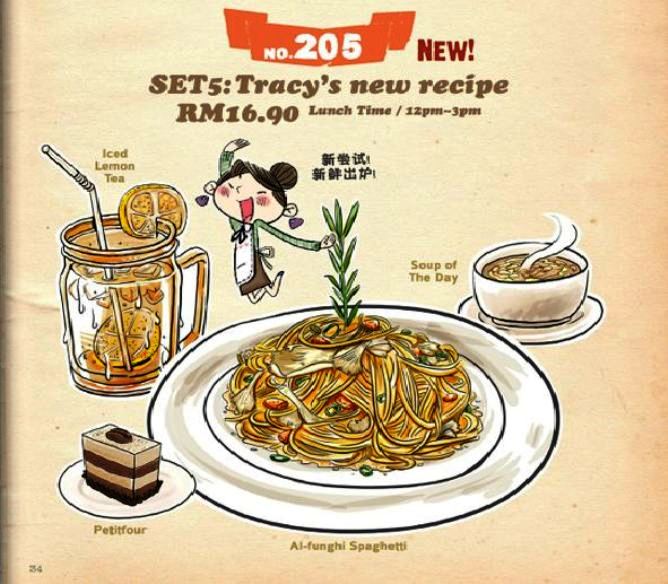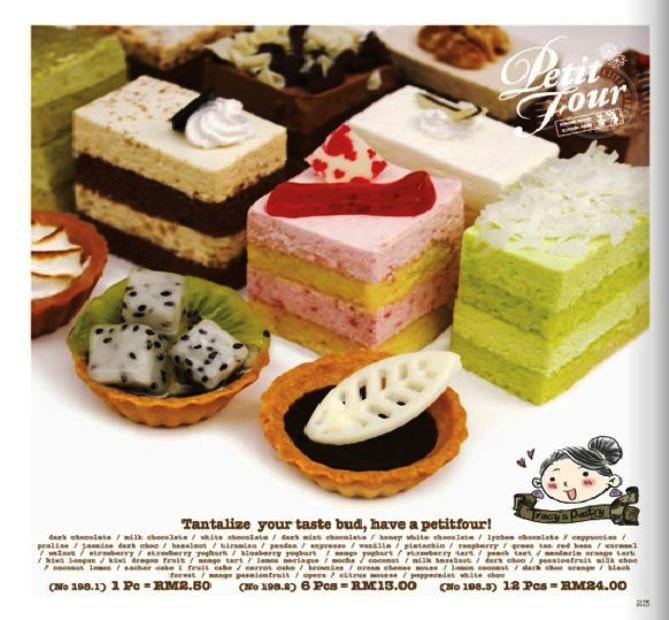 If I happen to go again in future, I will order the Salmon Salad. It looks so tempting from the Menu.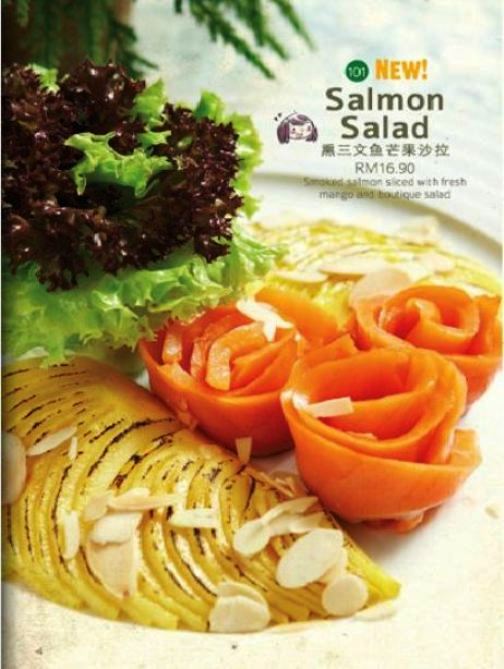 Overall, the soup and main course are just average. Al-Funghi Spaghetti is recommended if you like some spiciness. The Ice Lemon Tea is too sweet, the Petitfour too! Apart from the food, the environment and surrounding are great for gathering and chit chat. It is very spacious. You can take any photos you like without any restriction.
There is a corner selling all the interesting stuffs. There is also a second floor but I never go up and take a look. Maybe next time. One interesting fact to share, the washroom is combined for male and female. So, don't freak out and scream if you go inside and see someone who is your opposite sex.
There is only one thing restricting me for going there, the parking. I don't like the multi-storey parking. The design is totally BAD! I have no idea why they design it that way. The worst multi-storey parking in Penang! If possible, I will try to park outside rather than going inside. It seems like only taking more photos on Fullhouse Lifestyle Store and Cafe and the Salmon Salad will be the valid reason for me to go there again.
Address:
77-G-20-22, 61-65
Penang Times Square,
Jalan Dato Keramat, Georgetown
10150 Penang.
Opening hours:
Sun-Thurs: 12pm – 12am (last call at 11pm)
Fri-Sat: 12pm – 1am (last call at 12am)
Phone: 04-2260340
Website: http://www.fullhousecafe.com.my/
Tags: Al-funghi, Bird's Eye Chili, Black Pepper, Cabai Burung, Chicken, Chicken Chop, Cili Padi, Cream, Dato Keramat, Dessert, Full house, Fullhouse, Georgetown, Ham, Jalan Dato Keramat, Menu, Mushroom, Pasta, Penang, Penang Time Square, Petitfour, Salad, Salmon, Salmon Salad, Soup, Spaghetti, Time Square, Turkey, Vegetable