Whenever you are tired of having meats for your meal, you can always opt to vegetarian meal. Coya Healthy Cuisine is another vegetarian restaurant that you cannot miss. Coya Healthy Cuisine is located in Lorong Selamat, the road opposite to the New World Park. There are plenty of parking lots along the road side, don't forget to have your parking coupon ready. It is a red zone.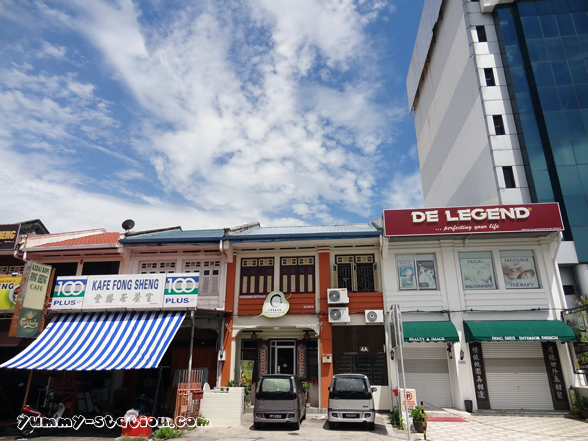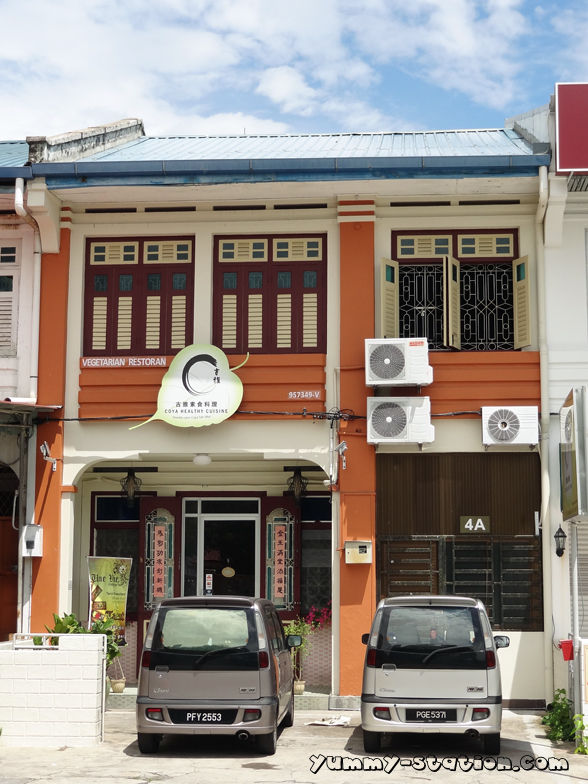 Interior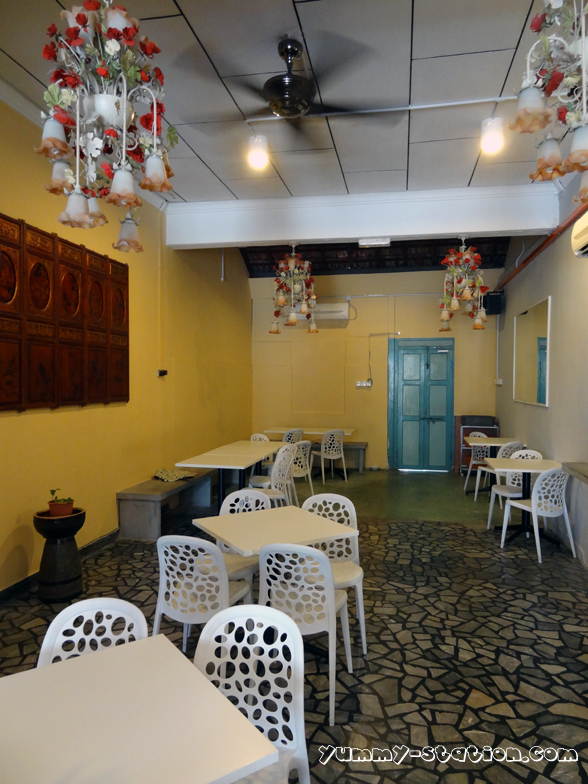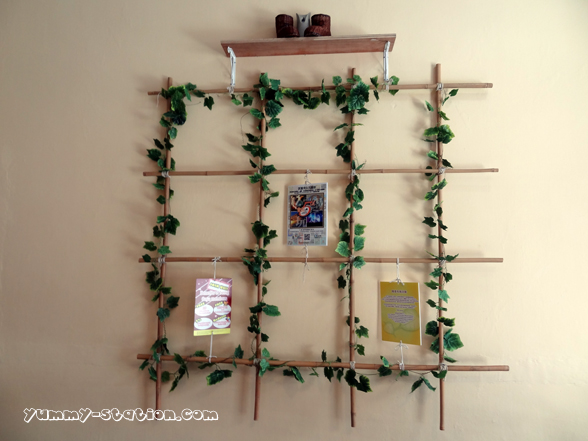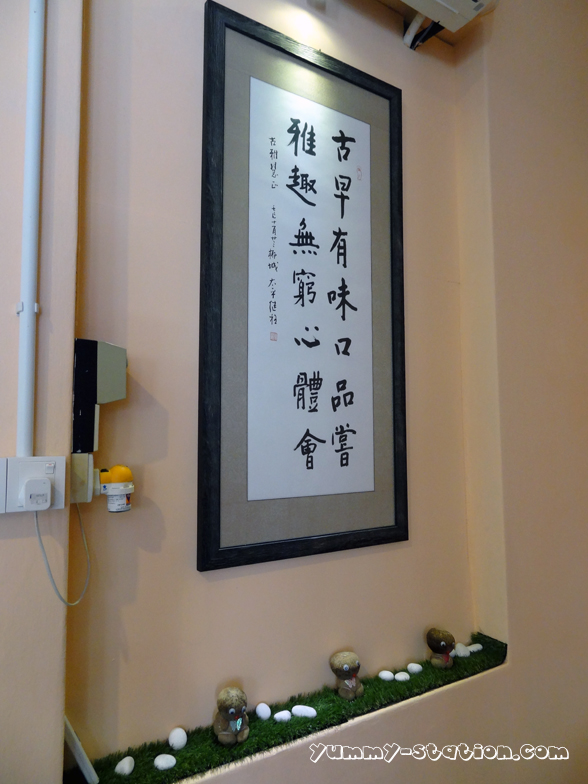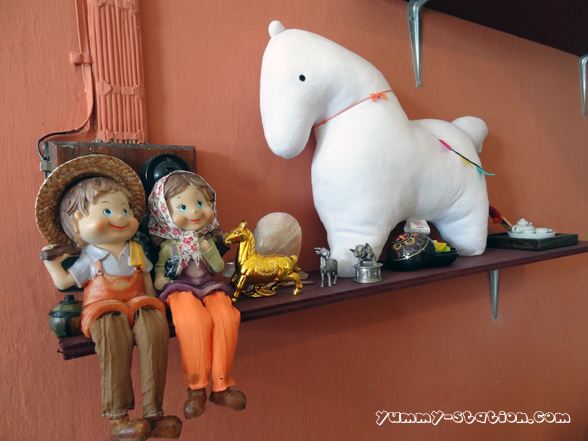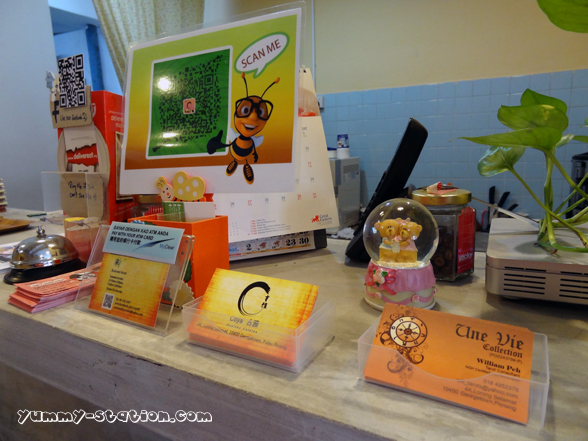 Coya Membership's Benefits.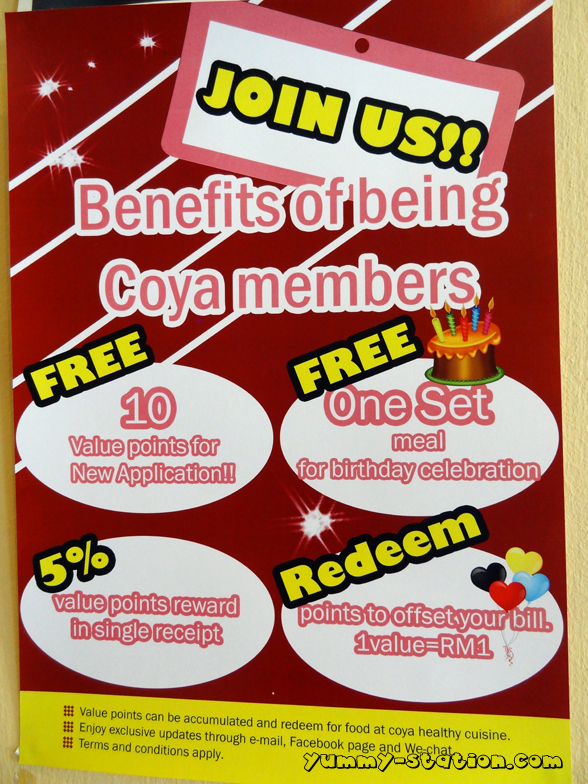 Menu.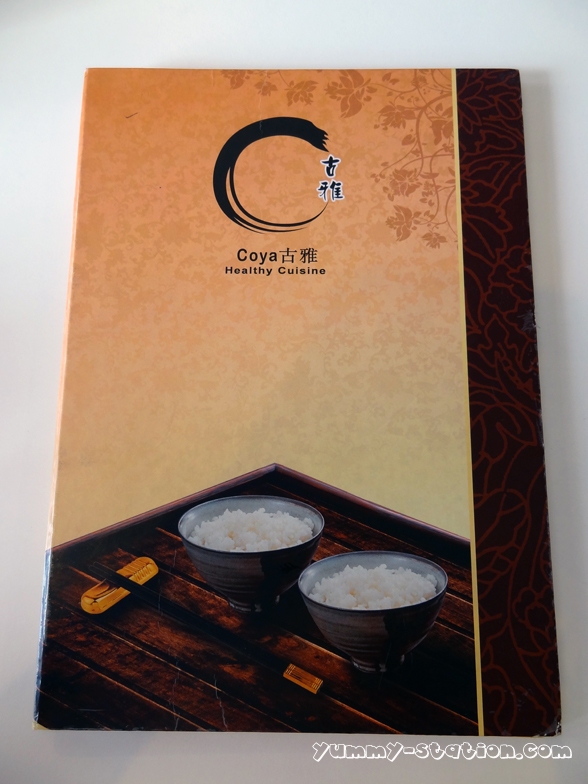 Energy Blended Drinks:
Red Queen – RM12. It is a mixture of pineapple and beetroot. According to the owner, lemon is added.
Fair Lady – RM10.90. A Mixture of celery, apple and bitter gourd.
Coya Fresh Fruit Lassi:
Banana Lassi – RM9.90. I have this as my drink. It has a rich banana taste. I like it.
Jackfruit Lassi – Rm10.90.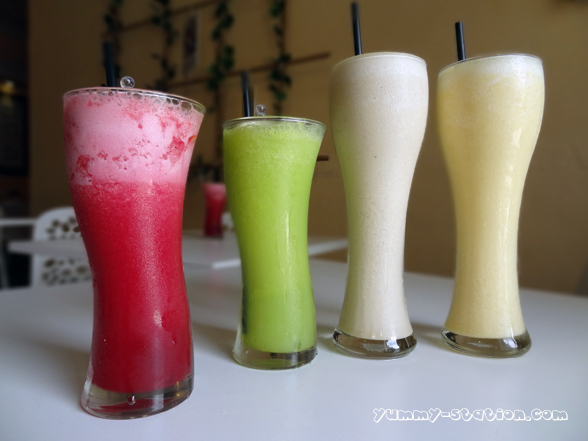 Golden Pumpkin Sour Plum – RM6.50. If I only see the dish and taste it, I thought it is a mango. The texture is really like a mango. You can taste some spiciness from this appetizer.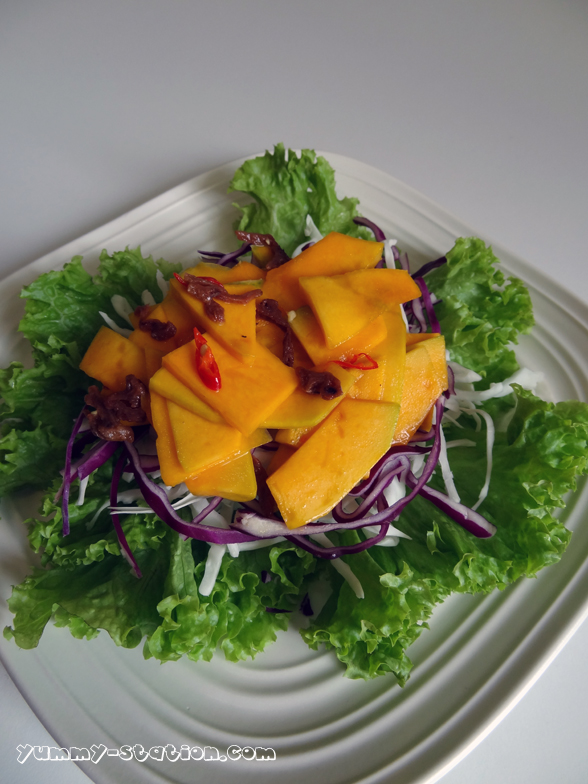 White Tom Yam – RM8.50. The soup is a bit sour with little spiciness. There are dumplings, fresh mushroom, carrot, asparagus and tau pok with fresh lime, chili and lemongrass in the soup.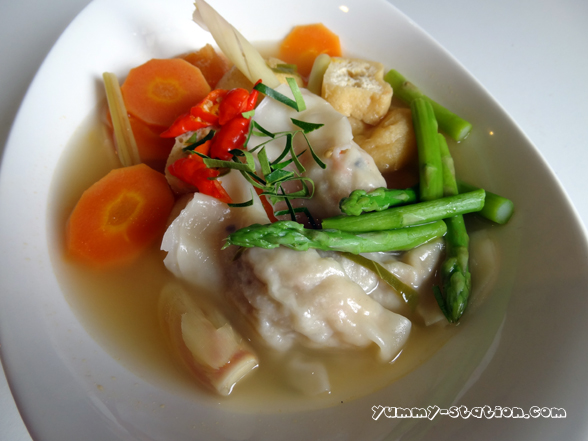 Claypot Bak Kut Teh – RM12. For Bak Kut Teh lover, this is the dish you need to order. Bak Kut Teh consists of soy meat pork ribs simmered in a complex broth of herbs and spices including star anise, cinnamon, dang gui and fennel seeds for six hours.
By ordering the Bak Kut Teh, you can add on a traditional drink, 2 side dishes of the day, free fruits and rice or noodle with just RM4.90!!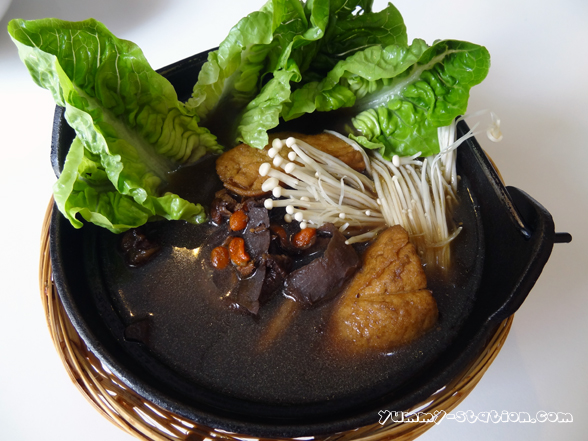 Deep Fried Eel (Mushroom) – RM10.50. This is a MUST order item! Although it is not the real eel, the taste is as good as the real one. You will finish them without your notice in a short time.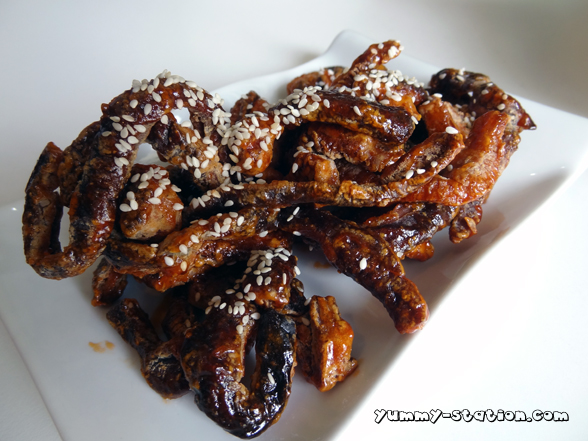 Curry Chicken Rice – RM12. This is quite a normal rice set if you want to have some rice. The rice set has curry chicken, one drumstick and some vegetables.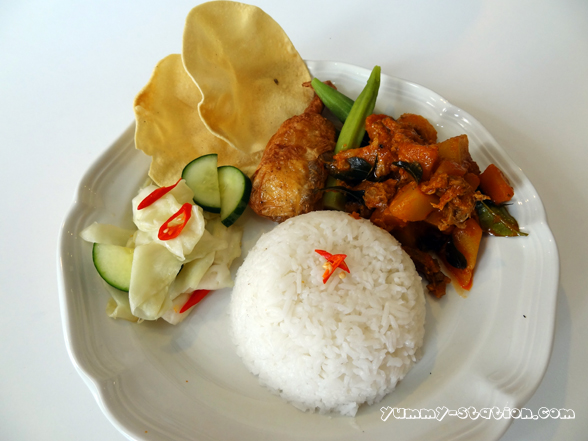 Green Pepper Bolognese Spaghetti – RM12.50. The pepper is a bit too much but I like it. 15 minutes is needed for dish preparation.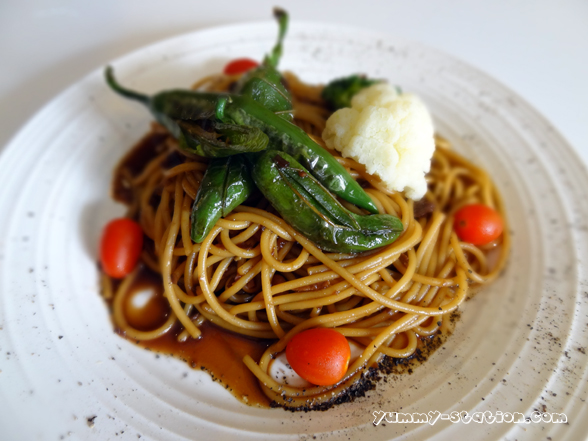 Hot & Spicy Noodle – RM10.50. The noodle is soft. There are lots of mushroom.
Portobello Giant Mushroom Burger – RM49.90/plate. The portion is big enough for 2. It has two pices of grilled portobello mushroom, topped with the fresh fruit sauce.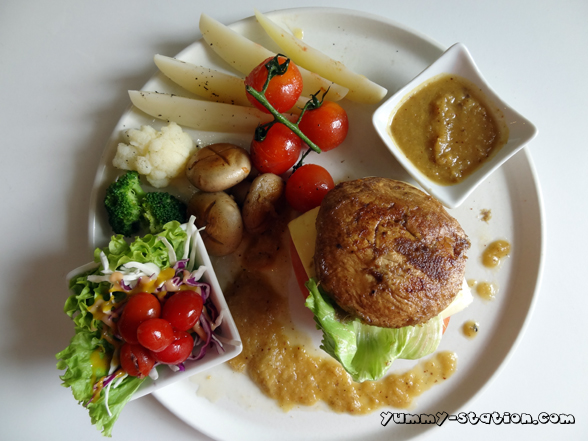 Portobello Mushroom burger is the Coya Signature breadless burger. The Portobello Mushroom is marinated in mild spicy pineapple paste and cook under low heat to maintain the tenderness and trap the juice inside the mushroom. As for the burger, Coya Healthy Cuisine uses the Hericium Erinaceus Mushroom, potato and mis together with herbs and spices to form an unique vege burger. Portobello Mushroom (Agaricus bisporus) is rich in nutrients and vitamin D. It not only can improve our body immune system also scientifically proven to reduce the risk of breast cancer in female.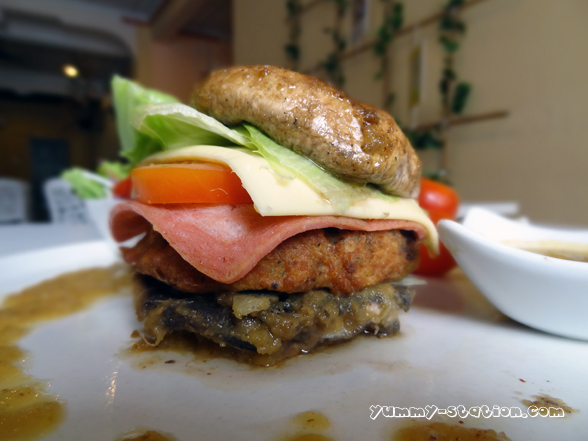 Overall, Coya Healthy Cuisine provides a good range of vegetarian and healthy food. Deep Fried Eel is the item that you must order. For the burger, it is really a hit as this is the very first time I saw the Portobello Giant Mushroom is used as the burger bread. Green Pepper Bolognese Spaghetti and Bak Kut Teh are another 2 items recommended.
Address: 4A Lorong Selamat, 11400 Penang, Malaysia
Contact: 604-226 2357
Facebook: https://www.facebook.com/Coya99
Business Hours: 11.00am-3.00pm, 5.30pm-9.30pm (Closed on Monday)
GPS: 5.419108, 100.326188
Tags: Apple, Asparagus, Banana, beetroot, bitter gourd, Celery, Coya, Curry Chicken, dumplings, Eel, Fair Lady, Georgetown, Green Pepper, Healthy, JAckfruit, Lassi, Lemon, lemongrass, Lorong Selemat, Mushroom, Pineapple, Portobello, Portobello Mushroom, Pumpkin, Red Queen, Spaghetti, tau pok, Tom Yam, Vegetarian