Dong Dong Dong Qiang…… Chinese New Year Songs are playing everywhere and Chinese New Year decoration has been set up across all the malls and hotels, as it is only 3 more weeks to go for Chinese New Year!!! Eastin Hotel always has nice decoration for festive season.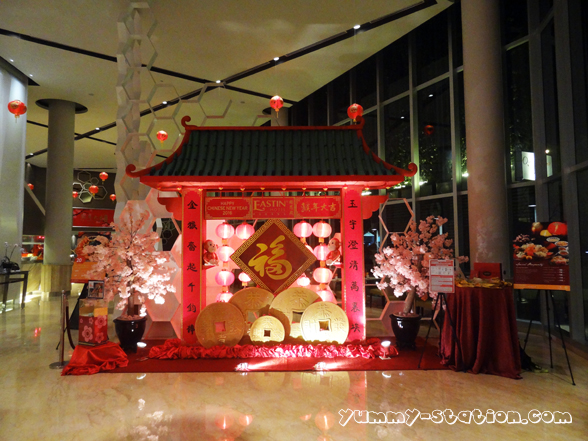 Eastin Hotel Penang has launched its Chinese New Year Dinner Buffet and I'm honored for being invited to try them out.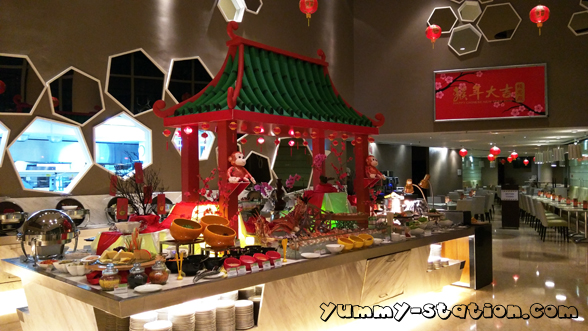 All kind of Appetizer, Smoked Salmon and different types of Sushi.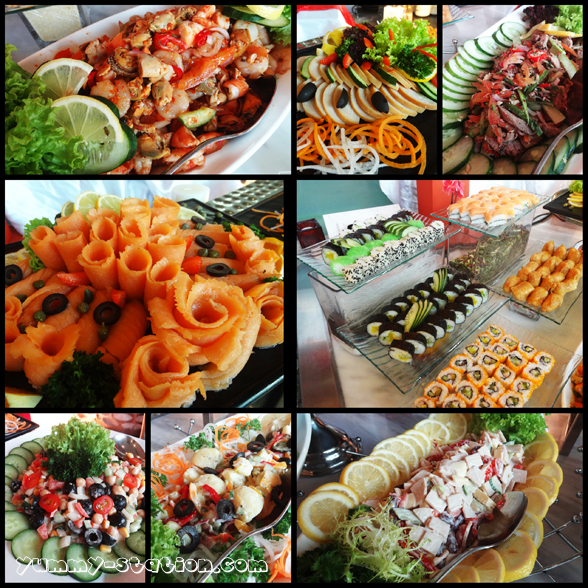 For a healthier choice, you can start your meal with the salad. It comes with Thousand Island Dressing, Vinaigrette Dressing, French Dressing, Mango Dressing and Italian Dressing. For cheese lovers, there are cheese and crackers too. The pie shape Bridel cheese is good! A MUST TRY! If Salad and Cheese are not your cup of tea, you can also start with some fruits as well.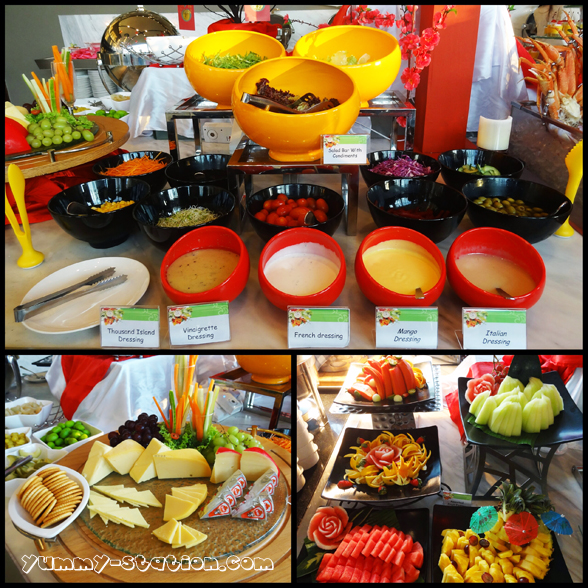 Seafood and Sashimi are the hot items of the day.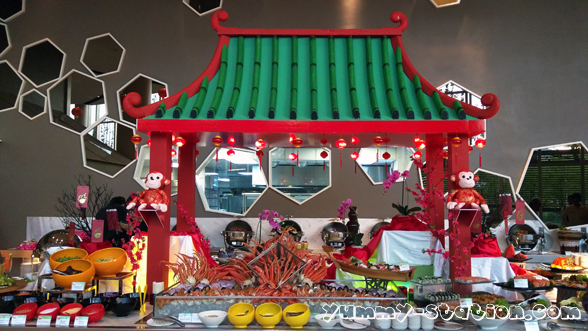 It's all about CRABS!!! Besides the Crabs and Snow Crab Legs, other seafood includes Prawns, Oyster Kill Patrick, Mussels, Scallops and Slipper Lobsters.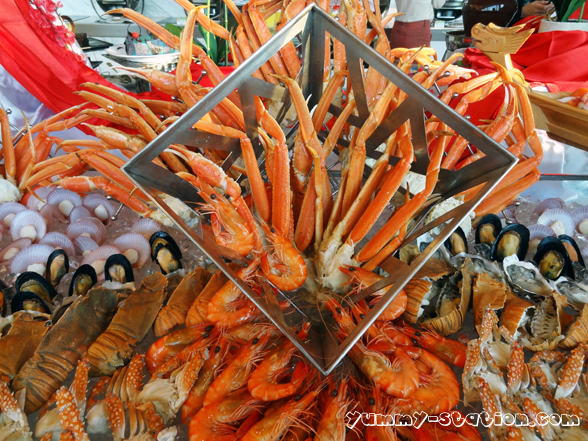 Sashimi Boat is the one you cannot miss, if you are a Sashimi lover like me. The White Tuna is the best among all. Yum!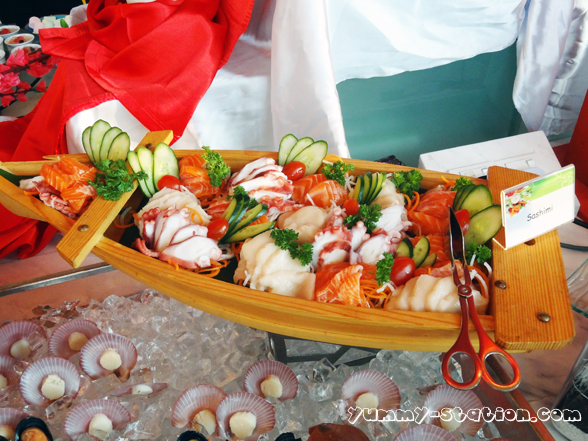 For the Hot Dishes, they are: Creamy Mix Seafood with Cheese, Tandoori Lamb Chop with Cucumber Raita, Angel Hair with Bolognese Sauce, Pan Fried Fish with Saffron Sauce and Romeo Sour Curry Fish.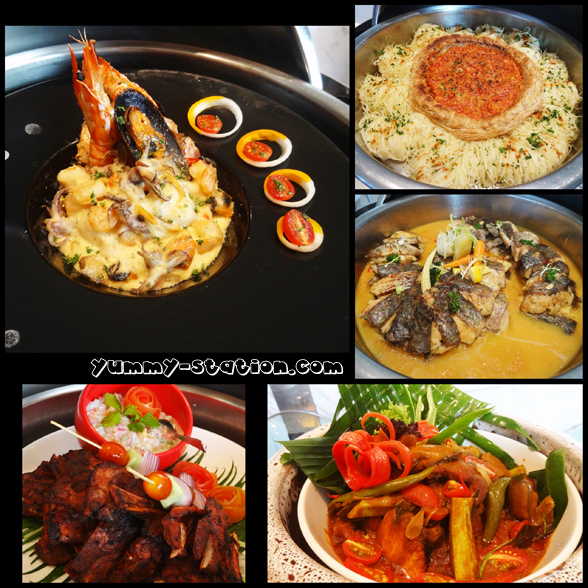 Also, Wok Fried Tiger Prawn with Salted Egg Gravy, Stir-fried Broccoli with Mushroom and Sea Cucumber, Pineapple Fried Rice, Juliet Coconut Squid, Classic Szechuan Hot & Spicy Soup and Curry Leave Thai Sweet Kapar.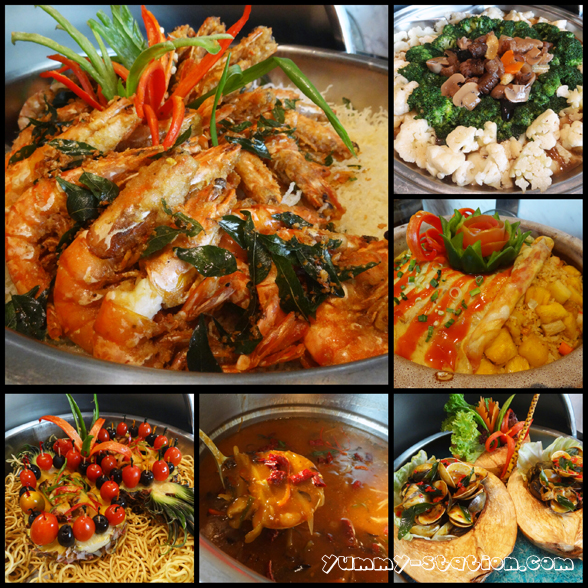 After the main, it's Dessert time!! Berries Mizu, Red Velvet, Classic Cheese Cake, Waffle with Condiments, French pastry, House Pudding, Sweet Roll in the Heart and Lovely Banana Chocolate Crumble are among them.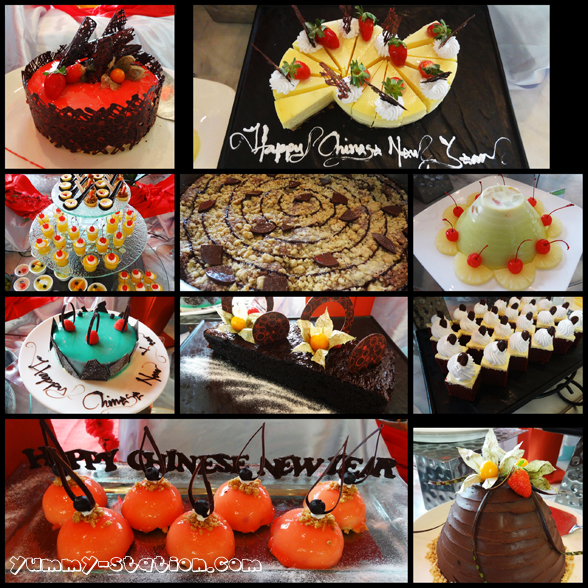 Since it is a Chinese New Year Dinner Buffet, how can we miss the Lou Sang activity?
Fortune Yee Sang with Condiments.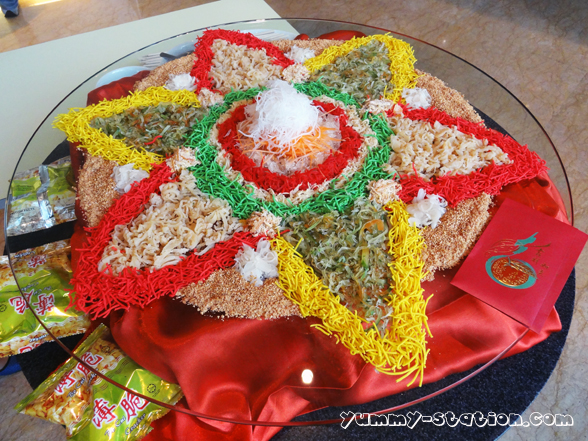 Since it is huge, we were not given the normal chopstick, but the long chopstick that the hawker noodle stall is using! First time ever! Huat Ah!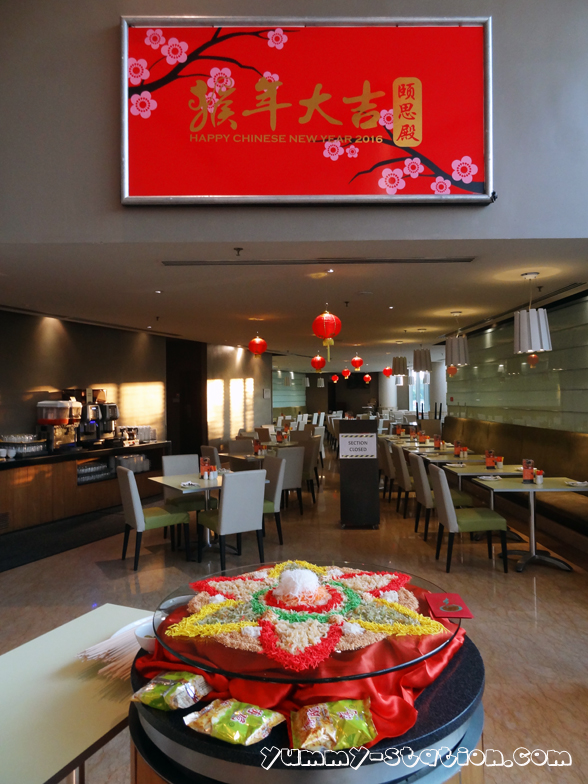 Eastin Hotel has also launched its Valentine's Package together with its Chinese New Year Dinner Buffet as Valentine's Day will be on the 7th day of the Chinese New Year.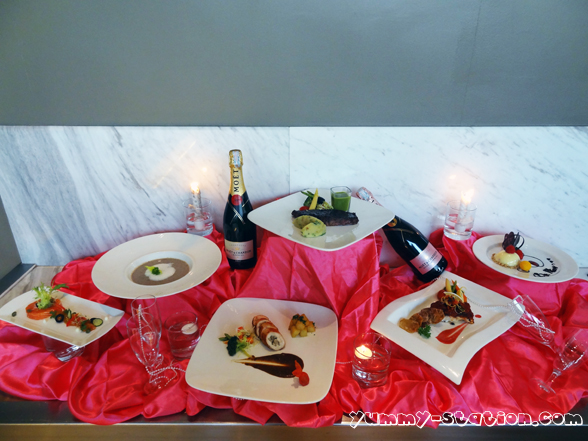 Four Valentine Packages are available.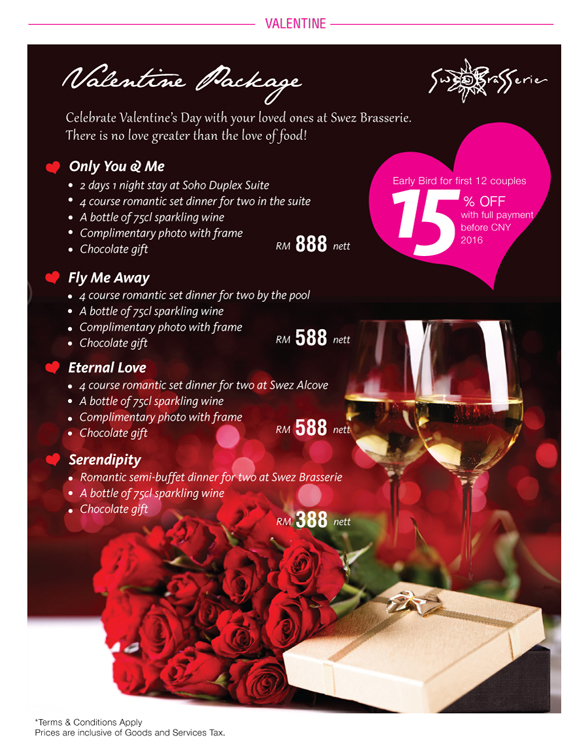 Eastin Hotel Staff and Chef.
For the Reunion Dinner on the 7 February, there will be a 8 Course Family Reunion Yee Sang Dinner @ RM1088 for a table of 10 OR Family Reunion Buffet Dinner @ RM128 nett per adult and RM68 nett per child.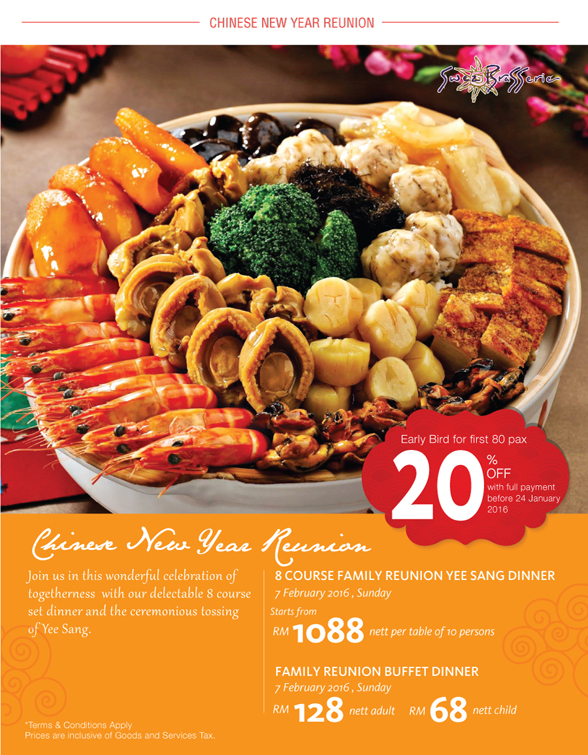 On the 1st and 2nd Day of Chinese New Year, which is on 8 and 9 of February, Hi-Tea is priced at RM88 nett per adult and RM48 nett per child, and the Buffet Dinner is priced at RM118 nett per adult and RM68 nett per child.

There will be a 20% discount for the early bird with full payment before 24 January 2016. Only for the first 80 pax!
Overall, there is a big range of dishes available. White Tuna Sashimi, all kind of seafood, Cheese Platter, Angel Hair with Bolognese Sauce, Creamy Mix Seafood with Cheese, and Desserts are the items you cannot miss. Also, not forgetting to mention, the food presentation is attractive and nice if compare to the previous. I also like the decoration too with the Monkey! It's Monkey year!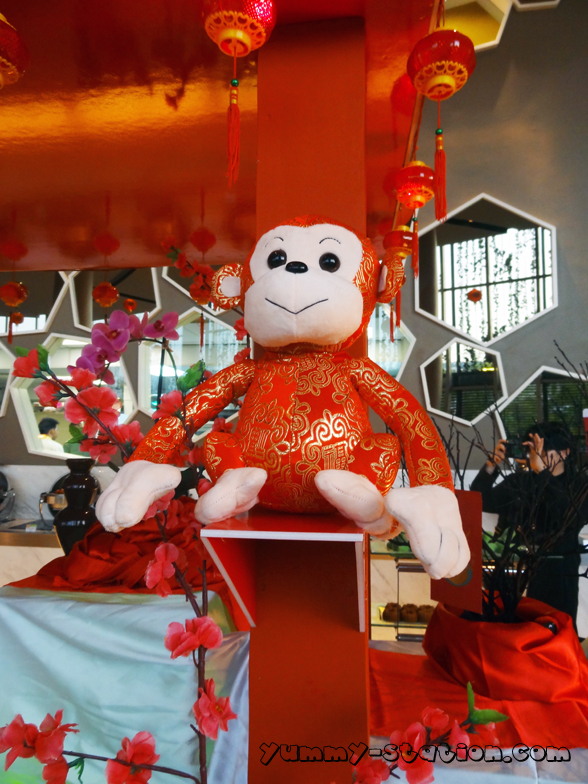 Happy Chinese New Year!!!
Eastin Hotel Penang
1, Solok Bayan Indah, Queensbay, 11900 Bayan Lepas, Penang, Malaysia
Tel: +604 612 1128
Fax: +604 612 1199
Email: info.pg@eastin.com
Facebook: facebook.com/eastinhotelpenang
Website: www.eastin.com
Tags: Chinese New Year, Chinese New Year 2016, CNY, Eastin, Eastin Hotel, Eastin Hotel Penang, Penang