It's all about PORK!!! Yes, for all the pork lovers, I am sure you will like most of the food from S.WINE Wine & Dine in Queensbay Mall. Previously, it was known as Plan B. After the re-branding to a non-halal restaurant, its name changed to S.WINE wine & Dine.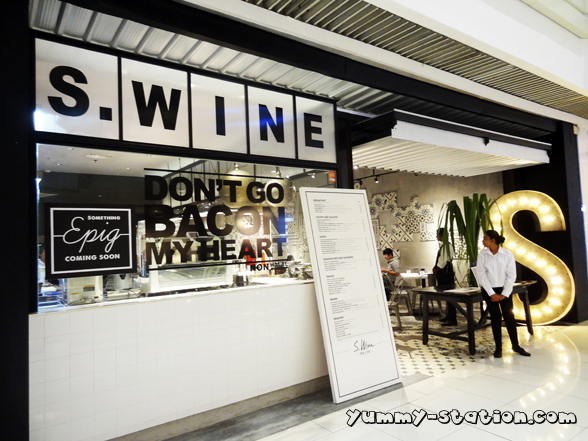 I don't think you will miss this restaurant as there is a big S, just in front of the restaurant.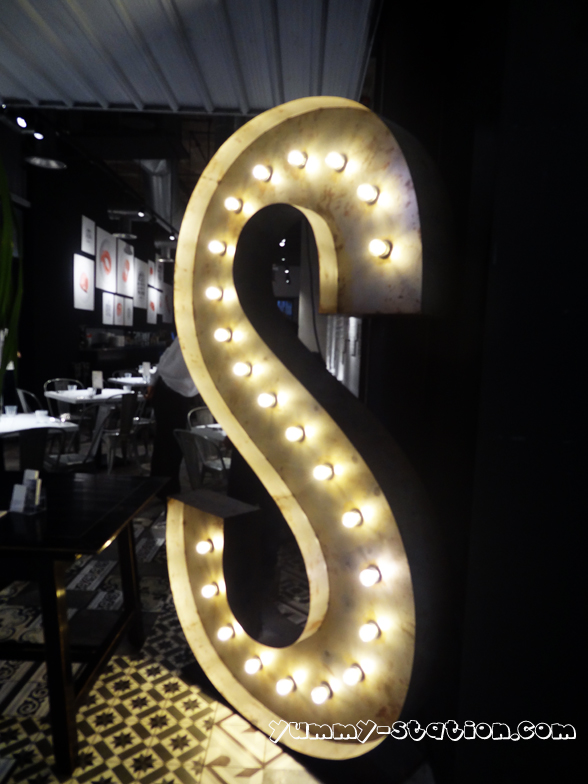 Our review starts with the Salad.
Warm Pork Confit, Watermelon & Lyechee Salad – RM38. I never thought of putting Lye Chee and Watermelon into the salad, together with the pork. You will not feel guilty if you are ordering this since it comes with vegetables. At least, you have excuses to eat the pork and at the same time, stay healthy.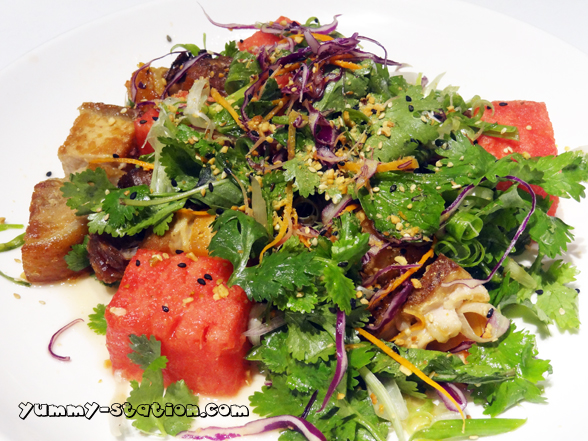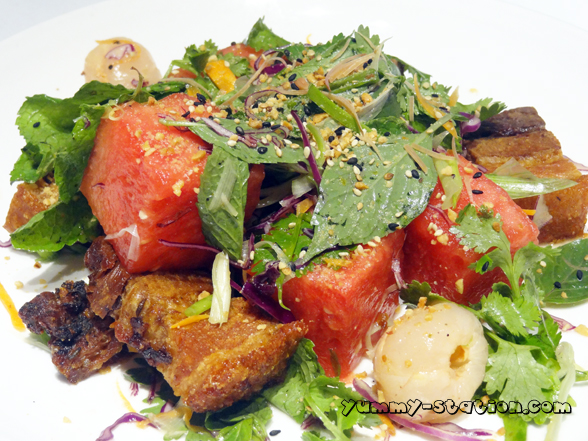 Grilled Pork Neck & Green Mango Salad – RM25. This is another good salad I would like to recommend. I like the green mango! With the sour and spiciness, you will crave for more. And again, this is another healthy choice of food!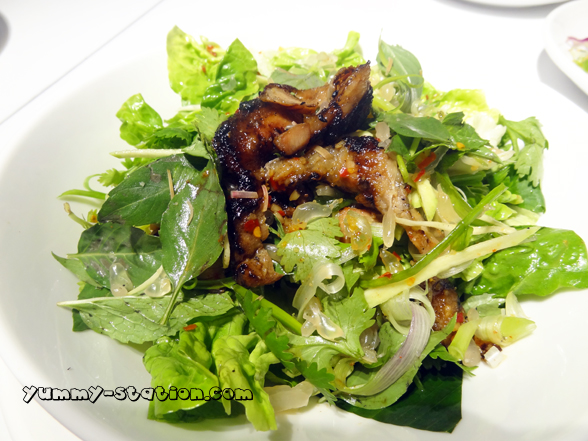 Here comes all the PORK!!!
Chargrilled Jerk Pork Belly – RM30. Pork lover will go crazy over this. The pork belly was grilled perfectly and I don't think I need to describe more on the taste. Let the photo tells you.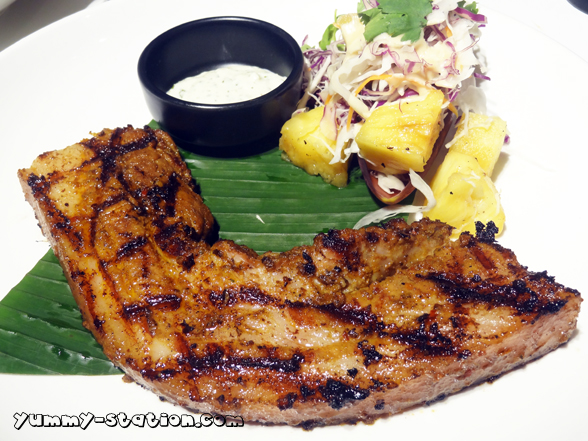 Pan Roasted Beer Brined Pork Chop on the Bone – RM38. For people who don't like fat, this is very suitable for you. It's all MEAT!!! It is a bit hard though.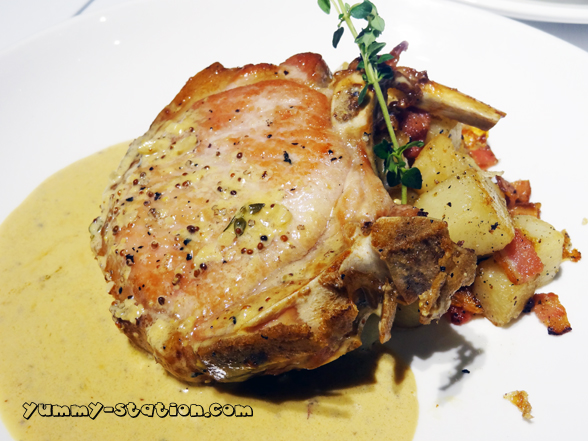 Bangers & Mash with Onion Pork Jus – RM36.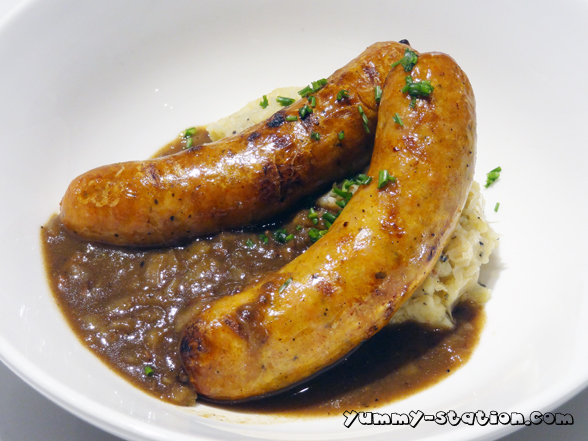 Uncomplicated Noodles – RM20. It's quite complicated to me! Rice noodle sheet has been used for this dish and the texture is like the chee cheong fun, I like it. With the Bak Chor (minced meat) and vegetables, it's really good. I ate quite a lot.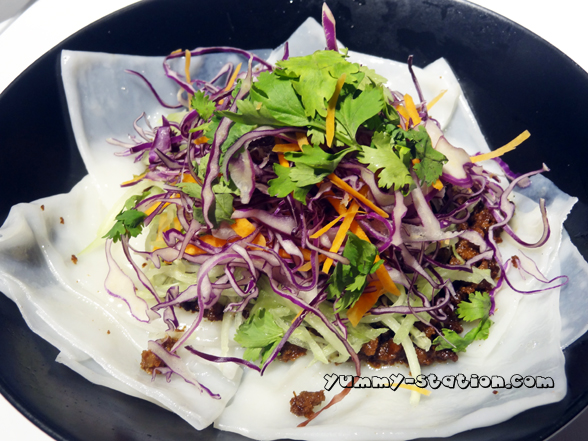 Chunky Sausage & Bacon Tomato Cream Pasta – RM30.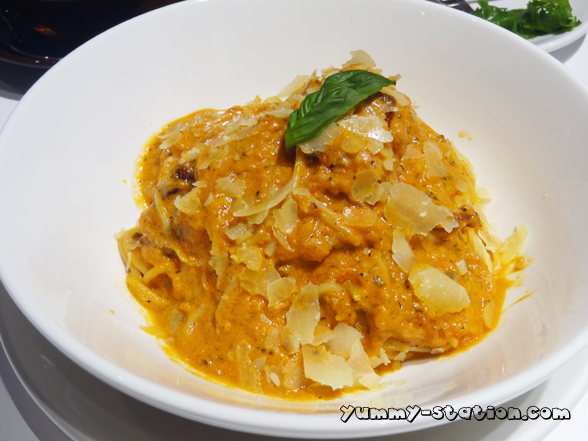 Pasta Bak Chor Mee – RM20. Another dish that I can finish all by myself. Good combination of spaghetti and mince meat.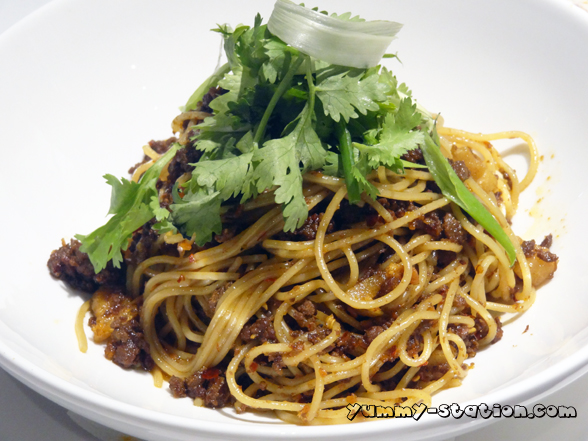 Bacon & Salted Egg Carbonara – RM26. This is the best pasta of the night. The salted egg taste is so good,  until you want to finish all by your own and not sharing to others! A MUST order!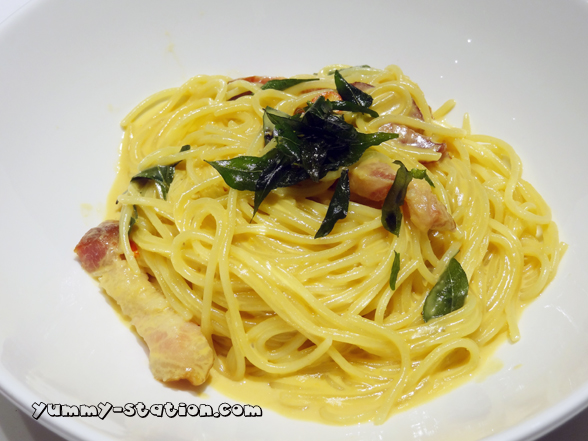 Nam Yue Shoulder Chop RM28. This is another item I would like to recommend. When it was served, you already can smell the Nam Yue. The taste was so good, together with the scramble egg, it was a perfect match! The main thing is, it comes with a big and very generous portion of both scramble egg and the shoulder chop!!! I can finish this myself but I will be super full after that. There are one bowl of soup and one small plate of sambal kind of chili, accompanied with the rice.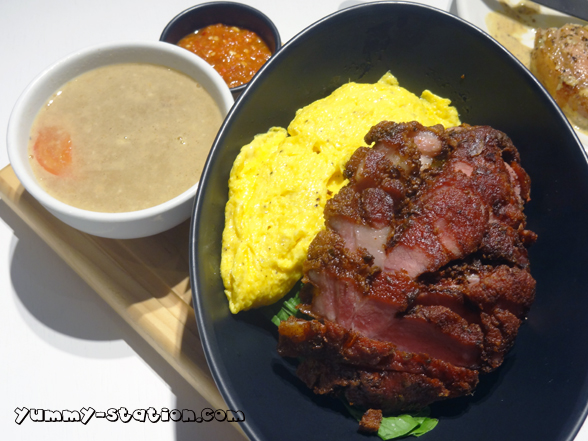 BBQ Bacon Cheeseburger RM35. Don't have the chance to try this burger, but it looks good since it has bacon! Bacon is good! Yum Yum!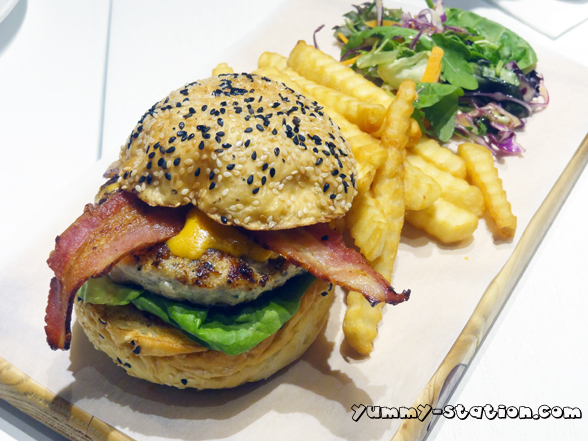 Crispy Pork Burger RM32. Don't have the chance to try out this one either.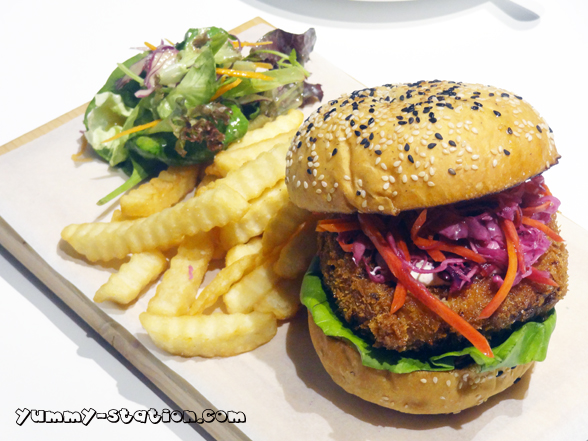 Pork Satay – RM24. Normally the pork satay from outside will be a bit hard but this one from S.WINE, it was OK!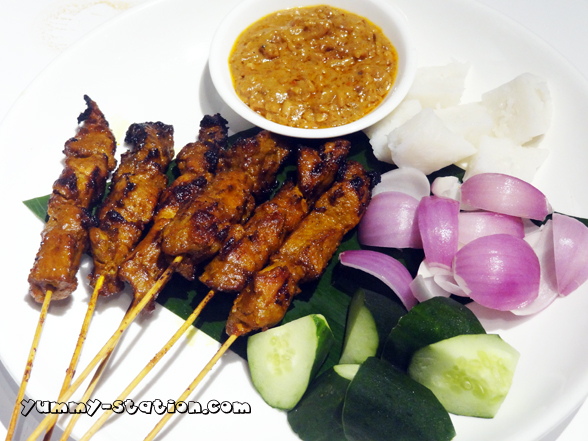 Nam Yue Pork Popcorn Bits – RM22. Don't have the chance to try out this one. Looks good though. I think I can finish them all one bite after another.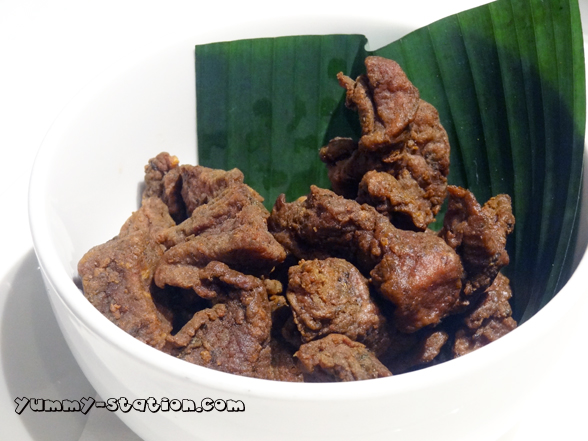 Tada, this is the main item of the day! Whole Slab Pork Ribs – RM98. If you are very hungry, then maybe you can finish the whole slab of ribs! I don't think I can finish it myself as it is HUGE!! I still prefer to eat it without squeezing the lime provided. Now, I have another place to go for pork ribs, yeah!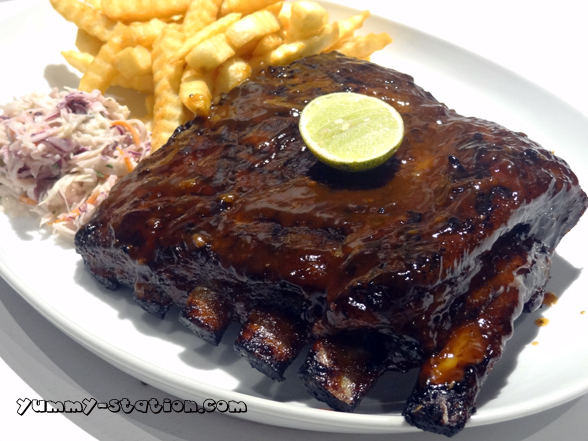 Crème Brulee With Crispy Bacon – RM18. When I see the menu on this dessert, I was like, OK, everything needs to have pork even the dessert? Bacon with Crème Brulee, are you kidding me?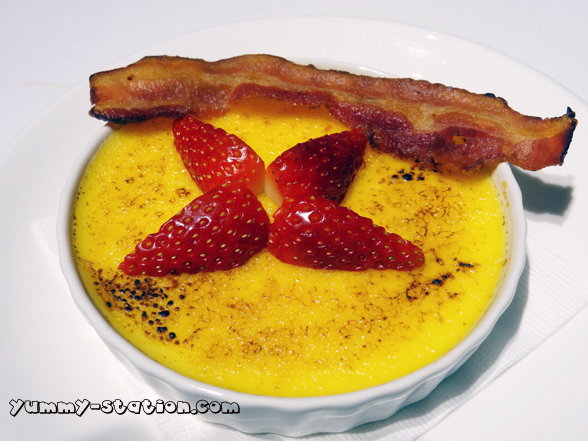 Surprisingly, the taste is good if you eat 3 of the items together: sweet, sour and salty! Not bad at all.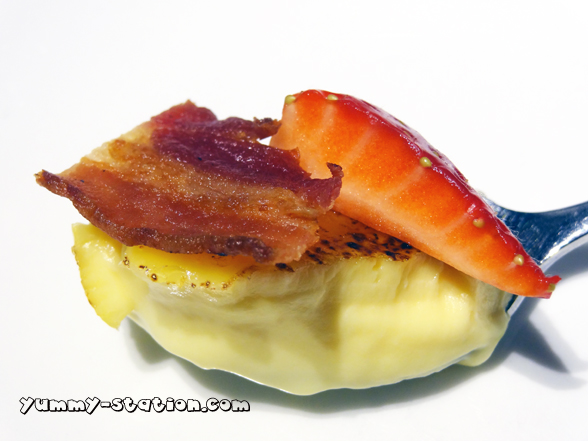 Bubur Cha Cha – RM11. Everyone of us agreed we don't really taste the coconut milk. It needs to be stronger the taste!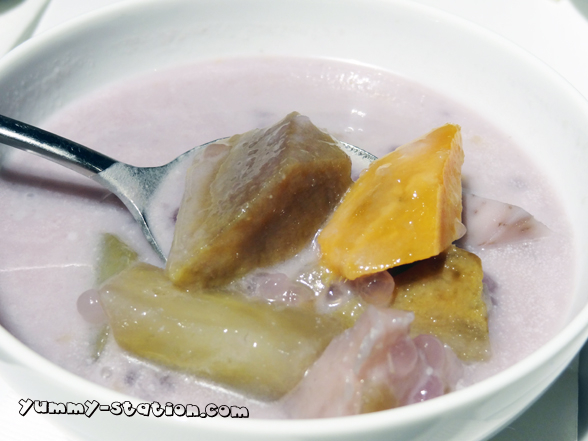 Overall, although I started to have sore throat on that day, I still cannot resist to eat all the good stuff from S.WINE!! Nam Yue Shoulder Chop, Pasta Bak Chor Mee, Bacon & Salted Egg Carbonara, Uncomplicated Noodles, Grilled Pork Neck & Green Mango Salad, Crème Brulee With Crispy Bacon and of course, Whole Slab Pork Ribs are my favorite among all. If you want to try more food from S.WINE, it is recommended for you to drag along all your pork lovers friends to go together as some of the food served come with a huge portion.
S.Wine Wine & Dine
Address: GF-112, 113(A) & 146(A), Ground Floor, Queensbay Mall.
Phone: +604-6468888
Tags: Penang, Queensbay, S.wine, Swine, Swine Wine & Dine