Talk about Evergreen Laurel Hotel, the first thing that comes to my mind will be the buffet in Cafe Laurel at the ground floor. In fact, there is another restaurant located at the first floor, which is the Evergarden Restaurant, serving Chinese Cuisine including Nyonya, Hainan and Sze Chuan Delights (August month promotion). Evergarden Restaurant is a HALAL certified Chinese Restaurant, led by the Chinese chef Lim Kim Hai and his team.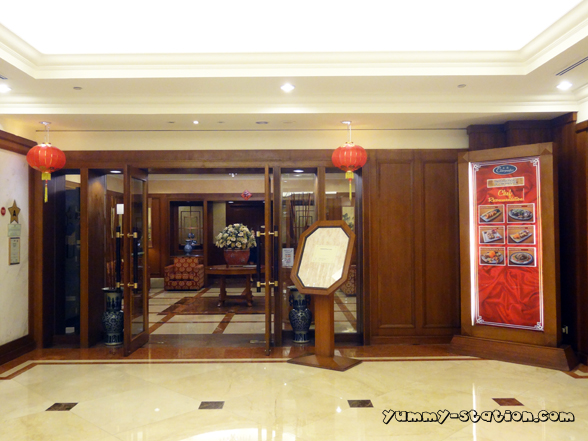 Evergarden Restaurant has a large dining area and many private rooms, good for wedding and company event.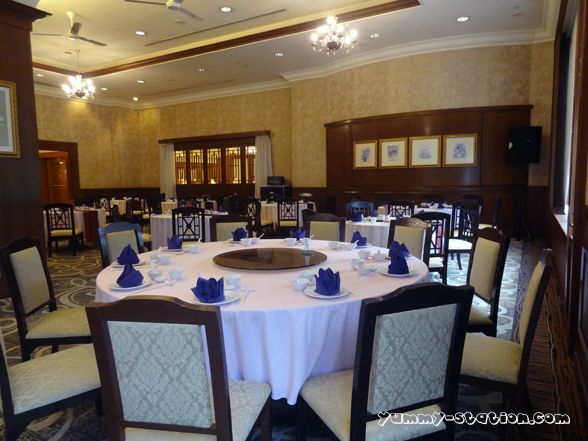 Let's start with the August Month Promotion item, Sze Chuan Delights.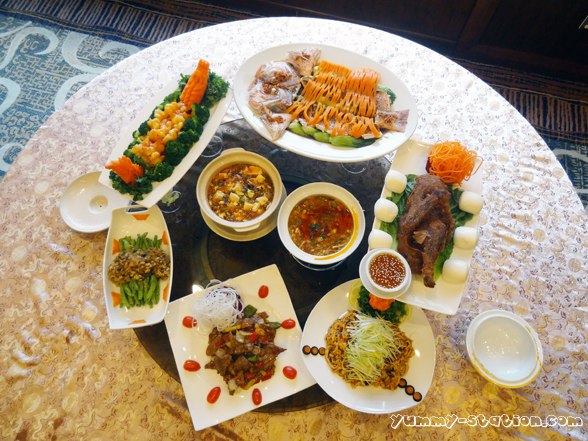 Hot & Sour Szechuan Soup. Luckily, it is not that hot as what I have thought.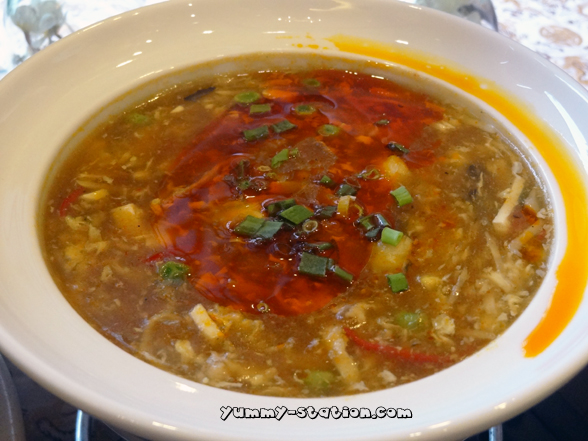 Deed Fried Golden Duck "SZECHUAN" Style. It is really deep fried until the skin is so crispy and it doesn't have the duck meat odor. I seldom eat duck because of this reason but this dish got a PASSED from me!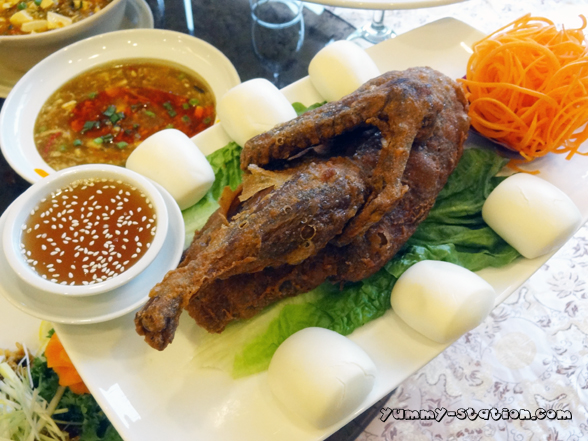 Sauteed King Prawn with mince Garlic and Chili. Who doesn't like prawns? Let me know and I will help you finish them.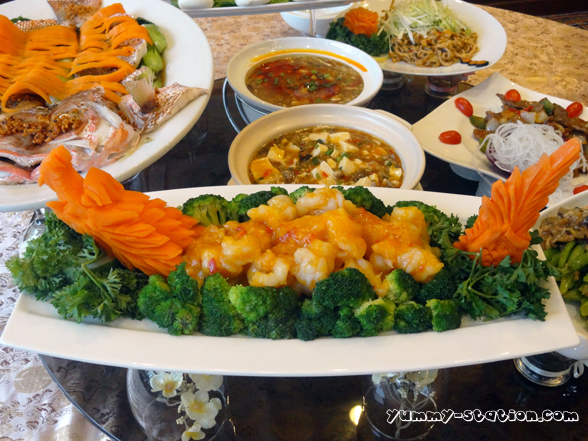 Steamed Golder Snapper with Crispy Bean. Fresh and the best thing is no need to worry about the fish bones.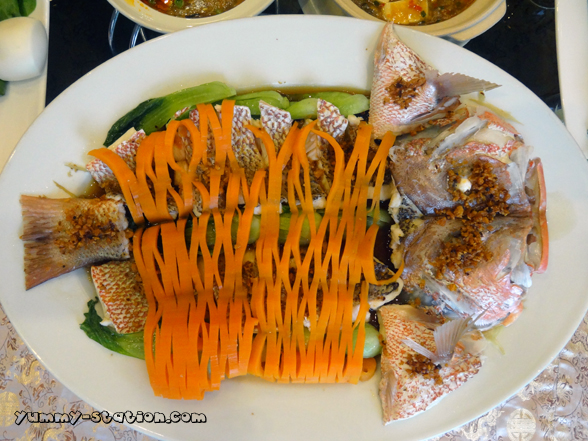 Fried Beef with Szechuan Sauce.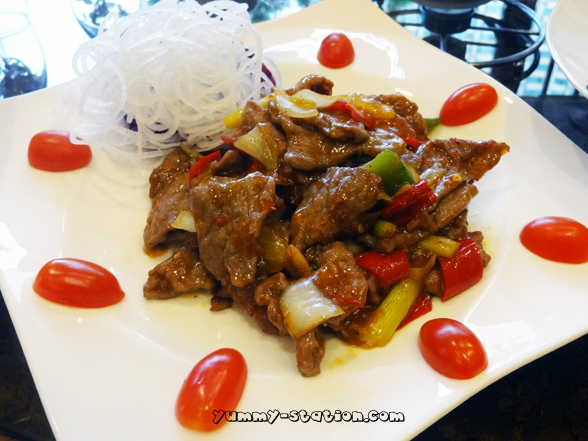 Fried Shredded Chicken with Fish Gravy Sauce.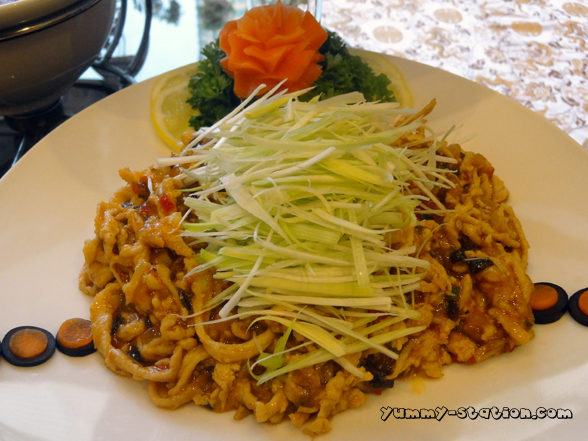 Braised Bean Curd with Mince Beef and Chili Bean Sauce.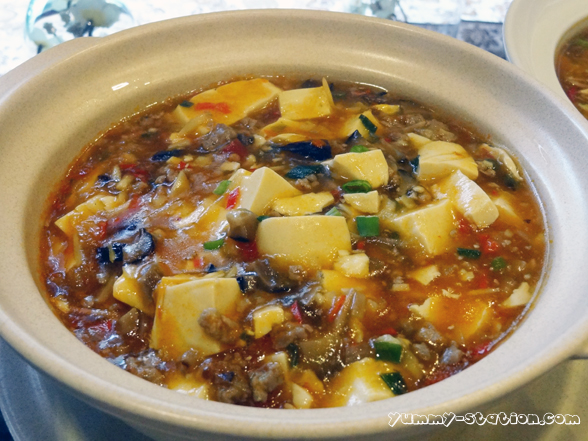 Fried Fresh Bean with Mince Chicken and Dry Shrimp.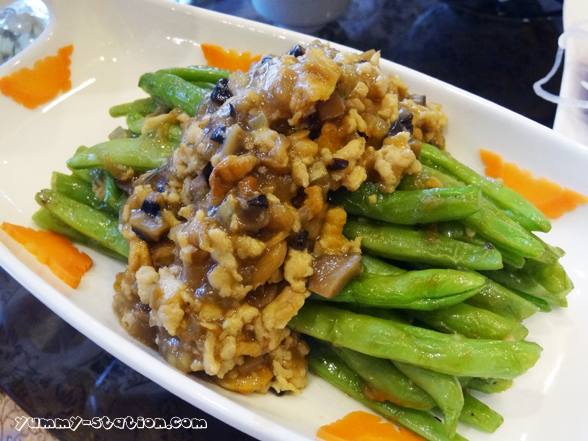 The above four dishes will be best to eat with rice! For a rice eater, I think 2 or 3 bowl of rice will not be a problem at all. For those who never eat beef, Fried Shredded Chicken is a must order.
Next, Chinese Set Menu Specialty Dish.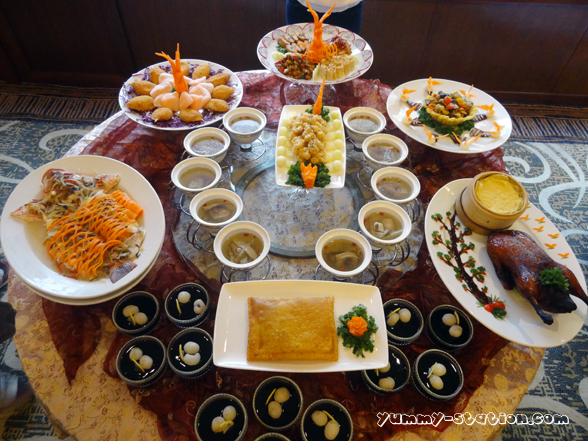 Laurel Precious Four Dish Combination. This is the first dish I am very excited about when I am attending a wedding dinner. I always like the four combination as I can eat 4 different types of food. I think most people will like this dish like what I do.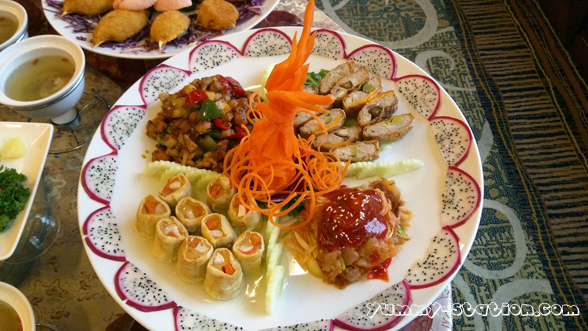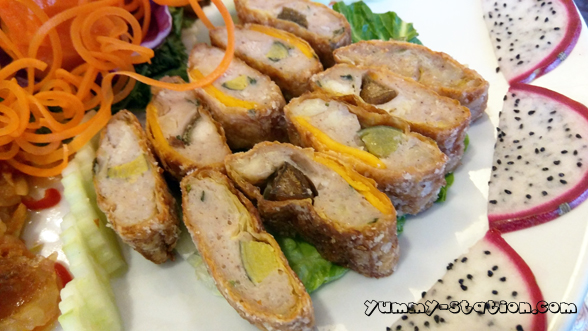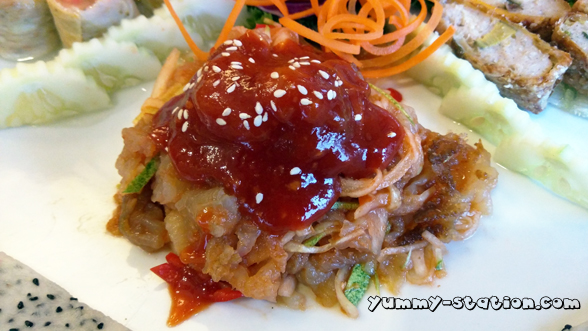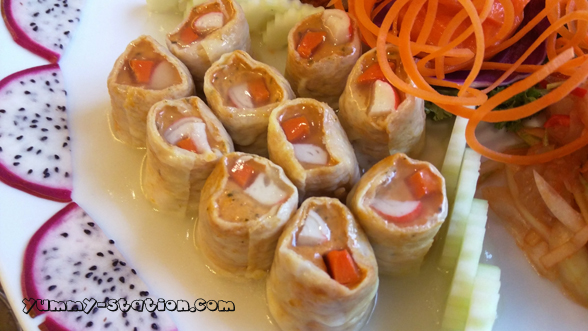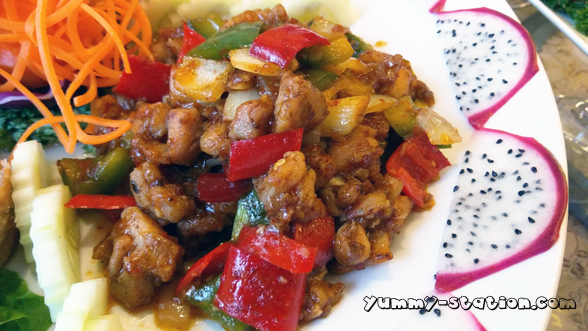 Double Boiled Chicken Soup with Ginseng Herbs. The soup is so flavorful, with the chicken and ginseng.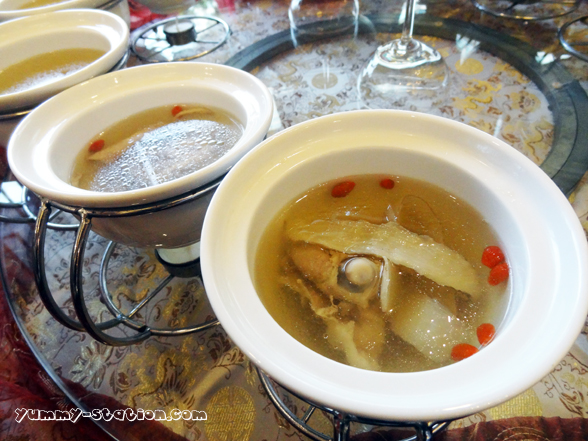 Baked Stuffed Crab Meat with Cream Sauce. First time tried this. it's is special and quite good. Never forget to mention the prawn crackers. It is still so crispy after a long time waiting there, just to be eaten by me.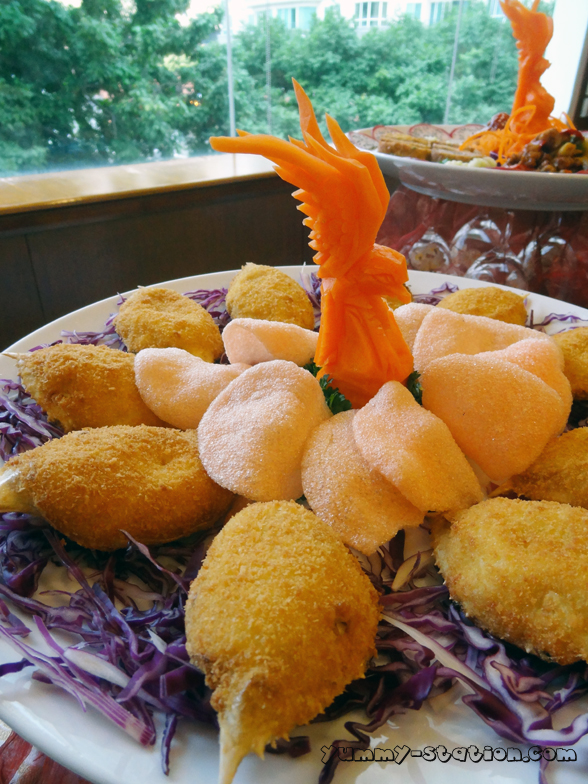 Roasted Pecking Duck (Two Course). Nice decoration huh?!
Sauteed King Prawns with Mayonnaise and Fresh Fruits. Prawns!! This is so damn good. I can eat the whole plate but I think my cholesterol level will shoot up after the meal. A MUST order.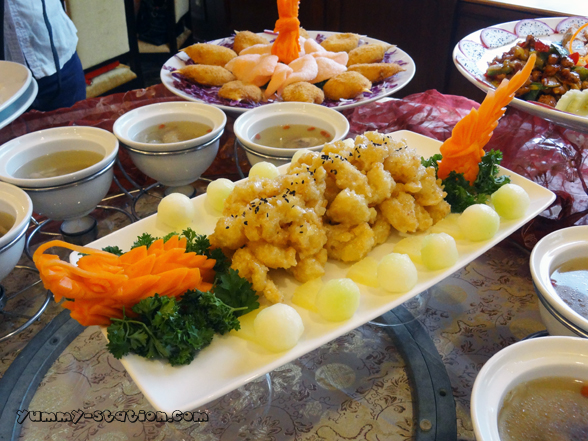 Steamed Red Snapper in "TEOWCHEW" Style.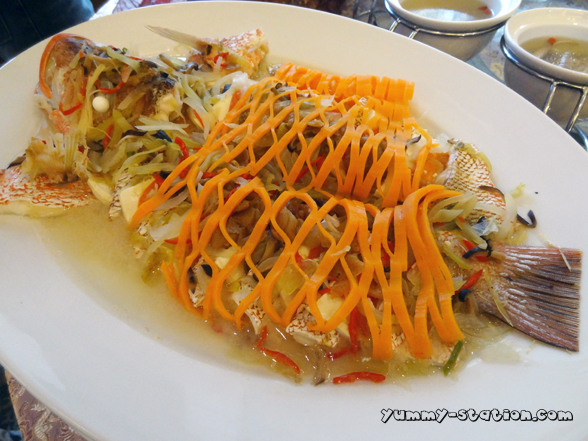 Fried Vegetable with Mushroom in Basket. The presentation is entertaining.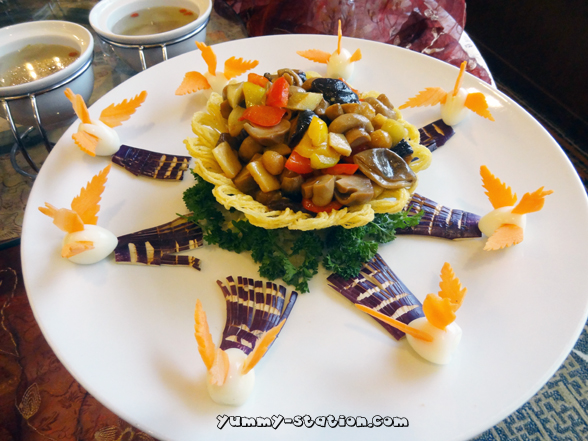 Chilled Herbal Jelly with Honey and Longan. Don't forget to put honey before eating it. If not, it will be way too bitter for my liking.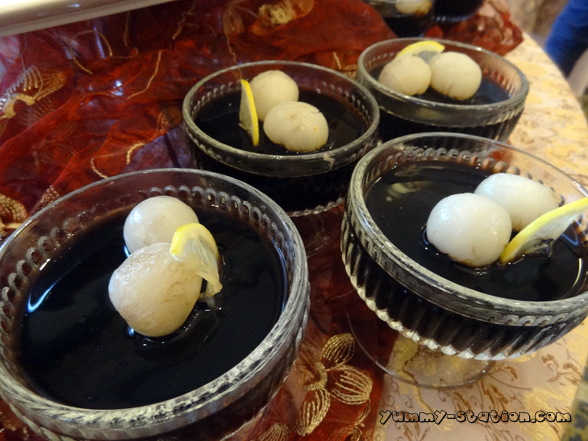 Chinese Pancake with Lotus Paste. Sweet stuff to end the dinner.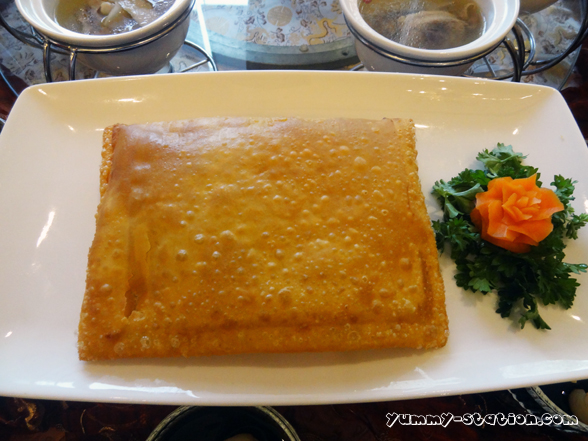 Overall, Evergarden Restaurant has surprised me for all the good food brought to us by Chef Lim Kim Hai and his team. If for me to choose the one I like the most, it will be the Sauteed King Prawns with Mayonnaise and Fresh Fruits, followed by the Laurel Precious Four Dish Combination, Deed Fried Golden Duck "SZECHUAN" Style and Fried Shredded Chicken with Fish Gravy Sauce. With the HALAL certified, you can invite all your Muslim friends to dine in Evergarden Restaurant, to taste all the good Chinese Cuisine, from Nyonya to Hainan and even Szechuan.

Evergarden Chinese Restaurant
Opening Hours:
Tuesday – Sunday: 6.30pm – 10pm
Monday: Closed
Evergreen Laurel Hotel Penang
Address: 53, Persiaran Gurney, 10250 Penang.
Tel: +604-222 9988
Tags: Evergarden, Evergarden Restaurant, Evergreen, Evergreen Laurel, Evergreen Laurel Hotel, Hainan, Nyonya, Szechuan